By Jim Fanning
D23 members well know the "23" in D23 means October 16, 1923, the date on which Walt Disney founded the company bearing his name. Today, to celebrate 95 years of magic, let's look back to the yearlong, multi-faceted party entitled 50 Happy Years. Here are eight golden anniversary facts about the happy events and fun-filled happenings from 1973 as Disney celebrated 50 Happy Years of Family Entertainment.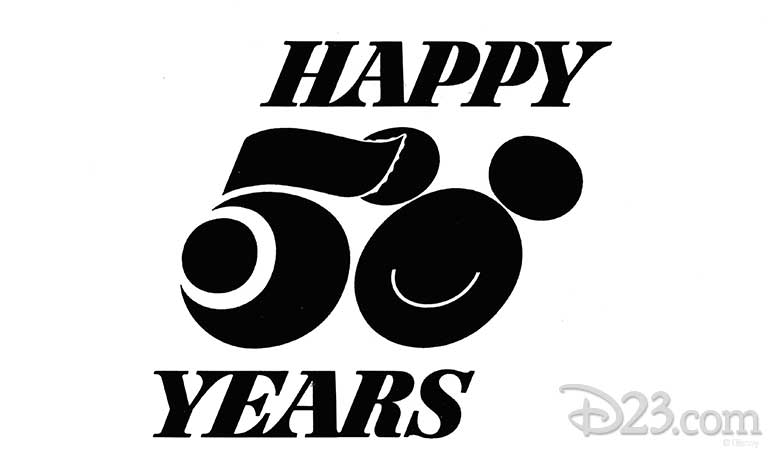 Setting the Date
On November 17, 1970, Chief Archivist Emeritus Disney Legend David R. Smith wrote a memo to Disney Legend E. Cardon Walker, then president of Walt Disney Productions, establishing the official starting date of Walt Disney Productions (as The Walt Disney Company was then called). Dave stated, "Walt signed the first contract with M. J. Winkler to produce Alice Comedies on October 16, 1923." This memo—written less than a year after the Walt Disney Archives was founded on June 22, 1970—asserted "it is about time now to give some thought to an anniversary celebration." Card's response was enthusiastic but he said essentially, "Let's open Florida first," as Walt Disney World Resort was set to open its gates on October 1, 1971. When the golden jubilee planning began in earnest in 1972, the stylishly Seventies 50 Happy Years logo, inspired in part by the ubiquitous "happy face" symbol, was created by artists Disney Legend Bob Moore and Norm Noceti. The unforgettable logo was emblazoned on posters, record albums, comic books and all kinds of merchandise and memorabilia, and was incorporated into a special animated introduction shown before every 1973 Disney theatrical release. Key art spotlighting a cavalcade of Disney stars was created, complete with Oswald the Lucky Rabbit in the far distance, representing Walt's pre-Mickey era. The art was used on a fan card and was also adapted as the centerpiece of the 1972 Studio Christmas card, anticipating the celebration to come in the New Year.
Disney's Golden Anniversary Celebrated in Pageants and Parades
Though a fourth edition of the traveling arena show Disney on Parade was introduced in 1973 to tie in with the 50 Happy Years celebration, Disney's golden jubilee year stepped off on New Year's Day with a specially designed float in the 84th annual Pasadena Tournament of Roses parade. The theme of that year's parade was "Movie Memories," an ideal tie-in with Disney's anniversary. The lead unit in the parade, the Disney float was actually, according to the parade's official program, "a block-long cavalcade of more than 100 famous Disney cartoon characters…[recreating] the most celebrated memories from Walt Disney's film classics." Promenading through Pasadena was a caravan of pirate ships, castle turrets, a circus train, three teapots and Herbie, the Love Bug. In November, a special Disney pre-show was part of NBC's telecast of another annual parade, Macy's Thanksgiving Day Parade, with a spectacular Disney float in the parade itself. The 50 Happy Years celebration was brought to a close with a salute to Disney at the Orange Bowl on January 1, 1974, with a half-time extravaganza of dancers, singers and Disney characters on NBC, then home to the weekly Disney television series.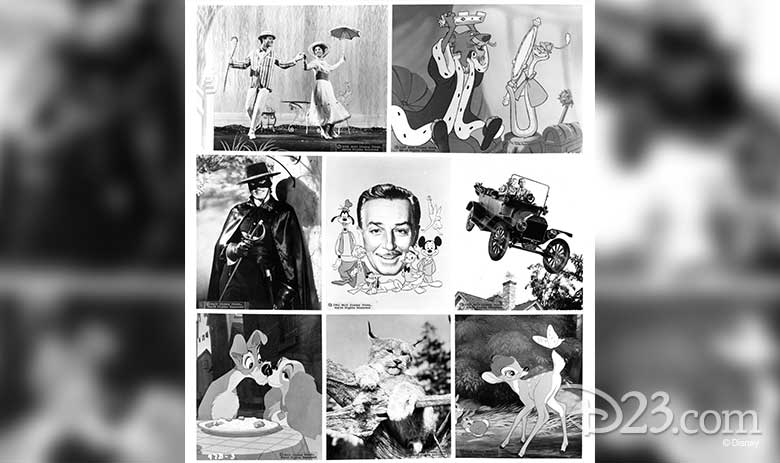 50 Happy Years on Television
In his 1970 memo, Dave Smith proposed a special episode of The Wonderful World of Disney television series, and "50 Happy Years" was broadcast on January 21. Showcasing film clips, the creation of Disneyland Park and Walt Disney World Resort, and a preview of the forthcoming animated feature, Robin Hood, this specially created hour boasted clips of more than 60 Disney films. The anniversary episode was the fifth highest-rated show of any telecast that week, while it was the top-rated installment of the Disney show that year.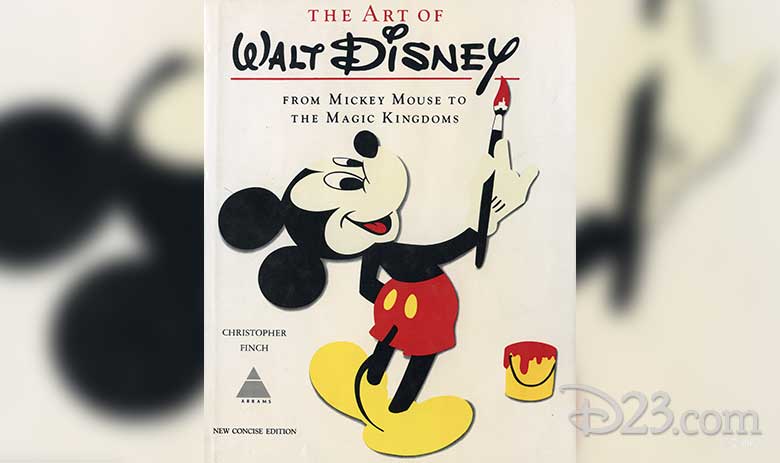 50 Happy Years of Disney Artistry in a Coffee Table Art Book
Such an auspicious occasion as Disney's 50th anniversary called for an assessment of the artistic achievements of Walt Disney. The 1973 Annual Report noted, "Disney has entered into an agreement with the internationally famous publishers of art books, Harry N. Abrams, Inc., to publish The Art of Walt Disney: From Mickey Mouse to the Magic Kingdoms. This deluxe edition will be a complete compilation of the story and artistic works of Walt Disney." Featuring 763 illustrations including 351 color plates, the 458-page book marked the first major, serious consideration of the works of Walt Disney as art. Written by Christopher Finch, the text was based on hundreds of interviews with Disney staff members. When the lavish art book was published on October 16, Disney's actual anniversary date, the first two printings sold out in less than three months, making it one of the most successful book ventures of its kind in publishing history. Through the years, the groundbreaking book has been updated and reissued, with the latest edition published in 2011.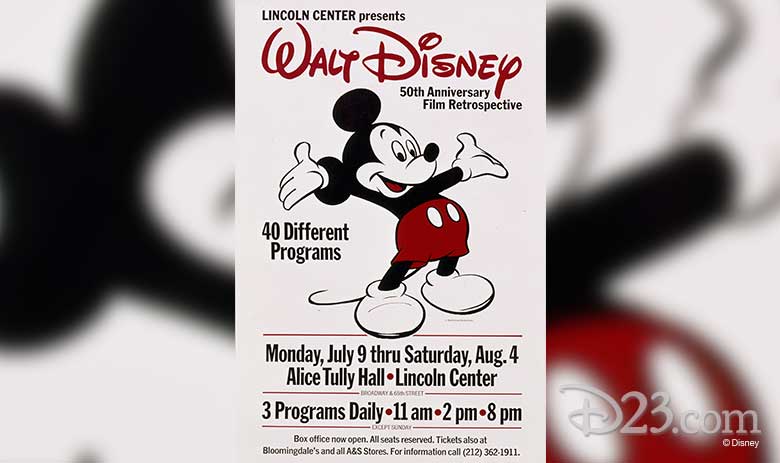 Mickey Takes Manhattan at Lincoln Center
One of the celebration's most remarkable highlights, the Walt Disney 50th Anniversary Film Retrospective, was held June 9 through August 4, 1973, at Lincoln Center for the Performing Arts in New York City. Animated features, cartoon shorts and live-action classics were screened in the 1,095-seat Alice Tully Hall. Lincoln Center approached Disney twice about mounting such a film festival before the third offer struck a responsive chord because it coincided with the 50th anniversary celebration. Also included were seminars such as The Silent Years, The Parks and Beyond, incorporating a look ahead to what would eventually become Epcot Park in 1982, and The Art of Animation, a six-part seminar/workshop hosted by Disney Legends Woolie Reitherman, Frank Thomas and Ken Anderson, open by reservation-only to qualified art and film students. A special exhibition of behind-the-scenes art, posters and cels from the Walt Disney Archives was open through October at the Amsterdam Gallery of the Library & Museum of the Performing Arts at Lincoln Center. The program for this remarkable Disney event is a sought-after collector's item with notes and essays written by Dave Smith, Christopher Finch and animation historian John Culhane.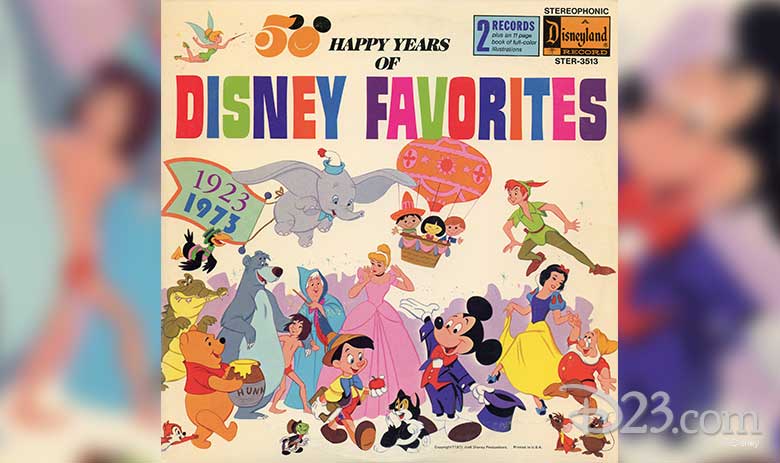 50 Happy Years, 25 Happy Songs
For many Disney fans and music lovers, the 50 Happy Years of Disney Favorites LP record album, released in January 1973, was a major highpoint of the golden anniversary commemoration. Jimmy Johnson, President of Disneyland Records (now known as Walt Disney Records) explained: "Our 50th Anniversary LPs will be a two-record set with an 11-page book of illustrations." Featuring the "most listenable and beautiful Disney music through the years," this deluxe album presented songs from Three Little Pigs (1933) to Bedknobs and Broomsticks (1971), and featured three Academy Award® winners and five Oscar® nominees.
The Disney Parks Celebrate 50 Happy Years
For the 50 Happy Years jubilee year, Disneyland Park celebrated both Disney history and the man behind it when The Walt Disney Story opened on April 8, 1973 (and at Walt Disney World on April 15, 1973). Memorabilia related to Walt Disney from the Walt Disney Archives was displayed, as was an exact reproduction of his offices, reconstructed from photographs and accurate blueprints. The golden anniversary celebration culminated with a special version of the Disneyland holiday pageant, "Fantasy on Parade." Each of the 35 floats was adorned with the 50 Happy Years logo. Considered the climactic event of the entire 50 Happy Years celebration, Disney's 21st animated feature Robin Hood was released at Christmastime, and characters from the new film were central to the 50th anniversary pageant.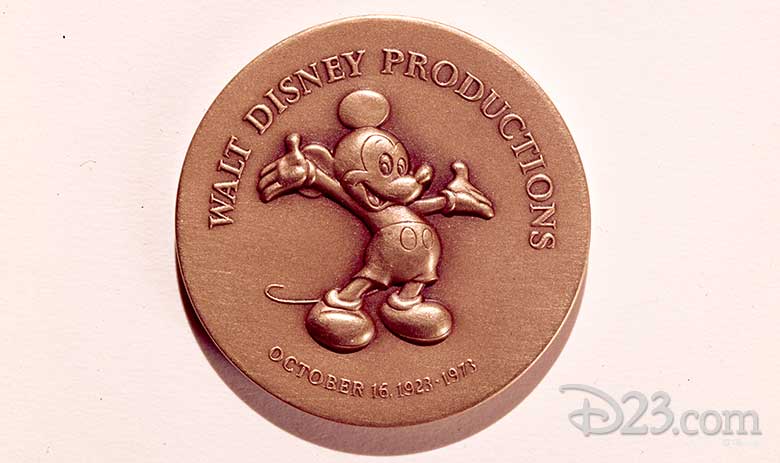 October 16, 1973: A Golden Day
The actual anniversary date, October 16, was commemorated by a special ceremony on Town Square at Disneyland Park hosted by Mickey Mouse and friends. In addition, a special three-day celebration was held at the park on the weekend of October 20-22. Festivities included a parade featuring guest bands; special performances by the Mouseketeers, including Disney Legends Annette Funicello and Bobby Burgess, from the Mickey Mouse Club TV series; and a Mickey Mouse Cartoon Festival, held in the Fantasyland Theater, with continual screenings of classic cartoons. At the Disney studio and at Disney offices worldwide all permanent employees received a specially commissioned bronze medal, while 94 employees who worked with Walt at the original studio on Hyperion Avenue were honored at a special party and were presented with a "Mousecar" award. Dated October 16, 1923-1973, the commemorative medal was accompanied by a note from Card Walker and studio head Ron Miller: "We thought you might like to have this souvenir as a small token of our thanks for making this, the 50th anniversary of Walt Disney Productions, the most successful in our history." The back of this once-in-a-lifetime 50 Happy Years medal read: "My greatest reward is I've been able to build this wonderful organization. And also to have the public appreciate and accept what we've done all these years. That is a great reward."—Walt Disney