By Jim Fanning
Melody Time is not just a Disney classic. It's seven Disney classics in one. Celebrating seven decades of delighting audiences with its animated delicacies, Melody Time is one of Walt Disney's "package films," comprised of several short animated pieces "packaged" together to form one feature. With its cornucopia of varied stories, dynamic characters, and compelling artistic approaches, it's one of the most entrancing of Walt's omnibus features. Featuring the enduring talents of big-time stars of its day, Melody Time premiered on May 27, 1948, at the prestigious Astor Theatre in New York's Times Square, and, in one form or another, Disney's 10th full-length animated feature has entranced audiences ever since. In honor of 70 years of music and movement, color, and characters, here are 10 melodious facts about Melody Time.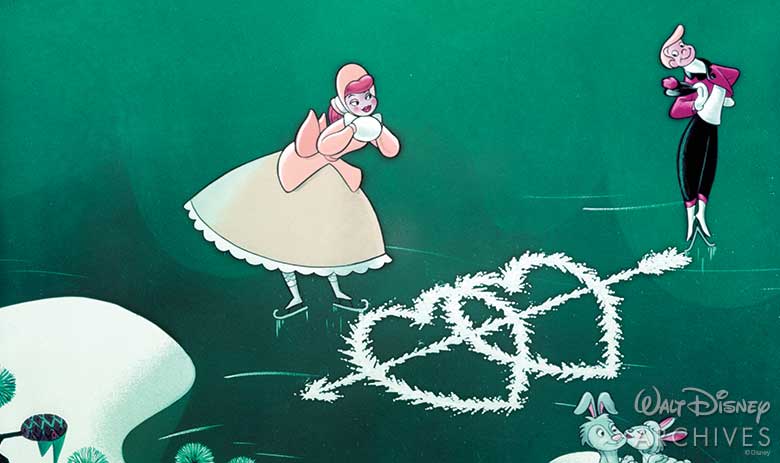 1. Mary Blair Lends Artistic Flair to "Wintertime" Charm
Looking at once like an old-fashioned greeting card and a cutting-edge experiment in modern design, "Once Upon a Wintertime" is the Victorian-era tale of cute-couple Jenny and Joe who find unexpected adventure on a sleigh ride-ice skating expedition. Set to the title tune sung by velvety voiced radio and recording star Frances Langford, this nostalgic segment was produced as a concerted effort to bring the distinctive graphic stylings of Disney Legend Mary Blair to the screen. Disney Legend Ken O'Connor championed Blair's highly stylized designs. A veteran layout artist, O'Connor arranged to have the animators draw "in a decorative… design-y way" reflecting Mary's conceptual art, while also enlisting Disney background artist Art Riley to paint the story's settings in Blair's non-rounded contemporary style. The result is a charming yet striking reflection of the unique Blair artistry treasured by Walt Disney himself.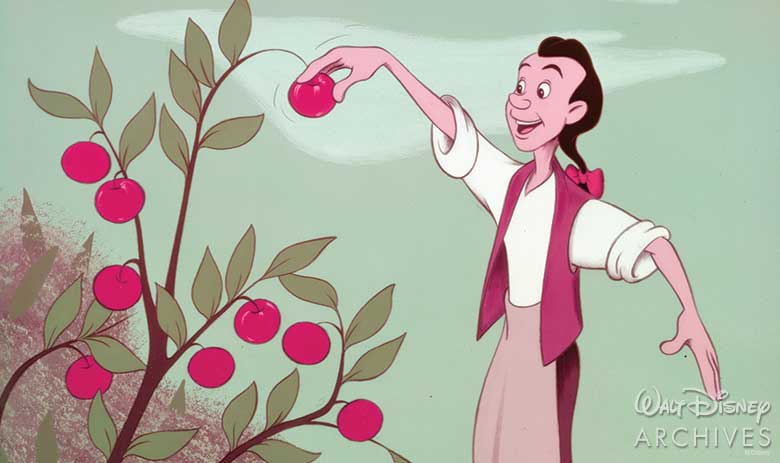 2. Get Them Apple Trees A-Growin': "Johnny Appleseed"
Mary Blair also provided her signature stylizations for the "Johnny Appleseed" segment. "Being storytellers ourselves," Walt said, "we've always wanted to portray the deeds of such colorful characters as Johnny Appleseed…" The real-life Johnny was John Chapman (1774-1845), an early American pioneer who sowed apple seeds throughout the Ohio River valley and beyond. However, Walt insisted that his version of Johnny Appleseed be adapted from the legends surrounding the real figure. Suitably evoking folk art, the arresting designs of Mary Blair gives the segment a visual poetry matched by the poetic narration, written by Disney Legend Winston Hibler. Walt was moved to tears when he heard "Hib" present his "Johnny Appleseed" narrative. Three of Walt's Nine Old Men—Milt Kahl, Ollie Johnston, and Eric Larson—were directing animators for the Johnny character, and Walt was well pleased with the fruit of their work, calling Johnny "a very likable little character."
3. Starring The Voice(s) of Dennis Day
Another seed sown in the animated storytelling of "Johnny Appleseed" was Dennis Day. The "singing star" on Jack Benny's radio show since 1939, Dennis was known for his lilting Irish tenor and the naive "kid" character he played to comic perfection. (Disney favorite Verna Felton vocally portrayed Dennis' overbearing mother on the Benny program.) With a natural ear for dialects and impressions, Dennis was a versatile voice actor, and in "Johnny Appleseed," he not only voiced gentle Johnny but also the feisty Guardian Angel and the Old Settler who narrates the sequence. Day's tenor singing voice finds full expression in songs written specifically for his vocal range. "He's coming up," Walt said of Dennis Day at the time. "People really like him."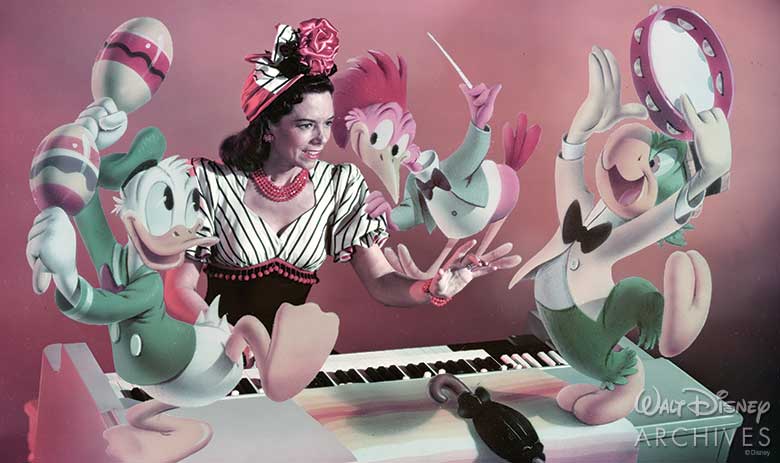 4. Donald and José Reunited To Take on the Samba
First teamed up in Saludos Amigos (1943) and The Three Caballeros (1945), Donald Duck reunited with his Brazilian parrot pal, José Carioca for "Blame it on the Samba." The wacky Aracuan Bird (introduced in The Three Caballeros) introduces the duo to the infectious Brazilian dance in colorful animation blended with live action of Hammond organist Ethel Smith. This segment was originally envisioned as part of a projected third Latin American feature, and Ethel Smith was recorded performing the segment's title song (on a rented electric organ installed on the Disney Studio's sound-effects stage) in 1945. The third feature never came to be, but "Blame it on the Samba" was revived for inclusion in Melody Time and Smith returned to the Disney lot in February 1947 to film her live-action performance—which was then combined with the animation starring Donald and José—for a wildly imaginative follow-up to Disney's two previous South American romps.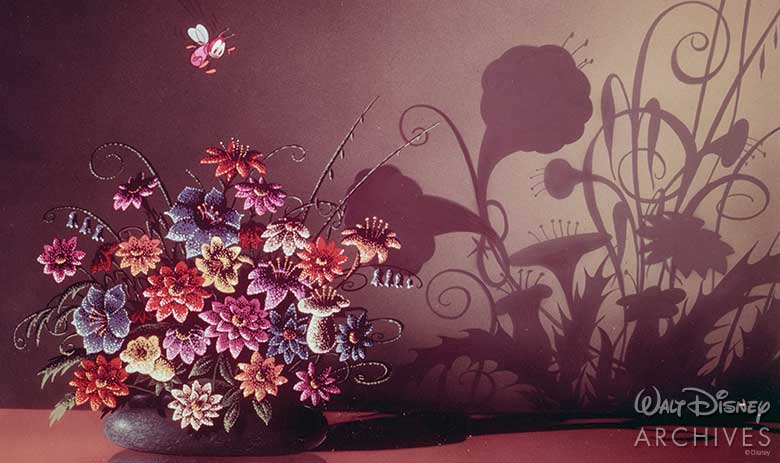 5. The Buzz About "Bumble Boogie"
Originally planned for a continuation of Fantasia (1940), the "Bumble Boogie" segment joins a jazzy swing version of Rimsky-Korsakov's Flight of the Bumblebee with the frantic animated flight of a bee named Bumble as he flees a nightmarish succession of piano keys and other musically themed pursuers and obstacles. A hit 1946 recording by Freddy Martin and His Orchestra, featuring Jack Fina at the piano, provides the musical score. It was said that Fina possessed "the 10 most talented fingers in radio," and his virtuosity on the 88s drives this Melody Time segment at a funny, frenetic pace.
6. I Think I Shall Never See a Poem as Lovely as "Trees"
Another sequence intended for a new Fantasia, "Trees" is musicalization of the famed poem written in 1913 by Joyce Kilmer. Using only evocative images with little character animation, this visual tone poem draws its striking imagery from the pastel story art of Disney stylist Dick Kelsey. It was Melody Time's unsung hero, Ken O'Connor, who decided to use cels with a "frosted" surface to capture the vibrancy and texture of the original pastel story sketches. The camera, thanks to careful layouts and clever editing, provides most of the actual movement. The strength and beauty of Kelsey's unique art are conveyed to emotional effect, all underscored with the haunting choral work of Fred Waring and His Pennsylvanians.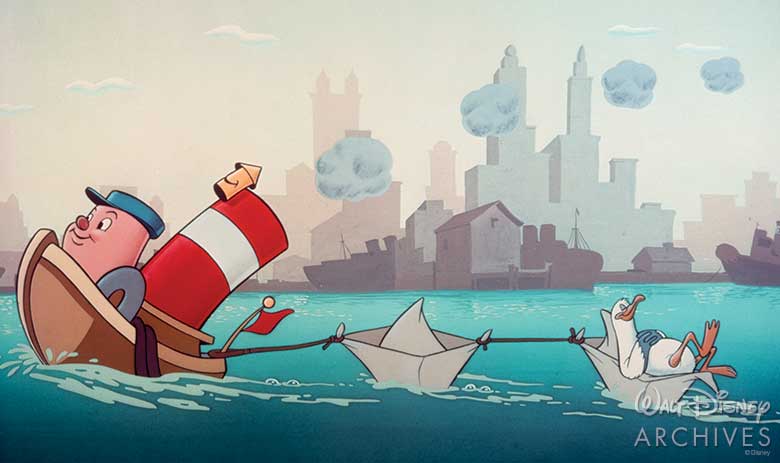 7. Three-Part Harmonies in New York Harbor: "Little Toot"
After their singing stint in Walt's first package film, Make Mine Music (1946), The Andrews Sisters returned to Disney to bring their trademark three-part harmonies to the musical story of "Little Toot." This segment is based on the book written and illustrated by former Disney animator and acclaimed watercolorist Hardie Gramatky, a classic of children's literature that has remained in print since its publication in 1939. Inspired by the tugboats he observed in the East River outside his New York studio, Gramatky created Little Toot as a mischievous tugboat who playfully chugs along side his dad, Big Toot. Stars of screen, radio, and recordings, The Andrews Sisters—contralto LaVerne, soprano Maxene, and mezzo-soprano Patty—tell Little Toot's story in harmonized song.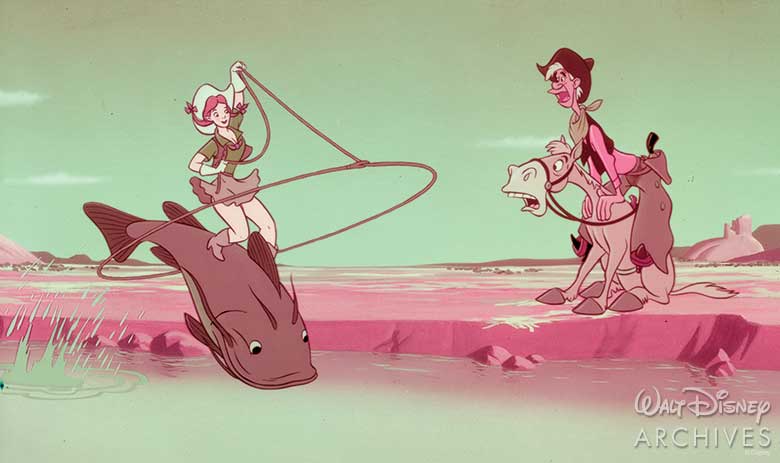 8. A Tall Tale as Only Disney Animation Can Tell It
The boundless imagination and artistry of Disney animation make a perfect match for the hilarious visual hyperbole of the American tall tale, and nowhere is this better exemplified than in "Pecos Bill." The legendary cowboy was born of Texas tall tales and, as Walt observed, "Pecos Bill is a large and important part of [America's] heritage and what makes us who we are." The outrageous humor and high-spirited exaggeration of the "Pecos Bill" stories—from the "Western superman" digging the Rio Grande to taming a tornado—made the Wild West tales the ideal subject for the outsized action possible only in Disney animation.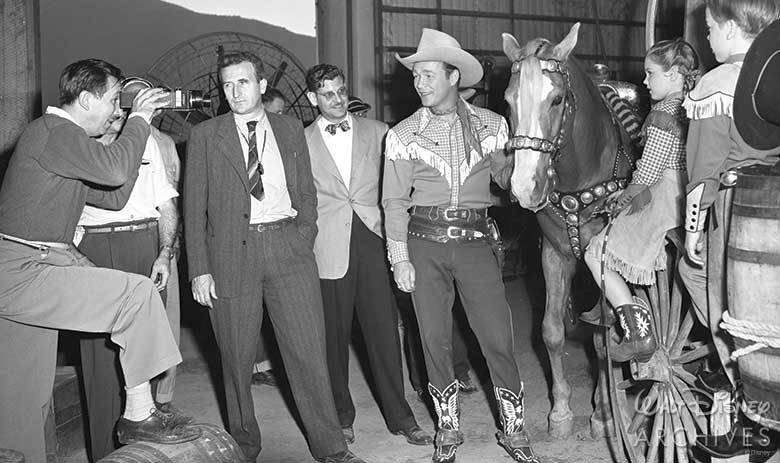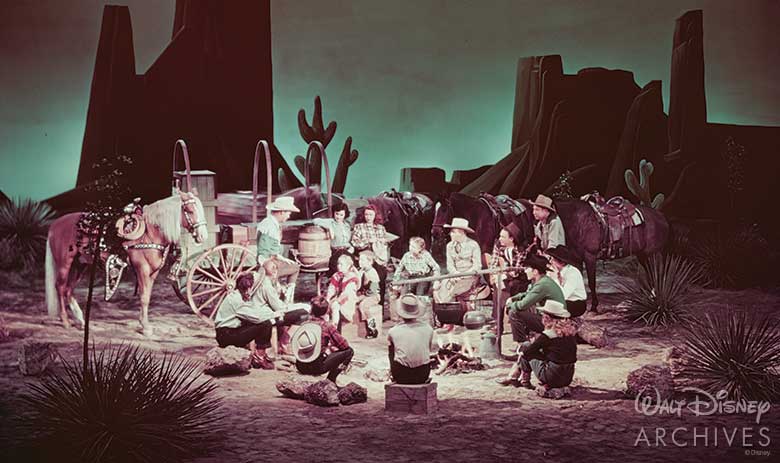 9. It Took a Roundup of Stars to Tell Pecos Bill's Tall Tale
With Ward Kimball, one of the Nine Old Men, as Pecos Bill's directing animator, Walt lassoed the silver screen's (and later, television's) "King of the Cowboys," Roy Rogers, to narrate. Accompanying Roy was his steadfast steed, Trigger, billed as always as "The Smartest Horse in the Movies," and the Western singing group, The Sons of the Pioneers. Also part of this Melody Time roundup: Disney's youthful stars Bobby Driscoll and Luana Patten, for whom Roy and the Sons of the Pioneers spin the musical yarn of the outsized hero Walt called "the rootin'est, tootin'est, shootin'est cowboy to ever ride out of American folklore."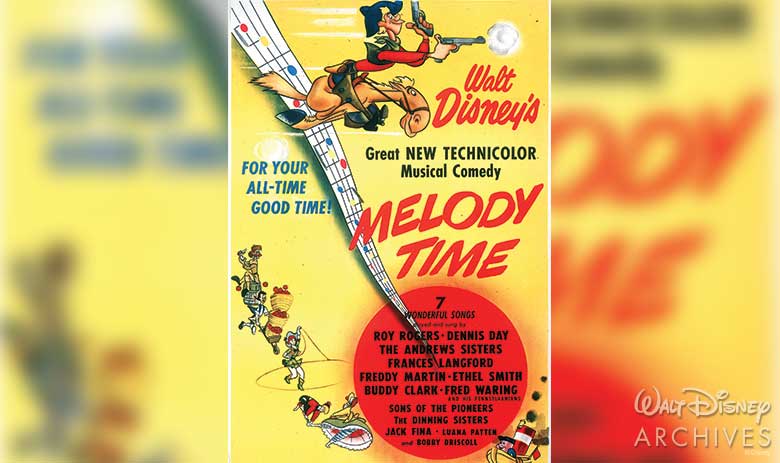 10. Melody Time is Timeless
Though Melody Time was never theatrically rereleased, many of its segments were issued as separate featurettes. While "Trees" was released to schools as an educational piece celebrating music, art, and poetry, it was television that became the greatest showcase for the Melody Time sequences. For example, the Mickey Mouse Club TV series presented "Once Upon a Wintertime" as a Mousekartoon on December 20, 1956. On his primetime television anthology series, Disneyland, Walt featured "Johnny Appleseed" as one of the "Four Fabulous Characters" in 1957, while Pecos Bill was honored with his own episode (sharing billing with a certain Magic Kingdom) that same year in "Disneyland, The Park (and) Pecos Bill." In 1972, "Bumble Boogie" was showcased on Ward Kimball's wild Laugh-In-like TV series, The Mouse Factory. Today, with the film's availability on DVD and eventually streaming services, more Disney fans than ever before can now enjoy Melody Time. For, as the lyrics to the film's title song has it, "It's time to swing along, to a happy land of song, where love is the thing… It's Melody Time!"