Fantasyland has always been about living the fantasy of Walt Disney's animated classics, and Cinderella's Royal Table offers Walt Disney World guests the unique opportunity to dine like — and with — Cinderella herself in the beloved castle that bears her name. The circular banquet hall is a marvel of medieval splendor, with a high vaulted ceiling, intricately carved columns and ornate stained-glass windows that look out onto Fantasyland.
Although the restaurant has been serving medieval meals since the park's opening day, October 1, 1971, the Magic Kingdom landmark began life as King Stefan's Banquet Hall. King Stefan is Princess Aurora's father. So why the incongruous Disney princess nomenclature? Glad you asked! According to Imagineering folklore, the original Magic Kingdom design team wanted to give their crown jewel eatery a suitably regal name. None of the characters in Cinderella fit the bill — that film's king is nameless — so Sleeping Beauty's father was conscripted to lend his name to Cinderella's banquet hall, an uncharacteristic move for the normally thematically obsessive Imagineers. After confusing guests and Cast Members alike for more than 25 years ("Who's King Stefan?" "Was he in the movie?"), the popular eatery was renamed, in honor of the castle's star tenant as part of a 1997 renovation, by a new generation of Imagineers.
As you can imagine, Cinderella's Royal Table is the place to find Cinderella in the Magic Kingdom. Guests can meet her during breakfast, lunch or dinner as part of Fairytale Dining. The serving staff wears medieval garb, an overall look that has evolved since opening day yet has remained visually consistent with the environment. The menu, too, has changed over the years, with more sophisticated fare gradually replacing the initial offerings. But we are nothing if not nostalgic at Disney twenty-three, and have included recipes for two longtime Stefan favorites, Beef and Barley Soup and Fried Brie Cheese, found safely stowed in the Walt Disney Archives. We miss them, too, and trust us, try them and you'll see they definitely stand the test of time!
Ingredients

Beef and Barley Soup
4 cups boiling water
coarse salt (to taste)
2⁄3 cup uncooked pearl barley
2 tablespoons butter
1 cup finely diced onions
1⁄2 cup finely diced carrots
1⁄2 cup finely diced celery
2 teaspoons dried shallots
2 cups (about 1⁄2 pound) diced, cooked roast beef
8 cups water
5 beef bouillon cubes, crumbled
2 chicken bouillon cubes, crumbled
1⁄4 teaspoon white pepper
2 tablespoons minced garlic
1 tablespoon parsley flakes
Fried Brie Cheese
3 cups vegetable oil
2 9 ounce (41⁄2-inch) Brie cheese rounds
1 tablespoon all-purpose flour
1⁄4 teaspoon cayenne pepper
1 large egg, beaten
3⁄4 cup dry bread crumbs
1⁄2 cup tomato sauce for dipping

Preparation

Beef and Barley Soup
Bring water and 1 tablespoon salt to a boil in a saucepan on medium-high heat. Add the pearl barley; stir, cover, and reduce heat to low and cook for 30 to 40 minutes or until the barley is tender. Drain well in a colander and rinse using cold water. Set aside. Melt the butter in a large Dutch oven or heavy-bottomed saucepot over medium heat. Sauté onions, carrots, celery, and shallots for 3 to 5 minutes or until tender. Add the roast beef, water, crumbled bouillon cubes, salt to taste, pepper, and garlic, and stir to combine. Bring soup to a boil, then cover and reduce heat to low. Continue cooking for 20 minutes or until the meat is tender. Add parsley flakes and the cooked barley and continue cooking for 10 minutes. Season to taste with coarse salt and freshly ground black pepper. Makes 8 cups.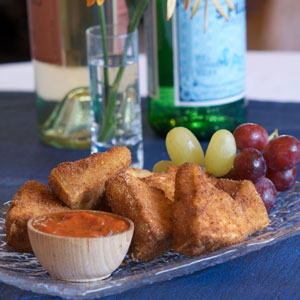 Fried Brie Cheese
Preheat the oil to 325 degrees in a saucepan over medium-high heat. Using a sharp knife, cut each cheese round into 8 even-sized wedges. Combine the flour and cayenne pepper in a mixing bowl. Place the beaten egg in another mixing bowl and the bread crumbs in a separate mixing bowl. Dredge the cheese pieces in the flour mixture and shake off the excess. Dip the cheese into the egg until evenly coated. Roll the cheese in the bread crumbs, coating evenly. Place pieces of cheese into the preheated oil in batches to avoid overcrowding the saucepan. Cook about 1 minute, or until golden brown. Remove them from the oil and transfer to paper towels to drain. Continue cooking the remainder of the cheese until complete. Heat the tomato sauce in a saucepan over low heat. If needed, season to taste with coarse salt and freshly ground black pepper. Serve the cheese immediately with the tomato dipping sauce on the side.
Chef's Notes
For the soup, you may add more roast beef to the recipe, if you prefer. Ask your deli to make the slices approximately one inch thick to make it easier for you. For the cheese, use your favorite tomato sauce or simply add Italian seasonings to plain sauce for more flavor.