By Zach Johnson
Whether in front of or behind the camera, Kerry Washington is a superb storyteller.
The multihyphenate's first job with The Walt Disney Company came in 1994, when she appeared in an episode of the ABC After School Special anthology series. Twelve years later, she returned to Disney, this time playing Julie Benson in Touchstone Pictures' Bad Company, toplined by Anthony Hopkins and Chris Rock. But it was Washington's starring role as crisis manager Olivia Pope in ABC's Scandal (2012–18) that had viewers on the edges of their seats every Thursday night. Not only did Washington break barriers by becoming the first Black woman since 1974 to lead a network television drama—for which she was nominated for two Primetime Emmy® Awards and a Golden Globe®—but she made her directorial debut with the series' seventh and final season.
In 2016, Washington launched her production company, Simpson Street, and soon after signed an overall deal with ABC Studios (which was renewed in 2020). She also voiced a statistical analyst, Natalie Certain, in Disney and Pixar's Cars 3 (2017); executive produced and starred in Hulu's Little Fires Everywhere (2020), for which she received an Emmy nomination for Outstanding Lead Actress in a Limited Series or a Movie; executive produced and starred in ABC's Live in Front of a Studio Audience: "The Facts of Life" and "Different Strokes" in 2021, receiving an Emmy nomination for Outstanding Variety Special (Live); and executive produced Hulu and Onyx Collective's Reasonable Doubt in 2022, in addition to directing the pilot, "Can't Knock the Hustle." That same year, she guest starred as Rayshelle Peyton, a teacher at Springfield Elementary School, in The Simpsons—a role she has reprised multiple times since. Most recently, she executive produced and starred in Hulu and Onyx Collective's UnPrisoned (2023), playing Paige Alexander, a relationship therapist and single mom.
Of course, Washington has plenty more stories to tell. Next up is the Disney Branded Television original movie From the Desk of Zoe Washington, based on Janae Marks' book, which she's been developing in partnership with Gamechanger Films since 2021.
Recently, she joined D23: The Officially Disney Fan Club for a wide-ranging Q&A...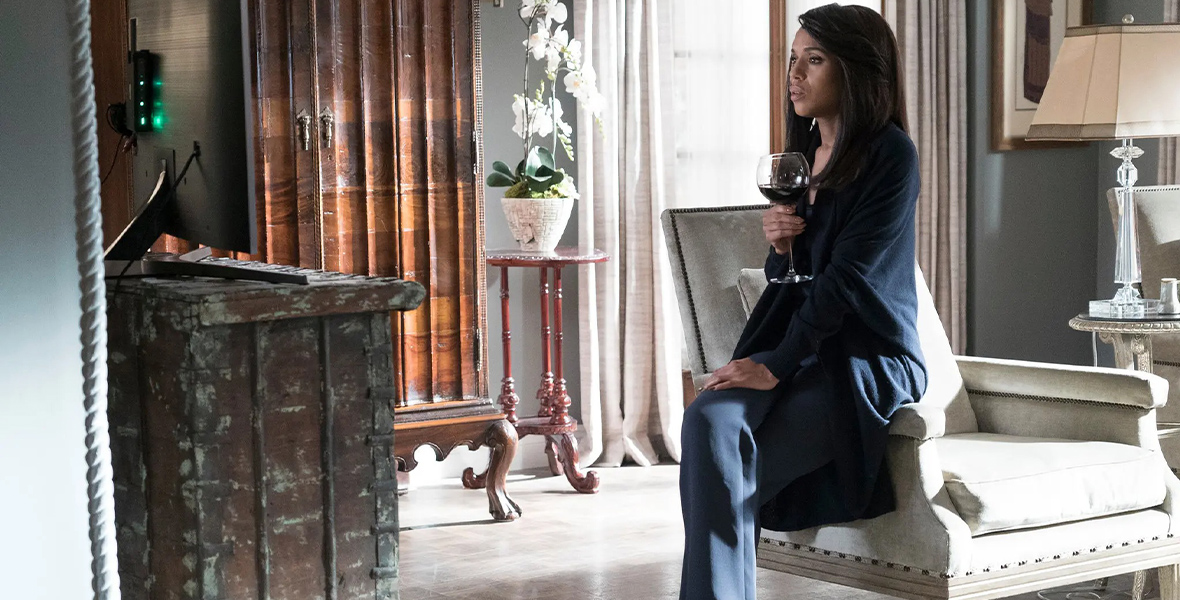 D23: How has Disney's legacy of storytelling impacted your own work?
Kerry Washington (KW): What we try to do at my company, Simpson Street, is affirm the idea that every single one of us is the protagonist in the story of our lives. We are each the hero at the center of our own journey, and nobody should be living as a supporting character all the time. We can always make the choice to be a supporting character in other people's lives, and we should often be of service in that way. But that should be a choice. We should know that fundamentally we are the protagonist in the story of our lives, and we have the power to be the hero of our own journey.
What I love about the Disney ethos is that idea gets lived out, again and again, in narrative after narrative. You see so many different kinds of protagonists of different ages and races—whether your protagonist is a toy, a princess, a chief, or a car. We see these stories affirm the idea that so many different kinds of people, places, and things are heroes, and it opens up ideas about who matters and who doesn't. It really affirms the idea that we all matter.
It's been fun for me to live in this world, because I gravitate towards the Disney narratives and storytelling. It's been such a huge part of my life, and it's the perfect place for my company to be, because what we do at Simpson Street is so in alignment with that overall Disney idea of: "We are all heroes, we all have adventures, we all get to wish, we all get to live boldly toward the fulfillment of our dreams—because we all deserve it, no matter who we are, where we're born, who we love, what race we are, or what zip code we come from." Each of us deserves that.
D23: What made you want to get into producing in addition to acting?
KW: I love producing because it's kind of like being the Olivia Pope of any set. You're there to fix problems, to make things better, to protect people, and to create space for people to soar. The first project my company produced was a film I made with ABC Studios/ABC Signature for HBO called Confirmation, where I played Anita Hill. I felt like it was important for me to produce that, because I felt like I had something unique to offer as a Black woman, in terms of my perspective. I wanted to make sure I had a seat at the table and the capacity, capability, and agency to really be able to do that. I came onto that project as an actor and a producer and fell in love with producing—the fixing and problem-solving and opportunity building. And I just have not turned back!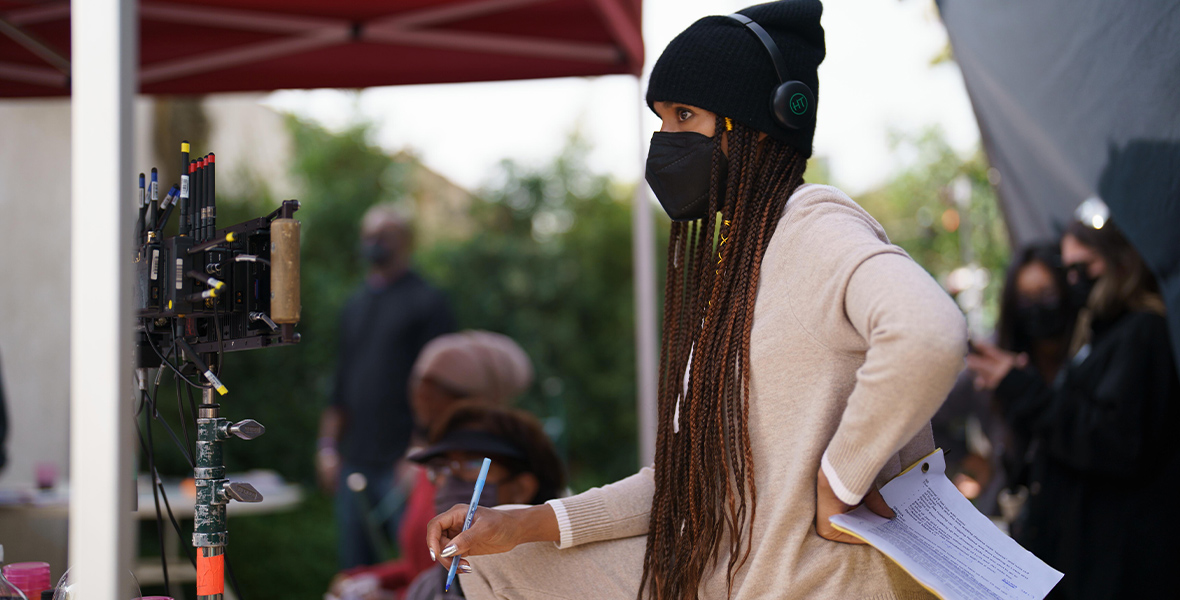 D23: What's it been like to create projects for Onyx Collective?
KW: The focus is really uplifting and shining a light on creators of color—presenting work to the world that is created by folks of color about our experiences. And it's a wonderful collective to be a part of, [where I am] able to support other artists who are offering their unique perspectives, as people of color. To be able to champion their work as a producer—like on UnPrisoned, as a producer and actor—is just so exciting.
D23: We have to talk about Scandal. Do you have a favorite episode or storyline?
KW: Oh, my goodness... I couldn't even begin to pick a favorite storyline, because it all means so much to me—every episode. I mean, I guess there was the fantasy episode where Fitz [Tony Goldwyn] and Olivia got married. That was just so fun to shoot, because I knew how thrilled our fans would be with that. I love the lawn chair episode; I thought that was really poignant. I love the flashback episode, "The Trail," which was our first window into the past and how this all went down; Tom Verica, who became our directing producer, directed that. So, obviously, I can't pick one—there's a bunch!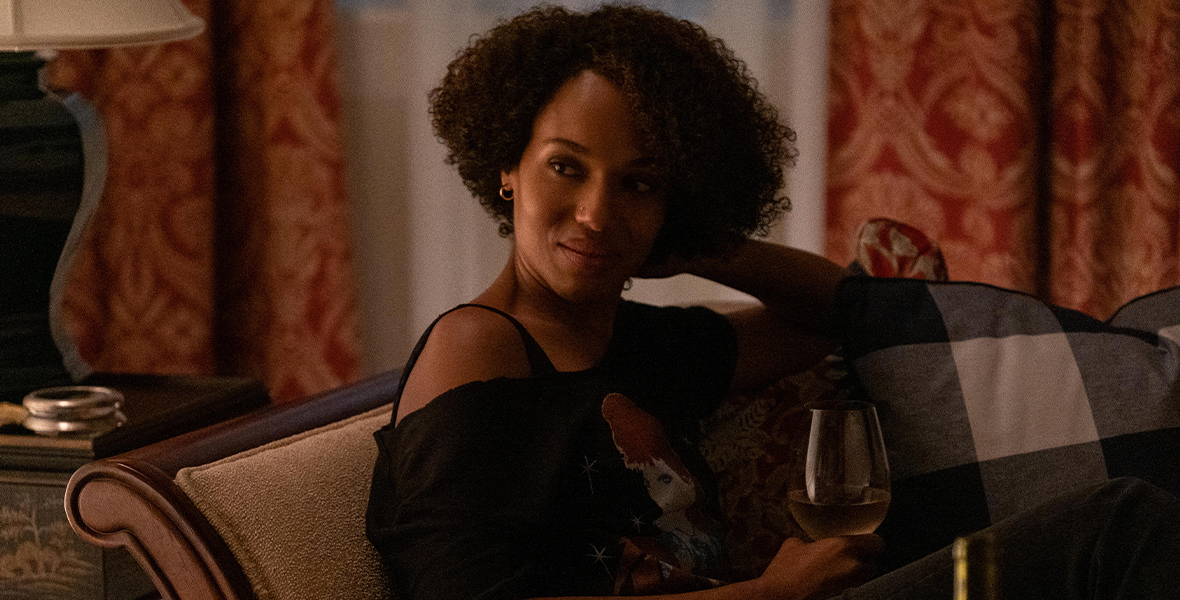 D23: You also lit up Hulu in Little Fires Everywhere, thanks to your on-screen rapport with Reese Witherspoon. Off-screen, it seemed like there was a little lovefest going on!
KW: "Lovefest" is the word! I love Reese Witherspoon with all my heart. I just adore her. Doing that project together was a delight. Very early in my career, when I knew I wanted to get into producing and start a production company, I called her, because she had started Hello Sunshine. I knew she had two production companies before that, so I thought, "She must have learned some stuff. She has been iterating and evolving, and she's at a point in her producing where she has a lot of wisdom to offer. I'm going to ask her for some advice before I go into this overall development deal with ABC." When I called, I said, "I just want to pick your brain and ask you what mistakes you've made and what you've learned." And she said, "Nobody's ever done that before. No other woman has ever called me to do that. I love this!" She was like, "I have so much to share. I have so much to tell you." And from that moment, we became fast friends.
We always said we were looking for something to do together. I'll never forget the day that she emailed me and said, "I think I have it. Give me a call." She had just finished reading Little Fires Everywhere and knew she would be picking it for her book club. She felt like it would be a fun project to do together—and, as always, Reese was right!
D23: What's harder for you: drama or comedy?
KW: I don't know! It's all a joy and it's all a challenge. I love what I do, and I love being able to change it up. I've really loved playing Paige and doing this show [UnPrisoned] because it allows me to use all of the keys on the piano. I love doing serious dramatic work. Obviously, I've done a lot of that at Disney and elsewhere, with Scandal and other opportunities... So, it's really fun for me to do material that's like a real dramedy.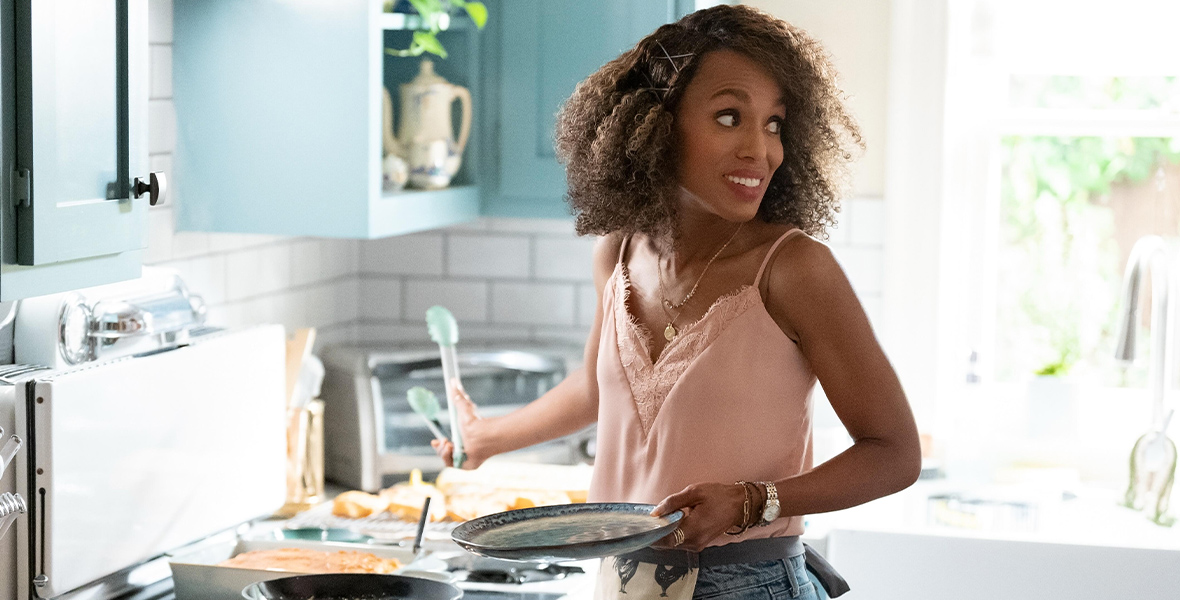 D23: Speaking of UnPrisoned, what intrigued you about this story?
KW: This show is inspired by the life of an incredible woman named Tracy McMillan. She's an awesome comedy writer, marriage and family therapist, and just all-around awesome human being. I'm a fan of hers, and when I heard she was writing a show inspired by her life, I was intrigued. And then, honestly, I read the script and I realized, "Wow, we have an opportunity to really shed light on an entire portion of the population that often gets marginalized in our narratives."
There are 80 million people in America with criminal records, and those people are all surrounded by family and friends who love them dearly. All of those folks are deeply impacted by the criminal justice system, and we're just not telling that story as often as I think we should be, given how many of us there are. We tell lots of stories about people going into prison and what it's like in prison, but being a returning citizen and the unique challenges that people face when they become un-prisoned, when they are trying to un-prison their hearts and minds, along with their family members? It's a real privilege tell that story.
D23: UnPrisoned aside, what's it like to voice a character on The Simpsons?
KW: It's such a trip! It's so much fun and it's so exciting. For the most part, I'm really playing my mother, because she was an elementary school teacher for many decades and then became a professor of education. So, the character is entirely inspired by my mom. It's obviously a comic extension of my mother, and so that's a joy. It's also just really fun! A lot of the stuff I do isn't age appropriate for my kids—but The Simpsons is!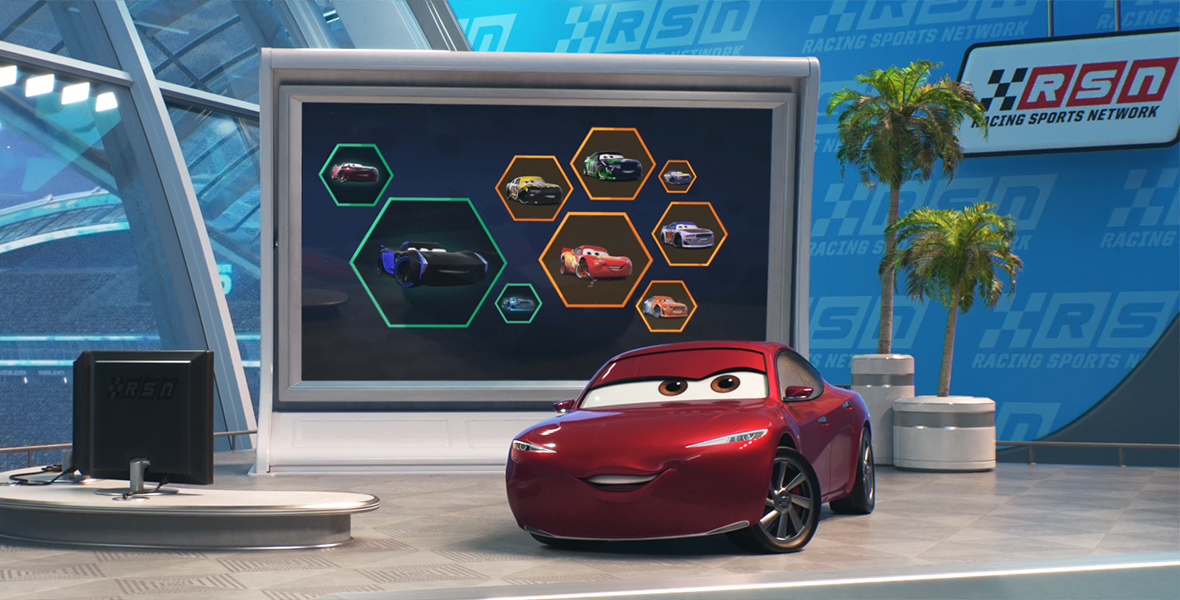 D23: Before The Simpsons, you also voiced a character in Cars 3...
KW: Yes! I will tell you that when we're at Disneyland, my kids will wait in line until we get the Natalie Certain car! We will wait for the maroon Natalie Certain car, or we will see who gets in it and we will race each other. We are definitely Cars fans in my family!
D23: Lastly, what makes Disney the perfect home for you to tell your stories?
KW: There is something about this ethos of wishing upon a star, of believing in your dreams in the pursuit of an adventure beyond your reef—to borrow words from Moana—that is so core to how I think about life and what I think is important about storytelling. I'm a true, true fan of the Disney ethos and this kind of aspirational wish fulfillment that lives in everything we do. That's not without the full wisdom of the complexity of the history of the company...
There used to be images that were more limiting for women and more limiting for people of color, and the company has continued to grow and evolve to be a company where you could click on something on Disney+ that's "problematic," where the platform invites you to have complicated conversations with your family. This is the company that put the first Black woman at the center of a one-hour network drama after almost 40 years of not having one. ABC and Disney took that "risk" when other networks were saying, "Absolutely not. We're not putting a Black woman as No. 1 on the call sheet."... Look at how the company continues to grow, to evolve, to be more inclusive, and to reflect more wish fulfillment—for everyone. I'm really proud to be a part of that legacy and that journey.
Want more? Listen to Washington's interview on the D23 Inside Disney podcast.