By Zach Johnson
Kristen Anderson-Lopez and Robert Lopez are always in harmony.
Not that they need any introduction, but the couple is the Academy Award®-, Emmy® Award-, and Grammy Award®-winning songwriting team behind Walt Disney Animation Studios' Winnie the Pooh (2011), Frozen(2013), and Frozen 2 (2019); Pixar Animation Studios' Coco (2017); Marvel Studios' WandaVision (2021); and Hulu's Up Here (2023). For the stage, the Lopezes wrote Finding Nemo: The Musical, which ran from 2006–2020 at Disney's Animal Kingdom Theme Park at Walt Disney World Resort, and adapted Frozen for Broadway, which opened in 2018 and is now on tour across North America.
Graduates of Yale University and Williams College, respectively, Lopez and Anderson-Lopez now reside in Brooklyn, New York, with their two daughters. They joined D23: The Official Disney Fan Club for an expansive Q&A about telling stories through songs.
D23: What makes Disney the perfect home for storytellers such as yourselves?
Kristen Anderson-Lopez (KAL): Disney has a great tradition, from the very beginning, of using music to tell stories and deepen the audience's connection to and understanding of the characters—and that is through every branch we've participated in at Disney. Whether it's Marvel or Pixar or Disney or the parks, music is everywhere. So, it's a wonderful place to work because we, as songwriters, feel very valued. They see our job as storytellers the same way that we see our job as storytellers. It's story first, always, and the music just is an outgrowth of what the character wants and needs and is facing.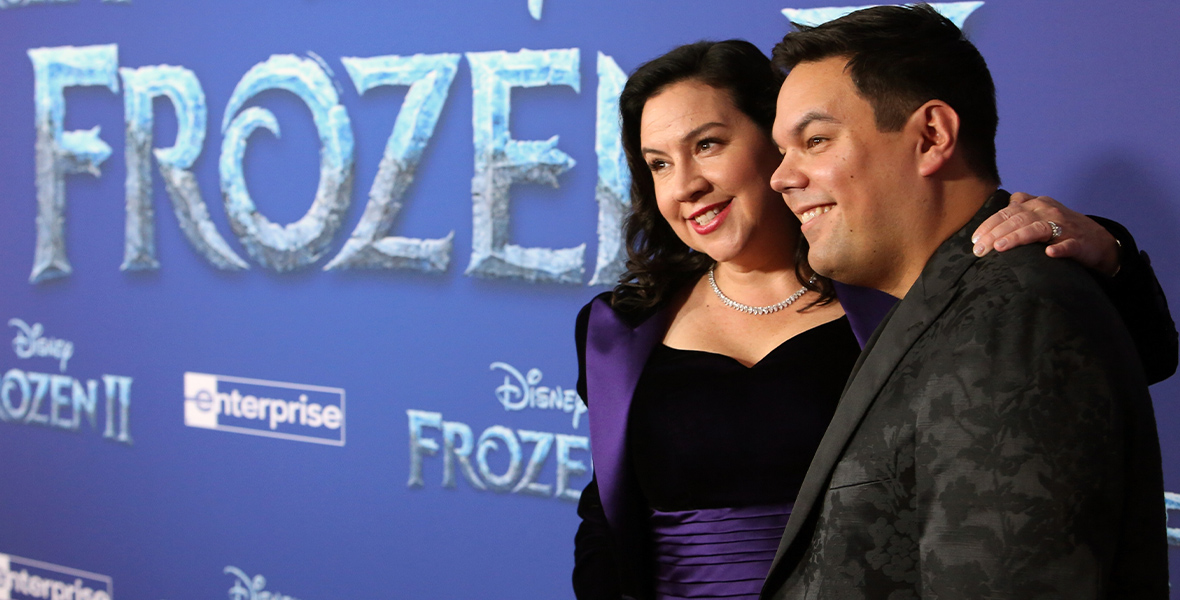 D23: How has the legacy of Disney's storytelling has impacted you as songwriters?
Robert Lopez (RL): When we first started working at Animation, we were working with Tom MacDougall, the president of Disney Music, as well as [Disney Legend] Chris Montan, who was sort of the emeritus. Tom was really nice to us and an amazing, amazing friend. He's really the answer you're looking for about what makes Disney such a great place for songwriters to work. Tom understands songwriters inside and out; he supported our process and was like our therapist through all that. When we were starting on Frozen, we turned in our first piece, and Chris said, "Can you give us something else that's better? Because you really need to bring your best. What we do has the ability to last for centuries—for forever, for eternity. You don't want to come to us with anything less than your A-game. Be sure you're bringing your A-game every time you write." That's something that sinks in, especially when someone like Chris says it. It's now something I think about every time I pick up a pen. I never think, "Well, it's Tuesday." I think, "This has the opportunity to last a lifetime. Let's make it count."
D23: That's both inspiring and terrifying!
KAL: If you want to hear the voice in Bobby's head, it's Chris saying, "This has to last for centuries." Sometimes it's my job to say, "You know, it's Tuesday. Let's save the 'it has to last for centuries' until Thursday, and let's just do the first draft on Tuesday."
D23: Up Here debuted as a stage musical eight years ago, and now you've adapted it for Hulu. What was it like to revisit those songs and also executive produce the series?
KAL: When we were looking at rewriting a lot of it right after we opened in La Jolla in 2015, we couldn't even wrap our minds around it. We were far too close; we had put too much of ourselves in it. And then we went on to do Frozen on Broadway, Frozen 2, Coco, and WandaVision—all these things. It was nice to be able to come back and go, 'Oh, yeah! Remember that song? I like that song.' The hook is the same, but almost every other lyric is rewritten for this character in this situation—and you can't do that until you have some distance.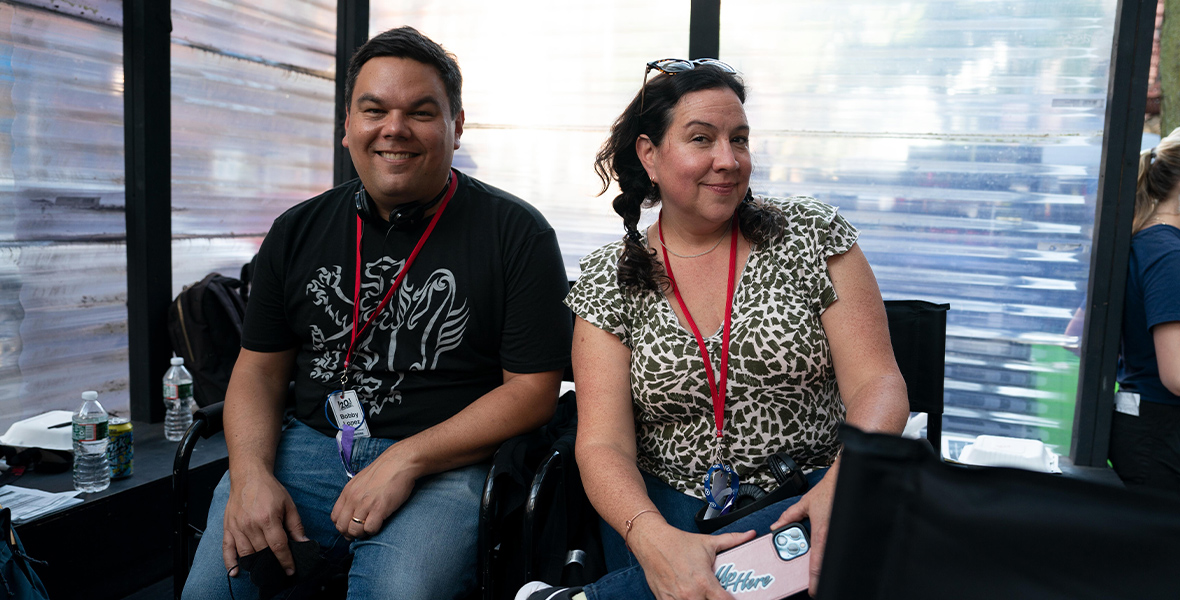 D23: What would young Bobby and young Kristin think of the fact that adult Bobby and adult Kristin are getting to create such iconic songs for Disney, Marvel, and Hulu?
KAL: Well, young Bobby and young Kristin show up every single day we are at work. When we are in flow, we are two kids. We are best friends on a play date, pretending to be Elsa or Miguel or Lindsay. We are still those kids. The other thing is that young Kristen didn't really know females could be songwriters or executive producers. So, even though she was doing this in her own backyard, the narrative she downloaded was that she had to be an actress. She hadn't seen female songwriters. Now, I tell whomever I can that I am a songwriter and I love what I do. I also get to be married and have kids. You can be a woman leading a rich life and also create all these things.
D23: What are some common things the two of you hear about the songs you've written for the Walt Disney Company? Songs like "Let It Go" and "Remember Me," for example, continue to resonate with fans of all ages, demographics, and experiences.
RL: In the documentary series about Frozen 2, Into the Unknown, there's a scene where one of the animators shows the directors this letter about "Let It Go." This girl shared her experience of having been really depressed and thanked Disney for changing her life and being her strength in a moment of need. That got me. We were trying to solve a story point! We were trying to put something that was meaningful to us out into the world. We never were trying to help a girl get through a tough time. But it turns out that's the purpose of this. At its best, music can save people's lives. It can help people get through rough times. That's one of the functions of art. And God bless Disney for having the reach that it does, in terms of in terms of helping people all over the world.
KAL: I also just get a kick out of seeing a child wearing an Elsa backpack on the street as we walk home from the office. We'll be like, "Look! She's got Elsa shoes! Right on!"
RL: The older and more well-worn, the better!