Let's be honest—as soon as you name a movie Tomorrowland, Disney fans are going to want to see it. But when that movie is directed by Brad Bird (The Incredibles), stars the iconic, Academy Award®-winning actor George Clooney, and has a screenplay written by Bird and Damon Lindelof (Lost)… well, "want" becomes "need."
Tomorrowland stars Clooney as a now-disillusioned former boy-genius, Frank, who, along with Casey (Britt Robertson)—a bright, optimistic teen "bursting with scientific curiosity"—embarks on a danger-filled mission to unearth the secrets of an enigmatic place somewhere in time and space known only as "Tomorrowland." Those secrets won't be revealed until the film opens this Friday, May 22. But in the meantime, we've put together this list of things Disney fans might not know about Tomorrowland and its talented team of filmmakers and actors.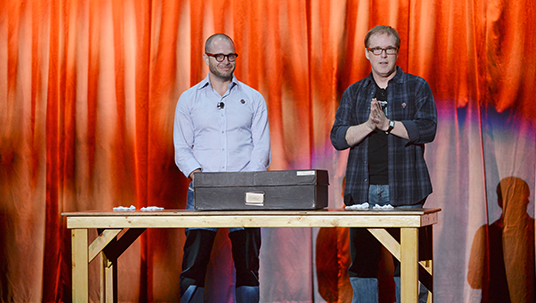 Thinking Outside the Box:
According to the filmmakers, Tomorrowland's story was inspired by a box discovered in the Disney Studios archive, labeled "1952." The box was filled with models, blueprints, photos, and letters pertaining to "Tomorrowland" and the 1964–65 World's Fair. "I began to imagine that the contents of the box were a guide to a secret story that nobody knew," Lindelof says. "But if so, what would that story be? And the most obvious answer to me was that there really was a place called 'Tomorrowland' that was not a theme park but existed somewhere in the real world."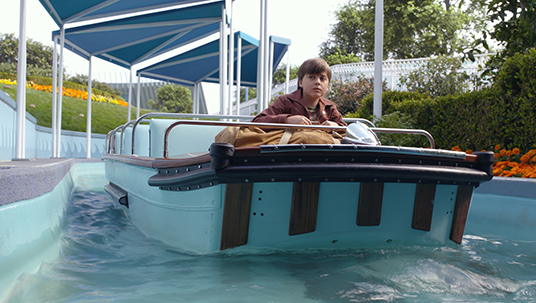 "small world"… Bigger Message:
You'll see it's a small world in Tomorrowland, and you'll, of course, remember that the ride made its debut at the 1964–65 New York World's Fair. But you might not be aware of the historical context in which the now-iconic attraction was introduced. "This was 1964, the world had just flirted with thermonuclear catastrophe as a result of the Cuban Missile Crisis, and the song, 'It's a Small World' was written in response to a world that had walked right up to the brink of nuclear war but had pulled back and was now pining to recognize that we don't have to destroy ourselves. The lyrics—'It's a world of hopes and a world of fears'—touched on that anxiety," Lindelof explains. "Given how it just seems so cute and sentimental today, I found it fascinating that the ride was encoded with that real-world angst. There was a radical political message in there and a very idealistic one, too."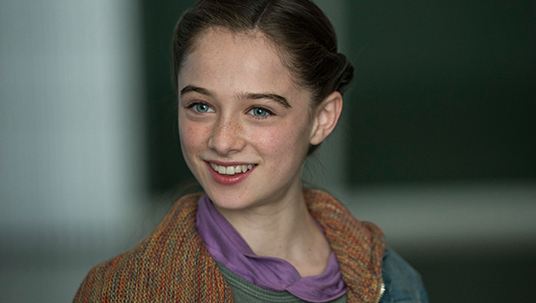 Whiz Kids:
Raffey Cassidy, who plays Athena, learned a new skill while making Tomorrowland: "I didn't know a thing about martial arts or fighting before this, and now I know the kicks and the punches and I'm starting to get more into it. I'm further on than just the basics—I got a yellow belt in mixed martial arts while I was in training." And Thomas Robinson, who plays Young Frank, overcame a fear of heights to "fly" in a jet pack at 80 miles per hour in the film. Supervising stunt coordinator Robert Alonzo worked with Robinson on a trapeze and in a skydiving simulator until, as Alonzo says, "Thomas was just as good in the wind tunnel as he was walking."
Mr. Incredible:
Brad Bird's history with Disney dates back to a visit to the Disney Studios when he was 11 years old. Over the next three years, the aspiring animator finished a 15-minute animated film that garnered attention from Walt Disney Studios—and led to Bird being mentored by Milt Kahl, one of Walt's legendary "Nine Old Men."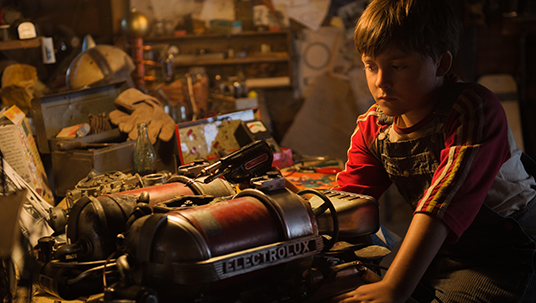 Jet-Setting:
Be sure to check out how the jet pack evolves over the course of the film. The 1964 version just might remind you of a certain galaxy far, far away. The 2014 version is powered by Tesla energy, and is designed to be intuitive—hence the lack of handles. The jet pack is one of Brad Bird's favorite props from the movie. He says, "There's a 10-year-old kid that's still alive in me to this day, so any chance to make a jet pack was fun."
Magic Number:
The original title for the film was 1952, after the original label on the mysterious box that served as inspiration. The production filmed on location in Vancouver during what is typically the city's rainy season. Making the set completely "weatherproof" was looking like an expensive, risky endeavor. Producer Jeffrey Chernov remembers, "I said, 'All right, we'll just have to be lucky.' And, as luck would have it, Chernov explains, "Apparently it was the driest six winter weeks that Vancouver had experienced since 1952." Coincidence—or something magical?
Blast From the Past:
When you see the bizarre memorabilia emporium owned by Hugo Gernsback (Keegan-Michael Key) and his wife, Ursula (Kathryn Hahn), keep in mind that you aren't looking at just any old props. The film's production designer, Scott Chambliss, explains, "Blast From the Past is an amalgam of the sci-fi comic book stores that director Brad Bird and I remember from our youth." To ensure authenticity, set decorator Lin McDonald curated the collection of pieces over the span of months. Some were purchased, some were manufactured for the film, and some are originals—including several that Brad Bird brought from his own collection.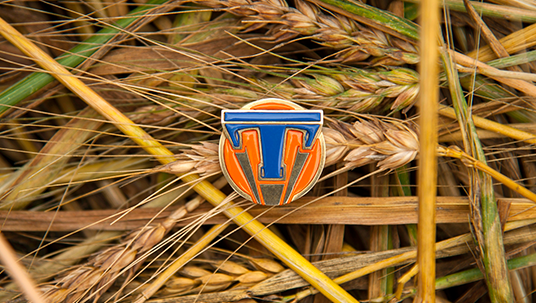 A Perfect "T":
The prop Disney fans are most familiar with, from the trailers, is the Tomorrowland pin, which looks like a super-cool, futuristic "T." Bird elaborates, "We looked at the letter T and realized that if you tweak it a little you can make it look like a jet pack with a tremendous amount of force coming out of both sides of the top of the T. So the T is sort of blasting off while behind it there's the symbolism of a rising sun and that's meant to say the future is coming and it's going to be fun and bright."
Tomorrowland is coming to a theater near you this week. And we have no doubt that fun and brightness are in store!