By Steven Vagnini
For guests who experienced the opening of EPCOT Center 35 years ago, the 21st century began on October 1, 1982. Walt Disney World's newest wonder shone brightly at its premiere—a culmination of 18 years of dreaming, planning, design and construction… and a fulfillment of Walt Disney's vision of an Experimental Prototype Community of Tomorrow.
Despite Walt's 1966 passing, Disney leadership was determined to bring this bold and important concept to reality. By the mid-1970s, during a turbulent time for the American public, the Disney organization found itself in a unique position to paint a different picture of the world, one of optimism, joy and friendship to "instill a new sense of belief and pride in man's ability to shape a world that offers hope to people everywhere," as the park's dedication plaque promises.
As part of his early concept for EPCOT, Walt envisioned a living showcase that would introduce and demonstrate new technologies to meet the needs of people all over the world. Much of this vision had been established with the opening of Walt Disney World in 1971. Beginning that year, visitors and cast members could experience an ideal destination that benefitted from innovative, safe and environmentally friendly transportation systems; an automated central energy resources plant and efficient waste collection system; and unique, welcoming structures brought to life using experimental construction methods.
Epcot, with its six Future World and nine World Showcase pavilions on opening day, introduced and demonstrated new ways to bring its attractions to life, such as the use of a centralized computer system that controlled and monitored the shows across the park, as well as two acres of photovoltaic cells that helped power the Universe of Energy. But Epcot also informed, entertained and enlightened guests on subjects vital to mankind and his survival in the future world—from communication and food production to energy and transportation.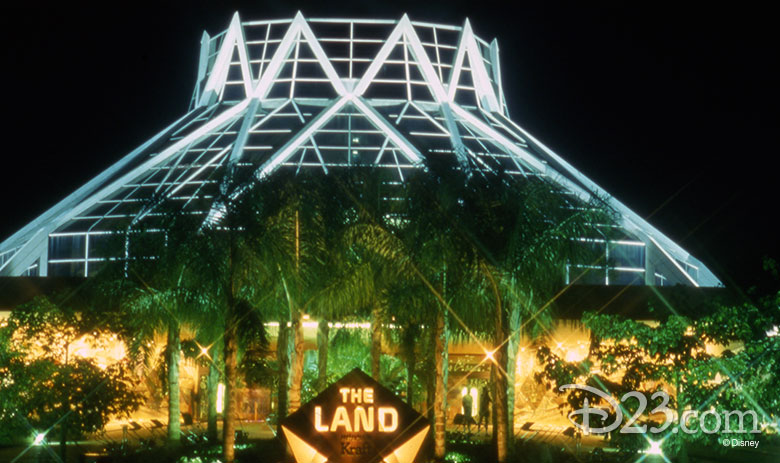 Perhaps the most fascinating example of this continues to be displayed daily at The Land pavilion, where horticulturalists test innovative growing techniques throughout four greenhouses to tackle the challenge of sustaining a growing global population.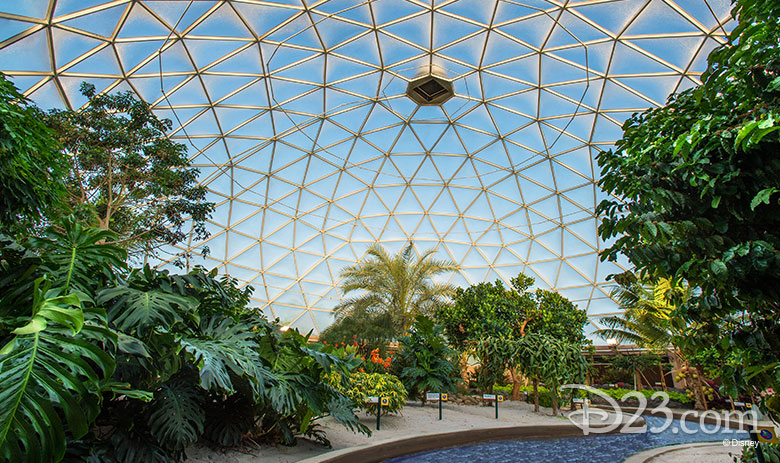 To develop the Listen to the Land attraction, Disney Imagineers consulted with Dr. Carl Hodges, head of the Environmental Research Laboratory at the University of Arizona. Late Disney Legend Marty Sklar, who guided the creative development for Epcot, remembered, "We did about a quarter-scale mockup of the ride and walked Carl through it. When we were through, Carl asked me 'Where do we put the bees?' And I said, 'Carl, there are people riding through this on boats—open boats! We can't use bees.' And he asked, 'Well, how are we going to pollinate the food?' And I said, 'Look, we're in the show business here. You're the scientist—you figure it out!' And to this day, the staff at The Land pavilion hand-pollinates all of that food.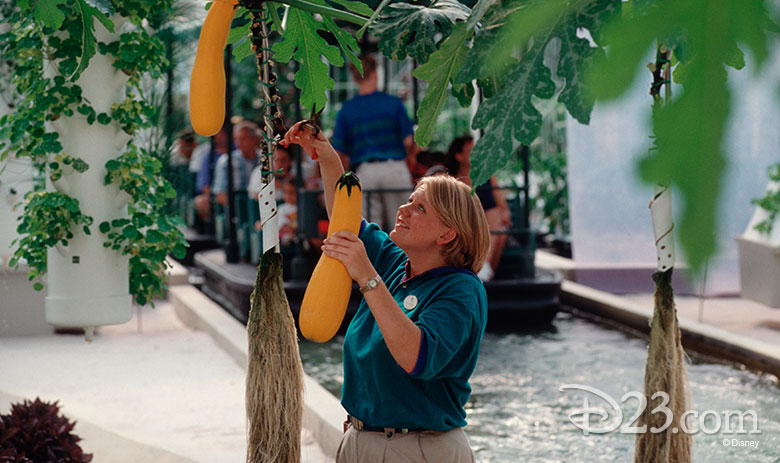 "For me, The Land pavilion is one of the gems of Epcot and certainly closer than probably anything else to Walt's idea."