We are two sisters who love everything Disney! Our love for Disney started at a very young age through frequent Walt Disney World family vacations and small obsessions with all of the Disney animated classics. As children, we often had a hard time picking exactly which Disney movie we would watch next. My favorite is Beauty and the Beast and Katie's favorite is 101 Dalmatians though Katie says I always had to watch Bedknobs and Broomsticks over and over. As we continued to grow up, our bond and friendship became stronger and stronger. I can attribute much of the closeness of our relationship to the Disney magic we experienced over the years. Now, we spend a lot of time learning as much as we can about the Disney parks and try to visit as much as possible. We follow all of the latest Disney news and call each other every day to keep one another up on the Disney action.
I was Belle, Steamboat Willie, and Snow White. Katie was Jasmine, Cruella De Vil, and Sorcerer Mickey
In 2012, we took our first trip, just the two of us—and had a blast! We were able to be little kids again, grab whatever FastPasses we wanted, and have Mickey-shaped cupcakes for breakfast. Later that year, we had the opportunity to go back to Disney with our entire family. Each day, Katie and I wore different Disney character-themed outfits. We got the ideas from a blog we follow called Disney Bound. During our trip. I was Belle, Steamboat Willie, and Snow White. Katie was Jasmine, Cruella De Vil, and Sorcerer Mickey. On the last day of our trip, we each went as Mickey wearing a black shirt, red pants, and yellow shoes. We were so excited when guests walking by knew who we were dressed as.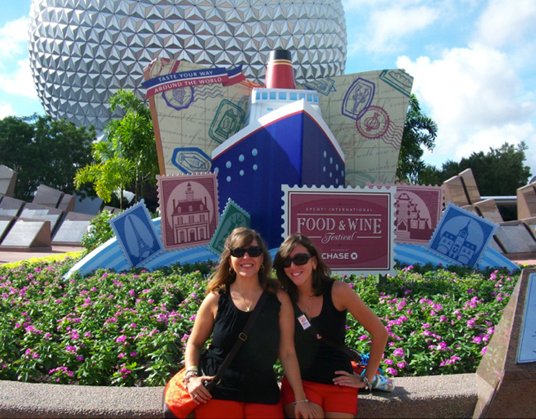 One of our favorite rides is Haunted Mansion. One Disney trip, we set out to ride the Haunted Mansion 10 times. Our trip was planned for five park days. We were able to split up the number of times we rode the ride into several of the days. By the end of our trip, we had accomplished our goal. One of the things that stands out to me when going to the Disney parks is the amount of detail that surrounds you. It was amazing to see that every time we hopped into our doom buggy, we still were able to pick out things we hadn't seen before.
We can't wait to go back.
When we try to get our Disney fix when not in the Disney parks, we like to immerse ourselves with Disney knowledge. We love to watch the movies, read books, magazines, blogs, and articles. We even listen to many Disney podcasts. We also love to order the Walt Disney World vacation planning DVDs and watch inside-the-park specials. We are always reminded of our amazing adventures and lasting memories. We can't wait to go back.