By Jim Fanning
Black cats, magic spells, flying broomsticks, and a ghostly army of empty armor . . .
Premiering originally in 1971 and released on September 8, 2009 in a new "Enchanted Musical Edition" on Disney DVD, Bedknobs and Broomsticks stars Disney Legend Angela Lansbury, who casts an irresistible spell as Miss Eglantine Price, a prim British spinster who also happens to be an amateur witch. The elaborate Oscar®-winning movie is set aglow by magical numbers from Walt Disney's maestros of music Richard and Robert Sherman. Black cats, magic spells, flying broomsticks, and a ghostly army of empty armor make up an enchanting witch's brew of a movie perfect for a wickedly fun October — or any time of the year. Here's a bewitching baker's dozen of spellbinding facts about Disney's magical musical fantasy.
1. October is a Special Month for Bedknobs and Broomsticks
Not only did Bedknobs and Broomsticks have its world premiere on October 7, 1971, but this mesmerizing movie also had several other milestones happen during the haunting month of Halloween. In October 1969, Angela Lansbury visited the Disney Studios to meet with producer/co-writer Bill Walsh and the Sherman Brothers.
"The atmosphere of warmth and enthusiasm which exists at Disney's Studio is very real and infectious,"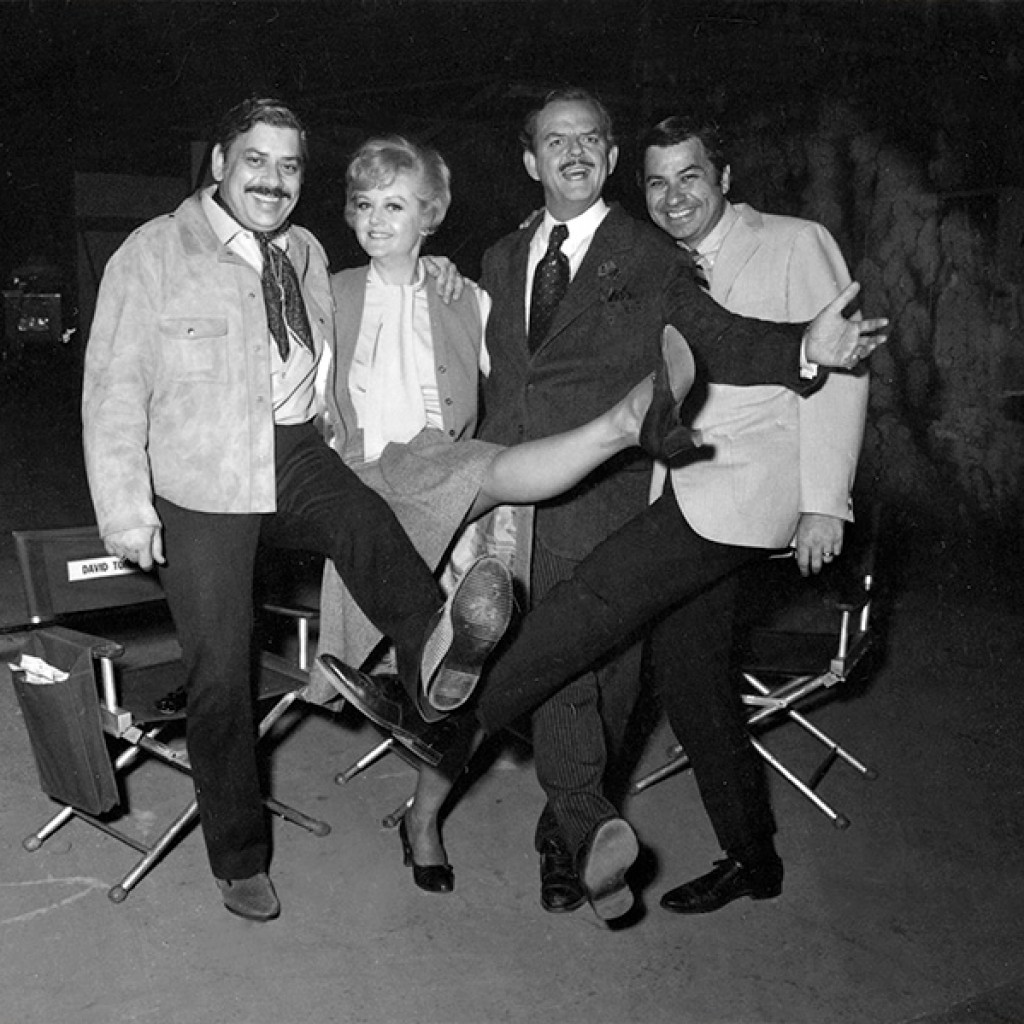 Angela said in an October 22, 1969 handwritten note to Bill Walsh. "I think the script has so many marvelous facets, character, humor, heart and an opportunity for rare inventiveness in so many areas . . . . And the songs Dick and Bob have written for Eglantine are charming and just what was needed. So, all things being equal, do hope I'm 'Your Girl'." Bill announced that Miss Lansbury would indeed be signed for the role of Miss Price on the appropriately witchy date of October 31, 1969.
2. The Name of Naboombu's Lion King is Leonidas
Long before The Lion King (1994), the mighty animated monarch of the lost isle of Naboombu ruled. Although never mentioned in the film itself, the official moniker of this soccer-loving sovereign is King Leonidas, (from the Greek for "lion-like"), apparently after the king of ancient Sparta. Voice artist veteran Lennie Weinrib performed the vocal role of King Leonidas as a parody of Robert Newton's piratical role as Long John Silver in Walt Disney's Treasure Island (1950).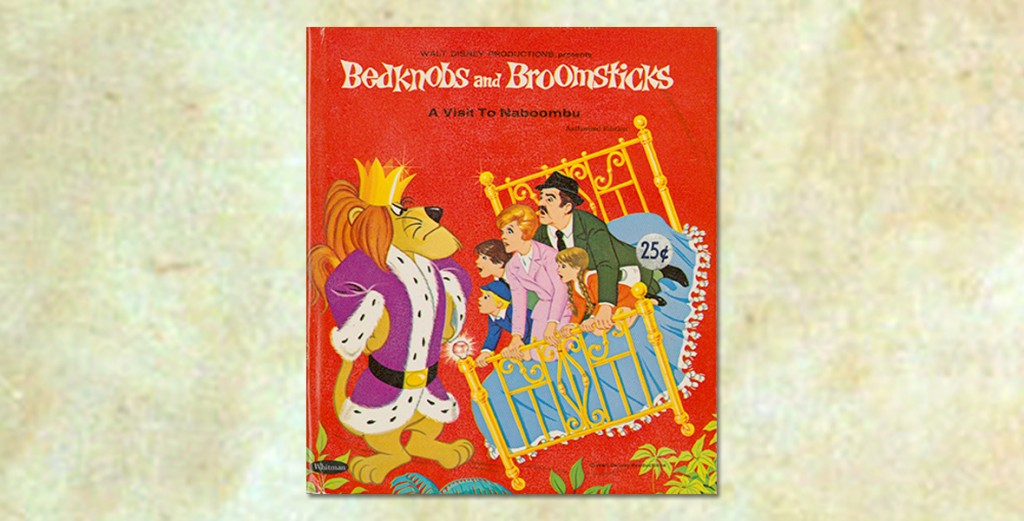 3. Angela Lansbury was a British World War II Evacuee
Like Charlie, Carrie and Paul in Bedknobs and Broomsticks, Angela Lansbury left London during World War II to escape the bombings, so the project carried an emotional resonance for her. "The story reminded me of my teens," Angela recalled. "Like Miss Price, I was in England when World War II broke out. My mother gave me a choice of being evacuated from London to a boarding school in the country or studying acting at home. I chose the latter without hesitation." However, Angela's actress-mother soon evacuated Angela and her brothers, twins Edgar and Bruce (Bruce later became a television producer most famous for producing The Wild Wild West), to the United States, where the young actress was cast in Gaslight (1944), and earned her first Best Supporting Actress Academy Award® nomination — all before her 18th birthday.
Like Miss Price, I was in England when World War II broke out . . .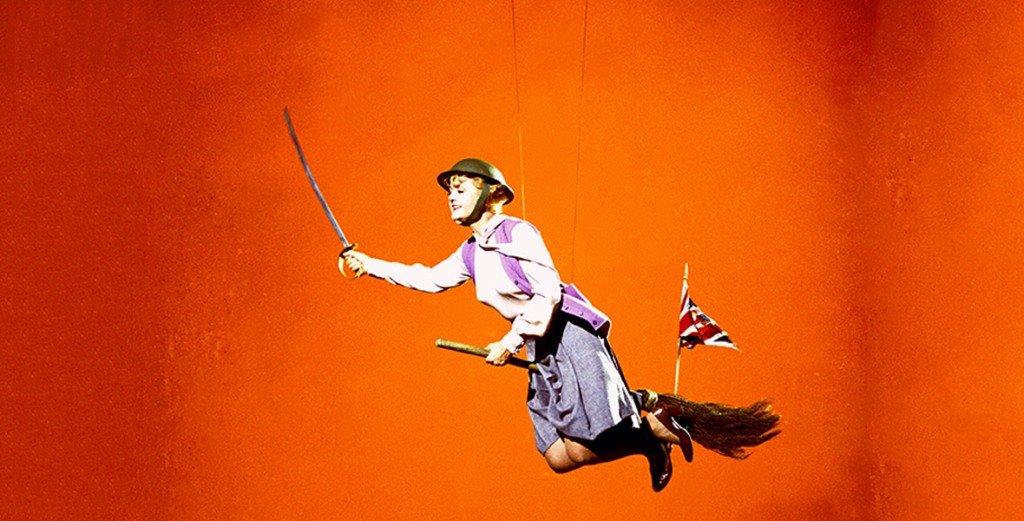 4. The Main Titles were Inspired by the Bayeux Tapestry
Artist David Jonas created the art for the film's main titles in the style of the famous 11th-century embroidery known as the Bayeux Tapestry, which depicts the Norman Conquest. Clever touches in the titles abound, such as minstrels representing the Sherman Brothers; a wizard holding a lighted lantern signifying white-bearded director of photography Frank Phillips; and the illustration of Halley's Comet from the original tapestry standing in for the animated sequence's soccer ball.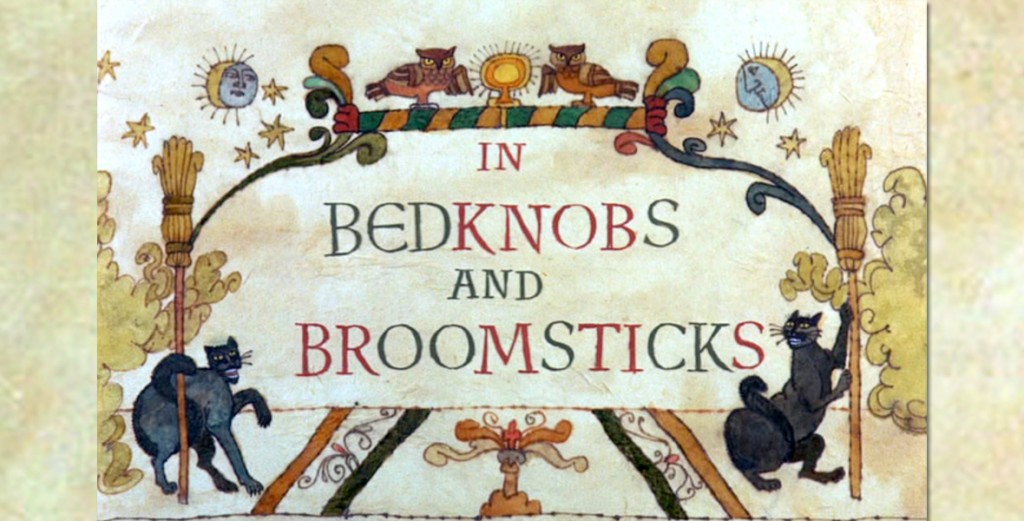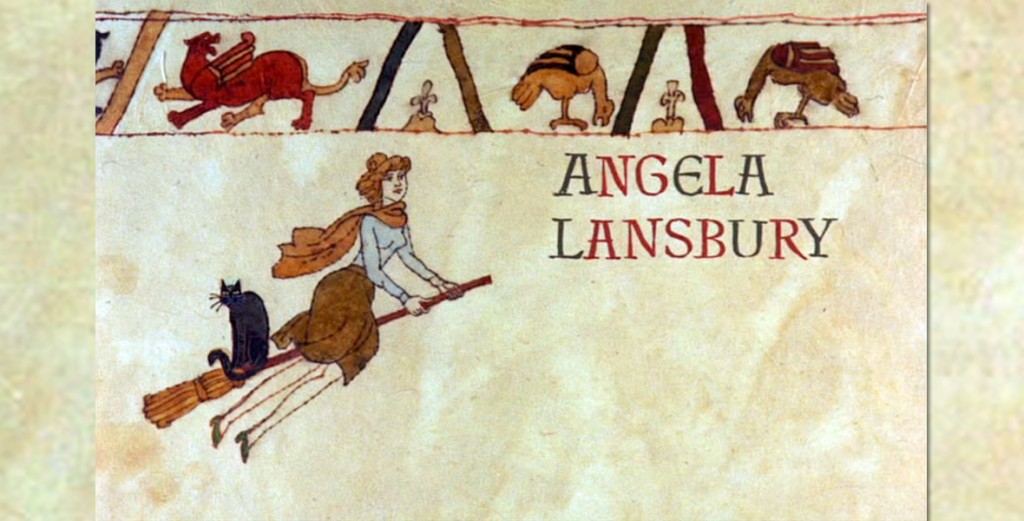 5. Walt Disney Oversaw Development of the Film
Though many fans know Bedknobs and Broomsticks was produced by the same team that created Mary Poppins (1964), few realize the film was developed under the supervision of Walt Disney himself, even though it was released five years after his passing. Walt participated in story meetings and heard and approved the majority of the songs. "One of the songs that Walt liked a lot was 'Substitutiary Locomotion,'" revealed Robert Sherman. "He loved that song. He said, 'That's wonderful but we should do a little of that counter melody.' We had done a few counterpoints and he loved the idea of that. So we came up with the actual magic words — Treguna, Mekoides, Trecorum, Satis, Dee — and put them with the verses we had already written."
"One of the songs that Walt liked a lot was 'Substitutiary Locomotion,'" revealed Robert Sherman
6. Julie Andrews Came Close To Playing Miss Price
Disney's "practically perfect" star almost returned to the Studio when she was offered the lead role of apprentice witch Miss Price. Though the lady who won an Oscar as Mary Poppins initially turned down the part, she later had second thoughts, according to the Studio's then-head of publicity Tom Jones. "Maybe I should do that picture," mused Ms. (now Dame) Andrews. But just at that time, it was announced Angela Lansbury had been signed — and while it's fun to speculate how Julie would have approached the role, Angela made the perfect Miss Price. Julie of course ultimately returned to Disney in 2001 for The Princess Diaries and its sequel, The Princess Diaries II: Royal Engagement (2004).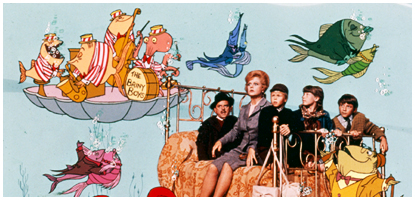 7. There are 130 Gags in the Animated Soccer Match
The hilariously hectic animated soccer game was directed by one of Walt's legendary Nine Old Men, Ward Kimball. Crafted by veteran story artists Ralph Wright and Ted Berman, the Naboombu "football" match of the True Blues and the Dirty Yellows is one of the fastest-paced pieces of Disney animation ever produced and is jam-packed with one gag after another. "We created a 22-minute comedy sequence which cost close to a million dollars and took a year to complete," noted Ward. Fellow Nine Old Men Milt Kahl, John Lounsbery, and Eric Larson also scored with the manic soccer match. For a special treat, look closely at the first wide shot of the crowd in the stands and see if you can spot the bear wearing a Mickey Mouse T-shirt.
8. The Original Cast Soundtrack Recording Featured Several Songs not Heard in the Original Film
More than one Bedknobs fan was puzzled by the 1971 original cast soundtrack album, for it included several songs not heard in the movie itself. Produced by the film's arranger/conductor Irwin Kostal, the soundtrack album featured "With a Flair," "A Step in the Right Direction" and several segments of the "Eglantine" number, including "Don't Let Me Down" — all songs excised from the film before its release. The inclusion of this deleted musical material was not a mistake; in an April 16, 1971 memo, then-president of Disneyland/Vista Records Jimmy Johnson stated that "A Step in the Right Direction" had been "eliminated from the film, but the melody is used instrumentally…. Nevertheless, we are going to use the lyric version in the soundtrack album." Released on compact disc for the first time in 2002, the Bedknobs and Broomsticks soundtrack album is now available on iTunes.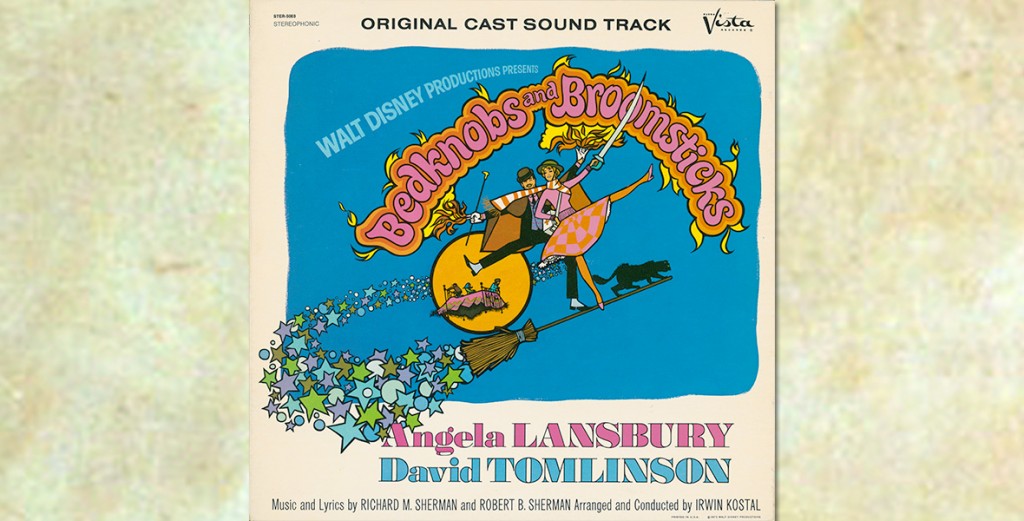 9. 23 "Lost" Minutes of Bedknobs and Broomsticks were Restored in 1996 for the 25th Anniversary of the Film
Intrigued by the tantalizing presence of "A Step in the Right Direction" on the soundtrack album, Disney preservationist Scott MacQueen set out to restore the film for its silver anniversary. In a restoration effort rivaling Miss Price's epic search for the lost spell, the search was on for missing footage cut from the film in 1971 to meet the demands of exhibitors who wanted the movie to run under two hours. Seven months of sifting through film vaults and painstakingly reuniting the missing elements, both dialog scenes and excised songs, resulted in a version of Bedknobs and Broomsticks reflecting the original vision of Bill Walsh, director Robert Stevenson and Walt Disney himself. (Ironically, the only piece of the puzzle that was never found was the "A Step in the Right Direction" number.) The newly restored Special Edition of the film was given a gala re-premiere on September 27, 1996 at the Motion Picture Academy of Arts and Sciences in Beverly Hills, attended by, among others, Angela Lansbury, the Sherman Brothers, Ward Kimball and special effects artist Danny Lee. It is this nearly complete "director's/producer's cut" Special Edition that is now available on Disney DVD.
10. Both Bedknob and Broomstick are Among the Treasures of the Walt Disney Archives
The Walt Disney Archives was founded in 1970, the year in which Bedknobs and Broomsticks was filmed, and chief archivist and founder (and Disney Legend) Dave Smith made sure major and very magical props used in the production were carefully preserved. Consequently, the Disney Archives houses not only the magic bedknob and Miss Price's broomstick, but also Prof. Browne's carrying case of amulets and charms, the Isle of Naboombu linen storybook and the Spells of Astoroth manuscript.
"I love surprises," David said. "That's why I cannot refuse a Disney picture."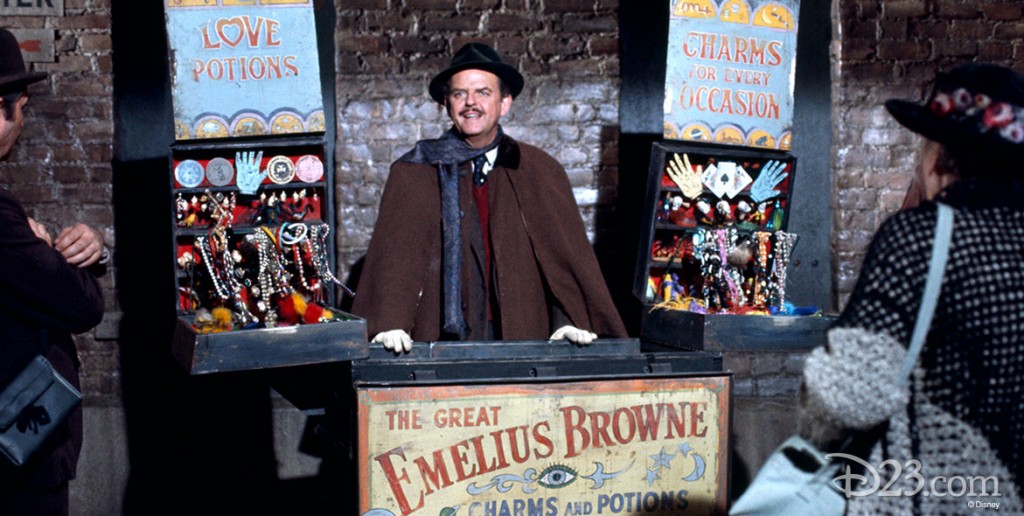 11. David Tomlinson was not the First Actor Signed to play Professor Emelius Browne
Though Peter Ustinov was offered the role of London illusionist and con man Professor Emelius Browne, the role originally went to Ron Moody. Famed for his Academy Award-nominated role of Fagin in the smash-hit 1969 movie musical Oliver! (1968), Ron dropped out of Bedknobs before filming began. The original Prof. Browne ultimately did get a chance to perform opposite Miss Price as Moody appeared with Angela Lansbury on her TV series Murder She Wrote in 1985. Ron finally made magic for Disney, playing Merlin the wizard — twice — in Unidentified Flying Oddball (1979) and A Kid in King Arthur's Court (1995). As for Emelius Browne, he was ultimately played by David Tomlinson, a Disney favorite from Mary Poppins and The Love Bug (1969). "I love surprises," David said. "That's why I cannot refuse a Disney picture."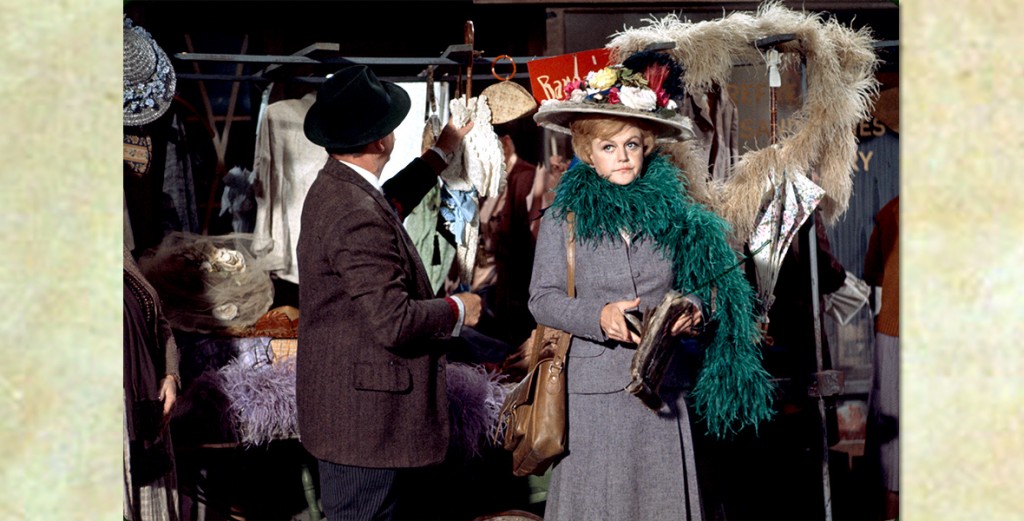 12. Admiral Boom Plays General Teagler
The role of retired General Sir Brian Teagler, commander of Pepperinge Eye's Home Guard soldiers, was played by Reginald Owen, who had delightfully depicted another English military gentleman, Admiral Boom, in Mary Poppins. In a career spanning decades, British-born Reginald had been under contract to MGM, where he appeared in such major movies as Anna Karenina (1935) and also portrayed Scrooge in A Christmas Carol (1938). He later played Kevin Corcoran's eccentric but kindly neighbor in two Walt Disney Presents TV productions: "Moochie of the Little League" (1959) and its sequel "Moochie of Pop Warner Football" (1960). Bedknobs and Broomsticks was this veteran character actor's last film.
Such motion-picture sorcery that won Alan, along with Eustace Lycett and Danny Lee, an Academy Award for Best Special Effects
13. The Entire Film (almost) was Shot at the Disney Studios in Burbank
Aside from some brief coastal scenes of Nazi soldiers — shot on location at a California beach — Bedknobs and Broomsticks was filmed at the Walt Disney Studios. Three blocks of London's legendary Portobello Road were re-created on Sound Stage 2, the biggest, most expensive set Disney ever built up until that time. The town square of English village Pepperinge Eye — complete with a stone castle — was recreated on the Disney backlot. In truth, only the entrance and battlement of the ninth century fortress were constructed. The rest of the castle, as well as the majority of the picturesque village that surrounded it and the long shots of Miss Price's lovely but lonely coastal cottage were actually conjured up through the matte paintings of Alan Maley. It was such motion-picture sorcery that won Alan, along with Eustace Lycett and Danny Lee, an Academy Award for Best Special Effects, a richly deserved honor for bringing Miss Price's witchcraft to dazzling life.