By Zach Johnson
If Disney and Pixar's Toy Story 3 marked the end of Andy's childhood adventures, Toy Story 4 marks the start of a new journey for Woody (voice of Tom Hanks), his former partner in crime. With the animated movie opening in theaters June 21, 2019, we recently joined the cast and crew at Toy Story Land at Walt Disney World Resort to learn more about all of the toys Bonnie (voice of Madeleine McGraw) inherited from Andy—and what happens when her imagination gives life to Forky (voice of Tony Hale), an arts-and-crafts project who thinks he's trash. Literally.
We also met four new characters—Gabby Gabby (voice of Christina Hendricks), Ducky and Bunny (voices of Keegan-Michael Key and Jordan Peele), and Duke Caboom (voice of Keanu Reeves)—and were reintroduced to a steadfast, street-smart Bo Peep (voice of Annie Potts). Because the Toy Story movies are near and dear to the hearts of millions, the team at Pixar approached this project with added affection and care. "We knew it had to rise to the level of the other ones," producer Mark Nielsen said, "so we put our blood, sweat, and tears into this."
Here's what else we learned from the Toy Story 4 press conference:
1. Duke Caboom is the pride of Pixar's Canadian animators.
"When we cast these roles, we don't want to see faces," director Josh Cooley explained. "We have a casting department bring in a bunch of recordings. We say, 'Turn the headshots over. We just want to hear the voice.'" After listening to dialogue from Reeves' oeuvre, Cooley and the producers immediately knew they'd found their daredevil. After an enthusiastic meeting at Pixar's headquarters, Reeves agreed to play the part. "There's a lot of great Canadians who work at Pixar, and they all volunteered to animate the Duke Caboom shots," Nielsen said, adding that the self-appointed "Maple Leaf Crew" animated most of his scenes.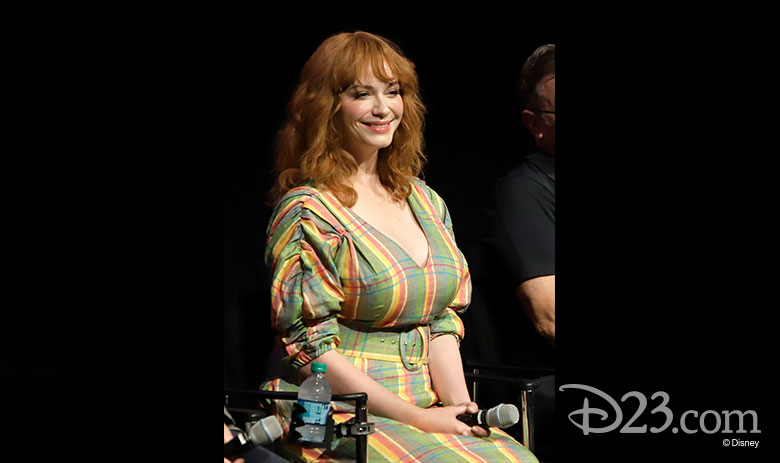 2. Gabby Gabby is not a cookie cutter, one-dimensional villain.
She's an adorable, talking pull-string doll from the 1950s, but a manufacturing defect in Gabby Gabby's voice box has kept her shelved in an antiques store. Although she desperately wants to acquire Woody's functioning voice box, she may not be as sinister as she seems. "All of the characters in this movie are so well rounded," Hendricks said. "A sweet thing about this character is she's not just one thing. She's got this strength, even though she's a baby doll. It was a joy to bring all those sides to her." Hendricks hopes that after audiences see Gabby Gabby's story unfold completely, they'll become more empathetic. "Ultimately, you have to listen to everyone's full story before you make a judgment about them—or hopefully not make a judgment about them," she said. "You need to listen before you can fully understand them."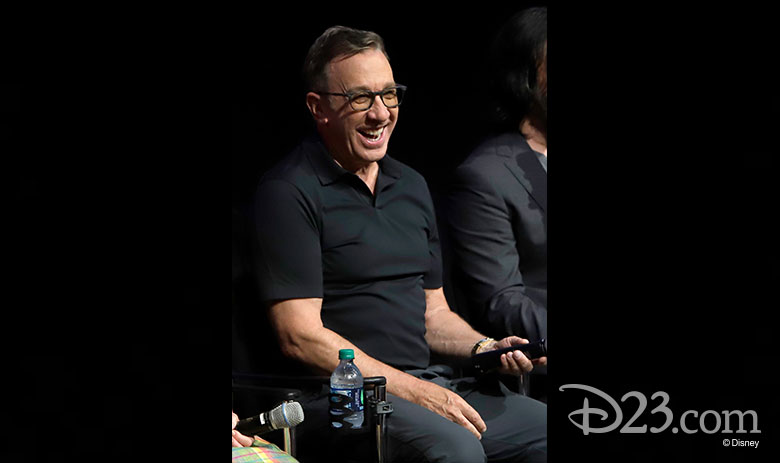 3. No one knows what's under Buzz Lightyear's headgear.
When Tim Allen was put on the spot regarding the Space Ranger's hidden hairstyle, he had a few hypotheses. "He has pattern baldness," Allen joked. "That balaclava he wears? It's for fireproofing! No, actually, he's got a beautiful head of hair underneath there. It's rather curly and he's got a man bun." Cooley, Nielsen, and Rivera neither confirmed nor denied his theories.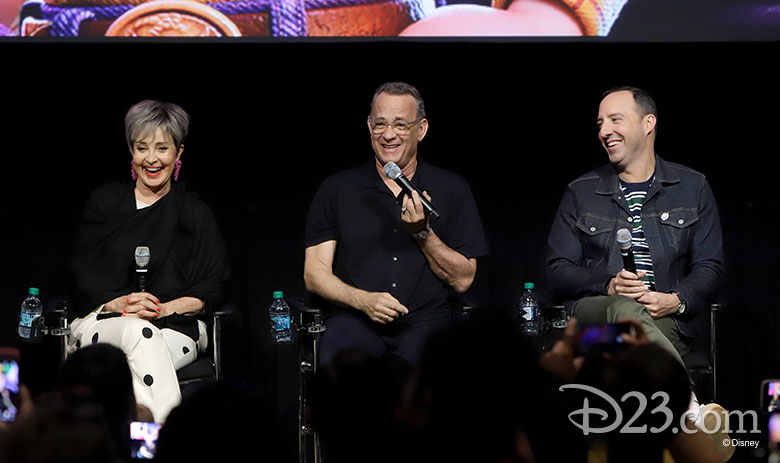 4. Recording dialogue Toy Story 4 was unlike the previous films.
"I never read a complete script. I don't think anyone did," Hanks said, noting that he was only privy to Woody's sequences. "We always knew what territory we were going into, but never the specific route." Also, the recording process changed. "Annie and I got to record together at the same time—and that never happens!" Hanks said. "You're always on a soundstage by yourself."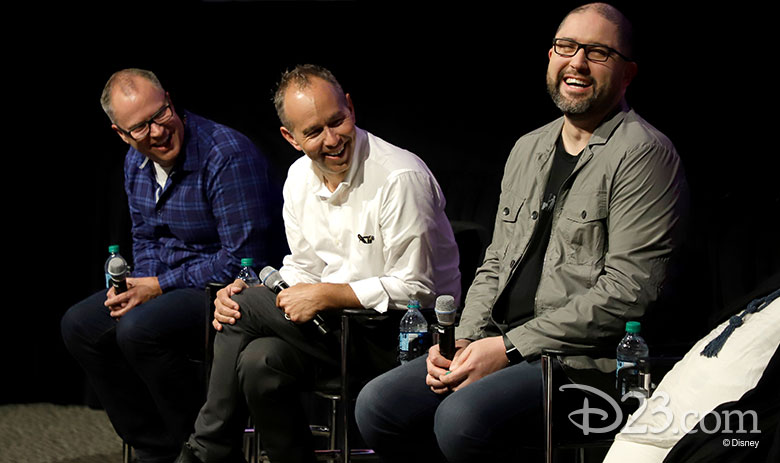 5. No one understands Forky better than Tony Hale.
Hale said joining Toy Story 4 was "overwhelming"—in a good way. In fact, the actor's anxiety helped him relate to Forky, who's been in an existential crisis since birth. "When they brought me to Pixar, they described him as kind of nervous. I was like, 'Check!' They said he asked a lot of questions. 'Check!' And they said he was gullible to a fault. 'Bingo! I'm in.'" He also valued Forky's simplicity, saying, "When he's brought into the world, he doesn't understand the rules of the universe. Like, he's very confused when toys drop to the ground when humans walk in!"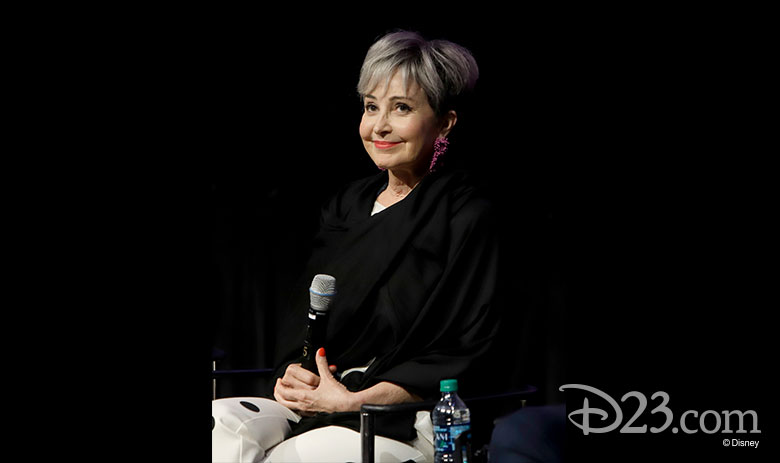 6. Bo Peep's journey made Annie Potts feel like a queen.
As was true of Toy Story 3, Toy Story 4 also addresses loss in a profound way. And at this point in her life, it's a subject matter Potts felt she could explore with greater vulnerability. "I'm 66 years old. I've said goodbye to a lot of people, and hello, and held hands, and looked out into a new future—and it was sweet to play that out. As we said earlier, I never saw the full script; I never knew exactly what I was doing. Over time, I became aware how important the role was going to be," the actress said. "But not until three weeks ago, when I saw the movie, did I tell Josh afterward, 'Thank you so much for putting this crown on my head.' I think she's so lovely."
Allen was similarly affected by the film. "I read through and the end was kind of mercurial," he said, comparing his feelings to a father watching his daughter get married. "There's great sadness, because she's leaving, but great [happiness], because she's also gaining something."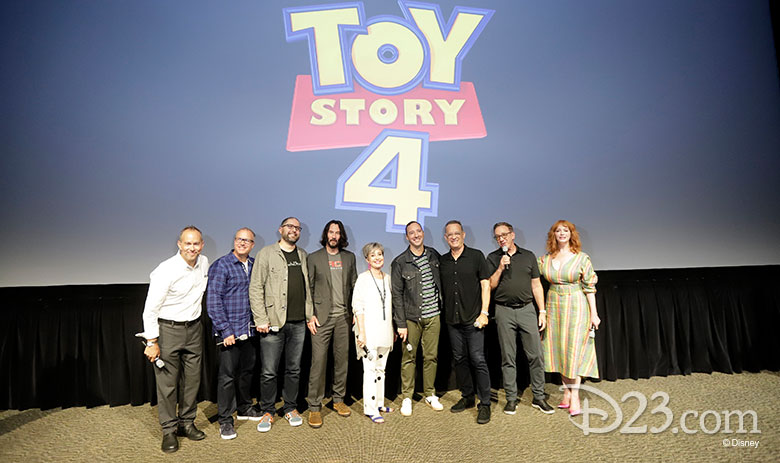 7. It took nearly 20 years for Tom Hanks to grasp Toy Story's impact.
While enjoying the nighttime show Fantasmic! at Disneyland Park with his family, it dawned on Hanks that he was part of something bigger than himself. "The Mark Twain Riverboat comes by, and all of the Disney characters are on it: Belle, Sleeping Beauty, Mickey Mouse, Mulan, Captain Hook, Peter Pan—everyone! And my daughter, who was 30, burst into tears. I went, 'What's wrong?' She said, 'Dad, look at the end of the boat.' It was Woody and Buzz. She said, 'Dad, you will always be on that boat dancing for the rest of time as long as Disneyland is here,'" Hanks said. "That's more than just a cool thing; it's actually a sort of talisman we get to carry with us."