Walt Disney's Magic Skyway at the Ford Wonder Rotunda was the 4th most-attended attraction at the 1964–65 New York World's Fair, hosting almost 15,000,000 guests. At the close of the fair, Walt hoped to bring the Skyway back to Disneyland, but it was not to be.
See More in the Spring Issue of Disney twenty-three ►
And so the largest Disney ride ever built during Walt's lifetime became the stuff of legend. Return with us now to those thrilling days of yesteryear, when from out of the past comes the thundering roar of a 271-horsepower Mustang engine, and the Magic Skyway rides again!
Now it's your turn to step into a brand new Ford convertible, sit back, and let Walt Disney be your guide to a distant past and a future yet to come!
Urban planning and modes of transportation had long held an interest for Walt, and before there was a
Magic Skyway
there was
Magic Highway U.S.A.
, an episode of the
Disneyland
television show that first aired on May 14, 1958. Tracing the history of the automobile and the highway system,
Magic Highway U.S.A.
envisioned fantastical new modes of transportation, noting that, "such visionary ideas which today seem sheer fantasy will be commonplace to future generations."
To turn fantasy into reality, Disney artists, in collaboration with architect Welton Becket, began to conceptualize the form of the Ford pavilion for the 1964–65 New York World's Fair, eventually designing a Wonder Rotunda defined by 64 100´ pylons, encircled by two glass-enclosed skyways.
Inside the Wonder Rotunda, guests waiting in line could experience the full gamut of Ford's inventiveness—from the 1896 Quadricycle to 1964's Mustang (which made its debut at the Fair). Guests could also explore a village in miniature, the International Garden of the Wide World of Ford, commemorating 300,000 Ford men and women in more than 50 Lands, uniting the world's skills in science, art, and commerce.
After embarking in one of more than 100 latest model Ford convertibles, guests traveled far back in time.
There they encountered the forest primeval, dinosaurs, and the dawn of man.
Hurtled forward in time, guests were given a glimpse of the future as they toured Space City. (
Magic Skyway
's vision of the future was shaped in large part by
Magic Highway U.S.A.
, whose promotional art we see above.) The entire ride traversed more than 100,000,000 years in just twelve minutes!
Safely disembarking back in New York of 1964, visitors were afforded the opportunity to explore Fields of Science (also called Adventures in Science), a separate exhibit illustrating "some of the advanced research projects now engaging scientists at Ford and its subsidiary, Philco."
Having sketched, painted, and crafted intricate models, the time had come for Walt's Imagineers to turn their dream into a reality. The Walt Disney Studio's Burbank backlot quickly filled up with dinosaurs and cavemen—a total of 68 Audio-Animatronic figures were created for the Ford pavilion alone!
When finally completed, the Ford Wonder Rotunda used 3,000 tons of steel and 35,000 square feet of architectural plate glass to enclose its 273,000 square feet. More than 4,000 guests an hour traveled the half mile
Magic Skyway
, experiencing sights and sounds previously unheard by any living human being.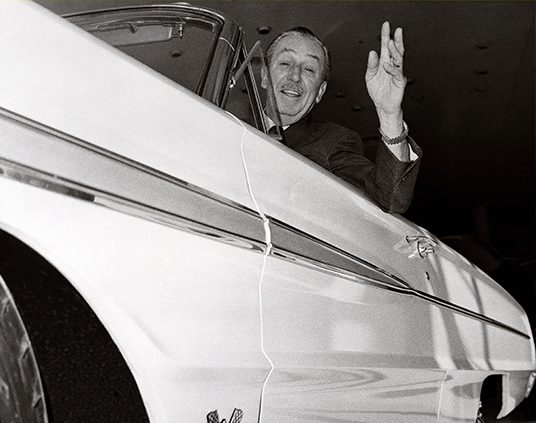 When Ford's Magic Skyway opened on April 14, 1964, the original narration included only a small contribution from Walt. New narration (which you've just heard) was written and recorded for 1965. Let's climb into our time machine once more and listen in as Walt records the new Magic Skyway narration, aided by its author, a young Marty Sklar.

And the next time you ride the Disneyland Railroad, be sure to say "howdy" to all the dinosaurs from the Magic Skyway who now make their home in Primeval World Diorama!