By Beth Deitchman
Is there any better way to experience the challenges and triumphs of young adulthood than through a Disney Channel Original Movie? "DCOMs," as they're called by the fans who love them, have given us magical musical looks at baseball players and mathletes who want to break from the status quo, taken us to the rock 'n' roll summer camp of our dreams, and introduced us to young villain progeny who might not be as rotten to the core as most people think they are. The newest DCOM, Disney's ZOMBIES, takes on the monster movie genre as only Disney Channel can—with memorable songs, eye-popping choreography, and relatable characters the movies are known for, even when those characters just happen to be the undead.
ZOMBIES is set in the suburban town of Seabrook some 50 years after a zombie apocalypse. Thanks to a nifty device the zombies all wear on their wrists, they no longer pose a threat to humans and are allowed to attend the local high school alongside their human counterparts. It turns out that old fears are even harder to put to rest than zombies, so the undead continue to be relegated to their own part of Seabrook—the isolated, but incredibly creative, community of Zombietown. When devoted cheerleader Addison meets aspiring football player Zed, the pair realize that the differences between them are meant to be celebrated, so they team up to show the rest of Seabrook that conformity isn't the way to build a solid community.
We spoke with stars Meg Donnelly (Addison) and Milo Manheim (Zed) about the brand-new music-and dance-filled movie premiering tomorrow night on Disney Channel at 8 p.m. ET/PT. Here's why the lifelong DCOM fans think you're going to love ZOMBIES: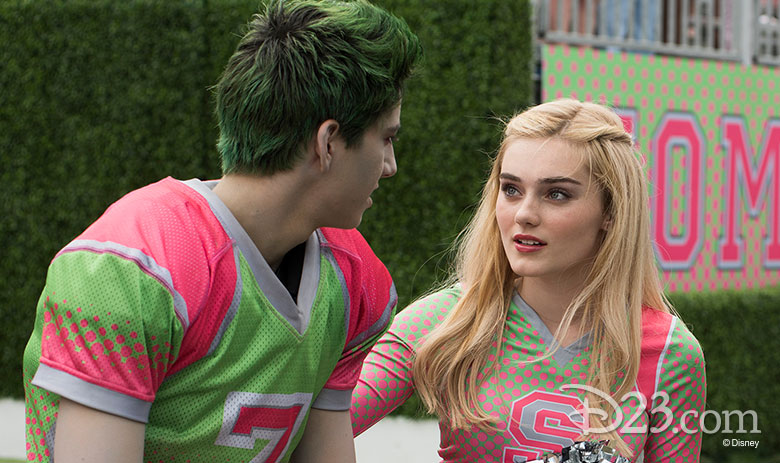 1. Characters that are full of life… even when they're undead.
"I don't think these zombies are similar to any other type of zombie," says newcomer Milo Manheim, who plays Zed, a character much like the effusive actor himself. "He's a got a lot of swagger and style. He's great—he's very positive and he fights for what he believes in. That's my favorite part about him: He has a goal, he sets his mind to it, and he does it."
Addison, a cheerleader with a secret that sets her apart from most Seabrook residents, is played by Meg Donnelly, who also plays high school student Taylor Otto on ABC's American Housewife. Donnelly tells us, "She believes that she can change the world through cheer, meaning if you cheer on people that you love and you want to support them, it can really light up people's days and everyone can kind of come together." The character's optimism and empathetic nature inspired the actress, who shares, "I find myself in my real life going, 'What would Addison do in this situation?'"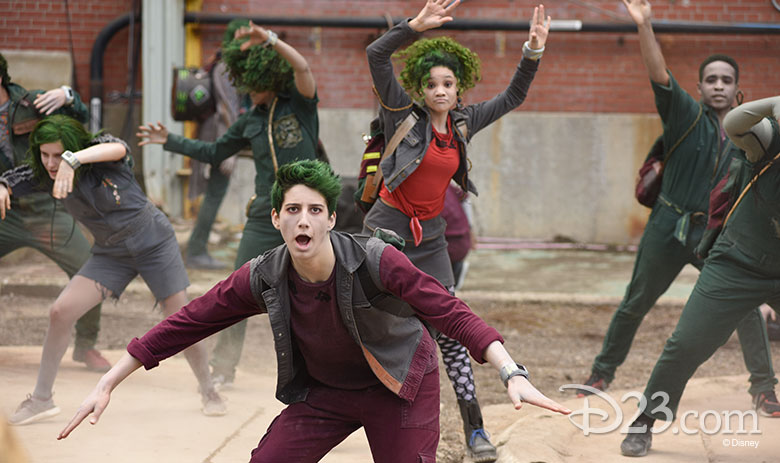 2. Songs you'll love to sing as much as the actors did.
If you're a regular Disney Channel viewer, you've no doubt heard ZOMBIE's signature anthem, "BAMM," and watched the high-energy video. The scene in which the song appears is Manheim's favorite. "The coolest scene, in my opinion, is 'BAMM,'" he says, "just because of the set and how everything looks—and the dancing and visuals are incredible." You'll meet Addison in the opening number, "My Year," and for Donnelly—who is living a childhood dream as the star of a DCOM—filming the sequence was a pinch-me moment. "I remember we were waiting to film for about four weeks, and every time that song came on I got goose bumps—I get chills even now," she says. "I just remember thinking, 'Wow, I'm actually doing this. It's crazy.'"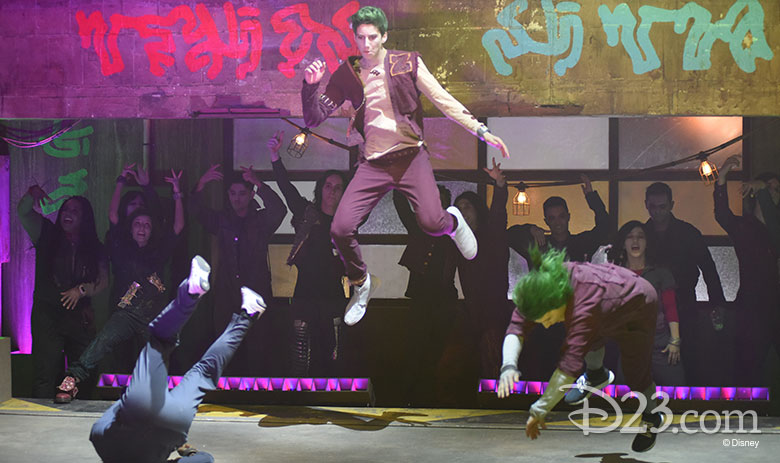 3. It's not just the cheerleaders who have all of the moves.
"However much fun you think we had, just multiply that by like 2 billion," Donnelly emphasizes. A musical theater veteran, she had a solid dance background but couldn't help but be a bit intimidated at the outset. "But we all became such a huge family so fast it was easy to pick up the choreography," she says. We knew we had each other's back and it became fun."
"I wasn't used to all the poppin' and lockin' the zombies are doing," Manheim says, and he also appreciated the supportive cast and learned a tremendous amount from day one. "I'm so thankful to have such an incredible choreographer, Christopher Scott, who was able to teach me so quickly how to do all these things and make them look super awesome."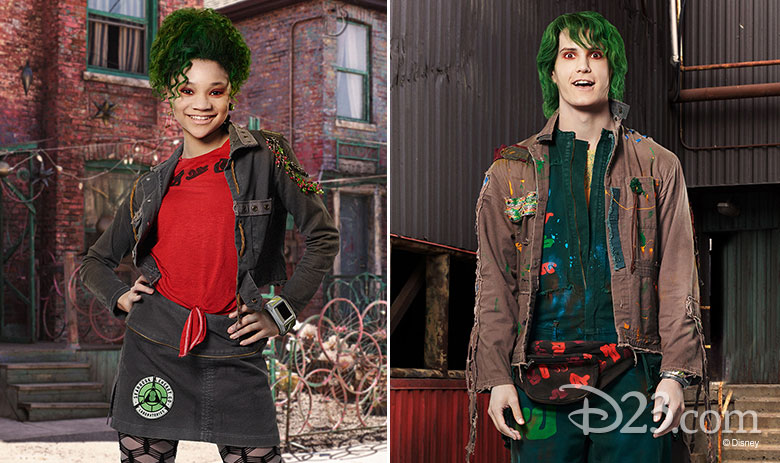 4. …Did we mention the zombies?
You've never seen zombies like this before, and the filmmakers went to great lengths to give Disney Channel's undead a distinctive look. "Every human was in and out of the makeup trailer before I was done," Manheim mentions, but the process—which involved "spray painting" the actor's arms in addition to styling his hair green every day—was streamlined over the course of the production. Still, Manheim laughs, "Meg got it so easy! She could probably do her makeup five times before I could do my makeup once."
Donnelly agrees, and admits that she appreciated the later call times and the shorter visits to the makeup trailer that came with playing a cheerleader. "I am jealous, though, because the zombie costumes are so cool," she says, "and Zed's best friend is Eliza and sometimes I wanted to be Eliza because zombie clothes are great."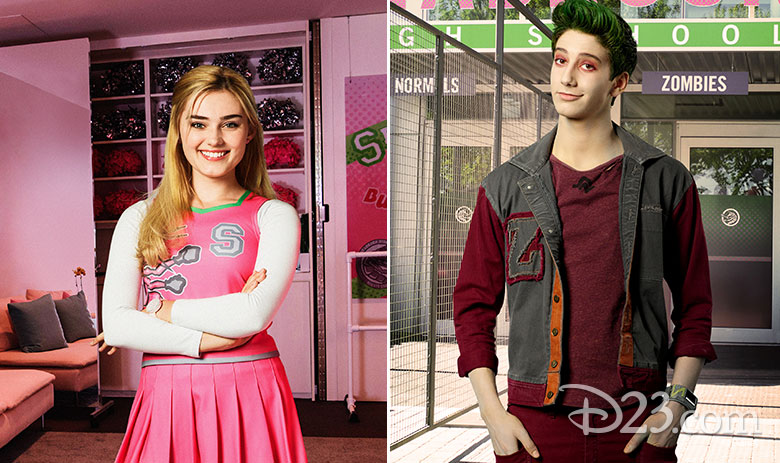 5. The movie features an inspiring message for everyone—zombies and humans, alike.
Both Donnelly and Manheim hope that ZOMBIES' themes of acceptance and celebrating what makes us different resonate with viewers. "I want [viewers] to understand that being unique is awesome. Doing what you love to do is how you can become truly happy and you have to give everyone a chance," Manheim says. We don't have to all be the same way." Donnelly underscores that in addition to embracing unique qualities in other people, young viewers should also look within. "We should all accept everyone for who they are, but you should also accept yourself, too. I think that's really important, the 'yourself' part—because a lot of people don't realize that," she shares. "If you have differences or the little unique things about you that no one else has, you should really embrace that and really be true to yourself."
The two actors—and Disney fans—each shared with D23 their Disney "Fab Five." Click here to hear what they had to say, and tune in to ZOMBIES tomorrow night at 8 p.m. ET/PT on Disney Channel, or on the DisneyNOW app.