By Max Lark
No Disney fan needs any additional motivation to add the new Walt Disney Signature Collection release of Pinocchio to their movie collection. The timeless story of a wooden puppet brought to life by the Blue Fairy—with the promise that he can become a real boy if he earns it—is one of the most beloved movies in the Disney canon and one of the most ambitious animated movies ever made. But there's even more to check out when this classic tale arrives on Blu-ray and DVD on January 31 (Pinocchio arrives for the first time on Digital HD and Disney Movies Anywhere on January 10): A majestically restored print of Poor Papa (1927)—the first Oswald the Lucky Rabbit cartoon. It's essential viewing for any fan of early Disney animation.
In 1927, while Walt was wrapping up the "Alice Comedies," his distributor, Charles Mintz, brokered a deal with Universal for Walt to create a cartoon character. That new character, Oswald the Lucky Rabbit, would go on to star in 26 cartoons from the Disney studio. The series proved popular, and the character was the first to generate Disney merchandise—a candy bar, a stencil set, and a pin-back button!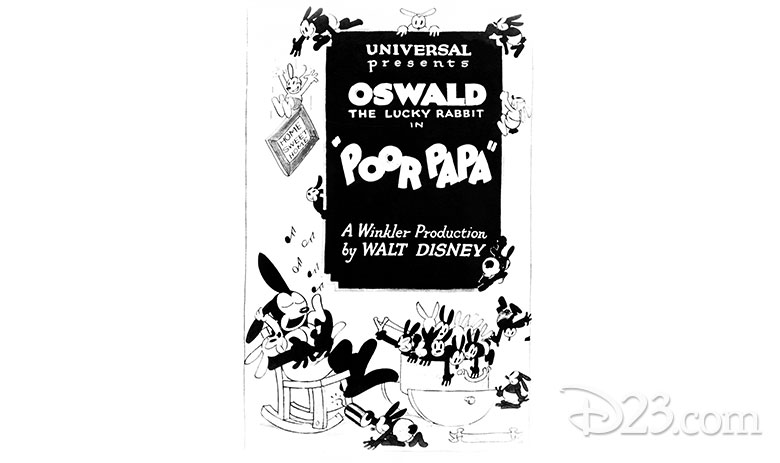 Poor Papa was the first Oswald cartoon produced, but Mintz felt that Oswald looked "old" so the short was not released. The next Oswald short Walt and Ub produced, Trolley Troubles on September 5, 1927, debuted a redesigned younger version of Oswald. Given this second short's positive critical reaction by the public, Universal and Mintz ultimately released Poor Papa on June 11, 1928. In this rather charming story, a bunch of storks bombard Oswald with bunnies until our hero figures out a way to thwart them.
The marvelous restoration is sourced from digital scans of a 16mm silent print that was made in 1930 for home use and discovered in the UK. This is one of three known surviving prints on this title.
Restoration was done in 2015 by Lowry Digital (a division of PrimeFocus Technologies) who have been entrusted with the restoration on many of Disney's classic animation crown jewels.