By Savannah Salazar
Season's screamings! Holiday cheer is in the air, and spirits are high, especially at Haunted Mansion Holiday—where the Pumpkin King Jack Skellington and company have gathered for their yearly haunt. Inspired by Tim Burton's The Nightmare Before Christmas, the classic attraction, which is celebrating a "Mostly Ghostly" 50th anniversary this year, gets a frightfully festive transformation just in time for Halloween and Christmas. So, gather around, boos and ghouls, for some spooktacular fun facts.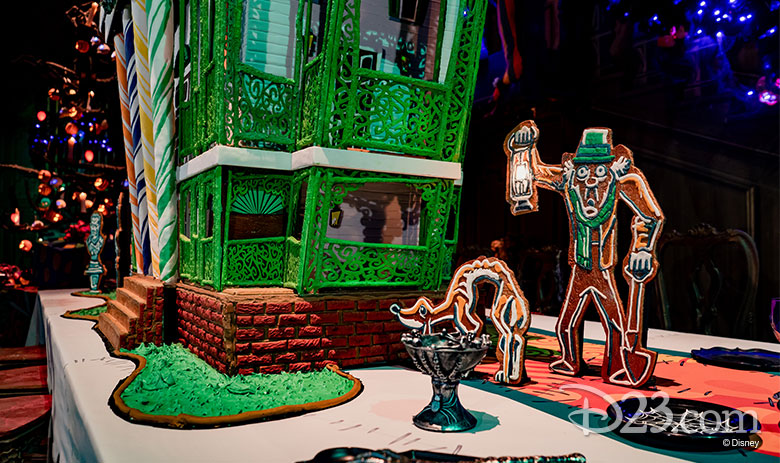 Deck the Halls
Outside, the mansion has more than 400 flickering candles to create a ghostly glow, while each night more than 100 jack-o'-lanterns shine bright. And hung both inside and outside the Haunted Mansion are thousands of feet of "Black Gnarly" garland, which Jack Skellington's ghost dog, Zero, has collected along with more than 200 bones to use as décor and presents. Plus, be sure to look out for Sandy Claws' list of who's naughty or nice!
Supernatural Effects
Inside the attraction, there are plenty of haunts coming out to socialize—both from the Haunted Mansion and from Halloween Town. Jack Skellington and Zero appear in an animated sequence above visitors in The Stretching Room as you go farther into the depths of the mansion. During your tour, there are more than two dozen additional denizens of Halloween Town who materialize—from "Scary Teddy" to a man-eating wreath, skeleton reindeer, Oogie Boogie, and Sally.
On the 13th Day of Christmas…
All the rooms of the Haunted Mansion have a bit of holiday spirit, and the séance room is no exception. All around are 13 spinning fortune cards showing Christmas gifts that Madame Leota's ghoul love gave to her. When it comes to the spirited voice performance of Madame Leota, the voice for the seasonal attraction is performed by Imagineer Kim Irvine, the daughter of Leota Toombs— long-time Imagineer and Disney Legend—whose face was the model for Madame Leota.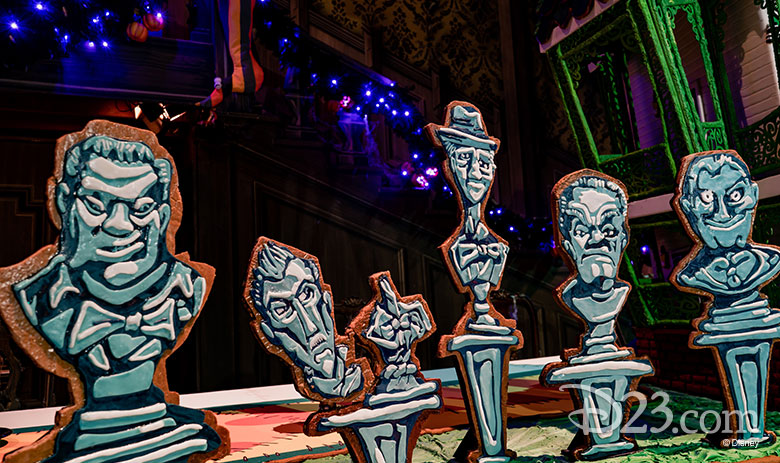 Very, Merry Special (Tricks and) Treats
Since the start of Haunted Mansion Holiday—18 years ago, to be exact—there has been a supernaturally sweet creation prominently displayed in the Grand Hall. This year, the gingerbread house celebrates the 50th anniversary of the ghoulish attraction, and the 10-foot tall Haunted Mansion replica is festooned with 15 spirited ghosts and luminous haunts—all in gingerbread form! Altogether, the house is made of more than 30 pounds of gingerbread and 120 pounds of frosting and icing.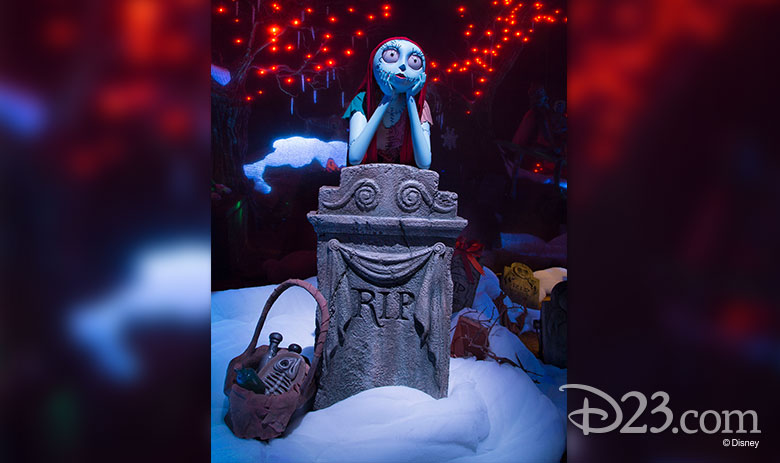 Graveyard Ghouls
Now, what's a tour of Haunted Mansion without a trip through the graveyard? During the holidays, happy haunts, a gaggle of ghouls, and the Pumpkin King come out to socialize, including the iconic Graveyard Ice Angels. Designed with a jagged, ice-carved look, their wings and snow-glow colors shine with ghoulish luster every year. The graveyard itself eerily glows with nearly 7,500 square feet of snow, more than 20 gallons of UV (ultra-violet) paint and twinkles with 1,000 tiny, orange lights decorating the trees. It's truly a chilling sight.