By Courtney Potter
Catch a sneak peek at Disney's upcoming Dumbo and Aladdin, and see the latest adorable short from Pixar Animation Studios… Read more, along with other news from around Disney, in this week's news briefs!
New Dumbo Trailer Delights and New Aladdin Trailer Mesmerizes…
There is a plethora of fantabulous Disney fun coming soon to a movie screen near you—including the much-anticipated, Tim Burton-helmed Dumbo, which soars into theaters next month. Just this past weekend, we were all gifted with another peek into little Dumbo's world…
Here's a bit more about what we can expect: Circus owner Max Medici (Danny DeVito) enlists former star Holt Farrier (Colin Farrell) and his children to care for a newborn elephant whose oversized ears make him a laughingstock in an already struggling circus. But when they discover that Dumbo can fly, the circus makes an incredible comeback—attracting entrepreneur V.A. Vandevere (Michael Keaton), who recruits the peculiar pachyderm for his new spectacular, Dreamland. Dumbo soars to new heights alongside a charming aerial artist named Colette (Eva Green)—but eventually, Holt realizes that beneath its shiny veneer, Dreamland is chock full of dark secrets.
Look for Dumbo to reach new heights this March 29!
Not to be outdone, the all-new live action retelling of Disney's Aladdin—set to take flight this summer—revealed a brand-new trailer this past weekend as well… in which we get our first look at Will Smith as the azure-hued Genie. Also starring Mena Massoud as the charming street rat Aladdin; Naomi Scott as the courageous Princess Jasmine; and Marwan Kenzari as the evil vizier Jafar, Aladdin (directed by Guy Ritchie) will kick off its magic carpet ride on May 24.
Save the Date!
Be sure to mark these upcoming Disney events on your calendar:
D23 and Walt Disney Archives


February 16, 2018


D23's Happily Ever After Brunch


February 16, 2018


D23's Magical Screening Series: Sleeping Beauty on the Lot


February 16, 2018


D23's Magical Screening Series: Sleeping Beauty at Walt Disney World


March 7, 2018


Don't Miss a Complimentary Advance Screening of Captain Marvel


March 10, 2018


D23's 10-Year FAN-niversary Celebration at The Walt Disney Studios


March 11, 2018


D23's Behind-the-Scenes Experiences: A Day at the Studio Lot


March 18, 2018


The Official Walt Disney Studios Tour – Presented by D23


April 5, 2018


Lunch with a Disney Legend–Linda Larkin


April 6, 2018


D23's Behind-the-Scenes Experience: The Lion King on Broadway


April 6, 2018


The Official Walt Disney Studios Tour – GOLD FAMILY EXCLUSIVE


April 15, 2018


The Official Walt Disney Studios Tour – Presented by D23


May 6, 2018


The Official Walt Disney Studios Tour – Presented by D23


August 23-25, 2019


D23 Expo 2019
Parks


January 18-February 25, 2019




2019 Epcot International Festival of the Arts




January 25-February 17, 2019




Lunar New Year at Disney California Adventure




March 1-April 23, 2019




Disney California Adventure Food & Wine Festival




March 6-June 3, 2019




Epcot International Flower & Garden Festival




Summer 2019


Star Wars: Galaxy's Edge Opening at Disneyland Resort


Fall 2019


Star Wars: Galaxy's Edge Opening at and Walt Disney World Resort



Studios




March 8, 2019


Marvel Studios' Captain Marvel opens in U.S. theaters


March 29, 2019


Dumbo opens in U.S. theaters


April 17, 2019


Penguins opens in U.S. theaters


April 26, 2019


Avengers: Endgame opens in U.S. theaters


May 24, 2019


Aladdin opens in U.S. theaters


June 21, 2019


Toy Story 4 opens in U.S. theaters


July 19, 2019


The Lion King opens in U.S. theaters


August 9, 2019


Artemis Fowl opens in U.S. theaters


Television




February 15, 2019


Kim Possible premieres on Disney Channel (8–9:32 p.m. EST/PST)


February 24, 2019


The Oscars® airs on ABC (8–11 p.m. EST)


March 3, 2019


American Idol kicks off second season on ABC (8–10:01 p.m. EST)

Pixar's Latest Animated Short is Ridiculously Adorable
There's a new short out, created for Pixar Animation Studios' cool SparkShorts program—and it's sure to put a smile on your face! Directed by Brian Larsen and produced by David Lally, Smash and Grab tells the story of two über-cute robots who dream of escaping their exhausting day jobs. Check out the short, and get some behind-the-scenes scoop, right here at D23.com.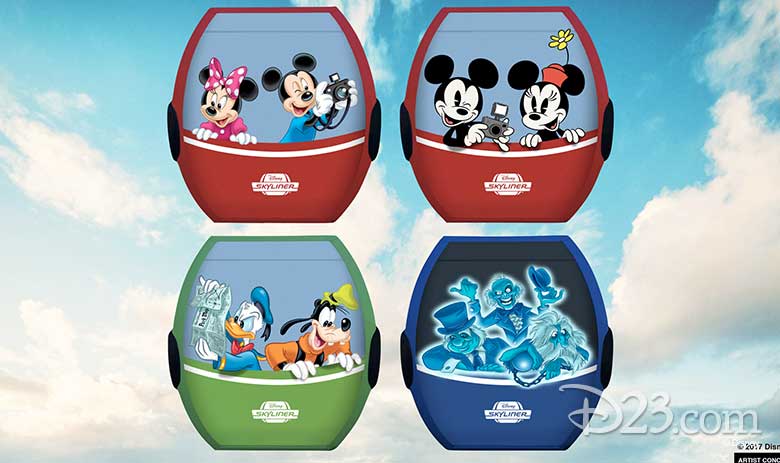 Flying High: Disney Skyliner Gondolas Complete First Test Run
The opportunity to take to the skies in order to travel from several Walt Disney World Resort hotels to both Disney's Hollywood Studios and Epcot grows ever closer… Just this week, the Disney Skyliner system hit another incredible milestone when the first gondolas completed a successful test run back and forth between Disney's Caribbean Beach Resort and Disney's Hollywood Studios.
Walt Disney Imagineering associate project manager Steve Pratt recently told our pals over at the Disney Parks Blog that there'll be more gondolas added soon—as well as "cycling" on the line—as teams continue testing and training. Congrats to everyone involved!
This state-of-the-art gondola system will begin transporting guests at the Walt Disney World Resort beginning later this fall.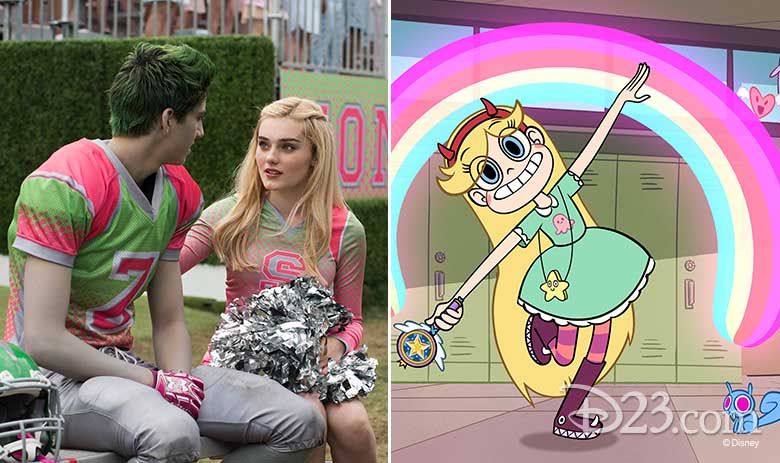 A Delightful Deluge of Breaking Disney Channel News!
We can't believe how much there is to look forward to from Disney Channel in the near future… First off, they've just announced that ZOMBIES 2—the highly anticipated sequel to 2018's ZOMBIES—will begin production shortly. Stars Meg Donnelly and Milo Manheim will be reprising their roles as Addison and Zed, respectively, and the Disney Channel Original Movie will pick up as the couple—after a groundbreaking semester at Seabrook High—continues to steer both the school and their community toward unity. But the arrival of a group of mysterious werewolves threatens to shake up the newfound peace… and causes a rift in Zed and Addison's budding romance. Look for more news on ZOMBIES 2 as it becomes available.
But that's not all: The final season of Star vs. The Forces of Evil is set to kick off on Sunday, March 10, at 8 a.m. EST/PST on Disney Channel and Disney XD—and it'll feature a host of celebrity guest stars, including Tony Hale (Arrested Development), Daniel "Desus Nice" Baker and Joel "The Kid Mero" Martinez (Desus & Mero), and Danielle Fishel (Girl Meets World). Following the season premiere, new episodes will premiere on Sundays throughout the spring on Disney Channel.
Mark those calendars and get ready for some galactic and zombie-fied fun!
Marvel Rising – Young Storytellers Create Magic
Last year, the fine folks over at Marvel partnered with a nonprofit group called Young Storytellers to give middle school students the chance to write—with mentorship from a Disney employee—their very own stories based on Marvel Rising: Secret Warriors… and boy, were the results amazing! In the clip above, check out how Young Storyteller Corryn used Marvel fan-faves Squirrel Girl, Ms. Marvel, Quake, and super villain Exile to explain the ins and outs of friendship.
Working with their Disney mentors, each Young Storyteller wrote a three- to five- page script using characters from Marvel Rising; narrated by actress Skai Jackson, the stories were then performed by a memorable cast of Marvel Rising and Marvel Animation voice actors, including Chloe Bennet, Roger Craig-Smith, Kathreen Khavari, Kamil McFadden, Melanie Minichino, and Milana Vayntrub.
The first episode, featuring Young Storyteller Ruby's "America's Backstory," debuted online last week. Keep your eyes peeled for more new episodes, premiering each week for seven weeks—they're sure to be just as entertaining!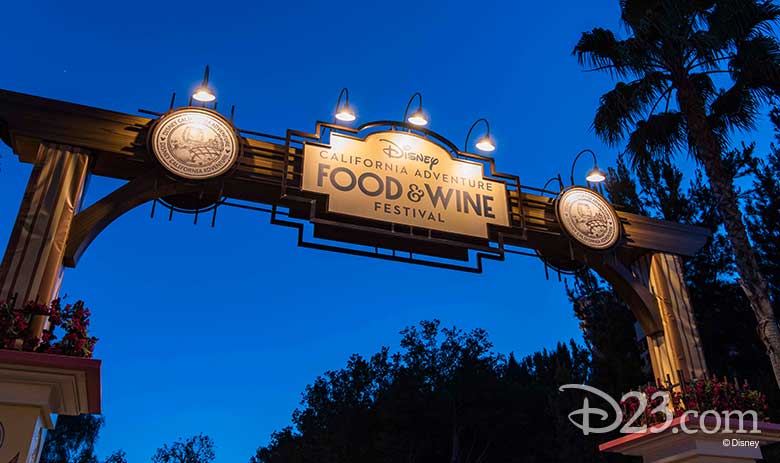 Disney California Adventure Food & Wine Festival Expands to 54 Days
It'll soon be one of our favorite times of the year… the time when Disney California Adventure park is positively replete with even more delicious food and beverage than normal! Yes, this spring, the ever-so-popular Disney California Adventure Food & Wine Festival returns to the Disneyland Resort—and for this go 'round, the festival runs for a whopping 54 days, from March 1 to April 23.
Guests of all ages can discover the beauty and celebrate the bounty of California with unforgettable cuisine, beverages, and entertainment during the event—which will feature 14 different Festival Marketplaces, each with a different menu inspired by fresh, California-grown ingredients. (Attendees may choose to purchase the Sip and Savor Pass to get the best value as they "taste" their way through those Festival Marketplaces and other participating locations.) Plus, the Backlot Stage in Hollywood Land will offer up culinary demonstrations on Fridays, Saturdays, and Sundays—as well as fun for those smaller chefs in your life during the "Junior Chef" experience with Chef Goofy. And let's not forget the Festival's signature events, this year including an appearance by celebrity chef Guy Fieri.
Find out more about the Disney California Adventure Food & Wine Festival—and make reservations for signature events—at Disneyland.com/FoodandWine.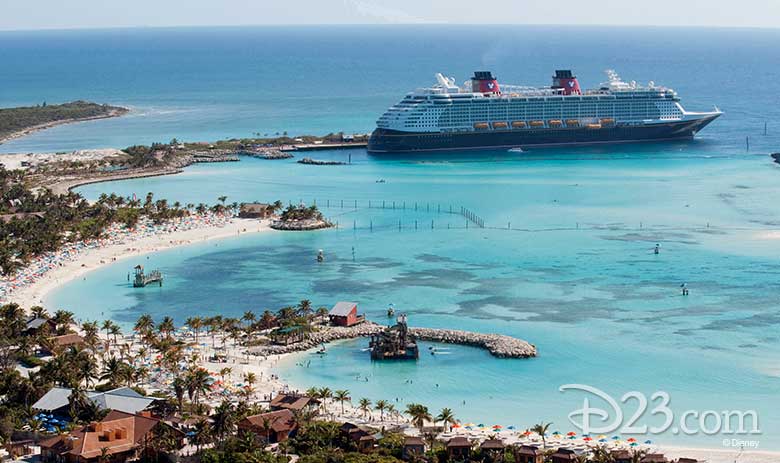 Disney Cruise Line to Offer Special Three-Night Cruise This August
Searching for a quick cruise that still offers you all the incredible fun of Disney on the high seas? Then look no further than Disney Cruise Line's August 2019 three-night cruise aboard the Disney Fantasy—which will be sailing out of Port Canaveral to both Castaway Cay and Nassau, Bahamas.
It's the only three-night offering from DCL all year long… and it's the perfect end-of-summer escape for you and your family and friends. The Disney Fantasy has several unique experiences not offered on any other DCL ship; it's the only vessel in the entire fleet on which you can view the phenomenal Disney's Aladdin – A Musical Spectacular and Disney Wishes shows, as well as Mickey and Minnie's Surprise Party at Sea celebration, while onboard. Plus, it's the only vessel to feature an adults-only entertainment destination called Europa, which includes three exclusive venues: Ooh La La (for drinks and conversation), The Tube (to dance the night away), and the romantic La Piazza.
Do check out DisneyCruise.com to find out more about this incredible three-night Bahamian itinerary on the Disney Fantasy. Maybe we'll see you onboard?