Opening Day, Disneyland Park: Those lucky guests who were the first to experience The Happiest Place on Earth on that historic date of July 17, 1955—and the millions who watched on television—saw such attractions as the Mark Twain Riverboat, the Jungle Cruise and King Arthur Carrousel, all now-iconic attractions that continue to amuse and amaze. But even though Disneyland debuted right on schedule, several planned attractions were simply not ready for Opening Day and made a delayed debut in August. Even though they were tardy to the Disneyland party, these late arrivals helped make August 1955 a most festive second month at Walt Disney's Magic Kingdom. As the Disneyland Diamond Celebration continues, D23 turns the calendar back 60 years to honor the attractions of August.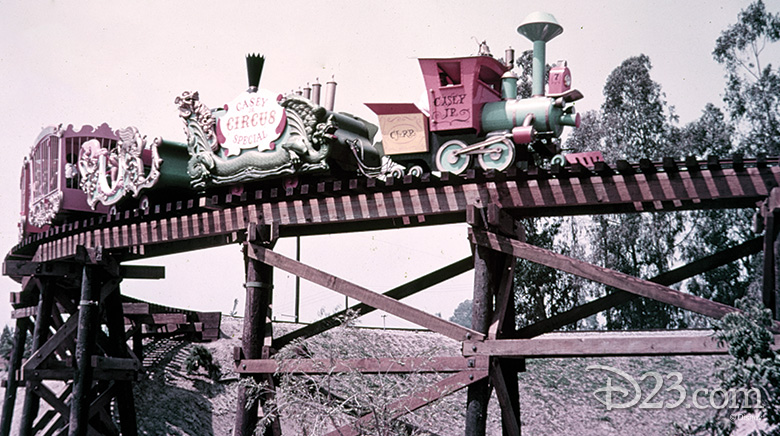 Casey Jr. Circus Train
"The little engine that could" just couldn't wait until August. The happy circus train from Dumbo started carrying guests through the gentle slopes of Fantasyland on July 31. A little-known fact about the smiling little locomotive: Casey Jr. Circus Train was slated to be the first Disneyland roller coaster. As test runs were conducted, however, it became readily apparent that the attraction was not working in the way it was originally intended. Amazingly, Casey Jr. rolled out on Opening Day in its original roller coaster-style form, but was then immediately closed. Once the tracks were revamped with moderate slopes, as opposed to the more extreme lift hills and down ramps, this charming little chugger started "comin' round the track," and has conveyed passengers—some of them happily ensconced in colorful circus animal cages—ever since.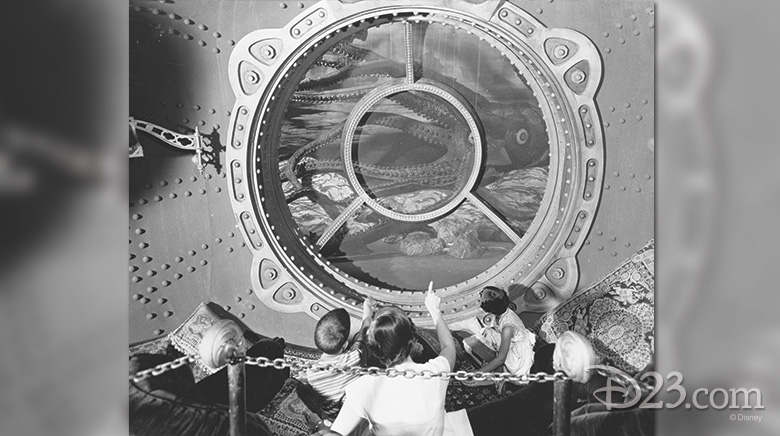 20,000 Leagues Under the Sea Exhibit
First welcoming Tomorrowland guests into the oceanic world of Captain Nemo on August 3, this unique attraction showcased the elaborate sets seen in Walt Disney's smash hit film that premiered less than a year earlier, in December 1954. This walk-through displayed interior sets from Captain Nemo's submarine, the Nautilus, complete with attacking Giant Squid. When this attraction was retired on August 28, 1966, Captain Nemo's ornate organ was reserved for a new home that would open in 1969: the Haunted Mansion. And why was an exhibit of sets from a still-new classic film set in 1868 a Tomorrowland attraction in the first place? Because it "represented atomic power submarine activity."
Conestoga Wagons
This authentic western-themed attraction ("It was the Conestoga, not the Covered Wagon, that developed the West," according to vintage Disneyland publicity) first trundled "pioneers" through Frontierland on August 16. A pair of strong steeds pulled these wooden wagons—with the slogans "Westward Ho!" or "Oregon or Bust" painted on their canvas tops—along the Rivers of America and through the Painted Desert until this example of frontier "rapid transit" was retired in September 1959.
Dumbo the Flying Elephant
This high-flying adventure was actually intended to premiere on Opening Day but due to technical challenges, poor Dumbo didn't make it. The aerodynamic ears on each Dumbo-shaped ride vehicle were supposed to flap up and down, but the mechanism refused to work properly. (Sharp-eyed guests noticed the hinges that were supposed to allow the ears to flap were on the Dumbos for several years.) Finally proving to guests that this particular elephant can really fly—no magic feather needed—on August 16, this beloved attraction still takes guests on a fantastical flight above Fantasyland today.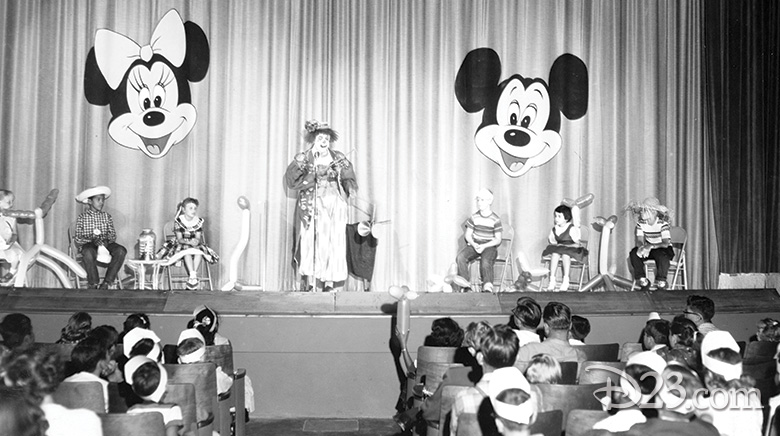 Mickey Mouse Club Theater
First opening its doors to guests on August 27—beating the October 3 premiere broadcast of the TV series after which it was named by over a month—this colorful 400-seat cinema screened classic Disney cartoons in air-conditioned splendor. The first program offered Mickey in Squatter's Rights, Donald Duck in Out of Scale, Goofy in The Big Wash, and Lambert the Sheepish Lion. The theater very appropriately started showcasing the Mouseketeers themselves in 3D Jamboree on June 16, 1956. Renamed the Fantasyland Theater in 1964, this special cinema screened Disney animated films—including Winnie the Pooh and the Blustery Day during the special Winnie the Pooh for President Days—until it closed in 1981.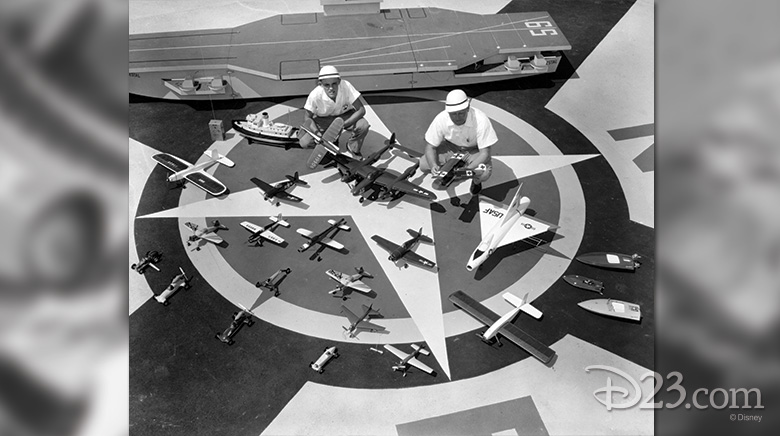 Flight Circle
This 200-feet-in-circumference area opened in Tomorrowland in August. Around the four points of the compass marked in its center, model airplanes, cars, and even boats were demonstrated. This area, which closed in 1966 to make way for New Tomorrowland, originated when Walt, himself an avid railroad and miniatures hobbyist, attended a Los Angeles hobby show and became intrigued by the working models. Flight Circle also became the launching pad for the famed Rocket Man of the mid-1960s who used an experimental rocket pack to soar above Tomorrowland.