By Courtney Potter
The Fourth of July is upon us—that most American of holidays, celebrating the bravery of our Founding Fathers and the generations after who fought for our continued freedom. And nothing says "Fourth of July" quite like a magnificent display of fireworks! Disneyland Park has cornered the market for decades on firework displays, culminating with Disneyland Forever, their newest spectacular in honor of the Disneyland Resort Diamond Celebration.
It all started in 1956 (just one year after the Park's opening) when Walt Disney first dazzled nighttime guests with a fireworks display, entitled Fantasy In the Sky. Back then, firework fuses were lit by very steady hand. But by the 1960s, an electronic system was created to launch the shells into the air… and shortly thereafter, the increasingly popular shows were synchronized to music. Tinker Bell's iconic "flight" over Sleeping Beauty Castle was first added in 1961, and other characters (including Dumbo and Mary Poppins) followed.
Quintessential displays over the years have included Believe … There's Magic in the Stars, which fused storytelling with innovative pyrotechnic effects; the breathtaking Christmas-themed Believe… In Holiday Magic; the 50th anniversary Remember… Dreams Come True; the enchanting production Magical (which brought Dumbo back to the skies above the Castle); and last year's re-invented Fantasy In The Sky. And it all leads up to the new Disneyland Forever, which surrounds audiences with magic like never before!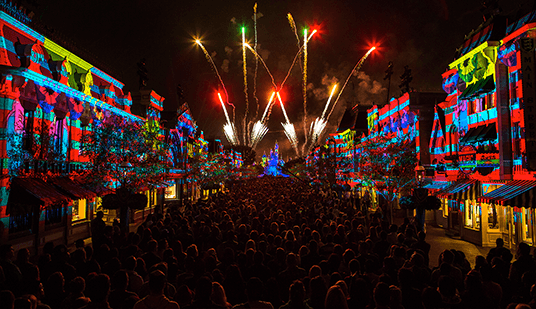 Whether watching from Main Street, U.S.A., it's a small world, the Rivers of America, or even within sight of the Matterhorn, each guest has a different experience of Disneyland Forever—as every location comes to life with unique combinations of color and light. The show features sequences themed after timeless films like Mary Poppins, Frozen, and The Lion King, and the pyrotechnics join with amazing projection mapping technology to immerse guests into the Disney tales that surround them. Other special effects include dozens of inflatable units and moving window "actuators" that make Main Street, U.S.A. truly come alive. And don't forget the show's brand-new musical score! It includes a very special closing theme, "A Kiss Goodnight," written by Disney Legend Richard M. Sherman and performed by Broadway's original Mary Poppins, Ashley Brown.
Disneyland Forever is the latest (and greatest!) in a long line of memorable fireworks spectaculars at Disneyland Park—and if you're visiting this coming Fourth of July, take note: Following that evening's performance, for one night only, guests will enjoy a patriotic pyrotechnic grand finale to celebrate America's birthday!