It's the party of six-tenths of the century—the Disneyland Diamond Celebration! Sixty years in the making, the theme park that started it all is about to shine like never before. D23 has insider access and will be bringing you along for the ride, beginning tonight with our coverage of World of Color—Celebrate! The Wonderful World of Disney, continuing Thursday with a sneak peek at Paint the Night—All-New Electrical Parade and the brand-new Disneyland Forever fireworks spectacular, and staying up all night for the 24-hour party that kicks off at 6 a.m. PT on Friday, May 22, and doesn't end until 6 a.m. PT the following day.
UPDATED Sunday, 10 a.m.: 24 Dazzling Hours at Disneyland Resort
UPDATED Saturday, 10 a.m.: The Celebration Continues Around the Clock!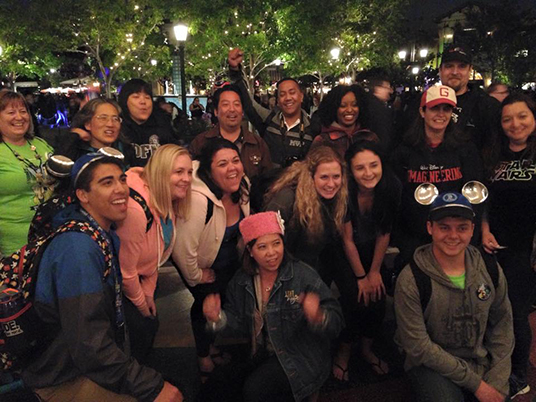 After a day full of new entertainment, special treats, and shopping for lots of dazzling merchandise, D23 Members met up at 11 p.m. (or 23:00, if you're using 24-hour time). For a group of people who had been awake and running around Disneyland Resort for 17 hours, our Members sure were excited to be there!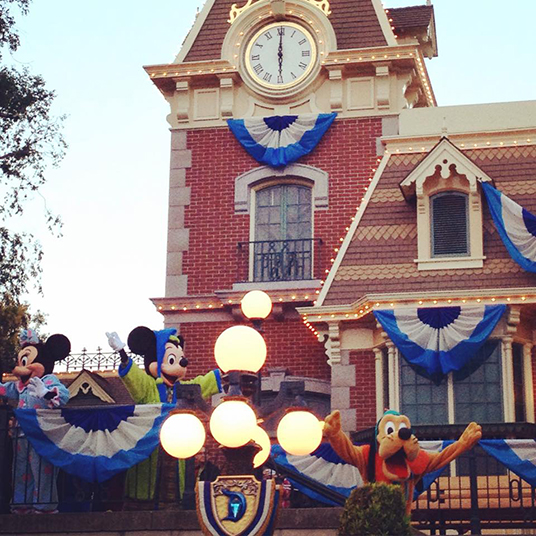 When 6 a.m. rolled around and it was time for our adventure to end, we were greeted by Mickey, Minnie, Donald, Daisy, Pluto, and Goofy, all up early and in their pajamas! Even though we had an incredible time, we have to admit— we were ready to be in our pajamas, too.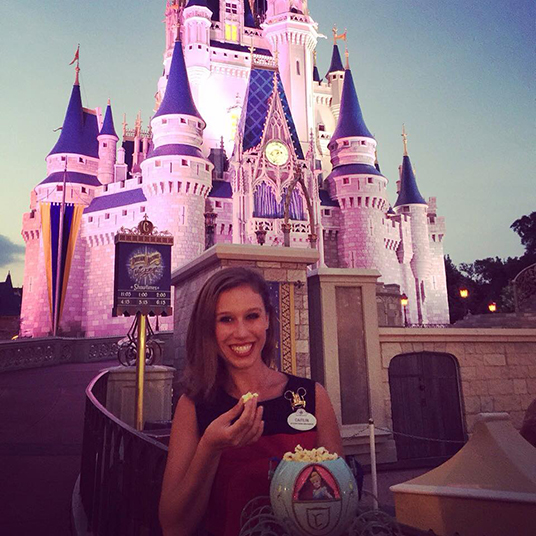 A special shout-out to all our friends who celebrated with us from Walt Disney World! We were lucky enough to have Walt Disney World Ambassador Caitlin Busscher as our correspondent for the day. To see all of Caitlin's photos from the Coolest Summer Ever kickoff, check out our Twitter and Instagram pages!
Check back later today for a new video giving you a fan's-eye-view of our 24-hour party!
UPDATED Friday, 1 p.m.: Oh, what a night!… And what a beautiful morning!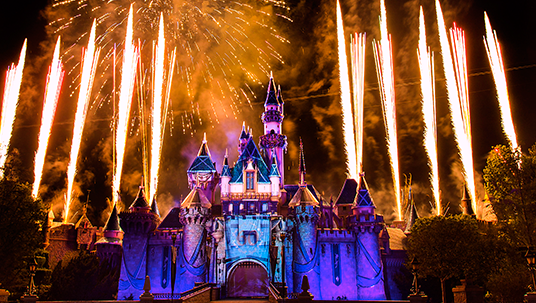 Last night we painted the night, and this morning we were up before dawn, all in the name of celebrating Disneyland forever!
Today marks the first day that guests of the Disneyland Resort will see the three new nighttime spectaculars, but we saw a special preview last night of the Paint the Night parade and Disneyland Forever fireworks and we were so amazed by what we saw that you can bet we'll be watching again tonight. That's right, we're inside Disneyland for the 24-hour party, and we aren't leaving until 6 a.m. tomorrow morning!
This was the scene at 6 a.m. this morning (as you'll see from this video that our friends at the Disney Parks Blog posted). "Walk, don't run: #Disneyland60 has officially begun!"
The party began with fireworks this morning, and speaking of fireworks, Disneyland Forever—the brand-new spectacular that will be featured nightly at Disneyland Park—features pyrotechnics, amazing special effects, and astounding projection-mapping technology.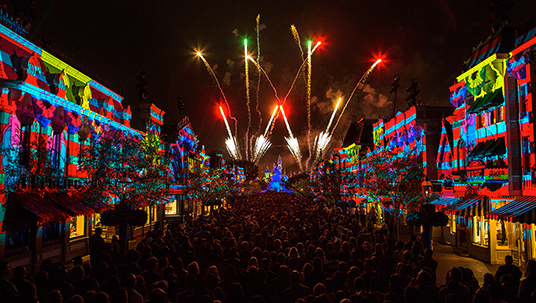 The show is "street-to-sky," with the buildings of Main Street, U.S.A., the Matterhorn, and the it's a small world façade serving as part of the stage—in addition, of course, to the skies above Sleeping Beauty Castle. And it's not just candy for your eyes, it's music to your ears since the show features two original songs, the Disneyland Forever theme, "Live the Magic," and the closing song, "A Kiss Goodnight," written by Disney Legend Richard M. Sherman.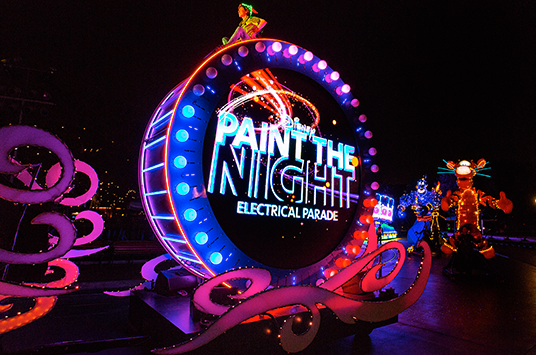 Paint the Night—All-New Electrical Parade is, of course, the other new nighttime spectacular that we saw firsthand last night. Your favorite characters still make their way down Main Street, U.S.A., but in brilliant ways you've never seen them before, thanks to more than 1.5 million brilliant LED lights. Talk about illuminating! The lights are on the floats, they're on the performers' costumes—they're even on Slinky Dog's ears!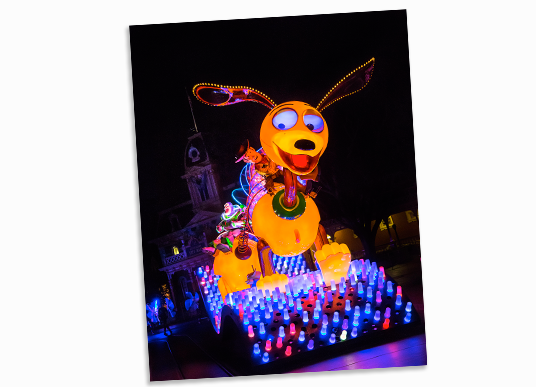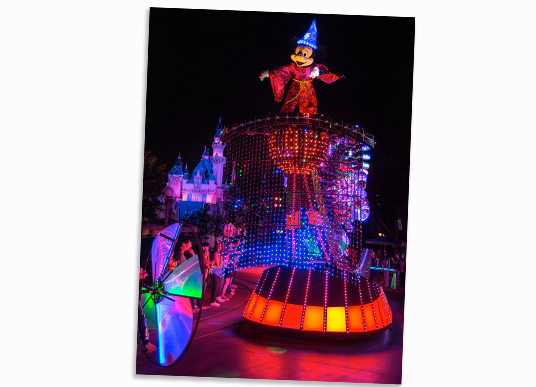 We're posting images throughout the 24-hour party on our Facebook, Twitter, and Instagram accounts, so follow DisneyD23 until the celebration ends—and after, for a special recap video. The party is just getting started!

UPDATED Thursday, 10 a.m.: World of Color—Celebrate!… Why, don't mind if we do!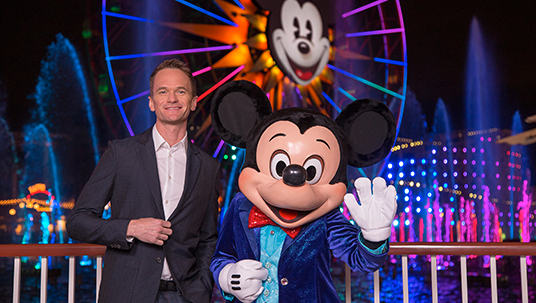 Last night, D23 was lucky enough to see the premiere performance of the brand-new World of Color—Celebrate! before it makes its official debut for guests tomorrow, during the 24-hour party. This amazing display of lights, water, music, animation and innovations that took our breath away pays tribute to Walt Disney himself, and his dream of Disneyland.
Walt Disney Parks and Resorts Chairman Bob Chapek introduced the new show—with the show's host, Neil Patrick Harris, and the show's "leading mouse," Mickey—saying, "We're thrilled to commemorate 60 years of Disneyland with three new nighttime spectaulars, including a special World of Color show. Our new show salutes Walt Disney, a visionary who dreamed big and then made those dreams come true."
Our friends at the Disney Parks Blog shared this video from last night, in which Neil Patrick Harris talks about being part of this new spectacular. Keep following D23 throughout the weekend, as we celebrate along with the Disneyland Resort!