D23 has spent a lot of time at Disney Television Animation (TVA).
We were impressed by the vast amount of creativity they manage to fit under one roof,
. . . but that creativity was on display in rare form—and not in animated form but in "re-animated" form—at TVA's in-house event, "Re-Animated: The Zombie Art Show."
This gallery event took place at the TVA studio and was coordinated by Kimberley Mooney, a manager in TVA's development department; Alexandra Rosenberg, assistant to Vice President, Creative, Mike Moon; and Director, Current Series, Jermaine Turner; who served as curators of the more than 70 works on display. Artists were told to "Zombify your favorite TVA character," according to Mooney, who observes, "Monsters seem to really resonate with artists in general." Mooney adds that this particular show saw a very high participation rate. Past TVA shows have included a food theme, a robot show, and one that invited "self-portraits."
Zombify your favorite TVA character . . .
Senior Vice President Eric Coleman, who heads up TVA's creative side, explained that art shows were intended to be a part of the TVA culture from the time the building was designed. He tells D23, "Two things always strike me every time we have our art show: the depth and variety of the talent of artists who are on specific shows, and also the creativity of folks who, day-to-day, have less creative positions." Artists whose work has graced the TVA gallery walls have ranged from animators to business affairs and finance folk—everyone is encouraged to participate.
The show isn't open to the public, but D23 was in attendance. Enjoy this collection of photos of these "re-animated" animated favorites, and the artists who brought them (back to) life!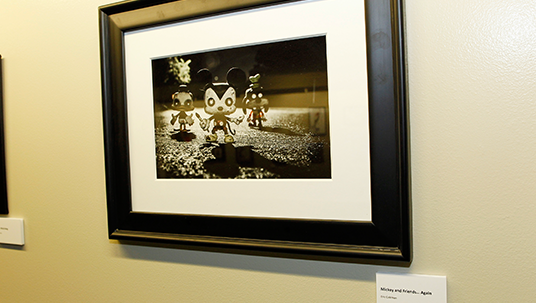 Eric Coleman leads by example. "My piece is a photograph of Mickey, Donald, and Goofy as zombies. I almost got killed taking the photo, since I was lying on my stomach in the middle of a dark street at midnight, but it was all worth it," the studio's creative leader assures us.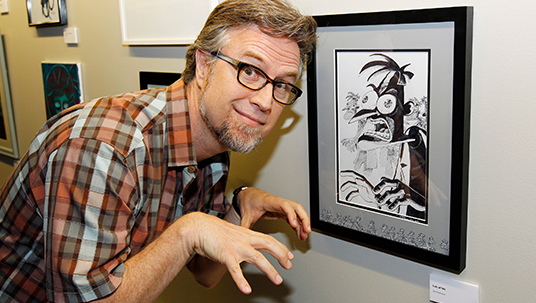 Phineas and Ferb's co-creator Dan Povenmire explains, "We had just been working on a big zombie-themed one-hour special in which all the zombies looked like Doofenshmirtz and they all say, 'Lots of me.'" After the initial spark of inspiration for his illustration, Povenmire realized, "There weren't enough Doofs in it, so I put more Doofenshmirtzes down at the bottom and I had them all coming to get me while I'm recording the voice."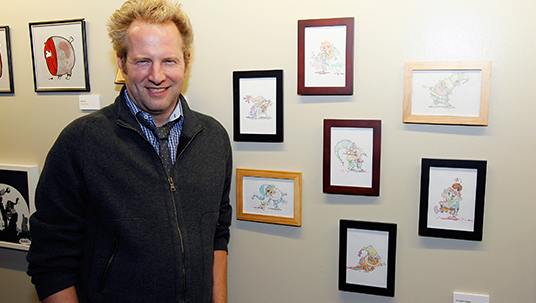 Tom Warburton, co-executive producer of The 7D, on his piece: "The first one I did was Doc—he was really fun. And then I started doing Happy, and as I was sketching them, my kids would come in and ask, 'Hey, can I color this in?' And I was like, 'I don't know if I want you guys coloring entrails and stuff.' But they were really excited!"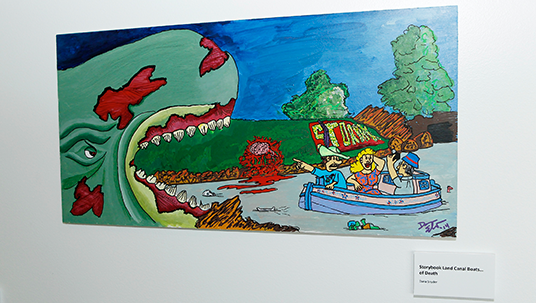 Actor Dana Synder, who has provided voices on Fish Hooks, was inspired by the Happiest Place on Earth. "My piece is a zombified Monstro from the Storybook Land Canal Boats at Disneyland."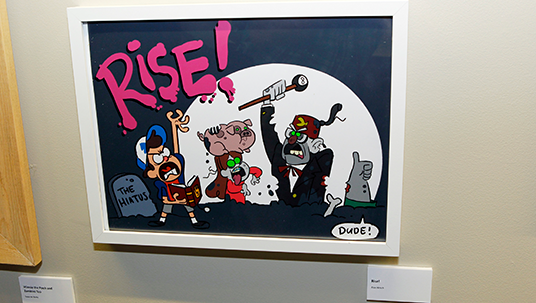 Gravity Falls creator Alex Hirsch's illustration of his characters as "zombies rising from the dead," was originally shown at Comic-Con, but, Hirsch tells us, "This art gallery was the perfect opportunity to dust off this piece and bring it back to life."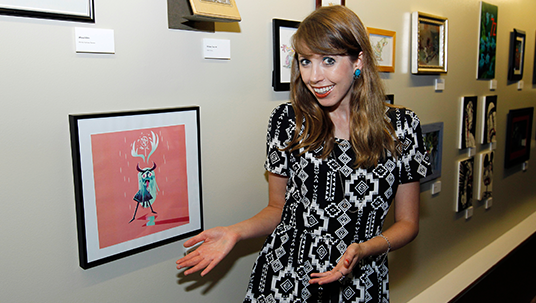 The creator of TVA's new series Star Vs. the Forces of Evil, Daron Nefcy, poses alongside a "Zombie Star" piece from one of her art directors, Josh Parpan. "I did Ghost Zombie Star, to be different," she explained. "I had a lot of fun doing it."

"Scrooge McZombie" was created by Jasmine Bocz, who works on the Mickey Mouse shorts.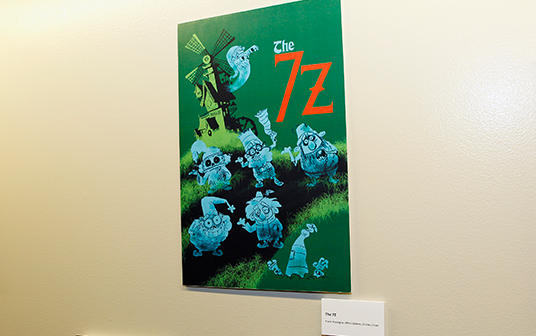 The 7D art director, Frank Montagna, and directors Alfred Gimeno and Charles Visser bring to life a septet of hitchhiking dwarfs in "The 7Z."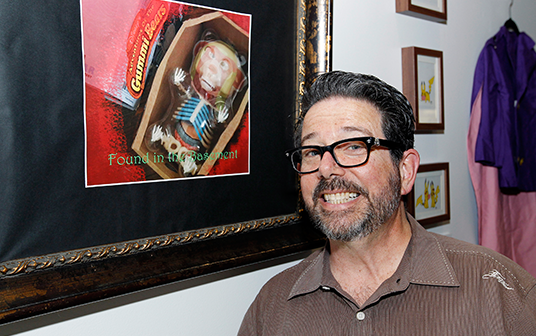 Jake and the Never Land Pirates' Rob LaDuca honors his first TVA series—which was also TVA's first series—Disney's Adventures of the Gummi Bears, with his artistic rendering. He tells D23, "I thought that since the Gummi Bears basically started Disney Television Animation, I figured we should "dig up" Gruffy one last time for the 30th anniversary.