When Penn Zero: Part-Time Hero co-creator and executive producer Jared Bush was growing up, he learned that his father wasn't a nondescript government employee but, in fact, an agent for the C.I.A.—as was Bush's grandfather before him. Bush could have chosen to go into the "family business" himself, but instead found a way to bring the family business into his chosen field: animation. Penn Zero: Part-Time Hero follows the adventures of a regular boy who inherits the not-so-regular job of part-time hero. Sam Levine, the series' other co-creator/executive producer, also drew from his childhood to craft the teenage protagonist's action-packed existence. Levine's father was a movie projectionist in New York City, so Levine spent a large part of the '80s in movie theaters. Not only can Levine point to movies of the era like Back to the Future and Ghostbusters as inspirations for Penn Zero, but the projection booth itself served as a portal in the show, to "zap" Penn and his friends into new environments and new superhero personas, giving them the chance to save the world every week.
It's like an 11-minute third act—when those heroes really need to buckle down and figure it out
Each mission requires Penn and his friends to fill in for heroes in need, and Bush explains that it's like they're zapping into the third act of a movie. "Seeing our guys get to go on the coolest part of all those adventures felt really right to us," he says. Levine agrees, saying of each story, "It's like an 11-minute third act—when those heroes really need to buckle down and figure it out. And within that, we have our own structure, of course." The adventures that Penn goes on with his best friends, Boone, an "underqualified wise man" and Sashi, an "overqualified sidekick," include trips to the old west, an underwater kingdom of fish-people, and Chuckle City, a "clown universe" where whoopee cushion jokes and seltzer sprays are in awesome abundance.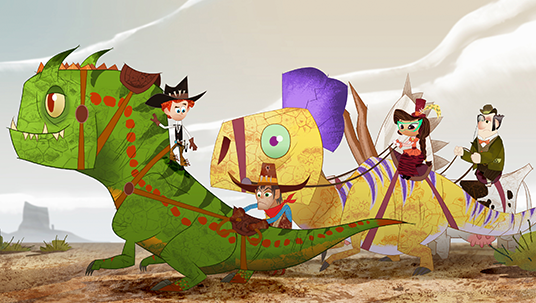 This eclectic and diverse lineup of worlds means that the characters' appearances and the settings change drastically from one adventure to another. Levine admits, "This show is filled with fun challenges—that's one of them, keeping the consistency but also getting variety." The talented cast helps with that variety. Thomas Middleditch (Silicon Valley) provides the voice of Penn, and Levine says, "He really feels grounded, real, and funny and he has a broad range." Boone and Sashi are voiced by Adam DeVine (Pitch Perfect) and Tania Gunadi (Enlisted). "They're not doing put-on voices and they feel real to us," Levine explains. The show's villain, Rippen, is brought to life by Alfred Molina (Spider-Man 2), who "loves playing a villain… getting in there and being goofy," Levine adds before extoling the virtues of Larry Wilmore (The Nightly Show with Larry Wilmore), the voice of Larry, as a comedian and great improviser.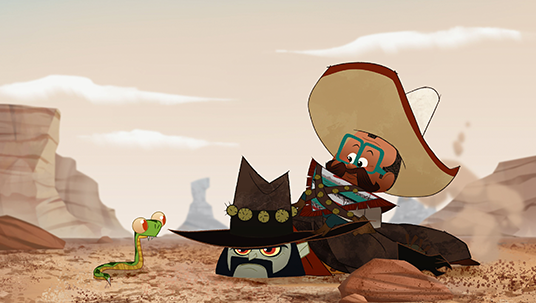 Both Bush and Levine have extensive backgrounds in feature animation, and their love for the amazing visual development work typically done in the early stages of animating a feature film helped them shape the aesthetic of Penn Zero. Bush says, "Early on Sam thought, 'Could we make the show look like those vis-dev pieces?'" Levine points to the period of the 1960s and mid-century Disney design as a big inspiration for the series, and he cites One Hundred and One Dalmatians as his favorite animated film, visually speaking; while Bush says he could watch Jungle Book "over and over and over again."
Both Bush and Levine are dads—Bush to 5-year-old twins and a 7-year-old son, while Levine's sons are 12 and 10. They definitely want their kids to like the show and take inspiration from it, but, Levine admits, "We're making this show, we're trying to entertain ourselves—it's one and the same. If we're going to laugh at something and we're going to think it's cool, then we get in touch with the kids inside ourselves." And given that the spark for the series came from both of their childhoods, staying in touch with their inner children is bound to make Penn Zero: Part-Time Hero a full-time success.
Penn Zero: Part-Time Hero premieres Friday, February 13 at 9:45 p.m. ET/PT on Disney XD and Disney Channel.