Ludwig Von Drake, one of the scores of classic Disney characters brought to life over the past 30 years, welcomes visitors to the TVA facility.
Danville. Gravity Falls. Jollywood.
These locales, the settings for some of your favorite Disney animated TV series, are pretty unique. Disney Television Animation (TVA) has a long history—30 years, to be exact—of colorful characters and wonderfully wacky worlds, from the (literally) rainbow-hued Gummi Bears to the eclectic septet of dwarfs on The 7D; and from the bustling metropolis of DuckTales' Duckburg to the mysterious Oregon town of Gravity Falls.
colorful characters and wonderfully wacky worlds
D23 has spent a lot of time wondering about the people behind our favorite animated series and their own unique world—their home away from home—the TVA headquarters here in Glendale, California. We were able to spend an entire day at TVA as a fly on their walls—and oh, what walls they are! Come with us on a behind-the-scenes tour of one of the most creative workplaces you're going to find.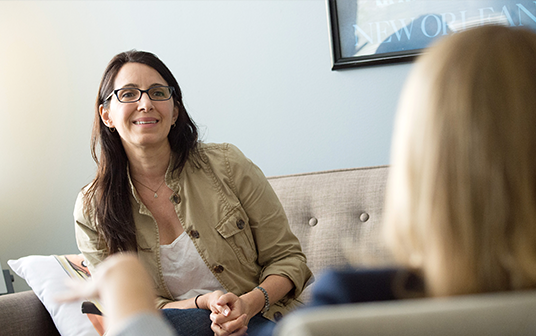 Our first order of business was to meet with the dynamic duo that oversees the goings-on at TVA on a daily basis. Lisa Salamone, senior vice president of production, is a 20-year veteran of TVA—she started here as a producer on Gargoyles, and now oversees production, handling budgets, schedules, staffing, and working with the creative team to "facilitate their vision." Eric Coleman is her counterpart on the creative side, charged with developing new projects, supervising current shows, and working with other departments, like music and casting. Coleman, also a senior vice president, joined TVA six and a half years ago. His first TVA shows were Kick Buttowski: Suburban Daredevil and Fish Hooks.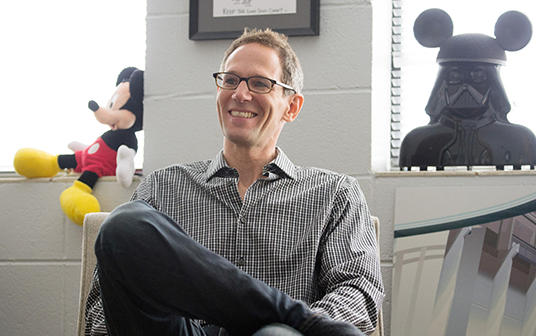 Coleman is almost a newbie at TVA. If you talk to folks who work here, you'll find people who have been around for stints well into the double digits. Some members of the team, like Jake and the Never Land Pirates' executive producer Rob LaDuca, have been at TVA since its beginning in 1984. Salamone and Coleman don't just have a knack for attracting really good people to come and work at TVA—they hang on to them.
the TVA mantra is, "Great art comes from great artists."
Do they have a secret? "Our mantra is 'great art comes from great artists,'" Coleman explains. "We really focus on getting the best people and creating an environment where they can flourish and they can succeed."
"A lot of it, too, comes from the fact that we all genuinely like each other a lot," Salamone says enthusiastically before sharing, "I have this test that I do when I'm staffing: If I were stuck on a bus somewhere and it broke down and I was with these people, how would I feel? And I would love to be stuck on a bus with these people! I just love working with all of them."
A glance around Coleman's office, filled, as are most TVA offices, with really cool Disney art and collectibles, is proof of his statement that, "We are advocates and we love art. It's not just management." It's important, Coleman explains, that TVA staffers see their workplace as a home, not just as a job.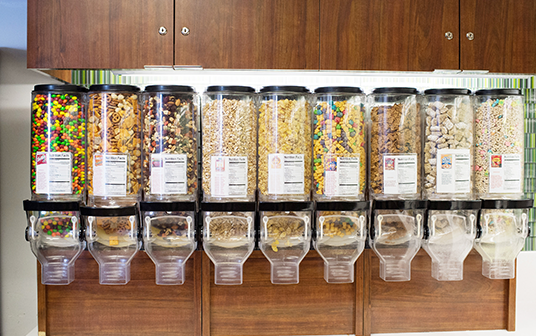 It's easy to believe that when you wander the halls and see all of the comforts of home that are in place. You can find cereal bars on each floor, for a late breakfast or an afternoon snack, and there may be no better place to take a break than TVA's upstairs patio, which offers a view of the nearby mountains—and lets TVA staffers spy on their next-door neighbors, the animators at Disneytoon Studios (DTS).
. . . there are a lot of Disney fans who might be even more excited than we are
But D23 couldn't relax for long. We followed Salamone to a production meeting for one of TVA's upcoming shows, Star Vs. The Forces of Evil. We're super-excited about this show, which will make its debut this January. And there are a lot of Disney fans who might be even more excited than we are. The show's creator, Daron Nefcy, previewed a clip at this year's Comic-Con, and an iPhone video of the presentation made it on to the internet—and fan art has been pouring in to TVA ever since.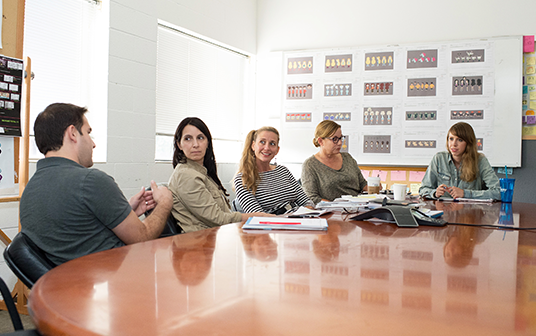 Nefcy and Salamone sat down with other members of the Star production team for their weekly status meeting. This is where Salamone and her team, production executive Mary Kramer, creative executive Edward Mejia, and the show's line producer Niki Kopp—another 20-year TVA veteran—check in with Nefcy about all of the elements that go into launching a new show. When you watch the end credits of any Disney animated series next time, take a close look at the font that has been chosen—that's one of the many small details that are worked out with a tremendous amount of thought and care.
Juggling the creative elements of a new show along with the moving parts of production is a fun challenge for Nefcy, who feels so fortunate to have ended up at TVA, where she's also worked on Wander Over Yonder. "I feel like I've already gotten to work with a lot of people that I just looked up to and didn't think I'd ever meet," she enthuses. "It's really awesome."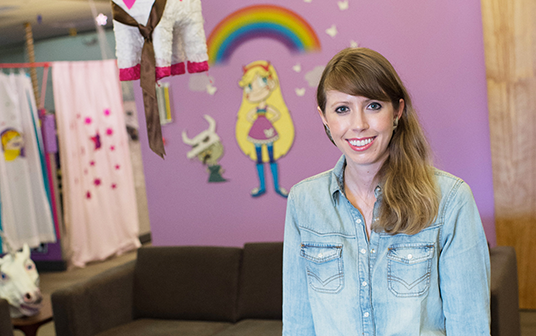 While most of the other show's writers are out at lunch, we sneak into some of the writers' rooms. The Wander Over Yonder room, like most writers' rooms, is lined with bulletin boards filled with index cards that can be moved around and replaced, still the industry standard for plotting an episode or a series. But unlike most writers' rooms, this room features a real-life incarnation of Wander's floppy hat.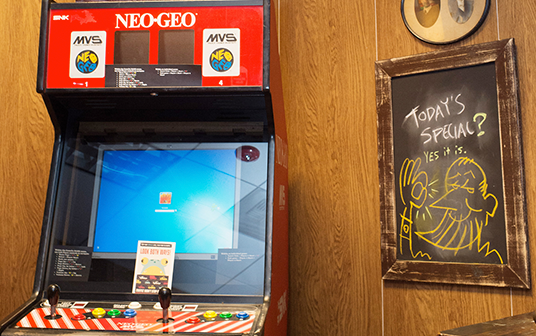 The Gravity Falls room is even more, shall we say, unique. It's the kind of place you'd like to sit a spell and, perhaps, enjoy your favorite beverage. It's comfy. But it's what's just outside the Gravity Falls room that's probably the most unusual thing you're going to see at TVA: a full-size buffalo. We tracked down Gravity Falls' creator, Alex Hirsch, to get the scoop. Hirsch tells us that he believes that the freedom he gets to make his office his own encapsulates "the TVA spirit."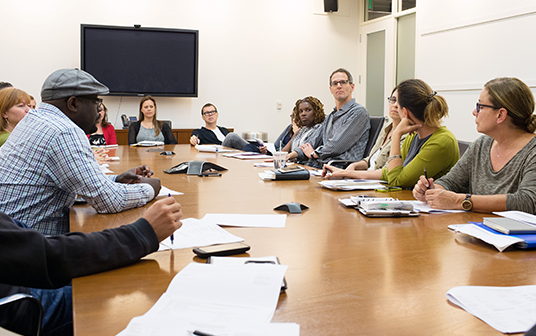 We get to see more of that "TVA spirit" in action at our next stop, the weekly Production Status Meeting. Lisa Salamone and Eric Coleman receive updates from their staff on all the shows currently in production—and we even get a few hints about new shows and top-secret developments on some of our favorites. It doesn't take long to realize that there's so much going on with shows from Sofia the First to the upcoming live-action/animation combo Pickle & Peanut, that one meeting barely scratches the surface. When the meeting ends, everyone quickly breaks off to cover more of the smaller-but-no-less-important details that make TVA shows stand out from the crowd.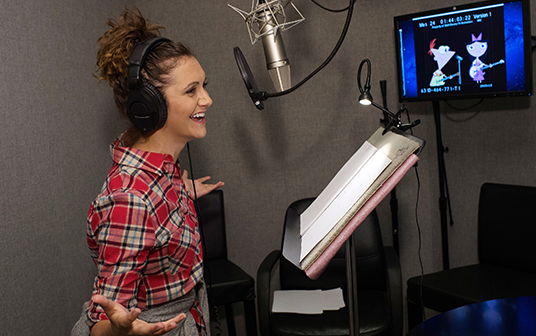 It wouldn't feel like a visit to an animation studio if we didn't get to see some of the animation in action, and lucky for us, Alyson Stoner has come to record her lines for an upcoming episode of Phineas and Ferb, for which she provides the voice of Isabella. Jeff "Swampy" Marsh handles the voice direction, and we get to see that there's a lot of nuance that goes into the delivery of a line like, "Wait, what?" Phineas and Ferb's co-creator Dan Povenmire is also on hand, sketching on a tablet computer while listening to Stoner as she acts behind the mic. He demonstrates how the computer turns his series of sketches into the early stages of animation—and even slips into Dr. Doofenshmirtz' voice, making our day even more memorable. It's pretty amazing how quickly Stoner finishes, but as Marsh explains, "We've been doing this for eight years. We've got it down."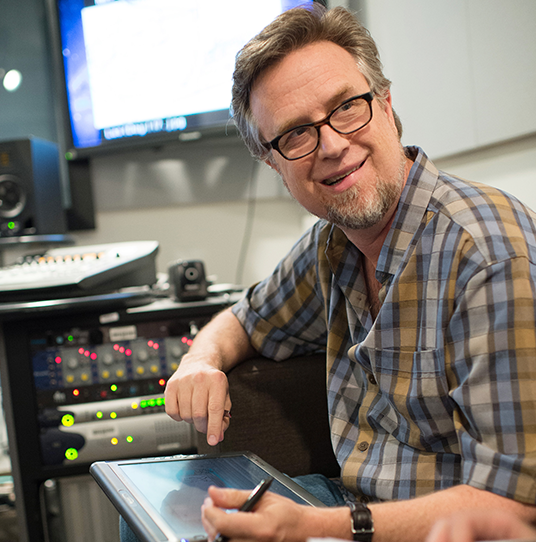 Povenmire also echoes what we've been hearing all day, about what a creative place TVA is to work. "When they were turning this building into this studio, they actually came and showed us the plans and said, 'What do you guys need? How can we arrange it so it makes your production flow better?'" One of the things Povenmire told TVA they needed—and received—was a ping pong table, regulation size. But it's just one of the many examples the animators provide about how TVA fosters their creativity.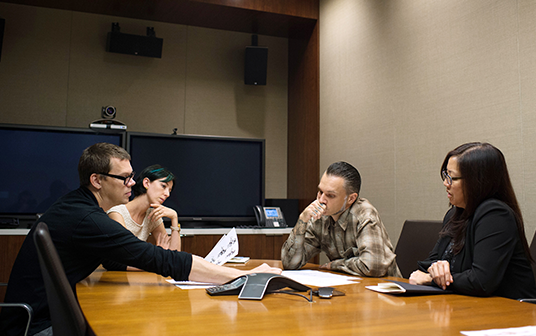 Our next stop is to check in on another of the exciting shows TVA is developing—Haunted Mansion. The special is in the very early stages of development, so we can't tell you much about it—yet. But we can tell you that the character art that creator Gris Grimly and Vice President, Creative Mike Moon showed us looks amazing, and the attention to detail, down to small elements of a character's piece of clothing, is something to behold. We can't wait for this one!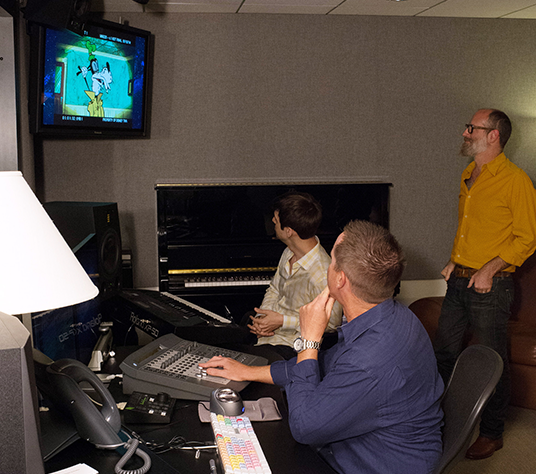 It's hard to top a sneak peek at Haunted Mansion. But our last stop at TVA doesn't disappoint. Our day behind the scenes ends, quite fittingly, where it all began—with a mouse. We join Executive Producer and Supervising Director Paul Rudish, Vice President of Music Jay Stutler, and composer Christopher Willis as they review the music for an upcoming Mickey Mouse short. As Rudish tells us, "Chris will take my musical riddle and figure it out in musical terms." "The music enhances the storytelling and the emotional content of a scene," Stutler explains.
Both Salamone and Coleman point to Mickey Mouse as delivering some of their proudest moments at TVA. "The journey to make new content with Mickey Mouse, it was a daunting challenge," Coleman admits, adding that "The first moment of success [for Mickey Mouse] was when we saw what we were doing and we were really happy with it." Both Coleman and Salamone were thrilled by Mickey Mouse's now six Emmy® wins, and also by how critics and audiences alike have embraced the show.
"I feel so fortunate to work at a company that has the kind of legacy that Disney has, and to continue to add to that is just a remarkable feeling," Salamone professes. Coleman concurs that, "We feel lucky to be part of this and appreciate how passionate the fans of Disney programming are. It's a wonderful experience for us to make things that we're excited about, and then to see how happy they make other people."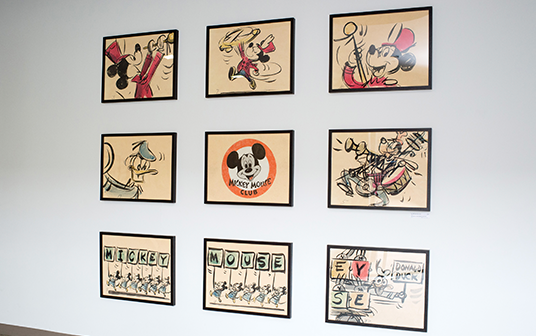 And as we reluctantly end our day at Disney Television Animation, we pause to view concept art that was drawn in 1955 for the Mickey Mouse Club opening sequence, and we realize that TVA has made us very happy—today, and for the last 30 years.