Disney on Broadway Announces Lineup for "Women's Day on Broadway"
Great news from our friends in the theatrical world: In celebration of International Women's Day (not to mention Women's History Month), Disney on Broadway will present its fourth annual "Women's Day on Broadway" event next Friday, March 12, beginning at 1 p.m. EST.
Following its launch in 2018, this year's event coincides with the one-year mark since Broadway's shutdown due to the COVID-19 pandemic. This year's event, themed "Reflecting Courageously, Transforming Collectively," will continue to engage attendees of all gender identities and expressions in a two-hour virtual event, featuring two substantive conversation sessions entitled "Broadway's Moms: How Life Goes on When the Show Doesn't" and "Broadway's Second Act: A Conversation about Moving Beyond Intention." Attendees can look forward to appearances by award-winning ABC News correspondent Deborah Roberts; Pulitzer Prize-winning playwright Lynn Nottage; Mamas Talkin' Loud podcast co-hosts Cara Cooper & Jessica Rush; writer Pearl Cleage; a pre-recorded performance of The Broadway Sinfonietta, under the direction of Founder/Orchestrator Macy Schmidt; as well as introductions from young BIPOC women ready to join the industry, including Marija Abney, Gethsemane Herron-Coward, Tavia Jefferson, Erin Moore, Brittany Monachino, and Phoebe Moore.
For more information—and to register for free (yes, free!)—visit www.womenofbroadway.com.
5 Fantastic Things to Watch This Weekend
Well, here we are—the first full weekend of March! Lucky for us, there's a lot of fun stuff to take in (on our various devices) from around the worlds of Disney. Tune in for the season finale of The Incredible Dr. Pol on Nat Geo WILD; celebrate the one-year anniversary of Disney and Pixar's Onward by streaming its magical adventures on Disney+; whip up some lasagna in honor of Garfield: A Tale of Two Kitties debuting on the streaming service; and so much more.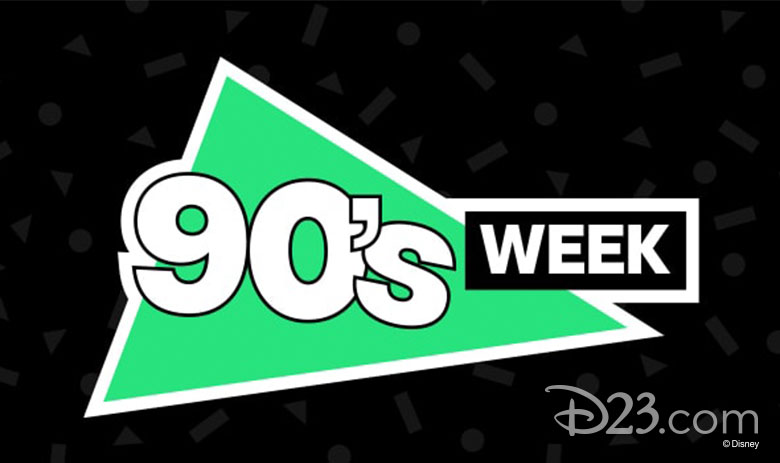 Celebrate '90s Week with Hulu
We're unashamed to say that this news from our pals at Hulu has us particularly excited… in advance of the March 12 premiere of kid 90, a Hulu Original Documentary from Soleil Moon Frye (Punky Brewster), the streaming service invites viewers to join in celebrating the '90s with tons of fan-favorite series, new show premieres, and exciting virtual events.
Perhaps most notably, especially for the Gen X folks among us, complete seasons of several iconic '90s series will join the streaming service next week. On Monday, March 8, tune in for Blossom—the sitcom that put Mayim Bialik (The Big Bang Theory, Call Me Kat) on the map. On Tuesday, March 9, look for Felicity, starring Keri Russell as a college freshman living in New York City. (The series was co-created and executive produced by J.J. Abrams, by the way). And on Thursday, March 11, watch for My So-Called Life—the critically acclaimed drama that looked in on the life of 15-year-old high schooler Angela Chase (Claire Danes) and her friends.
But that's not all: Hulu and ATX TV are gathering together some of the most iconic TV moms of the decade to talk about what it was like playing these idyllic characters during Mother Knows Best: A Look at '90s TV Moms, airing Monday, March 8, at 8 p.m. ET/7 p.m. CT/5 p.m. PT on ATX TV's official YouTube channel. (And ATX is also offering up an evening of '90s TV Trivia on their YouTube channel on Wednesday, March 10, time TBA.)
So don your best flannel shirt, dig out your combat boots from the back of the closet, and enjoy. We know we will…
Testing Begins for Harmonius Centerpiece at EPCOT
There's nothing like the prospect of a brand-new nighttime spectacular to get our heart a-racing. So we're thrilled with this recent piece of news from EPCOT: A six-story-tall central ring structure—the centerpiece of Harmonious, the nighttime spectacular coming soon to EPCOT—has moved into position to begin testing on the theme park's World Showcase Lagoon at Walt Disney World Resort. The centerpiece will support a high-density water curtain, moving lights, fountains, and more. Get an up-close look at the very cool "icon ring" in the new clip, above.
Harmonious—featuring the hallmarks of a Disney experience (incredible imagery and music)—will be a grand, original spectacular paying tribute to the power of story and song that unites us all. In recent weeks, Disney Live Entertainment technical designers across the country have been programming various elements of the show, from media and fountains to lighting and pyrotechnics, working in a completely virtual environment. At the same time, music producers at Walt Disney Imagineering have been remotely directing recording sessions with an amazingly diverse array of musical artists, performing in studios around the world.
Once complete, Harmonious will be one of the largest nighttime spectaculars ever produced! Pretty cool, right? As evidenced in the video above, WDI is busy preparing each of the show's five floating platforms to take its place on World Showcase Lagoon. Stay tuned for more Harmonious news as it becomes available…
Go Behind the Scenes with Raya and the Last Dragon's Cast and Crew
Wanna know what it's like to spend a full hour recording lots of heartfelt dialogue for a big Walt Disney Animation Studios film, only to realize it never recorded at all? Raya and the Last Dragon costar Daniel Dae Kim admits it's a hard lesson to learn, but one he definitely wouldn't trade for the world… Hear more amazing stories from the film's cast and filmmakers right here at D23.com.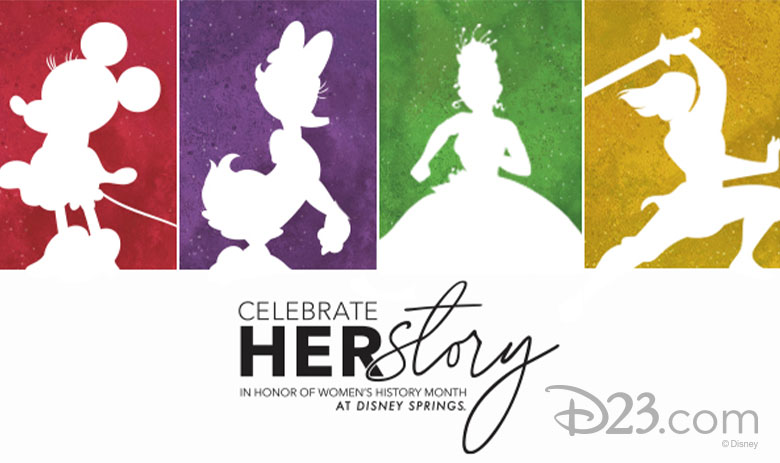 "Celebrate HER Story" at Disney Springs This Month
In further, fantastic Women's History Month news: Our friends at Disney Springs have just kicked off a month-long event to put a spotlight on those talented female cast members, artists, and business leaders making a positive impact at Disney Springs.
"Celebrate HER Story at Disney Springs" will offer everything from special treats created by women to talented female-led entertainment, and lots more!
The event will feature all manner of elements celebrating women from all across Disney Springs—including creatives who are leading the next generation of artists; chefs who execute the creative development of Disney Springs' food & beverage offerings; and the female business owners behind several Disney Springs' stores including Erin McKenna's Bakery NYC and Rustic Cuff. There'll be live entertainment, artist signings, delicious food and beverage offerings (such as yummy Women's History Month-themed cupcakes from Sprinkles), and retailers supporting women's empowerment through special products and offerings.
To find out more about "Celebrate HER Story," follow Disney Springs on Facebook, Instagram, and Twitter… and for a chance to be featured on Disney Springs' social media handles, don't forget to tag your photos with the hashtag #CelebrateHERStory.
ICYMI: Disney Releases Earn Five Golden Globes®
This year's Golden Globe® Awards were a truly unique affair; we particularly enjoyed the pajama-clad children who occasionally dove in to hug their parent as they were accepting their accolades… Most notable were the amazing five Golden Globes that Disney releases earned, including Best Picture—Animated for Disney and Pixar's Soul and Best Drama for Searchlight Pictures' Nomadland. See all the winners here.