By Courtney Potter
In Walt Disney Animation Studios' Raya and the Last Dragon, lone warrior Raya must track down the legendary last dragon, Sisu, in order to restore the fractured lands of Kumandra—as well as her own fractured beliefs about teamwork and trust. Just days ago, however, voice actors Kelly Marie Tran (Raya) and Awkwafina (Sisu) didn't have to adventure particularly far to discover some magic of their own; all they had to do was join in on a unforgettable virtual press conference celebrating the film's impending release—both in U.S. theaters and on Disney+ Premier Access (in most Disney+ markets)—this Friday, March 5.
Along with Tran and Awkwafina, the press conference featured fellow voice actors Daniel Dae Kim (Chief Benja), Benedict Wong (Tong), Izaac Wang (Boun), Thalia Tran (Little Noi), Gemma Chan (Namaari), and Sandra Oh (Virana)—as well as directors Don Hall and Carlos López Estrada; producer Osnat Shurer; and screenwriters Qui Nguyen and Adele Lim. Read on for some of the morning's most memorable—not to mention heartwarming—stories:
Daniel Dae Kim on a particularly eventful experience he had while bringing Chief Benja to life:
"I love the character [of Chief Benja] a lot," the actor explains. "He's someone that I aspire to be, so it's nice when you can really take a lot of pride in the person that you're playing. It was amazing, actually, being able to record from home because, you know, living in Hawaii, anytime I travel to go shoot something, it's at least five hours—and sometimes 11—by plane. So to be able to walk downstairs in my T-shirt and shorts was pretty great. Although I will say it wasn't without hiccups. Carlos and Osnat and Don can all attest—one of my very first sessions from home was a big chunk of [Chief Benja's] dialogue where he's talking about Kumandra and he's establishing a relationship with Raya… so I recorded for an hour; we did some great stuff. And at the end of the hour, I was supposed to upload my packet [of recordings] to the studios. And as I was uploading, I realized that I had recorded none of that past hour!"
He laughs, adding, "So this is what happens when you leave the recording [and] the technical stuff to the actors. We lost that hour, but I learned my lesson—and it was hassle-free the rest of the way."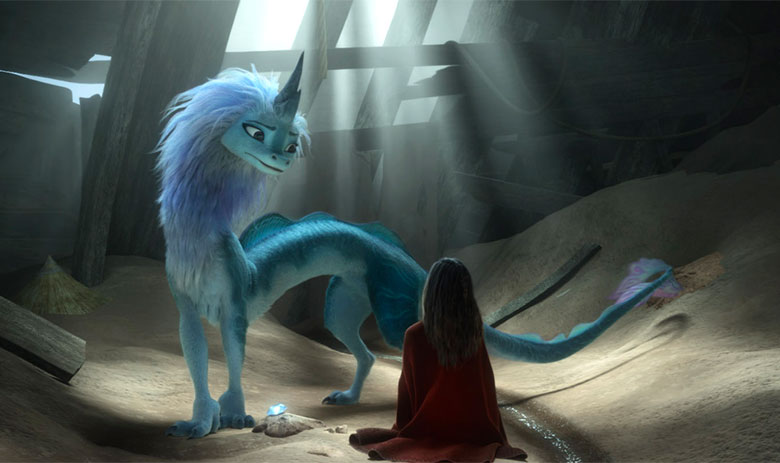 Awkwafina remembers the first time she saw a clip from the still-in-progress film—and what it was like to finally "meet" Sisu:
"I first saw a clip that was put together and [shown] at D23 Expo 2019, and I was a little confused; I was like, 'Is this a live action movie? Let me get my agent on the phone!' Because it looked so realistic—the rain and everything. I was confused!" Eliciting more giggles from her fellow press conference attendees, she continues, "You realize how much you were [working on the film], y'know, sometimes without pants—that's optional—or with one shoe on. That's just what we're doing! But then you realize all of what goes into this—we're recording, simultaneously, as it's being animated. So when I first saw the human version of Sisu, I was like, 'OK, all right. Uh, that, to me—like, not even showing off or anything—it looks like me! And so, you know, those nuances were very trippy and very, very mind-blowing."
Thalia Tran and Izaac Wang on their experiences making the film:
"Playing Little Noi is definitely like nothing I've ever done before," admits Tran, "because she doesn't use English words. She speaks in her own language. But the connection she has with her gang of Ongis [three part-monkey, part-catfish creatures]—and the connection she develops with Raya and her whole gang… that sense of comradery and that strength, that sense of family—that is definitely something that I relate to personally. And I know, growing up in a Vietnamese family, that family always comes first. From the traditions to just everyday life. Family is just such a huge thing, especially now in quarantine—[being] with my family all the time. It's something that definitely clicked with me. I [thought], yes, I know what it feels like… Seeing it all come together—hearing everyone's voices and seeing all the beautiful scenes and hearing all the beautiful words—it means a lot to have a movie like this, and I'm so grateful to be a part of it."
Wang, the film's youngest voice actor, adds, "It was really fun [performing] Boun as a character because I relate to him a lot, energy-wise. He feels like a very social person." Cracking up his castmates, he continues, "If I ever met him in real life, he'd be that kind of guy who would go up to you in a random day, [saying], 'Hey, do you want these cookies that I got in here?' Not suspicious at all! You can have them for free! He's a really cool person to play to because I like doing his voice. It's really fun."
As for the importance of the Southeast Asian cultures that inspired the film, Wang adds, "[Today] I'm wearing a pha biang; it's a traditional Lao accessory that people usually wear to ceremonies and temples. If you go into Laos, you can actually see people walking around wearing these, if it's like a special day or it's a special time for a certain someone… I've been centered around a couple of cultures my whole life. And just to see all these different cultures [represented in this film] is really amazing to me."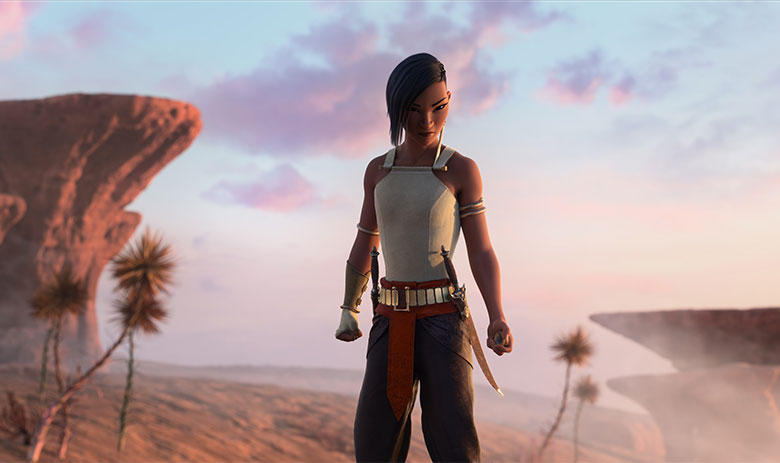 Sandra Oh and Gemma Chan reflect on what voicing their characters meant to them:
"Our characters [are] complex," explains Oh. "There's no black and white in these characters, which I greatly appreciated… [And] I was extremely moved by the message of this film, because I feel myself struggling to learn how to trust as well… I feel like the storytelling and the characters, particularly Gemma's character, Namaari, have a very nuanced and more complex look at things—which is where I feel like we need to bring storytelling anyway, to a more nuanced point of view. So I was really happy to be a part of that."Chan concurs, adding, "One of the things that really drew me to the story and resonates with me is the fact that Namaari is the antagonist, but as Sandra said, it's not black and white; I find that really interesting. Namaari and Raya are also kind of two sides of the same coin. You could imagine them having each other's upbringings and, and easily taking each other's place… You can also understand why the people of Fang are trying to protect themselves. You can understand why we have elements in our society that want to protect their own self-interest. I think these are really complex themes to explore in a family film—and I thought the storytellers tackling this [idea] couldn't come at a more timely moment for where we are, and the position we're in, in the world right now. I'm so proud to be part of this."
Co-director Lopez adds, "The humanity that both Gemma and Sandra brought to those roles is something that we are very, very moved by. As Gemma was mentioning, these are very complex ideas—and they both connected with the characters, but also [to the] philosophy… [it] added a layer of complexity to our movie that was very necessary."
Benedict Wong recalls a heartfelt moment after showing the film to his young son:
"It was the first time we'd actually sat and watched the film entirely, all the way through," says Wong. "And obviously, the themes [of the film] are about trust. And he turned around and gave me a big hug and said, 'I trust you, Daddy'… It's very timely, with our beautiful film showing us that love can really lead the way."
The filmmaking team weighs in finding their memorable cast, and what makes Raya so special:
"Disney magic," admits Shurer. "I really think we just got lucky to find some of the best actors in the world. And they all said yes." "The connection that all of the actors have with the material, with their characters has been so special," continues López Estrada. "We had teary conversations with all of [them], about what the characters and what the story meant to [them]. And you don't get to see that very often. We have a group of people that really believe in this movie and what it represents. And I think that just moved us and every single person working on the movie. It's beautiful." Hall adds, "There were certainly moments during the making of the film where we were very aware of how this [story], which was meant to be timeless, was unbelievably timely. And I think it emboldened us to continue forward, because we felt like we had something to say. If this film can teach one person to be brave enough to trust somebody, then we feel like we've done what we set out to do."
Nguyen adds, "I think we're all quite aware of what this kind of movie—with heroes that look like this—will mean to so many kids and families out there. To have such an 'A'-class group of actors, and to be able to be representatives of that to so many kids—is such a dream come true, not just for us as filmmakers, but for the community." "It was very important to the filmmakers that the troubles that Kumandra faces—and the journey that Raya goes on, the struggle she faces—are rooted very much in the real world." Lim adds. "Hopefully, this movie is our word and our message to the world: Let's pull together."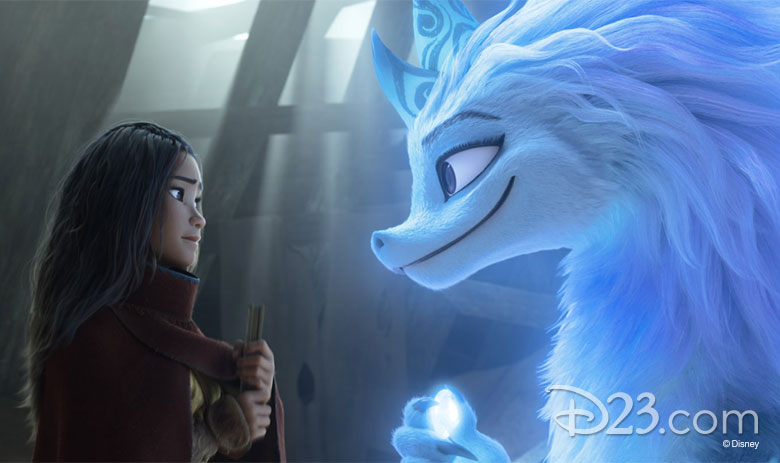 Kelly Marie Tran explains why a film like Raya and the Last Dragon is so important right now:
"There's a moment for me specifically, with Raya, where she—towards the end of the movie—gets to feel justifiably and absolutely unapologetically angry," explains Tran. "And for me, seeing a young woman in a movie like this just get to feel that righteous anger, and then recognizing that the thing that pulls her out of it is seeing her friends and how they're helping other people. It just feels so real to me… You do get to that place sometimes where you feel like, 'Oh, this is a very broken world.' I'm feeling a lot of things right now and recognizing that, for me, gosh—that moment felt so grounded in reality."
She continues, "The only way to really get through it is to look for the bits of hope in your community. And then I see so much hope [in this very group], with all of these people that I look up to so much—Sandra and Awkwafina and Gemma… everyone on this call is doing impossible things in a world that told us we couldn't. So to be part of that, to be making a movie with all of you about that same thing… I'm just really grateful for this."
See Walt Disney Animation Studios' Raya and the Last Dragon when it comes to theaters, as well as to Disney+ Premier Access (in most Disney+ markets), on Friday, March 5.