by William Keck
Flora & Ulysses—a new movie premiering on Disney+ on February 19, is about a broken family struggling to come back together. It tells the story of 10-year-old Flora Buckman who is trying to deal with the recent separation of her parents—successful romance novelist Phyllis (How I Met Your Mother's Alyson Hannigan) and frustrated, aspiring comic book writer George (Parks & Recreation's Ben Schwartz).
As if there weren't already enough to keep an eye out for in a fantasy film featuring a flying squirrel with super powers and heroes coming to life from the pages of comic books, Flora & Ulysses is packed with plenty of Easter egg extras to keep sci-fi and Disney fans glued to their screens for repeat viewings.
The movie's director, Lena Khan, let her set decorators know that if there were ever an opportunity to include an in-joke here or there, they should go for it! "We put things everywhere," says Khan. "We totally geeked out. There's like a thousand Easter Eggs!"
While she might be egg-xaggerating a wee bit, the colorful sets of Flora & Ulysses do provide ample opportunities for planting hidden treasures—none more than the Comic Cave comic book store.
"There are all sorts of things to look for in there," teases star Ben Schwartz, whose character, George, was given an orange tiger key chain after he told Khan he was obsessed with the comic strip Calvin and Hobbes.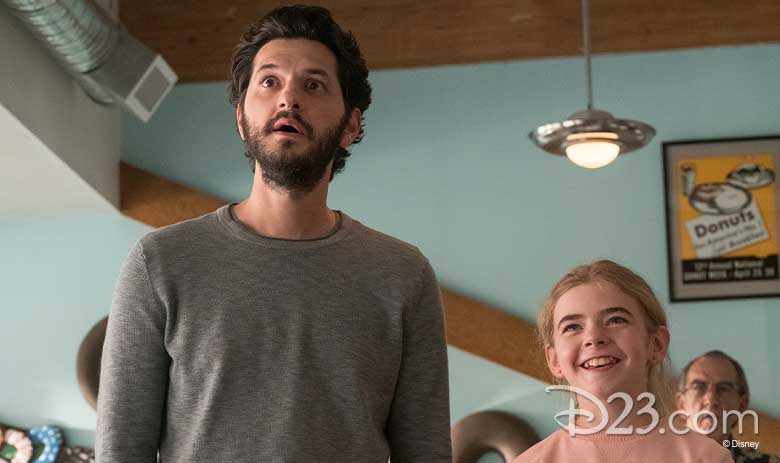 As an homage to the Batcave, which inspired the comic store's name, there are representations of the iconic giant penny and animatronic dinosaur trophies Batman installed as memorabilia in his underground lair. You can also look for an upside-down fishbowl, reminiscent of the one worn by Spider-Man villain Mysterio. And at the end of the movie, when Flora's mother, Phyllis, played by Alyson Hannigan, is shown signing her latest book in the Comic Cave, there's a special something included for fans of Hannigan's first break-out role: a Buffy the Vampire Slayer comic book!
"Going into a comic store, odds are there's going to be a Buffy comic in there somewhere," Hannigan says. "Someone found one with my character, Willow, on the cover. It's a nice little wink/wink, nod/nod."
But the hidden gems extend well beyond the comic book shop, with the most egg-stravagant Easter egg saluting Schwartz's side gig as the voice of Dewey in Disney's animated DuckTales. Three of Schwartz' fellow voice actors play significant roles in the film. Longtime Saturday Night Live comic Bobby Moynihan, who voices DuckTales' Louie, was given the role of Comic Cave owner, Stanley (an homage to legendary Marvel superhero creator Stan Lee). When we first see Stanley, he'll be reading a DuckTales comic.
Schwartz himself suggested casting Community actor Danny Pudi (the voice of Huey) as Animal Control Officer Miller, who spends much of the film trying to capture Flora's squirrel. On the wall in Miller's office, try to spot a picture of three cute ducklings —each wearing a red-, green-, or blue-hued band representing the colors worn by Donald Duck's nephews.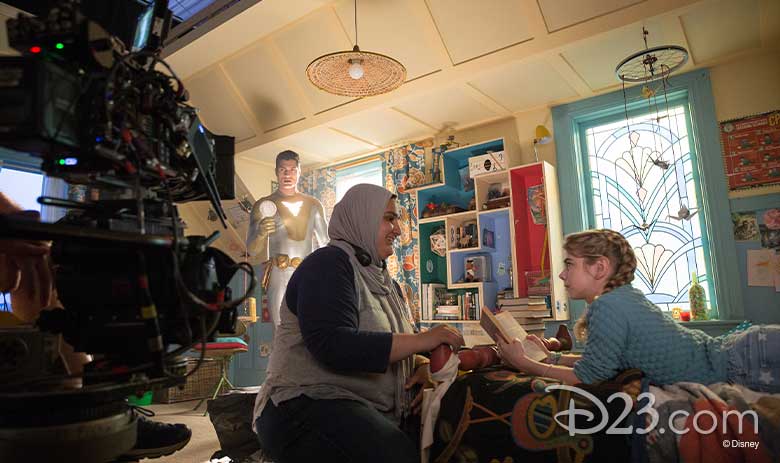 The writers and producers worked overtime giving Pudi several sight gags— such as a vicious attack by a CGI cat. "Seeing Danny flailing around has been really nice to watch," admits co-producer Jennie Lee. And in his own comedic scene with Pudi, Schwartz says "[Miller] thinks Ulysses has rabies so he has a tranquilizer gun, but he trancs me instead, and I fall off a building!"
And finally, DuckTales actress Kate Micucci, who voices Webbigail 'Webby' Vanderquack, was brought in to play Rita, a waitress at the Giant Donut Diner who'll be trying to get Ulysses out of her hair—literally!
And Kahn clued D23 in to one last Easter egg that may prove disturbing for younger Disney fans: across from Rita's Donut Diner is a fish and chips stand called, prepare yourselves… Frying Nemo!
But fear not friends, no clownfish, attack cats, or flying squirrels were harmed during production. It's all just part of Flora & Ulysses' bottomless top hat filled with marvelous movie magic!