By Courtney Potter
New Disney Cruise Line Float to Join Macy's Thanksgiving Day Parade
Ahoy, mateys! Supremely fun news for both fans of Disney Cruise Line and lovers of the Macy's Thanksgiving Day Parade® (hey, that's totally us): On Thursday, November 25, DCL will embark on its maiden voyage down the streets of New York City with a brand-new cruise ship float, debuting as part of the 95th annual holiday event! The imaginatively designed "ship" has been christened "Magic Meets the Sea"—and it's inspired by the fantastical style of the Disney Wish, which sets sail in summer 2022.
During its inaugural parade journey, the float will feature 15 fave Disney friends who represent the stories and experiences on the Disney Wish, including Captain Minnie Mouse, who proudly adorns the ship's bow; Princess Tiana, who cooks up the power of imagination in an all-new interactive adventure aboard the ship; Aladdin and Jasmine, whose story has been reimagined into an original Broadway-style stage show on board; and Cinderella, whose delightful bronze statue will grace the fairy tale-inspired Grand Hall.
"We are honored to collaborate with Macy's for this renowned event and build upon the shared legacy of creating magical memories year after year," Sharon Siskie, senior vice president and general manager, Disney Cruise Line, recently said. "Just like the Disney Wish, our float will be a celebration of enchanting Disney storytelling, beloved characters, and wishes come true." Keep those eyes peeled for this fabulous new float when the 95th Annual Macy's Thanksgiving Day Parade airs nationwide on Thursday, November 25, from 9 a.m. to 12 p.m. in all time zones, on NBC!
5 Fantastic Things to Watch This Weekend
We're creeping ever closer to Halloween, which means the worlds of Disney are positively chockablock with spooky fun to watch with family 'n' friends. What's in store this weekend? Well, there's a Star Wars-themed episode of Disney's Magic Bake-Off on Disney Channel; the fun and frolic of fan-fave Halloweentown (Debbie Reynolds as a witch? So good!) on Freeform; and so much more.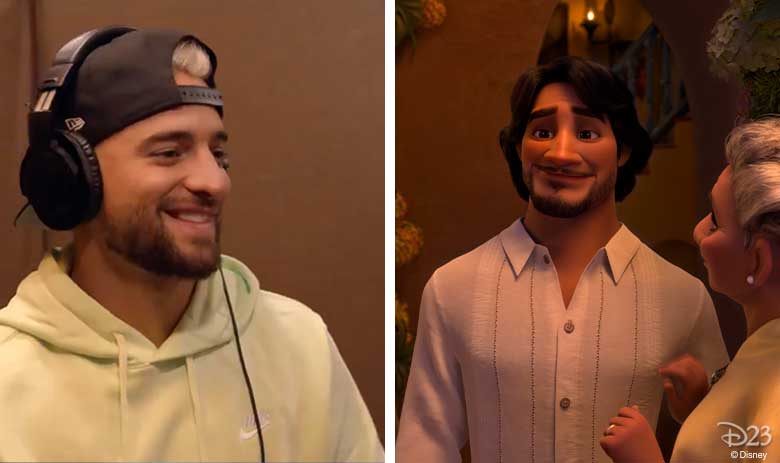 Music Superstar Maluma Joins Voice Cast of Encanto
Our pals at Walt Disney Animation Studios just announced that global Latin superstar Maluma will lend his dulcet tones to the voice cast of their upcoming animated feature Encanto! Maluma will play town heartthrob Mariano, the soon-to-be fiancé of Mirabel's (voice of Stephanie Beatriz) perfect and poised sister Isabela (voice of Diane Guererro). "Encanto is such a magical movie," said Maluma. "I'm from Colombia and the story is about a Colombian family. I'm proud to be part of this beautiful story. It means so much to me as I'm very passionate about sharing my country's cultural values and story globally."
Encanto tells the tale of the Madrigals, an extraordinary family who live in a wondrous, charmed place called an Encanto. Each child has been blessed with a magic gift unique to them—each child except Mirabel, that is… But when the family's home is threatened, Mirabel may be their only hope.
Featuring all-new songs by Tony Award® winner Lin-Manuel Miranda; directed by Jared Bush and Byron Howard; and co-directed by Charise Castro Smith, Encanto opens in theaters November 24.
First Trailer for the Disney+ Original Movie Diary of a Wimpy Kid
Earlier this week, Disney+ released the official (and adorable) trailer for Diary of a Wimpy Kid, which debuts on the streaming service this holiday season.
The first book in Jeff Kinney's worldwide bestselling series comes to life in the all-new animated adventure… Greg Heffley is a scrawny but ambitious kid with an active imagination and big plans to be rich and famous—he just has to survive middle school first! To make matters worse, Greg's lovable best friend Rowley seems to coast through life and succeed at everything without even trying. As details of his hilarious (and often disastrous) attempts to fit in fill the pages of his journal, Greg learns to appreciate true friends and the satisfaction that comes from standing up for what is right.
Diary of a Wimpy Kid features the voices of Brady Noon as Greg Heffley, Ethan William Childress as Rowley Jefferson, and Chris Diamantopoulos as Frank Heffley. Directed by Swinton Scott and written and produced by Kinney, look for the film on Disney+ beginning December 3!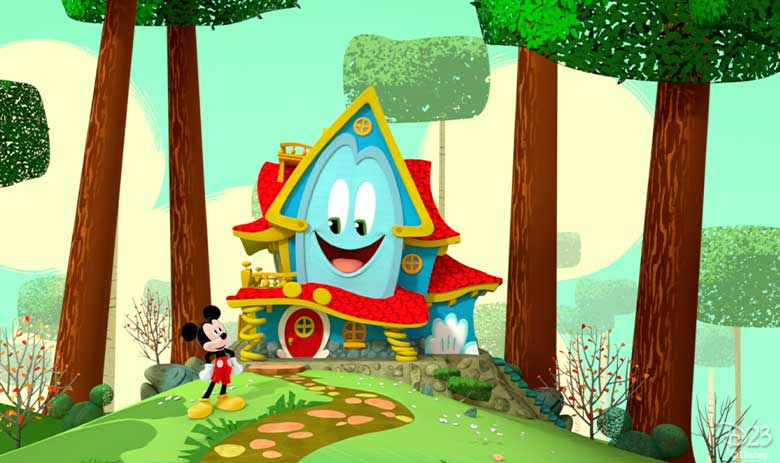 Disney Junior Orders Second Season of Mickey Mouse Clubhouse
It's colorful, it's tuneful, and it's coming back for more whimsical adventures! Disney Junior has just ordered a second season of Mickey Mouse Funhouse, the animated series that has captured the hearts of preschoolers and their families since its successful debut this past August. Featuring Mickey Mouse and all his pals—Minnie, Donald, Daisy, Goofy, and Pluto, as well as the new character Funny—the series has garnered nearly 12 million video views on Disney Junior YouTube alone!
While we stay tuned for more info on season two, here's some news you can use: The first six episodes of season one will begin streaming on Disney+ on Wednesday, November 10, with new episodes continuing to debut Fridays on Disney Channel and Disney Junior.
Geared to kids ages 2-7 and their families, the show follows Funny, an enchanted talking playhouse voiced by Harvey Guillén (What We Do in the Shadows), who leads the Sensational Six on magical adventures. Season one guest voices includes John Stamos (Big Shot) as Captain Salty Bones, a pirate captain; Richard Kind (Curb Your Enthusiasm) as Cheezel, another member of the weasel trio; Jaime Camil (Schmigadoon!) as Rocket Mouse, a heroic "mouse-stronaut"; and Amanda Seales (Insecure) as Annie, a friendly giant. They join the previously announced Jenifer Lewis (ABC's black-ish) as Wheezelene, the leader of the troublemaking weasel trio, and Grammy® Award nominee Mickey Guyton as country singer Wanda the Wandrin' Warbler.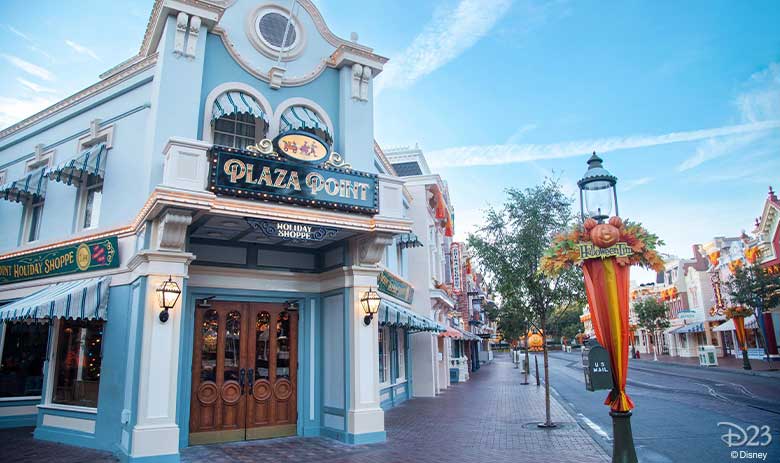 Plaza Point Holiday Store Now Open at Disneyland Park
As mentioned previously, Halloween is just around the corner—which means a plethora of other holidays on the horizon. (Valentine's Day is only 115 days away. Let that sink in!) And the good folks at Disneyland park are getting into all that holiday action with a brand-new, now-open store on Main Street, U.S.A.
Inside Plaza Point, guests will find all manner of fun seasonal items, including ornaments, home décor, collectibles, and more. And, throughout the year, Plaza Point will change seasonally to showcase additional holidays, including Lunar New Year, Easter, and Halloween, just to name a few. That means guests will wanna visit Plaza Point every time they visit Disneyland—not only to enjoy the latest décor, obviously, but also to shop all the current seasonal merchandise. Plus, visitors can get ornaments personalized—which make for great holiday gifts. Watch the artistry in action as cast members hand paint a name on each ornament. And best of all? Ornament personalization will be available for purchase year-round.
Plaza Point is brought to you by the store proprietress, Miss Evelyn Toro; she's a world traveler who collects unique pieces of holiday décor wherever she goes, then brings the treasured items back to display in her store… and the warm, wood-paneled shop fits perfectly in the Victorian era of Main Street, U.S.A. We'll see ya there!
ICYMI: The Story Behind The Story of Marvel Studios
There's a new book that is an essential collectible for any fan of the Marvel Cinematic Universe. (Hello, holiday gift idea!) Coauthors Tara Bennett and Paul Terry were granted unprecedented access to Marvel Studios during a years-long journey to write a 512-page tome; to hear from Bennett and Terry, and see an exclusive photo from The Story Behind Marvel Studios, click here.