By Zach Johnson
The Story of Marvel Studios is the first-ever, fully authorized, all-access history of Marvel Studios' creation of the Marvel Cinematic Universe (MCU), as told by the people who brought it to life. The two-volume set, available today via multiple retailers, features more than 200 interviews with creative talents who worked on all 23 movies in The Infinity Saga.
The book includes previously unpublished behind-the-scenes photography and archival production material, as well as personal photos and memorabilia from cast and crew. The Story of Marvel Studios is an essential collectible for fans of the MCU—and given that we're HUGE fans of the MCU here at D23: The Official Disney Fan Club, we had a lot of questions for coauthors Tara Bennett and Paul Terry, who were granted unprecedented access to Marvel Studios during their years-long journey to write this 512-page chronicle. As a bonus, Abrams Books kindly shared an exclusive photo from the book with us (below).
D23: You spent four years working on this book. Where did you begin?
Tara Bennett (TB) and Paul Terry (PT): It was a multi-faceted beginning, for sure. Starting in the spring of 2017, we did a complete re-watch of all the MCU films and studied all of the Blu-rays' bonus features to become more familiar with the myriad of behind-the-camera people and to help create a wish list of interviewees. By July of 2017, we were already booking interviews with Marvel Studios' producers to start talking with them about how their journeys with the studio began. And, while all of this was happening, we were planning set visits, coordinating with the unit publicist for on-set interviews, and making the beginnings of a "book map" to help guide us, and Marvel Studios, into the storytelling direction the book would take. As you can tell from that list, we started in fifth gear, straight out of the gate, and it never really let up after that.
D23: How does it feel to unlock the MCU's secrets from Odin's vault, so to speak?
TB and PT: Honestly, even now, with the book finished, it still feels so surreal. Especially as we came into this project as huge MCU fans. We know that the unique, and very special experience that this project gifted us will remain an honor. Our teenage selves, who grew up adoring movies and slavishly studying them and reading about how they were made, could never have imagined that we would end up telling the story of Marvel Studios.
D23: Did you approach this project sequentially, or did you try a different method?
TB and PT: It was impossible to approach it, or plan the interviews to be, sequential—in terms of the release dates of the movies. Simply because, a lot of the time, we had to pivot on a dime and be prepared to interview a producer, cast, or crew member based on their availability. That meant that one day we could be chatting to someone involved with Ant-Man, and the next day, talking about Captain America: The First Avenger. However, what we were able to do was strategize the discussions with Kevin Feige, Louis D'Esposito, Victoria Alonso, and the core studio producers, about the chronological order of Marvel Studios' output. We had multiple interviews with them, and we began that process by going all the way back to where everyone was in their lives prior to Iron Man, and then gradually moving forward in time. As you can imagine, those conversations were long, detailed, and numerous, because there was so much to dig into. But those really helped give us new paths to travel down and investigate, to flesh out their collaborators' memories of how the studio was formed, grew, and evolved.
D23: As the MCU expanded, there were multiple projects in production as new ones were in development. How did you manage to tell a coherent and chronological story?
TB and PT: A project of this magnitude involves a ton of careful, detailed organization and planning. We know that our previous creative projects definitely set us up very well to take on something as gigantic as this. And what that involves is related to the previous question. When we discovered a brand-new piece of the overall Marvel Studios story-puzzle, we had to carefully track when exactly that happened, make a note of that date/period of time, corroborate it, and then figure out how to weave it into the overall narrative of that chapter so that it became a compelling addition to a chapter, rather than being a random, distracting deviation. We cannot thank Marvel Studios enough for helping us land such details—Stephen Broussard, one of the core producers, fast became an invaluable guide and collaborator in helping us figure out the best way to fill this book with as many details as possible, without it becoming unwieldy.
D23: Some films were in production as you worked on this. Did you do any set visits?
TB and PT: We did. We were on location, and on the sets of Avengers: Infinity War, Ant-Man and The Wasp, and Avengers: Endgame. Additionally, we were there for pre-production/production/post-conversations for Thor: Ragnarok, Black Panther, and Captain Marvel, including getting to see very early cuts as part of their in-house test screenings.
D23: You interviewed more than 200 people. Who surprised you the most?
TB and PT: As you can imagine, with that many people being interviewed, for the amount of movies that we covered, it really is impossible to pick the most surprising thing that was said. However, what we will say is that this book contains a plethora of deeply personal stories from the Marvel Studios family and the cast and crew of The Infinity Saga. And, beyond the fascinating stories we were told about the making of the films themselves, it really is those personal stories that we feel are the strongest and most rewarding aspects of the overall story told in this book. It makes it a really special keepsake of this history-making period of cinema.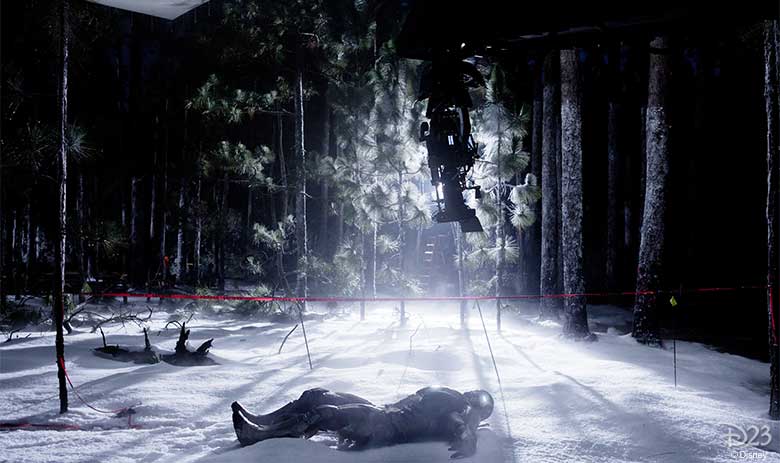 D23: How long did the average interview last? Who did you talk to the most?
TB and PT: We quickly lost count of how many times—and how long—we spoke with Kevin Feige. We deeply appreciate how much time he invested in this book, and how many times he sat down to talk us through, in detail, the journey that Marvel Studios has been on. When we think back to all of the other interviews, most average around one to two hours for each interview. And that doesn't count the multiple sit-downs. So, we gathered literally hundreds and hundreds of hours of material.
D23: Can you share some of your favorite never-before-told details or stories in the book?
TB and PT: Well, in the true spirit of the MCU—no spoilers!—we don't want to give anything away. But we will hint that you will get some very surprising insight into how a brand-new member of the Marvel Studios family joined the team during the shooting of Iron Man 3, the hilarious truth behind "Bruce Banner's twin," and what it felt like to watch the filming of Tony Stark's funeral.
D23: There are more than 500 photos in the book. How did you narrow it down to the ones you did, and how do they enhance the story you're telling?
TB and PT: Much like the text, the selecting of the images for this book was a mammoth task. And it really took the entire book team, and a lot of hard work, research, scanning, and then trying different combinations of pictures out on the pages—multiple times—before we all felt that each page's images were working in the best possible way to support telling the story of Marvel Studios. What was incredible about this process, is that we were gifted hundreds of personal photos that no one has ever seen—because so many literally came from the phones of the producers and The Infinity Saga's cast and crew.
D23: Of all the movies in the MCU, which one holds the most meaning for you?
TB and PT: That's a very, very hard question to answer! But, the first Iron Man will always have a special place in our hearts—because it's where our love for the MCU began, and because Tara was at the 2007 San Diego Comic-Con as an entertainment journalist covering the panels on Iron Man. It will remain eternally surreal that, 10 years later, we ended working with Marvel Studios. Beyond that film, Captain America: The First Avenger has always had our heart, because we adore everything about the Cap and Peggy story. And, of course, Endgame—because we got to experience so many of its scenes being filmed. And then we got to attend the world premiere. Endgame has this very special, up-close, and full-circle feeling for us—not just as fans, but as authors of this book.
The Story of Marvel Studios is available to purchase now via Amazon, Barnes & Noble, Books-A-Million, Bookshop, IndieBound, !ndigo, Powells, and wherever books are sold.