By Courtney Potter
An extraordinary family, and the equally wondrous, life-altering house they live in… Walt Disney Animations Studios' Encanto—the studios' milestone 60th animated feature—follows the Madrigals, a clan who live hidden in the mountains of colorful Colombia. Their home is an Encanto, an amazing place filled to the brim with heightened spirituality and more than a little enchantment. This Encanto has blessed every child in the Madrigal family with a unique gift, from super strength to the power to heal… well, every child except one, that is: 15-year-old Mirabel (voice of Brooklyn Nine-Nine's Stephanie Beatriz). But when she discovers that the magic surrounding the Encanto is in danger, Mirabel decides that she, the only ordinary Madrigal, might just be her exceptional family's last hope.
With musical numbers by Tony® Award-winning and Oscar®-nominated songwriter Lin-Manuel Miranda, Encanto is set to enchant audiences beginning later this year. But as luck would have it, D23 was recently privy to a memorable virtual press conference featuring many of the film's creative team: director Byron Howard; director and co-writer Jared Bush; co-director and co-writer Charise Castro Smith; producers Yvett Merino and Clark Spencer; associate production designer Lorelay Bové; heads of animation Renato dos Anjos and Kira Lehtomaki; and assistant choreographer and animation reference consultant Kai Martinez. Read on for some of the morning's most magical—not to mention fascinating—moments:
Directors Howard and Bush on how the idea of Encanto was originally conceived:
"Byron and I teamed up on Zootopia wanting to evolve and elevate what a talking animal movie could be," explains Bush. "[Something with] depth of character and sophistication without sacrificing entertainment, but built from a core that really had something to say."
"And because we're both musicians—trombonists, by the way," Howard adds, laughing, "we wanted to apply these same storytelling principles that Jared just mentioned to a musical. We love—L-O-V-E—love musicals. I directed Tangled; Jared wrote Moana. And we knew that if we wanted to take a fresh approach to musicals, we were going to need to work with the best. And luckily, on Moana, Jared worked with Lin-Manuel Miranda."
"As you know, Lin-Manuel's whole career is about evolving what a musical could be," continues Bush. "Obviously, what he brought to Moana was innovative and different and exciting. So it became a no-brainer for us to team up again. And right away we began to talk about what was the most important to us—what do we all have in common?"
"Family was what we had in common," adds Howard. "No matter the size or the shape, everybody, all of us, we all have a family. For Lin, Jared, and myself, we all have large extended families… so our early research was really about ourselves and our own families."
"We wanted to ask a central question within our film, a question no doubt we have all asked ourselves at one time or another," admits Bush; adds Howard, "How well do we truly know our families? And how well do they know us?… We really wanted to get [this film] right. And this has been the most exciting adventure of our careers."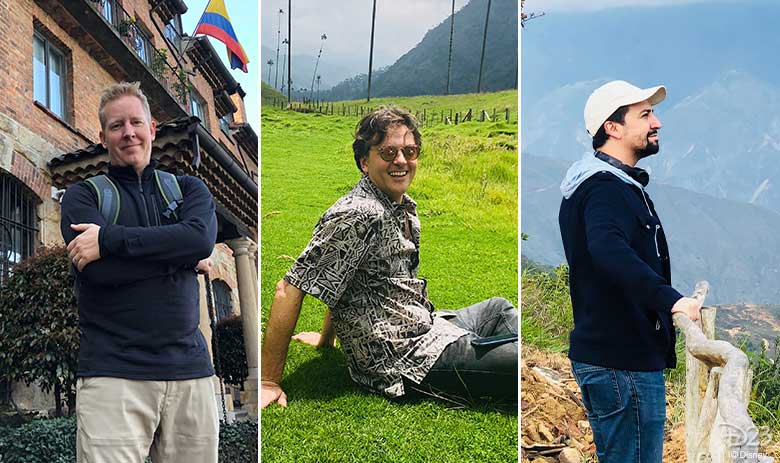 The directors on deciding where to set the film, and the incredible research trip the team took:
Explains Howard, "At the same time, we were also thinking about where our story should take place. Lin, Jared, and I talked about Latin America, and the more we talked about it—especially the importance of family within the region—we wanted to learn about a place often described as the crossroads of Latin America: Columbia. And that's when we started thinking about our friends Juan and Natalie."
"We met Juan Rendon and Natalie Osma when they were working for the network Fusion," says Bush. "They were filming a behind-the-scenes documentary on Zootopia, so they were really in the trenches with us. We remained friends with them ever since. And in speaking with them, they kept talking about their home country, Columbia—a melting pot of Latin culture and music and dance and art and food, with some of the greatest biodiversity on the planet, also the home to 'magical realism' [a literary genre that blurs the line between fantasy and reality]."
"So in 2018, Lin, his father Luis, Jared, and I packed our bags and headed there," Howard says. "One of the coolest things we were able to experience down in Columbia were areas… of heightened spirituality, places of magic that some people call Encantos—hence the name of our movie. These are all over Latin America, usually in areas of natural wonder. Our friends in Columbia told us that magic happens in these places and always has."
"We knew we wanted a partner and needed a partner on this journey," Bush adds. "So shortly after our research trip, we were so lucky to find the amazing Charise Castro Smith. Our team read literally hundreds of scripts; we met with 20 writers; and then we read Charise's work—and as soon as we saw it, both Byron and I said 'Yes!' immediately."
Co-director and co-writer Castro Smith on evolving the idea of the Madrigals' magical home:
"It means the world to me to be a part of this project," Castro Smith admits, "and to have been in the trenches with Byron and Jared and this whole incredible team. Ultimately, we got to work with magical realism at top of mind—and when we infused magical realism into our story of family and thought about those Encantos, everything came alive. Because we realized that if the family in our story lived in one of these magical Encantos, maybe the children born there would be kind of special—special in a way that is a nod to family dynamics that we can all relate to. There's a strong, dependable child who's the rock of the family. There's the perfect golden child whose happiness blossoms. There's a quiet kid who's not so comfortable talking to people, so he talks to animals. And there's the worrywart who can see the future, but only sees the bad things. As we thought about that, we had a big breakthrough, because we realized that the family's house didn't just have to be 'a house,' because in an Encanto the house itself could have powers too… each of the rooms in this house is a fantastical realm that represents the personality and magical powers of the Madrigal who lives there."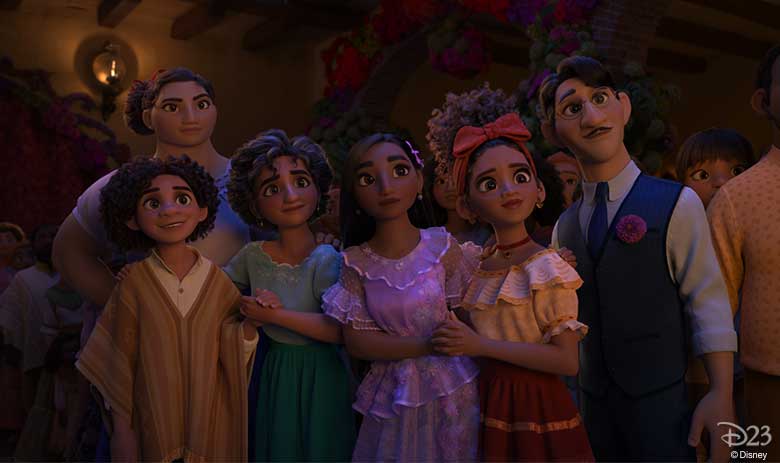 Producers Merino and Spencer on what made the Encanto experience special for them:
"One of the benefits of Walt Disney Animation Studios is, we do form these long-term relationships," Merino says. "I actually first worked with Byron back on Tangled years ago, and I worked with Clark on the first Wreck-It Ralph. Being able to work on this close-knit team, all together, was a dream project for me. I felt like I'd won the lottery [in terms of] casting and working on a film with this team, so it's been great." Spencer echoes Merino's thoughts, adding, "We have this opportunity in animated films to do things you can't always do in live action. So to bring the Madrigal house in as a character and let it provide both the comedy that it provides, but also have it be this character you're gonna fall in love with and have an emotional component to it, was really just so exciting. It kind of harkens it back to when Byron and Jared first pitched Zootopia, and they talked about all these different worlds; you're gonna have Tundratown and you're gonna have Sahara Square, and you could immediately see that world. The same thing here. You could see this house being very unique, and [a character] that the audience would fall in love with."
Associate production designer Bové on a few of Encanto's compelling design elements:
"Early on, we talked to Colombian architects and they gave us such great information about the construction of [this style of] houses, the design of the casita," explains Bove. "One thing that we learned through the consultants was that in the Coffee region, there's a lot of [spaces] that have an indoor/outdoor feel, so we really wanted to get that in our casita, as well as the courtyard… we even had a botanist consultant, and we learned about all the plants that grow in the region. We really wanted to reflect the immense biodiversity of Colombia."
"In our department, we were super excited to have so many diverse characters in this film," she continues. "Visually, our goal was to organize the families through a distinct color palette so that the audience would be able to understand who is who, and kind of divide the families in two… So we have Julieta and Agustín's side of the family—they're Mirabel's parents, so that side of the family—in cooler jewel tones, and Pepa [Mirabel's aunt] and husband Félix's side of the family in a warmer color palette. And since Madrigal abuela [grandma] Alma goes through so much, her costume color palette has a lot of weight, [as does] her character design; everything feels very constricted, more so than the other characters."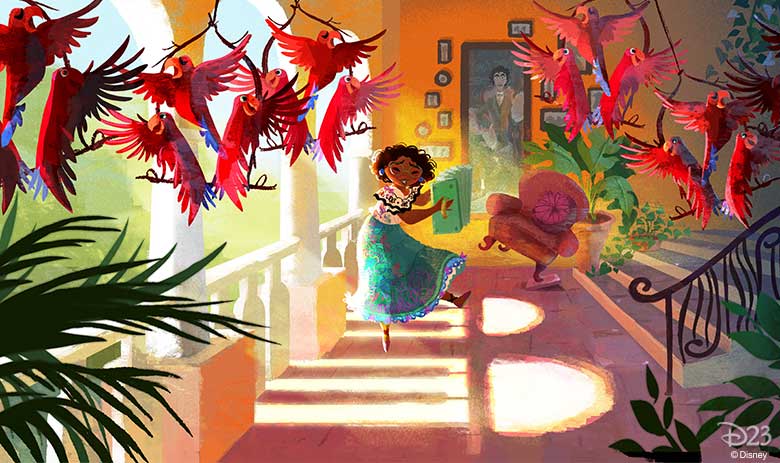 Heads of animation dos Anjos and Lehtomaki on the what inspires the characters' movements:
"When we first start animating these characters, we make 'walks,' says dos Anjos. "We have characters walking the screen just to make sure we're hitting the notes that the directors are looking for. For instance, Mirabel's sister Luisa: she has this really strong kind of like persona. The way she walks has this strong, iconic kind of pose—like a superhero. When it came to Mirabel, I found that we really couldn't hit one 'walk' that fit her in every way, so she ended up being [animated differently] for every shot. Every shot you see her moving, she has a very specific thing that she's doing in that one particular shot; the same thing for dancing."
Speaking of the film's choreography, Lehtomaki explains, "As soon as our animation department saw [the reference clip for one of the film's big numbers, 'We Don't Talk About Bruno'], we were so inspired and excited to work on this thing that we actually decided to put people to work on it early. Renato and I got a team of animators together and we put them to work, using the choreography video as reference, concurrently with our layout team. So the animators would start to very, very roughly translate the dance onto the characters, paying really close attention to how they were moving in the physical 3D space."
Martinez on the opportunity to bring her life experiences to such a unique project:
First of all, when I was being asked to be a part of this production as a consultant, it was an honor," Martinez admits. I am Colombian American, so to not only be a part of the [choreography team] for the film, alongside choreographer Jamal Sims, but to also be a part of the cultural side of the dance was a true honor. I can't say that enough… One of the biggest joys that I got working on this film was to be able to not only share my experience as a Colombian American woman; to talk about my family and my home, my culture, and really dive into that… It just was so cool to be able to go back into my archives and [recall] some old family stories and videos… But I also really appreciated the interest and the desire to learn [that came] from the whole production team. We had meetings, and they had great questions—and the desire to create an authentic feel, an authentic story. That, to me, went beyond what I could've imagined being a part of this beautiful film. It was such a joy."
See Walt Disney Animation Studios' Encanto when it comes to U.S. theaters on Wednesday, November 24.