By Zach Johnson
Places, people!
Eighteen months after the start of the Broadway shutdown, The Lion King will resume performances tonight at the Minskoff Theatre. Two weeks later, on September 28, Aladdin will reopen at the New Amsterdam Theatre, taking Disney fans to a whole new world. Beyond the Great Bright Way, the touring company of Frozen performed for the first time in forever last week at Shea's Buffalo Theatre in Buffalo, New York, while the touring company of The Lion King is rehearsing for its October 1 return at Playhouse Square in Cleveland, Ohio. Before showtime, cast members from each production shared what they're most looking forward to—and what they missed the most—about bringing Disney magic to audiences.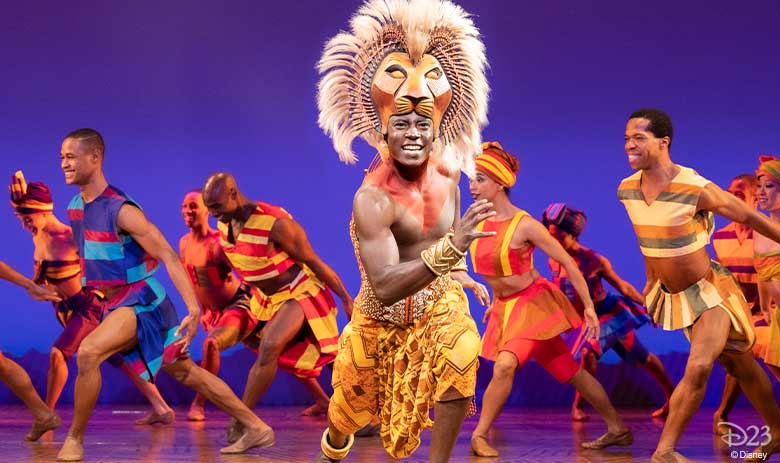 The Lion King on Broadway
Returning to the Broadway cast of The Lion King are Stephen Carlile as Scar, L. Steven Taylor as Mufasa, Tshidi Manye as Rafiki, Cameron Pow as Zazu, Ben Jeffrey as Pumbaa, Fred Berman as Timon, Adrienne Walker as Nala, James Brown-Orleans as Banzai, Bonita J. Hamilton as Shenzi, and Robb Sapp as Ed. New to the cast are Vince Ermita and Corey J., alternating as Young Simba, and Alayna Martus and Sydney Elise Russell, alternating as Young Nala. Reopening night will be especially meaningful to Brandon A. McCall, as he will make his Broadway debut in the role of Simba, having previously starred in the North American tour. "It's a very surreal moment, but I'm excited to be on this journey," he says. "It's an experience I can use to show my daughters, their friends, and other kids that they can achieve any goal they pursue." He looks forward "to hearing Rafiki's call in the opening number, 'Circle of Life,' and experiencing that feeling again and the audience's reaction." Most of all, McCall says he's glad to "bring joy and hope back to so many hearts and souls."
For Walker, returning to the role of Nala and helping to bring Disney magic back to Broadway is "a tremendous opportunity," she says. "I am so proud to be a part of a story that everyone—despite their age, culture, background, or even language—can relate to."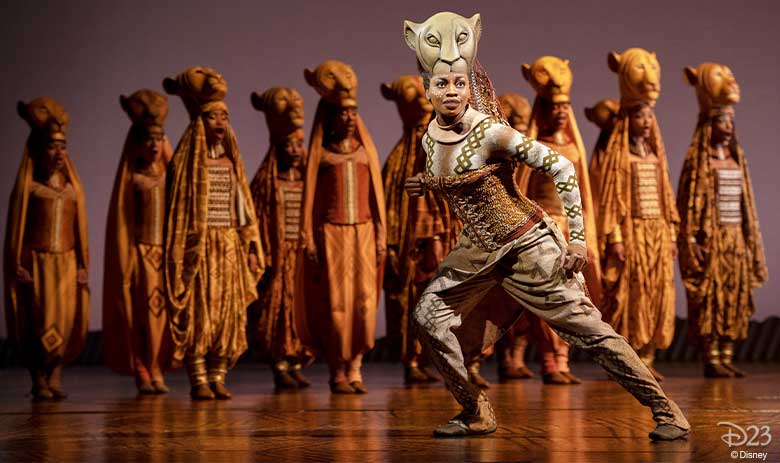 As for what he wants to tell Disney fans, McCall says, "We are back and can't wait to see you. Please come join us and enjoy the magic in a safe space." Walker, too, says she can't wait to see people in the theatre again. "There is nothing like performing for a live audience," she says. "The energy a live audience gives us as performers is everything. I can only imagine what re-opening will be like. I feel so blessed that I get to experience this."
"I've missed telling this story. I've missed my backstage companions. I've missed meeting people at the stage door," Walker continues. With The Lion King back on Broadway, she says, "Our fans can expect to leave forever changed and inspired by the magic of Disney."
Or, as McCall puts it, "Fans can expect to 'feel the Disney love tonight!'"
(In case you missed it, Disney Theatrical Productions last month shared a special look at the company's first day back together. It began with remarks by The Lion King's Tony Award®-winning director, Disney Legend Julie Taymor, followed by the cast's emotional first sing-thru of the show's beloved opening number, "The Circle of Life," led by Manye.)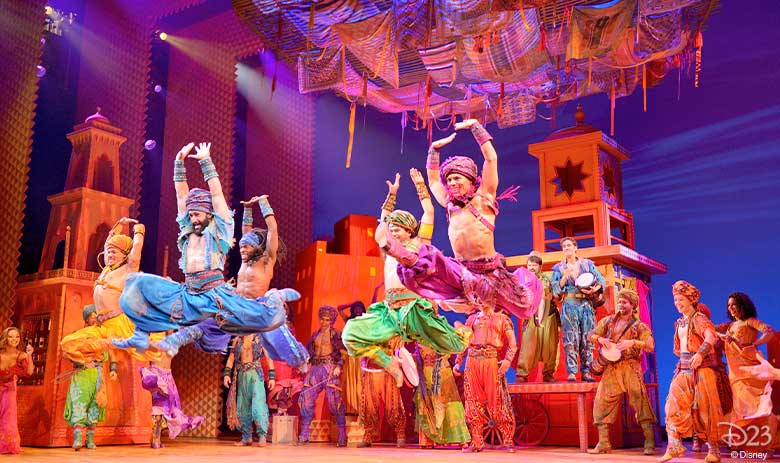 Aladdin on Broadway
New to the Broadway company of Aladdin are Michael Maliakel, making his Broadway debut as Aladdin, and Shoba Narayan as Jasmine. Aladdin also welcomes Zach Bencal as Babkak and Frank Viveros as a Genie/Sultan/Babkak standby, both of whom performed their roles in the North American tour. The returning cast features four original company members in principal roles: Michael James Scott as Genie, Tony Award® nominee Jonathan Freeman as Jafar, Don Darryl Rivera as Iago, and Dennis Stowe as the Jafar/Sultan standby.
"In my mind, Disney and Broadway go hand in hand," Maliakel tells D23. "The Disney animated films were my introduction to storytelling, especially storytelling through song. For me, Disney coming back to Broadway means nostalgia, spectacle, and fun. It also means telling diverse stories authentically and inclusively so that audiences feel that the magic of Disney is for everyone." When the curtain rises on Aladdin in two weeks, Maliakel's parents will be supporting him among the audience. "My family—their support and love, their struggles and sacrifices—is the reason I am where I am today, and I feel like this moment belongs to all of us," he explains. "I'm so grateful to be able to share that night with them."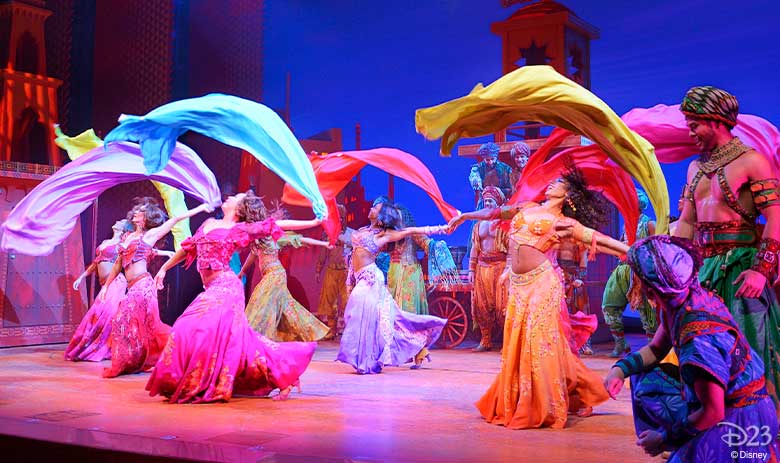 Much like Maliakel, Narayan admits she's been counting down the days until opening night. "I can't wait to hear the orchestra's first notes of the overture, and the crowd's cheers of excitement when the curtain rises for the first time," she says. "I get chills thinking about it. I think our first performance will feel electric!" While September 28 will mark both Maliakel and Narayan's debuts in Aladdin, it will mark a long-awaited return for others. "I'm looking forward to the moment the curtain comes down and there I am as the Genie, standing onstage alone, welcoming our opening audience to our show," says Scott. Bringing Aladdin back "means we are a part of them moving forward through this dark time, moving forward towards the light: the Broadway light that has been dim for so long."
"If there's a silver lining to be found in this prolonged hiatus from theater, I think it's that we —actors, backstage folks, audience members—are all going to celebrate every single performance with deep, profound gratitude," Maliakel says. "Audiences can expect all the beauty and spectacle you know Disney always delivers, but be prepared for a new, electric kind of energy from performers who are more excited than ever to get back on stage."
Adds Narayan, "To be able to bring the magic of Disney back to Broadway after this 'intermission' means a lot to me. We are living in a troubling time, and to be part of something that brings audiences joy, laughter, and a moment to reflect is not lost on me. I believe Disney on Broadway has the power to be a huge part of that healing experience. I look forward to taking audiences with us to a wondrous place, full of light and possibility."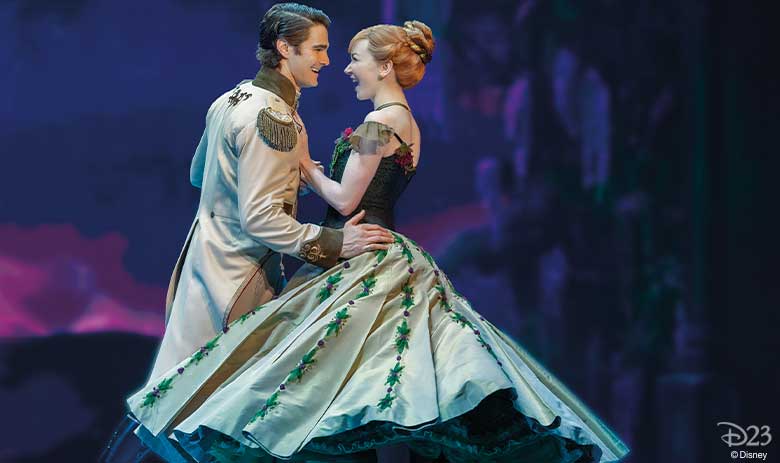 Frozen North American Tour
Returning to the cast of the Frozen North American tour are Caroline Bowman as Elsa, Caroline Innerbichler as Anna, Austin Colby as Hans, F. Michael Haynie as Olaf, Mason Reeves as Kristoff, and Collin Baja and Evan Strand alternating as Sven. Joining them are new tour principal cast members Robert Creighton as Weselton, a role he originated in the Broadway production of Frozen; Natalia Artigas and Natalie Grace Chan alternating as Young Elsa; and Victoria Hope Chan and Olivia Jones alternating as Young Anna.
How does the cast feel about returning to the stage? Fittingly, Bowman is ready to test the limits and break through. "Disney shows are like no other. Experiencing a Disney show and being in one are equally magical experiences. Watching the magic unfold from the audience is incredible because Disney truly knows how to make magic happen on stage. And as company members, it's our job to make sure all that magic seamlessly happens. It's so much fun," she tells D23. "Playing Elsa is more magical than I could have even imagined, so I'm excited to step back into her shoes. Also, feeling the audience's energy on that first night back is going to be thrilling and something I'll never forget for the rest of my life."
Like Anna waiting for the palace doors to open, Innerbichler can't contain her excitement about returning to Frozen. "I can't wait to hear the sounds of the theater before the performance begins," she says. "When I'm waiting backstage in the final moments before the curtain goes up, I can hear the murmurs of the audience—hundreds of conversations happening in one big, beautiful room, the sounds of the orchestra tuning their instruments, maybe playing over a few melodies from the score. It's the sound of anticipation, this gentle hum of a sound that is so unique to live theater. It really feels sacred to me."
"I know how hard everyone in this company has worked to get ready for this monumental reopening. It's been a very long 18 months, but with vaccines and so much care and responsibility, we feel better about bringing this show back to audiences," says Haynie. "But I also want to recognize how hard so many people have worked to provide for their families and keep others safe in this time. To the first responders, doctors, nurses, essential workers, scientists, lab workers, and everyone working to help the world get through this crisis, this is only possible because of you. So, we are looking forward to performing for them."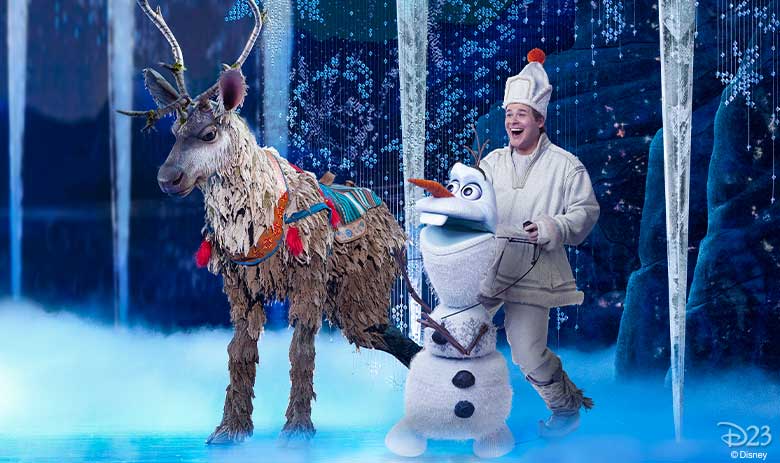 Colby shares that sentiment, saying he also missed the bond that develops between the performers and the audience. "Like so many people throughout this pandemic, I thirst for human connection," he says. "There is nothing like the electricity felt from a live audience."
Innerbichler is grateful to once again have the opportunity to bring audiences some joy through musical theatre. "While we as artists can't erase the last year and a half, we can maybe provide some catharsis, some comfort, and beautifully crafted entertainment that comes from our hearts—all for these communities that have been through so much," she says. "I hope to give them an evening of laughter, light, and excitement they so deserve."
As much as the audience missed seeing the performers, the performers missed seeing the audience. "We've all been waiting for each other," says Bowman. "We are so happy to tell this story and we hope you are filled with love and take the lessons of empathy and compassion and send them out into the world. It's back and better than ever, and I think we all need this story! Thank you for supporting us and Disney. We will not let you down!"
Bringing the magic of Disney back to stages across North America also means the world to Colby. "Disney is known for its ability to create stories that have a lasting impact," he says. "I feel honored to help share one of Disney's greatest stories with audiences during a time when we need it the most. It's a story that celebrates differences, believes in community, and spreads love faster than any virus. It's a responsibility I take with great pride."
The Frozen North American tour will follow all of the CDC, local, state, and city health and safety guidelines, as well as all union protocols. "We're all working hard every day to bring you this incredible production of Frozen as safely as possible," Haynie tells D23. "So, get your outfits ready, along with some nice masks—Disney-themed, if you got 'em—and get ready for Olaf and those other folks to come to your hometowns for some live theatre!"