By Jim Fanning
Shifting for himself against all odds, that scrappy little speedster Herbie first sped into view 50 years ago when The Love Bug was released on March 13, 1969. This high-octane comedy hit about a Volkswagen "Beetle" with a mind—and heart—of its own is one of Disney's most popular hits. Through the magic of Disney special effects, the lovable car skips across a stream, rides in a mineshaft elevator, and careens over every kind of terrain. The soft-hearted four-cylinder gives his all to help down-on-his-luck race driver and Disney Legend Dean Jones, ably assisted by feisty mechanic Michele Lee and offbeat sculptor and Disney Legend Buddy Hackett, much to the consternation of villainous upscale auto dealer and Disney Legend David Tomlinson. To celebrate 50 years of laughs and thrills with Herbie, here are five freewheeling facts about The Love Bug.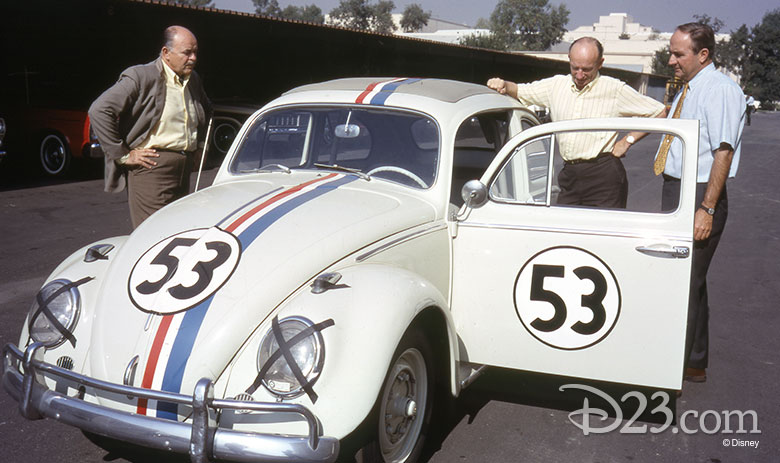 1. The Love Bug Started its Engines with Walt
Herbie's road to stardom started in the early 1960s when Walt Disney bought the rights to a screen treatment written by Gordon Buford entitled Boy-Girl-Car. Walt felt that the main concept—an automobile with a mind of its own—would make a delightful fantasy-comedy in the tradition of such hits as The Absent-Minded Professor (1961). "I had given Walt a script about the first sports car that had ever come to the United States," recalled Jones, "and Walt said 'I've got something better for you—Boy-Girl-Car,' which became The Love Bug." After Walt's untimely passing in 1966, his winning team of producer/writer Bill Walsh, director Robert Stevenson, and writer Don DaGradi—Disney Legends all (shown here, l—r) drove on, shifting The Love Bug into high-gear production in 1968.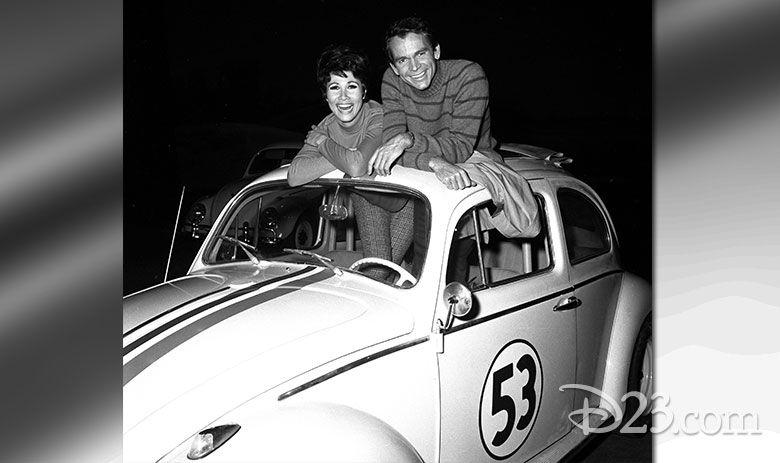 2. A Volkswagen was Cast for Star Power, Not Horsepower
To fill the all-important title role, Walsh set up an auto audition by parking several small automobiles near the Studio commissary. "As the employees passed by on their way to lunch," Bill recalled, "they looked at the little cars, kicked the tires, and turned the steering wheels. But everybody who went by patted the Volkswagen. They didn't pat the other cars, which was indicative. The VW had a personality of its own that reached out and embraced people. Thus, we found our star." The new car-star was a 1963 sunroof-model 1200 Volkswagen.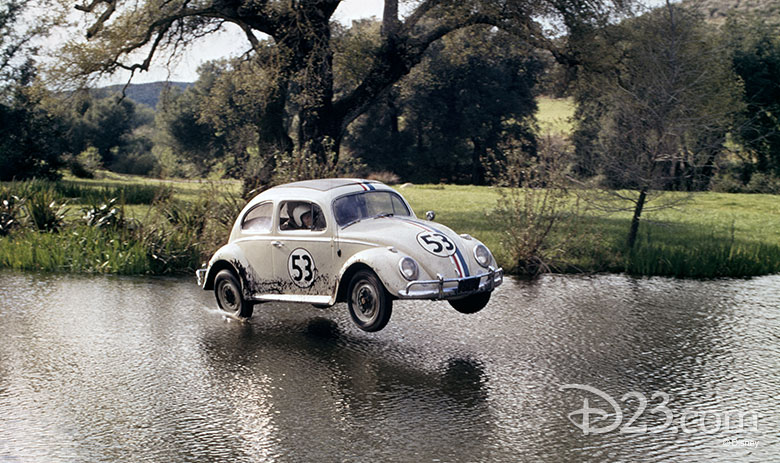 3. Herbie was a New Disney Star in the Classic Tradition of Mickey Mouse
Walt reveled in portraying animation-like effects in live-action films, and The Love Bug abounds with laugh-inducing cartoon-like impossibilities, thanks in large part to an animation veteran, co-writer Don DaGradi. But beyond the visual gags, DaGradi and Walsh established Herbie as an endearing personality. "You're 'with' the underdog," explained Walsh, identifying Herbie as such, adding as an example "little, defenseless Mickey Mouse [who] tweaks the cat's nose and gets away with it. Take Herbie: He's a bug—even his makers call him that. He's underweight, gawky, clumsy, but so jaunty as he braves the vicious [California] freeways. Heck, a VW is a born Disney character!" Baseball fan Walsh selected 53 as Herbie's racing number because it was Los Angeles Dodgers pitcher Don Drysdale's number. As for the motorcar's moniker, Walsh named the car after seeing Hackett's Vegas act featuring a joke about a ski instructor named Herbie.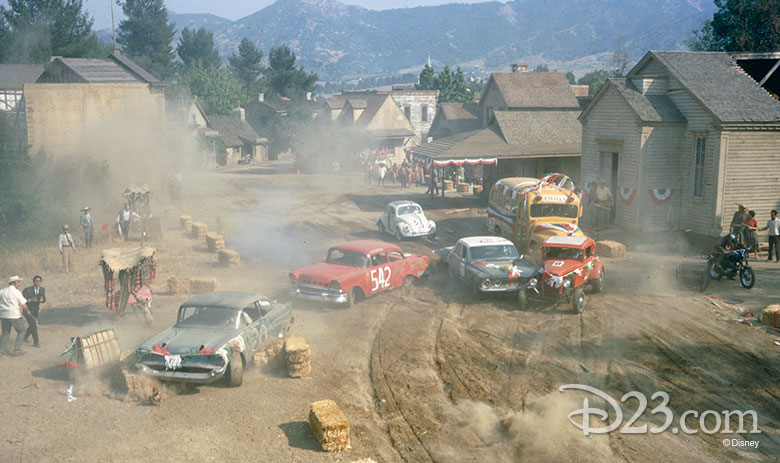 4. Herbie Got Up to Speed with Disney Big-Screen Magic
To best portray Herbie's astounding ability to outdistance the big racecars, the lively little VW was given a powerful bus engine in some sequences. For other scenes, the bug was outfitted with a posh Porsche engine that could do 90 mph in third gear and 115 in top. Herbie was further enhanced with Porsche brakes, Koni shocks, and wide-base wheels with Indianapolis 500-type race tires. In all, 21 VW Beetles were used, each tricked out to perform different onscreen special effects. For the breathtaking race sequences, renowned Disney second unit director Arthur J. Vitarelli headed a 127-man crew filming racing sequences at such actual tracks as Grand Prix Raceway and Monterey Raceway. The second unit filming was completed first, in fall 1967 with principal photography following in 1968. Forty expert drivers were gathered by acclaimed stunt driver Carey Loftin, who oversaw the racing scenes. Celebrated racing promoter Andy Granatelli, and race drivers Max Balchowsky, Bob Bondurant, and Joe Playan all took part in the film. Balchowsky was famed for his "Old Yeller" Buicks of the 1950s. Art Vitarelli mounted two Mitchell cameras on "Old Yeller" No. 5 so as to capture the racing action at 150 mph.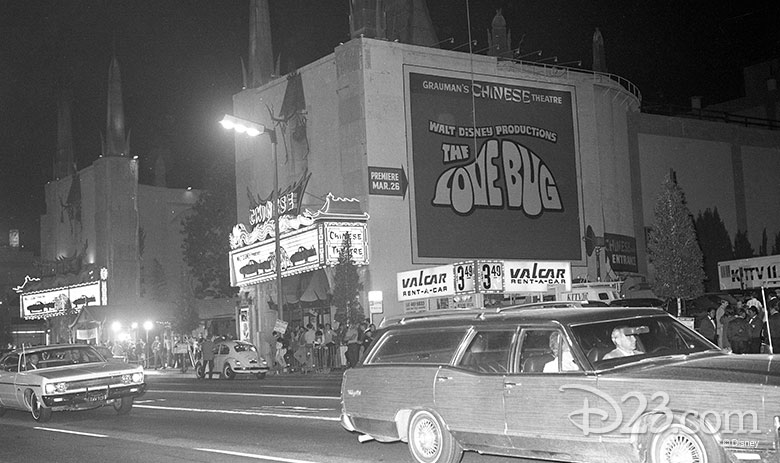 5. Herbie was Given a Grand Prix of a Grand Premiere
Once production reached the finish line, The Love Bug opened at Radio City Music Hall on March 13, 1969. Even though it had already been released, the new film was welcomed into the winner's circle with a gala Hollywood premiere on March 26, at the legendary Grauman's Chinese Theatre. All 1,500 guests—including such Disney favorites as Sebastian Cabot and Kurt Russell, as well as Love Bug stars Jones, Lee, Hackett, and Benson Fong—were invited to wear "California mod" outfits. Following the screening, the star-studded audience was led to "The Bug House" (a nearby underground garage) for an "underground" party with wild psychedelic décor. Audiences raced to catch The Love Bug, making Herbie's star vehicle the second most successful Disney film (after Mary Poppins, 1964) produced up to that time, a record it held for years. In fact, the film zoomed to the top of the box-office charts to become the number one hit of 1969. So "in" was the film with everyone, Herbie rode on to an enduring career in four additional feature films, a television mini-series, and a made-for-TV movie. It's no wonder the lovable bug is a Disney superstar, for as Dean Jones explained, "Herbie had all the qualities of a great hero. He was sympathetic, he was loyal. He had tenacity. He had heart. Herbie was a car for all seasons, for all peoples."