By Jim Fanning
"All the characters in Peter Pan are in some way touched with magic," Walt Disney once observed, and this was particularly true of the 1953 classic's breakout star. He added, "The little fairy Tinker Bell glows like a firefly and leaves a trail of pixie dust behind her as she flits about with the speed of a hummingbird." Walt well knew that the tiny pixie with the outsized personality would enchant audiences, and for 65 years, this sweet and saucy sprite has done exactly that. In her book-length celebration of the shimmering little fairy, Tinker Bell: An Evolution, author Mindy Johnson stated, "The lasting impact of this pint-sized pixie has proven remarkable—she has captivated the world. Filled with earthly humors and human frailties, she is the sheer embodiment of magic and fantasy… through Walt Disney's persistent vision, J. M. Barrie's darling Tinker Bell has become the most recognized and best loved fairy of all time." To celebrate nearly seven decades of Tinker Bell enchantment, here are 11 sparkling sprinklings of pixie dust sure to have you thinking nothing but happy thoughts about everyone's favorite fairy.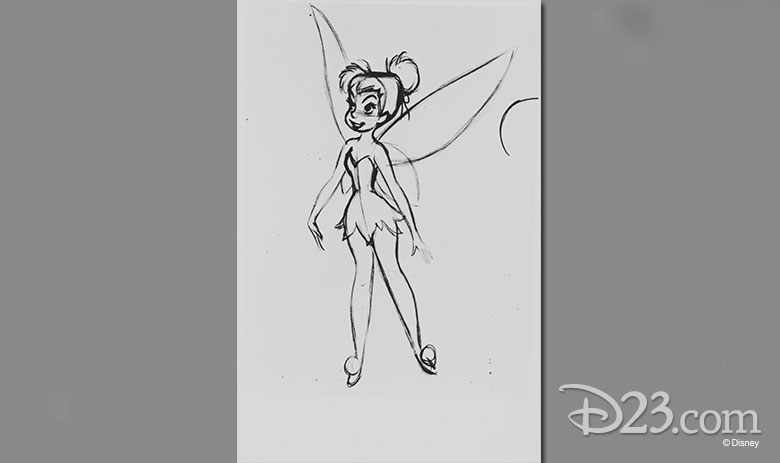 1. A Pixie Priority
Even though Tinker Bell made her debut when Peter Pan premiered on February 5, 1953, the twinkling little star was in development since 1939, when Walt obtained the screen rights to Barrie's 1904 stage play. Personality was everything to the master storyteller, so in "tinkering" with the character for the screen his priority was giving the heretofore non-personalized pixie a specific form and design. Over years of Peter Pan development, the search for the ultimate Tinker Bell visualization resulted in more preproduction art than any other Disney character up until that time, with endless experimentation in hair colors and styles, costumes and body types. Much story work was also undertaken for this impish starlet. In a series of undated handwritten notes, Walt envisioned a Never Land party wherein "Peter commands fairies to spread banquet and show in [the Darling children's] honor—fairies serve meal— put on show with fairy entertainment," including a "Fairy jazz band" that plays as "Tink dances." Though this imaginative scene—while predating Disney's Fairies franchise by decades—did not end up in the completed film, the endlessly imaginative producer was obviously intent on making Tink the center of attention whenever possible.
2. Does This Ring a Bell?
Walt determined that Tink would "speak through the sound of bells," as had traditionally been done on stage. To get every bit of expressiveness and personality out of the silvery notes, the great showman turned to Disney Legend Jimmy Macdonald. The Disney Studio's maestro of sound effects met one of his greatest challenges as he carefully selected exactly the right bells from his extensive sound-effects library. Still, Walt felt an extra special touch was needed, so he signed on master bell musicians Bernard and Dorothy Mason who, under Macdonald's supervision, used their own equipment to create a "vocabulary" for Tinker Bell's dialogue.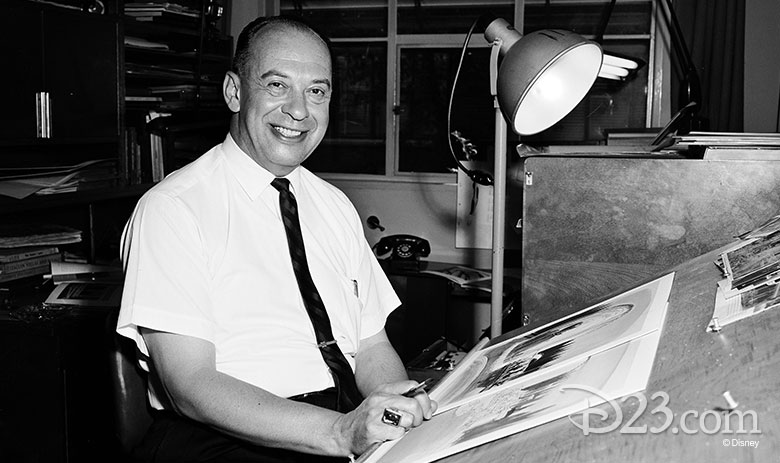 3. Pure Pantomime
Walt assigned Disney Legend Marc Davis as Tink's supervising animator, and the creativity of this member of Walt's elite animation team, the Nine Old Men, soared in designing and animating the high-flying pixie. Since Tink only spoke with bell sounds, every thought and emotion of the feisty fairy are expressed through action. "She's a pure pantomime character," Davis noted, "which in itself I think was very interesting—that she didn't talk, but you know what she's thinking."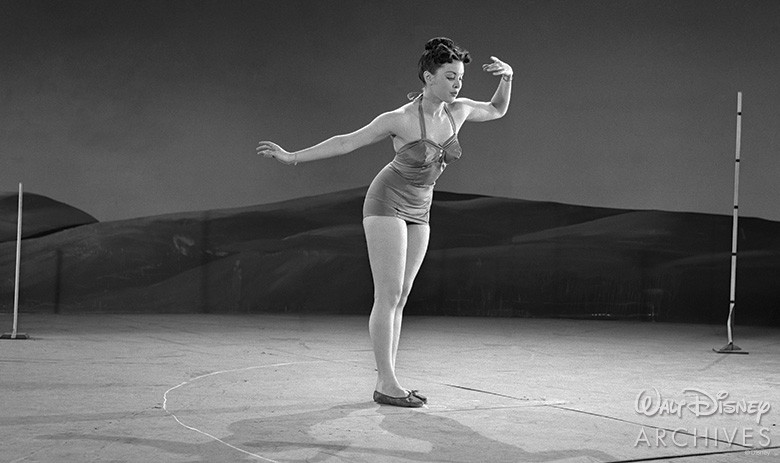 4. Miss Bell's Body Language
For inspiration in creating Tink's onscreen performance, Davis turned to dancer/actress Margaret Kerry to pantomime the pixie's actions with oversized props on an otherwise empty soundstage. "There was no one for me to react to… I had to conjure up everything," Kerry said. The author of a recently published memoir entitled Tinker Bell Talks, Kerry described her pixie counterpart as being like "a 13-year-old who is just learning about what the world is. So everything is new and fresh and childlike to her. The pouting and anger were fun to do!" Davis said of the live-action model's reference performance: "She was a tremendous help in allowing us to rough out the action."
5. The Fairy's Face
If Kerry delivered the body language that inspired Tink's behavior then Ginni Mack provided a particular inspiration for Tink's pixieish countenance. Among the most skilled of the painters in Disney's legendary Ink & Paint Department, Mack was a well-regarded Paint Lab artisan when Marc Davis chose her as inspiration for Tink's face. Her twinkly eyes and elfin face, as well as her signature blonde hair—most often tied in a bun with bangs swept to the side—were a major influence on Tink's sprightly style.
6. Little Star, Big Screen Debut
It was long believed that Disney's production of Peter Pan was the first to portray Tinker Bell as a human figure, but Virginia Brown Faire had portrayed her in the 1924 silent film version. However, she was seen in only a few fleeting close-ups, appearing throughout the remainder of the film as the traditional spot of light. In producing his screen version of the classic play, Walt noted, "On stage, Tinker Bell has always been represented by the flash of a spotlight, but we [through the art of animation] can make her glow like a firefly as she darts through space." When Variety reviewed the brand-new animated feature on January 14, 1953, the critic opined presciently, "The picture also brings to life, for the first time, the character of Tinker Bell, that gold dust-sprinkling sprite of Never Land who, in her decidedly feminine nature as depicted by Disney artists, is certain to capture audience fancy as much, probably more, than any of the Barrie characters."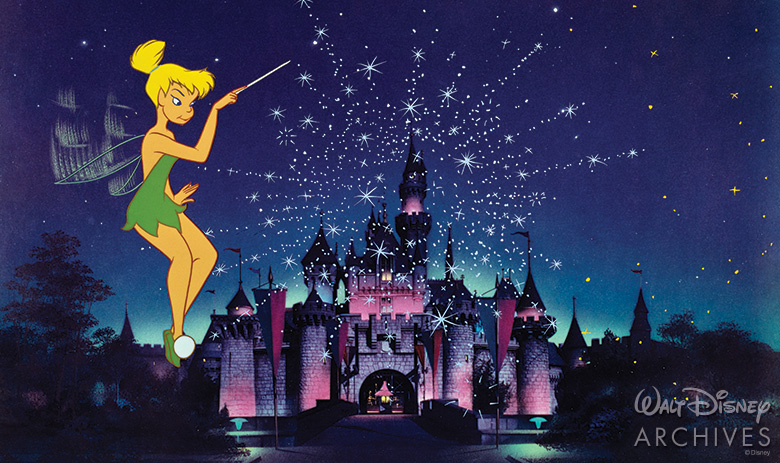 7. Tink TV
The very next year, Walt drew on her newly established star power by casting her to open his groundbreaking Disneyland television series. Debuting in 1954, this primetime hour enlisted animation by Disney Legend Les Clark—one of Tink's Peter Pan animators—to showcase Tink magically introducing the TV series' four realms. Tink also flew into the episodes themselves occasionally, never more memorably than when Walt asked Tink to whisk viewers to Disneyland Park in the 1958 installment, "An Adventure in the Magic Kingdom." The moment from this episode when Walt rose off the ground after Tinker Bell mischievously sprinkled him with pixie dust was memorably recreated in Saving Mr. Banks (2013), with Tom Hanks as Walt—and Tink as herself.
8. Tinker Bell in Comic Books
In addition to paying a visit to Pixieland in the deluxe Peter Pan Treasure Chest comic book in 1952 (before Peter Pan was even in theaters) and hosting the giant-sized Disneyland, U.S.A comic book in 1960, Tinker Bell winged her way onto the pages of her very own comic book in 1958. Preeminent Disney comic book artist Al Hubbard illustrated Adventures of Tinker Bell and the New Adventures of Tinker Bell. Some of the lighthearted stories featured within showed Tink interacting with other fantasy folk, such as elves and gnomes.
9. Pages and Pages of Pixies
The popularity of this iridescent imp has only increased over the decades. In 2005 Disney Publishing announced that Tinker Bell would headline a new franchise, Disney Fairies. Fairy Dust and the Quest for the Egg, the first novel in a trilogy written by Newbery Honor-winning author Gail Carson Levine, was published in 45 countries and 32 languages and became a New York Times bestseller.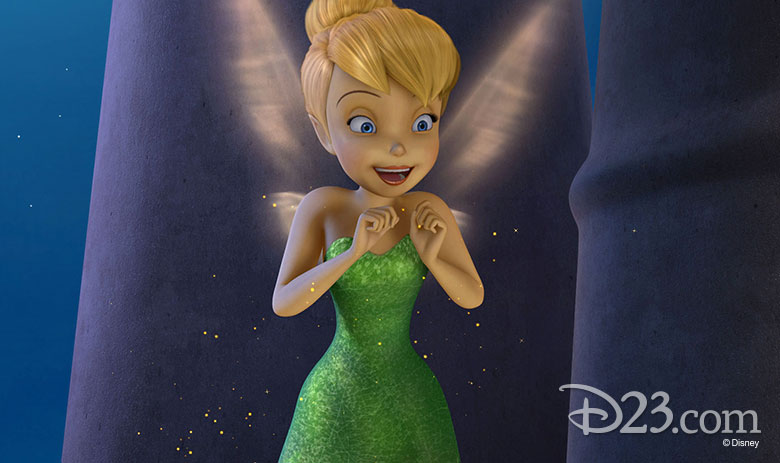 10. Tink Talks
With Tinker Bell (2008), the first of a series of direct-to-DVD featuring the Disney Fairies, Peter Pan's pixie pal was top-billed at last. There was no question about Tink talking in these CG films, so the perfect voice had to be found for this beloved character. "We knew that this character was curious," explained Peggy Holmes, director of two of the Tinker Bell movies. "That she's fun. She's feisty. She's super-loyal to Peter. Not to mention able to get angry. So we needed to find an actress that could portray that range of emotions. And Mae Whitman—thankfully—had that range." For her part, Whitman enthused, "I love playing Tinker Bell. She's great. So smart and independent and funny. I'm so happy and excited that I get to play someone like her. She's a great role model."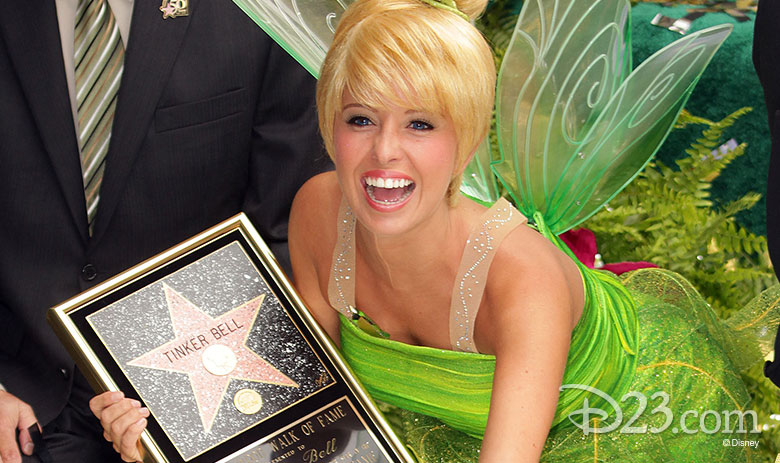 11. Tinker Bell Superstar
Tinker Bell's undeniable star power was cemented when Tink's Hollywood Walk of Fame Star was unveiled on Hollywood Boulevard on September 21, 2010. Following in the footsteps of such Disney characters as Mickey Mouse and Winnie the Pooh, the iconic imp was the recipient of the 2,418th star. A bona fide legend of screen, television and the printed page, Tinker Bell is simply irresistible. As Walt said in 1953 as he introduced his shining little sprite, "I believe you're going to like Tinker Bell… we fell in love with her."