By Jim Fanning
What are the secret ingredients in a foolproof formula for a hit Disney comedy? Add a beaker of beloved Disney stars like Fred MacMurray and Tommy Kirk, mix in some mixed-up comic circumstances, stir in a test tube of startling special-effects and a vial of Ed Wynn, and the chemical reaction gives you—watch out for the explosive wackiness!—Son of Flubber.
Originally released on January 18, 1963, this is the souped-up sequel to that bouncy blockbuster The Absent-Minded Professor (1961). The original may have bounced some basketball players down the court, but Son of Flubber flies football players down the field for one hilarious touchdown after another. With Fred, flubber, and fantastical fun, Son of Flubber is zanier than ever as D23 celebrates this 50 and Fabulous film.
Windows shatter, football players fly, and thunderstorms materialize indoors
In this flubberized follow-up, Medfield College of Technology's lovable but laughably absent-minded professor—Ned Brainard (Fred MacMurray)—bounces back with new misadventures.  While Ned tries to cure his financial woes with a new invention that will control the weather, his student Biff Hawk (Tommy Kirk) discovers a byproduct of flubber called flubbergas, a lighter-than-air substance that really makes anything fly. As Biff uses flubbergas to turn football into footbrawl, windows shatter, football players fly, and thunderstorms materialize indoors, All the while, Ned fights to keep Medfield from falling into the hands of ruthless land developer Alonzo Hawk (Keenan Wynn) even as chemically-created chaos erupts all around him and his bewildered bride Betsy (Nancy Olson).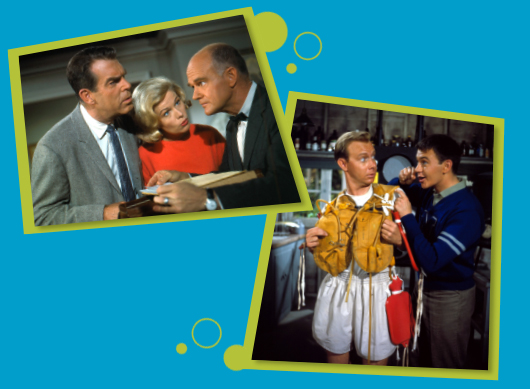 Son of Sequel
Son of Flubber marked the first time Walt produced a sequel to one of his theatrical features. The great showman didn't believe in repeating himself, preferring always to do something new and different. But when The Absent-Minded Professor created a sensation in 1961, becoming a pop-culture phenomenon among kids, teens, and adults alike while making "flubber" a household word, the opportunity to revisit Professor Brainard and his off-kilter friends and foes (not to mention flubber!) was too delicious to pass up. Even so, in a true Disney touch, the unprecedented sequel was given a delightfully nonsensical title as a wink to the endless sequels—from The Son of Kong to Son of Lassie—thathad been churned out over the years.
Scientific misadventures with Professor Euclid Bullfinch
Walt wouldn't have been satisfied simply rehashing the earlier hit; he wanted to add something new to the formula. Disney owned the screen rights to the Danny Dunn series of books by Raymond Abrashkin and Jay Williams. Centering on teenage Danny and his scientific misadventures with his mentor, Professor Euclid Bullfinch, these fun-filled stories featured all kinds of inventions. In Danny Dunn and the Weather Machine, Danny uses an ionic transmitter to create miniature rainclouds, and this strong concept, fraught with comedic possibilities, was incorporated into the Son of Flubber script by screenwriter and co-producer Bill Walsh and animation veteran Don DaGradi, to be directed by Disney's premier live-action director Robert Stevenson.
The backyard inventor who makes big scientific discoveries in a small-town garage is a theme that appealed to Walt
As with The Absent-Minded Professor, some have seen semi-autobiographical overtones in Son of Flubber. The opening scenes in which the prof attempts to obtain money the U.S. government has promised for flubber, only to discover his officially sanctioned recompense is hopelessly tied up in red tape, for instance, is reminiscent of Walt's attempts to be compensated for some of the government films he made during World War II. And of course the backyard inventor who makes big scientific discoveries in a small-town garage is a theme that appealed to Walt, just as it had with the first film.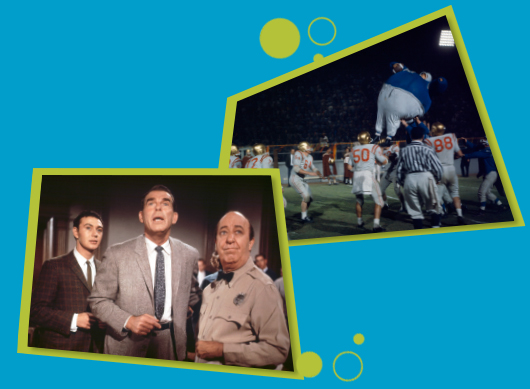 The Absent-Minded Professor Players Reunite
All of the major players returned to Son of Flubber to reprise their well-loved characters from the first film.  The first person to be designated as a Disney Legend (he was inducted in 1987), Fred MacMurray is again front and center as the perpetually preoccupied prof. (In a fun salute to Fred's early career as a saxophone player during the 1930s, Ned plays the sax at the Halloween party he attends, costumed as a 1920s college student.)
Son of Flubber was Fred's fourth Disney hit, and at the time of the new comedy's release, he was in his third season of My Three Sons, co-starring another Disney favorite Tim Considine. According to Walt, Fred was "a down-to-earth, practical actor. He has a way of handling comedy that nobody else can compare with. I've got a lot of respect for Fred and, besides, he's a wonderful fellow, I dunno, I just like him."
An Academy Award®-nominee as Best Supporting Actress in one of Hollywood's all-time classics, Sunset Boulevard (1950), Nancy Olson was back as the patient (to a point) Betsy, now married to Ned. "I love doing comedy," said Nancy, "particularly the sort of situation comedy we have in this picture. The Absent-Minded Professor was comedy but the gimmicks were the big thing in that one, like the flying flivver, the leaping basketball team, the bouncy shoes. Son of Flubber depends more on the actors and their interpretation." Nancy would return to Disney for Smith! (1969) and the 1972 comedy Snowball Express, along with Flubber co-star Keenan Wynn.
As for Keenan, he was back in fine, funny form as the villainous Alonzo Hawk, the man who tells his son—Disney favorite Tommy Kirk back as collegiate athlete Biff Hawk—that if he weren't deductible, he would disown him. Keenan would reprise the Alonzo Hawk role in the Walsh-produced-and-scripted/Stevenson-directed Herbie Rides Again (1974).
Leon Tyler, who bounded into The Absent-Minded Professor basketball game on flubberized feet, is back in an expanded role as Humphrey Hacker, the hapless halfback who is the subject of fellow footballer Biff's flubbergas experiments.
These actors enjoyed working with each other, and their lighthearted relationships are reflected in the on-screen fun. Nancy Olson considered Fred MacMurray a consummate actor with a wonderful sense of comedic timing. Tommy Kirk appreciated the respect showed to him by Keenan Wynn. This particular pair also found an unlikely connection: go-cart racing. Keenan introduced Tommy to this Hollywood fad—not as one might expect, the other way around—and the pair gathered at a track with other film-land figures to run their low-slung racers. "At top speed, we average between 75 and 80 miles per hour," Tommy reported. "I have a red, white, and blue single-engine McCulloch. Keenan's is a black twin-engine model." As for working at the Disney Studios, the actors reveled in the friendly, relaxed atmosphere set by Walt; Elliott Reid compared to acting at the Studio to a paid vacation.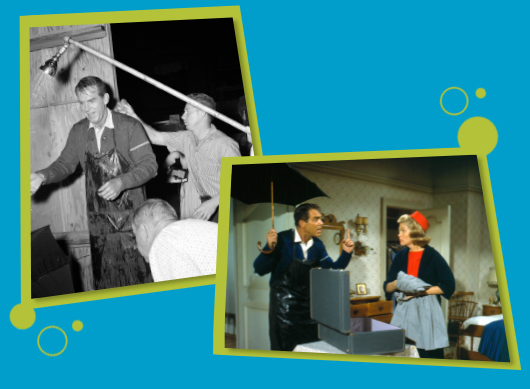 New Stars Sign Up For Son
New faces abounded in this latest flubber farce. Charlie Ruggles, a hit as the kindly grandfather in The Parent Trap (1960) portrayed the understanding judge in Son of Flubber's climatic courtroom scene. Just a year away from joining Fred MacMurray as regular character Uncle Charlie O'Casey on My Three Sons, longtime Hollywood farceur William Demarest played Mr. Hummel, the neighborhood milkman who runs afoul of the professor's experiments. Making his film debut, Paul Lynde is the flummoxed play-by-play radio announcer who calls the buoyant football game. Just a few months after Flubber's release, movie audiences saw Paul re-create his famed Broadway role in the film version of Bye Bye Birdie, also starring Dick Van Dyke.
Portraying a persistent 1960s-style "mad man" straight from Madison Ave., Ken Murray was fresh from a TV triumph in which he presented his own home movies, personally filmed over his years in show biz, starring his Tinseltown friends and co-workers. Entitled Hollywood, My Home Town, the NBC-TV special was highly acclaimed. Ken had put together another special for 1963, and the highlight of Hollywood Without Make-up was footage Ken shot at Disney Studios while Son of Flubber was in production. Walt himself playfully showed Ken and his young daughters Janie and Pammy around the lot in his electric golf cart; Fred MacMurray also gave the girls a spin in his temporarily earthbound Model-T.
Classic Comedy Cameos
It wouldn't be a Disney comedy without a cavalcade of character actors causing comedic chaos, and Son of Flubber has quite the chuckle-worthy clique. Forrest Lewis and James Westerfield are again on hand as Officers Kelly and Hanson who are always in the wrong place at the wrong time. Joe Flynn, who had just started his stint as Captain Binghamton on the McHale's Navy TV series and would go to become part of Disney's comedy repertoire company in the 1970s, was the TV advertising pitch announcer, Rex Williams. Ed Wynn returned to play the small but mighty part of agriculturist A. J. Allen, while Ed's grandson—and Keenan's son—Ned Wynn made it a Wynn family triple play as the Rutland team's student manager. Everyone's favorite traveling salesman from the Golden Horseshoe Revue at Disneyland, Wally Boag, brought a balletic slapstick touch to the flubberoleum commercial—and as the bouncing (literally) baby boy, a new star with the unlikely name of Wed Miller made his screen debut. (This was actually Walt Disney's grandson Walter Elias Disney Miller doing his bit for the Disney cause.)
The most unusual cameo in the filmic funfest may be the ultra-cool hot rod driven by Tommy Kirk—a 1915 Ford Model-T roadster created by teenage auto designer Martin Hollmann who went on to a career as one of the world's foremost designers of private aircraft. Hot Rod magazine called the amped-up auto  "the wildest street roadster ever constructed."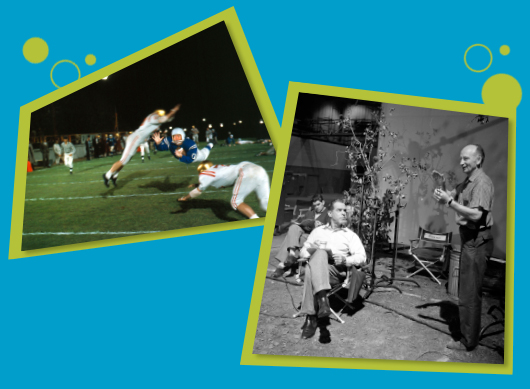 Indoor Rain Makes an On-Screen Splash
As always with these zany laugh fests, Disney added a special touch no other movie studio could begin to match with mind-boggling special effects. For example, in one of the film's funniest sequences, Professor Brainard uses his weather-making device to create a thunderstorm inside the car of his condescending college-professor rival Shelby Ashton (Elliott Reid). Clouds, thunder, and lightening all congregate inside the moving car, as Shelby—aptly costumed as King Neptune for the Halloween party—finds himself swimming in the accumulation.
Disney's legendary second-unit director Arthur J. Vitarelli recalled that the car could not in reality be shown driving along full of water because the tires would not hold the weight. The special-effects wizards installed double-sided windows in the car; the water was actually held within the windows themselves, giving the perfect illusion that the car itself was full of water. A separate pipe was used to shoot water out of the car as it careened around corners. When the car finally stopped and the doors were opened, sending Shelby and a torrent of water flooding out of the station wagon, an entirely different vehicle was used. Shot on a soundstage—as opposed to the moving car, filmed on the backlot—this car had tires filled with concrete instead of air in order to bear the weight of the water!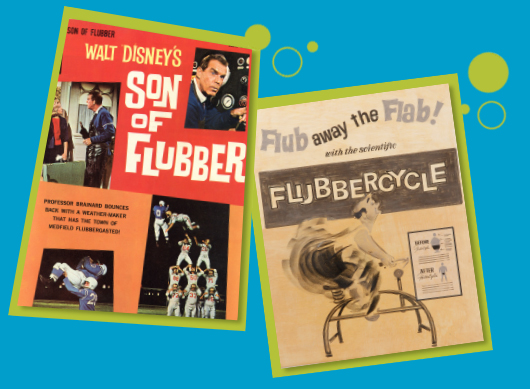 Setting the Stage For Slapstick, Disney-Style
In addition to creating a standing small-town business district set on the Disney backlot that would be used into the 1980s, the moviemakers constructed a football field in one of the Studio's largest soundstages—for if The Absent-Minded Professor had sent basketball through the roof by flubberizing the sport on (and above) the court, then Son of Flubber could send football into orbit. While some of the long shots were filmed at nearby Burbank High School's football stadium, the high-flying football game was shot on the specially constructed set. The many special effects created on stage made outdoor filming impossible, so a section of the stadium and a major part of the field were built indoors where the trick shots could be carefully controlled. The soundstage was actually less than one-half the size of a regulation football field, so only one-third of the field could be shot at any time. In reality, there was only one set of goal posts and only part of the field was covered with transplanted green sod; the remainder was actually covered in artificial grass matting.
As for the stadium spectators in the background, they were mostly made of paint and cardboard. Art Vitarelli recalled it was Walt's idea to provide the audience via a painted backdrop.
The most elaborate special effects were reserved for the field itself. To inflate Leon Tyler's football uniform, Art ran a pipe out into the middle of the field. The real trick lay in hiding the pipe, so he hid the pipe with a tiny bush. No one noticed except co-producer Bill Walsh who wanted to know why a bush was growing on the 50-yard line. Art also revealed that some of Leon's airborne antics involved natural motion as a bungee-type cord was used to keep the flubberized football player aloft. "All the other players had to do was give him a push," Art later recalled, "because he weighed very little on the wires."
To add authenticity to the football free-for-all, a troupe of former college football stars and current pros were gathered, including Johnny Olszsewski, one-time star quarterback for the University of California and with the Detroit Lions at the time Son of Flubber was in production. The pro players made up Medfield's opposing team from Rutland College. The soundstage filming was of some wonderment to the pro players in a time before indoor stadiums were more common. (The Houston Astrodome did not open until 1965.) "I've played all around the country and in all kinds of weather, but this is my first time indoors," Olszsewski said. "As they say in the movie, 'I'm flubbergassed!'"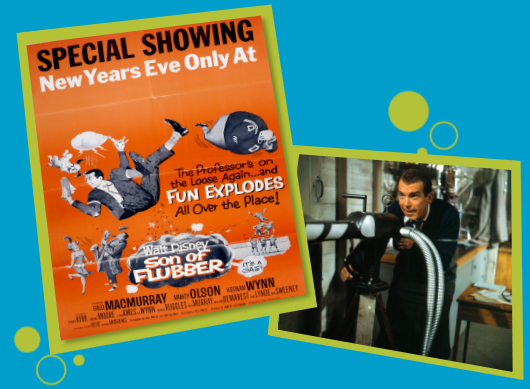 Son of Flubber Merchandise
Most of the Son of the Flubber merchandise fell into the publications category, including a paperback novelization and a coloring book. There was naturally a comic-book adaptation drawn by veteran artist Dan Spiegle who also drew other Disney funny-book adaptations including The Shaggy Dog and The Parent Trap. Also available as promotional items were Son of Flubber mini-footballs and inflatable football players. Unfortunately, an officially Disney-licensed toy version of Flubber, released in fall of 1962 in anticipation of the film's release, was recalled in Spring 1963 when some mild rash outbreaks were reported—even though the manufacturer maintained that the play version of Flubber had been safety-tested before first bouncing into toy stores.
Son of Flubber Hits The Roof
In one of the first-such engagements, New Year's Eve pre-release screenings—with particular appeal for teens and young adults—were held in several cities on December 31, 1962. Released on January 18, the new Disney comedy started an exclusive Los Angeles run at Hollywood's legendary Grauman's Chinese Theatre—and Son of Flubber promptly broke a three-year Chinese Theatre attendance record. Disney Legend Ginny Tyler—one of the head Mouseketeers for the Mickey Mouse Club then in syndication—accompanied Tommy Kirk, Mickey Mouse, and Pluto on a personal appearance at the Chinese on Sunday, February 10. (Ginny isn't seen in Son of Flubber, but she is heard: she's the "voice" of Baby Walter of the flubber TV commercials.)
The Mickey Mouse Club repeats featured new commercials for Disney films playing in theaters, so Son of Flubber naturally received a lot of promotion. Despite heavy rains, the Grauman's Chinese Theatre showings that Tommy Kirk, Ginny Tyler, and the characters attended were sold out, and the in-person Disneylebrities were mobbed by fans. In light of this smash, Tommy and the Disney characters were requested for personal appearances in April for Detroit and New York City. The anti-gravity gag-fest soared to new heights as a comedy hit, and today, Son of Flubber is considered a classically kooky entry in the Disney comedy canon. It's Fred, fun, and of course, flubber, all over again… for Son of Flubber is 50 and Fabulous.