Whether your predictions were as "spot-on" as host Neil Patrick Harris' were, or if you came up short in your Oscar® pool, the 2015 Oscars telecast was full of moments Disney fans—movie fans at heart—couldn't help but love.
It was funny, it was heartfelt, it featured a Disney princess . . .
"Moving Pictures," the original number created by Robert Lopez and Kristen Anderson-Lopez for Neil Patrick Harris to perform, kicked off the telecast and was everything we hoped it would be. It was funny, it was heartfelt, it featured a Disney princess with a surprise appearance from Into the Woods' Anna Kendrick, and it was so catchy it made us want to stand up and sing along with Neil.
It was a big night for Walt Disney Animation Studios! D23 congratulates Patrick Osborne and Kristina Reed for taking home the Oscar® for Feast, their animated short about one man's love life as seen through the eyes of his best friend and dog, Winston, and revealed bite by bite through the meals they share. This was their first Oscar but we anticipate great things from them in years to come.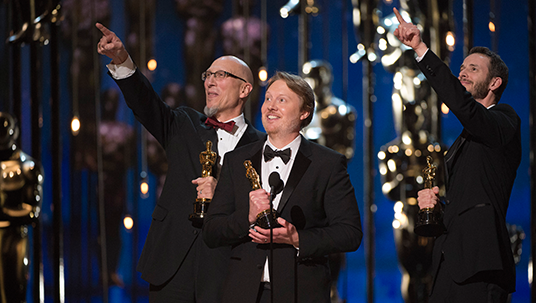 The Academy recognized Big Hero 6 for Best Animated Feature, just one year after Frozen's win in the same category. The cast and crew members in the back row of the Dolby Theatre weren't the only ones moved by Don Hall's speech, in which he talked of being a "freckle-faced little boy who told his mom and dad he was going to work at Walt Disney Animation and they did something amazing. They supported him." We're certainly glad things worked out like that!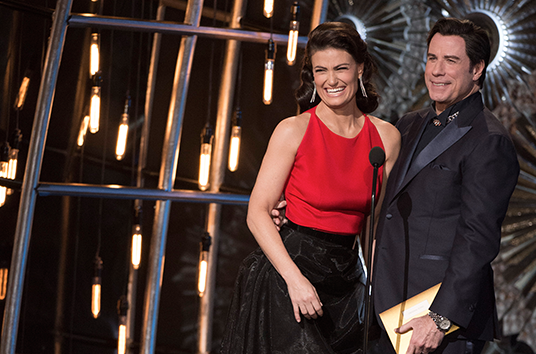 And we loved Idina Menzel and Travolta presenting the award for Best Original Song, an inspired pairing that allowed everyone—especially the good-natured Menzel and Travolta—to enjoy a playful chuckle about Travolta's gaffe from last year, in which he inadvertently introduced Menzel as "Adele Dazeem."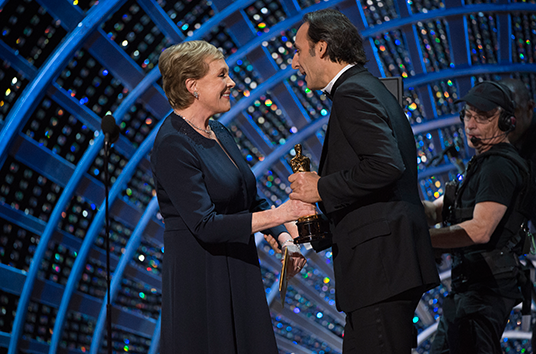 Disney fans, no doubt, were thrilled to see Disney Legend Julie Andrews present the award for Best Original Score to Alexandre Desplat (for The Grand Budapest Hotel), following a tribute to the music of The Sound of Music, sung by Lady Gaga. Ms. Andrews was beautiful, elegant, and practically perfect, as always.
D23 would like to offer our congratulations to all of this year's winners, and to host Neil Patrick Harris on a job well done!