By Chris Taylor
The Great Gonzo—world famous daredevil—has done it all, seen it all, and narrowly survived it all. But on Halloween night, the fearless Gonzo takes on the greatest challenge of his life by spending the night in the scariest place on Earth… the Haunted Mansion. Teamed up with his friend Pepé the King Prawn, this musical comedy reunites Kermit and the entire Muppets gang who portray the beloved grim grinning ghosts of the Haunted Mansion in this star-studded, frightfully funny Muppet adventure.
This epic Halloween collection, based on the Muppets Haunted Mansion adventure on Disney+, is sure to delight the entire family! This D23 Gold Member-Exclusive Collection has been carefully curated by our friends at Mickey's of Glendale and The Muppets Studio and sold only at shopDisney.com.
They'll be available for purchase beginning October 4 and October 11 (starting at 7 a.m. PT) at shopDisney.com exclusively for D23 Gold Members.
Muppets Haunted Mansion Collection
October 4 Launch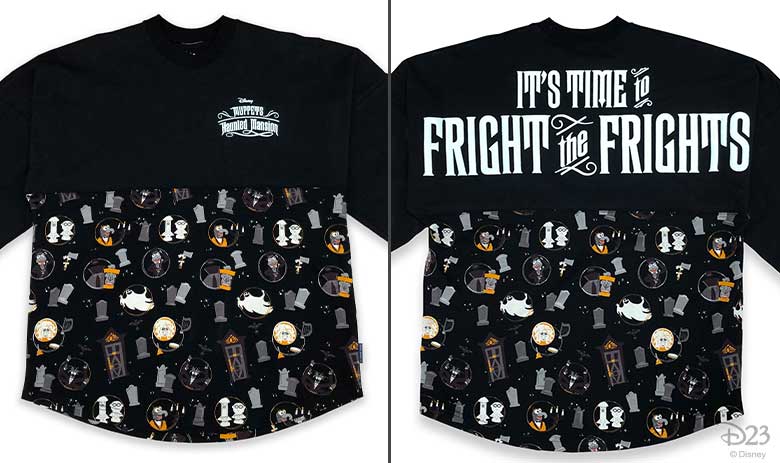 Spirit Jersey – SOLD OUT
Summon Madame Pigota and the spirits, wherever they are, with this glowing pullover spirit jersey with pieced yoke, plus puffy "It's Time to Fright the Frights" glow-in-the-dark banner; featuring an allover stylized pattern inspired by Muppets Haunted Mansion.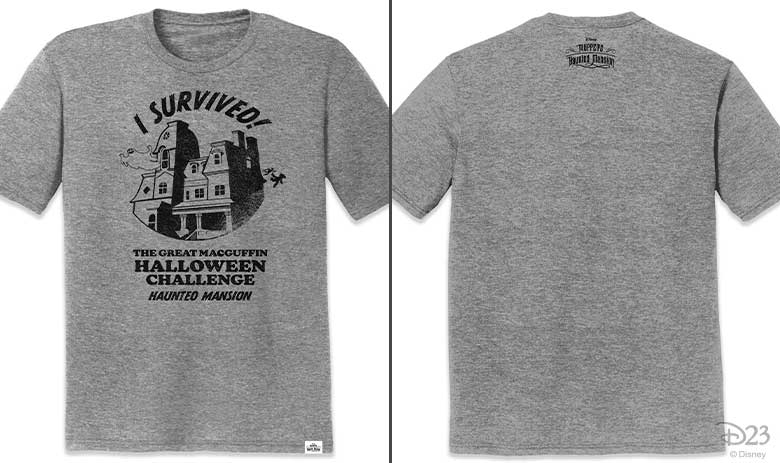 MacGuffin Challenge T-Shirt for Adults – SOLD OUT
In Muppets Haunted Mansion, Gonzo and Pepé attempt to spend Halloween night in the most haunted place on earth as part of the Great MacGuffin's challenge. Only the brave show off their victory with this shirt proclaiming they survived!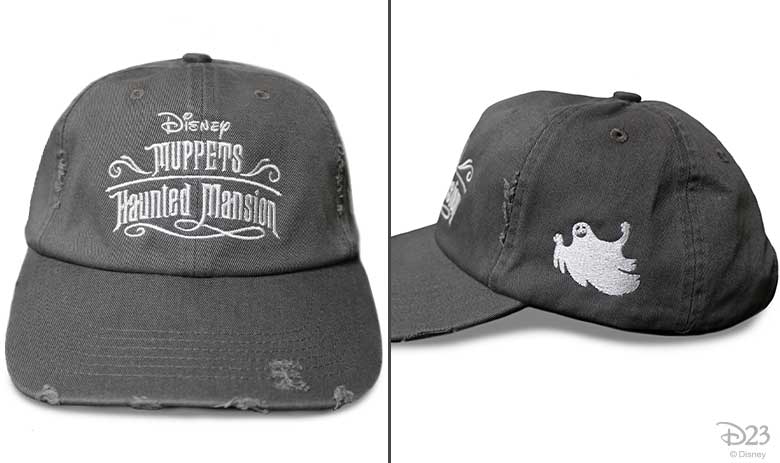 Classic Baseball Cap – SOLD OUT
If the flickering candlelight of a floating candelabra is too much for you, shield your eyes with this lovingly worn hat. Its distressed, vintage styling may just bring you some ghoulish delight.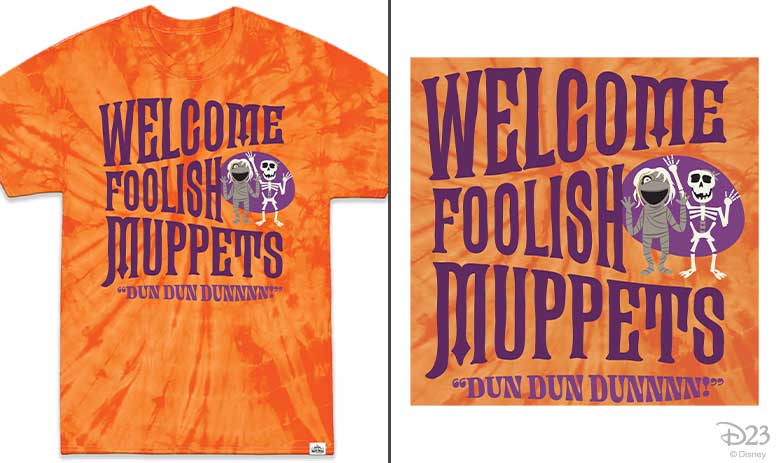 Mumm and Duddy T-shirt for Youth
If the silly hench-monsters Mummy and Duddy are known for one thing, it's a perfectly timed "Dun-dun-dunnnn!" Get your fright on with this tie-dye shirt inspired by Muppets Haunted Mansion.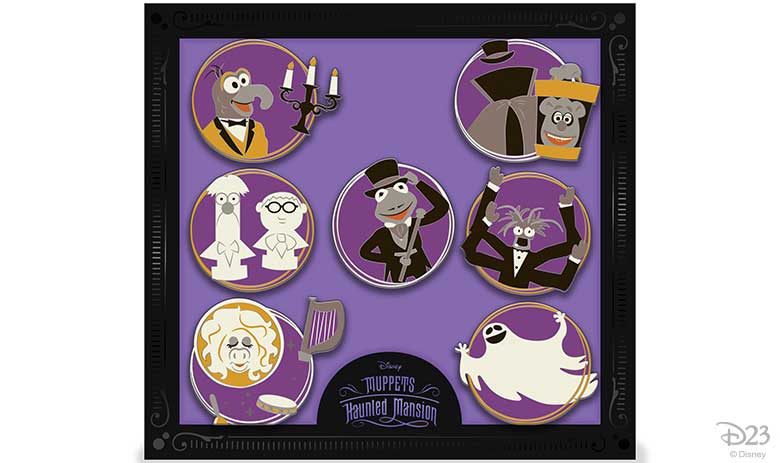 Pin Collection Set – SOLD OUT
If your ideal life hereafter has sleek lines and retro stylings, you will love this Spooktacular set of seven pins featuring your favorite characters from Muppets Haunted Mansion.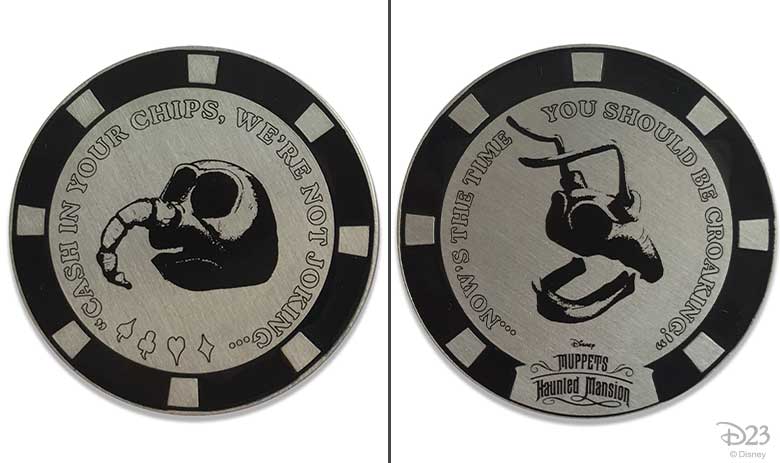 Collectible Coin – SOLD OUT
Just like the song says, "Cash in your chips, we're not joking!" Inspired by Rizzo's prop from Muppets Haunted Mansion, this collectible coin features artwork of a skeletal Gonzo and Pepé.
October 11 Launch
Wallpaper Camp Shirt
When crypt doors creak and tombstones quake, show off your admiration for Gonzo's frightfully chilling challenge with this colorful shirt inspired by the purple hallways from Muppets Haunted Mansion.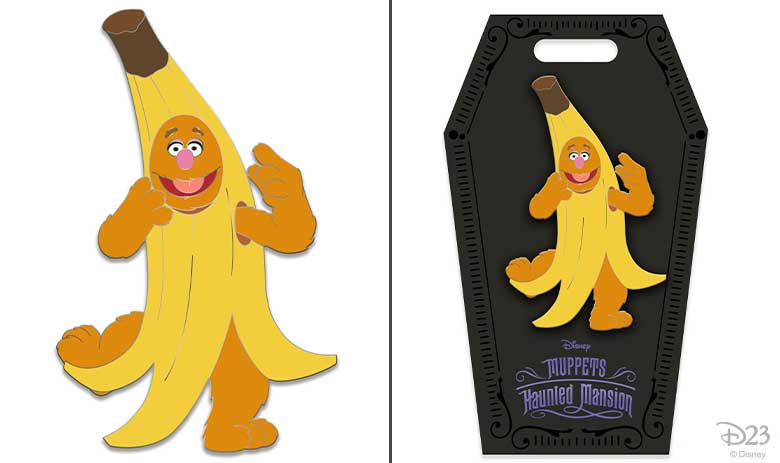 Fozzie Bear Halloween Costume Pin
Why did the banana cross the road? Because the banana was Fozzie Bear on his way to a Halloween party!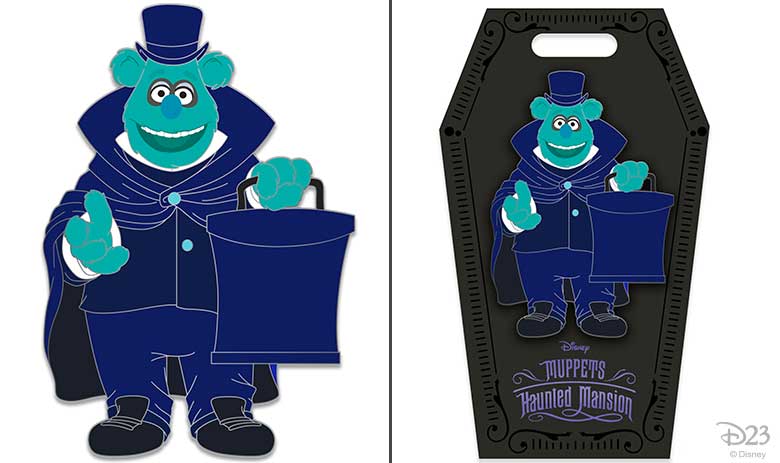 Fozzie Bear as Gauzey the Hatbox Bear Pin – SOLD OUT
Get a-head with this enamel pin featuring Fozzie Bear as Gauzey the Hatbox Bear from Muppets Haunted Mansion.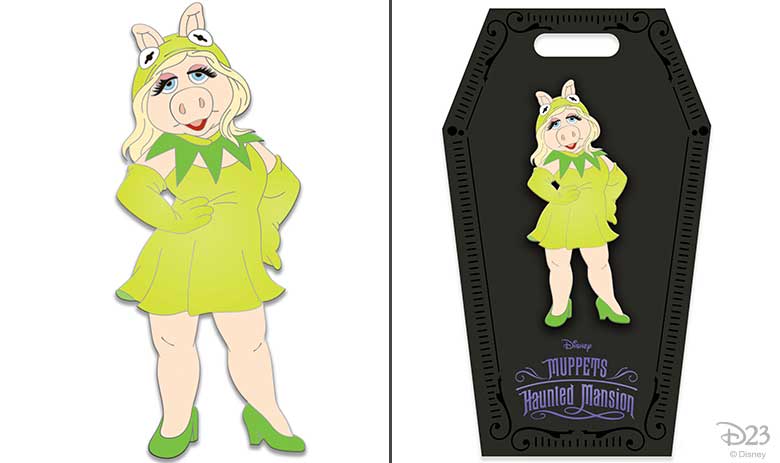 Miss Piggy Halloween Costume Pin – SOLD OUT
Kissy Kissy! Miss Piggy is ready for the Muppets' Halloween party in her costume inspired by her favorite frog, Kermie.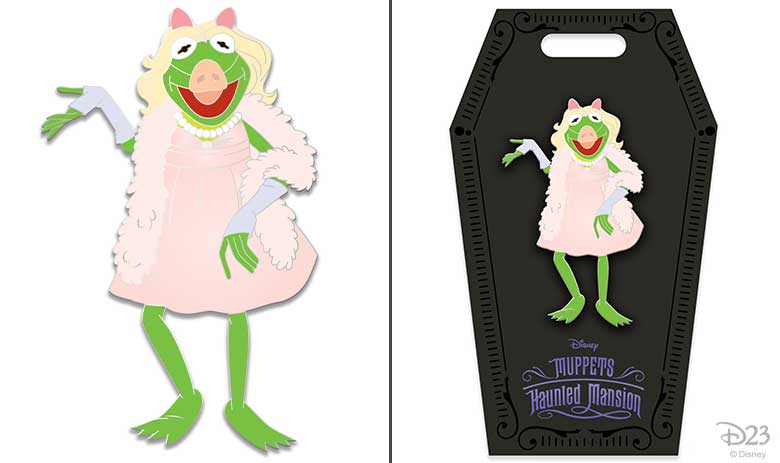 Kermit Halloween Costume Pin – SOLD OUT
Trick or Treat! Kermit the Frog wears a Halloween costume inspired by the one-and-only Miss Piggy.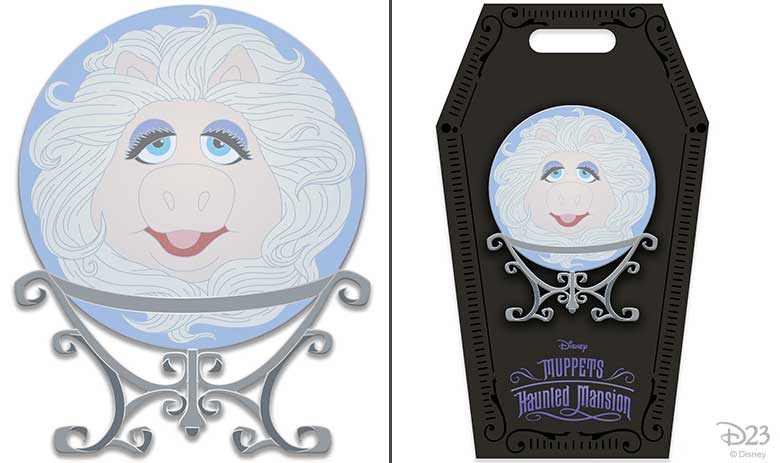 Miss Piggy as Madame Pigota Pin – SOLD OUT
Pumpkin-spiced lattes and a vampire bat, you can find this Madame Pigota pin wherever you're at!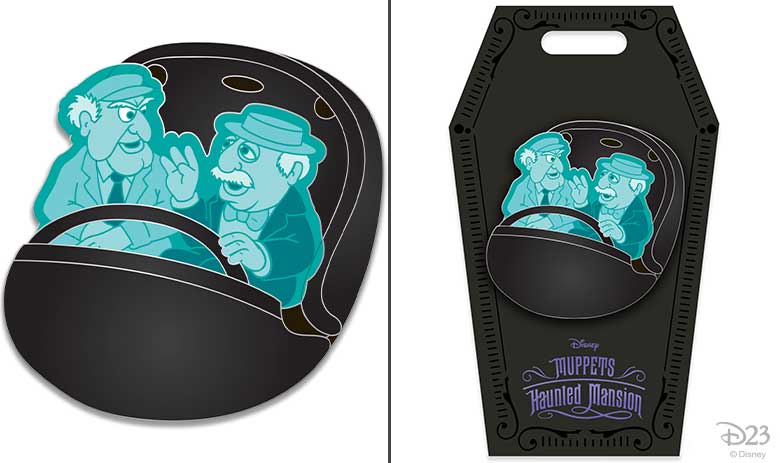 Statler and Waldorf Doom Buggy Pin – SOLD OUT
They were booing before they were ghosts! Muppets balcony hecklers, Statler and Waldorf, are ready to share their frightfully candid feedback from their Doom Buggy.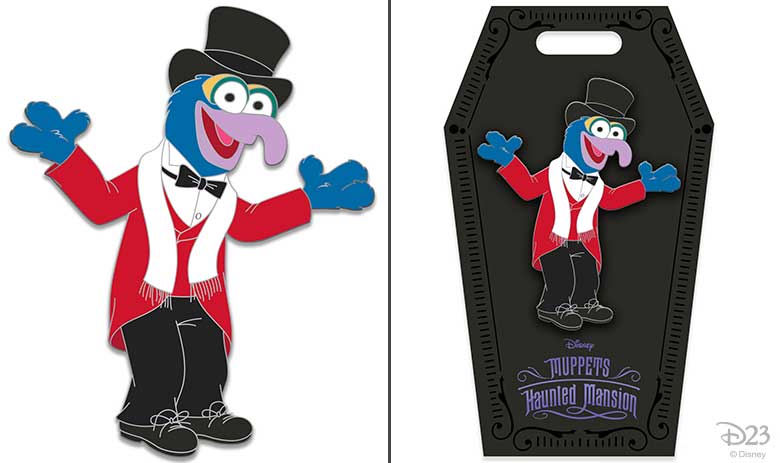 Tuxedo Gonzo Pin – SOLD OUT
Dressed in a costume inspired by his hero, The Great MacGuffin, Gonzo is ready to take on anything Halloween night has in store for him.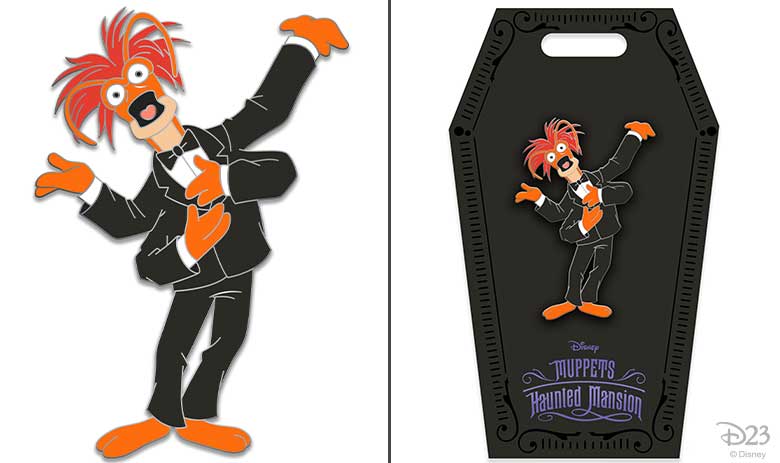 Tuxedo Pepe Pin
Who needs Halloween costumes when you can wear a tuxedo, okay? Pepé the King Prawn is dressed to impress and ready to meet all the party peoples.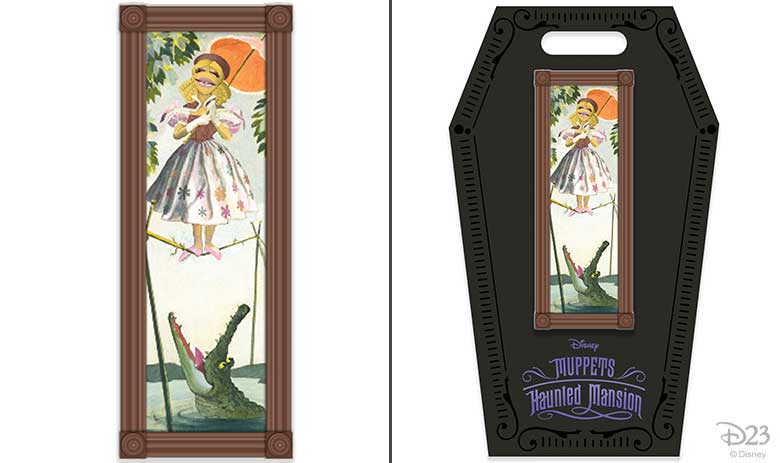 Janice Stretching Room Portrait Pin – SOLD OUT
Gee, is that haunted room, like, actually stretching? Or is it just your imagination? Janice, like, totally rocks her cameo as The Tightrope Walker in this pin inspired by her stretching room portrait.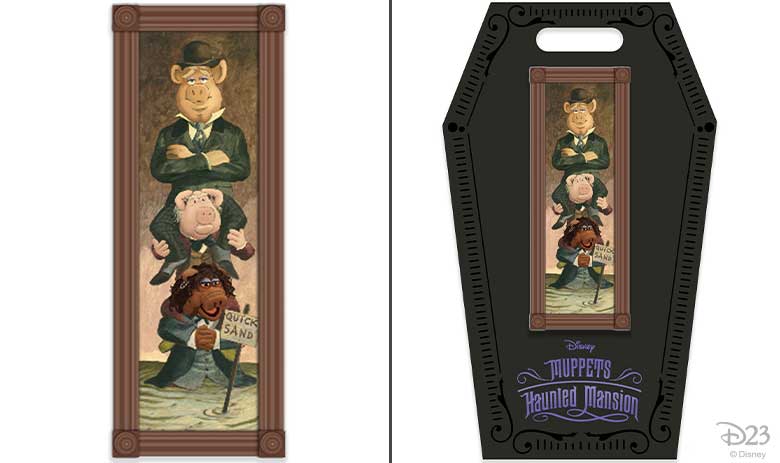 Muppet Pigs Stretching Room Portrait Pin – SOLD OUT
Just give the cameos of Link Hogthrob, Dr. Julius Strangepork, and Miss Poogy second to…sink in. This collectible pin celebrates their appearances as the Men in Quicksand painting in the stretching room of Muppets Haunted Mansion.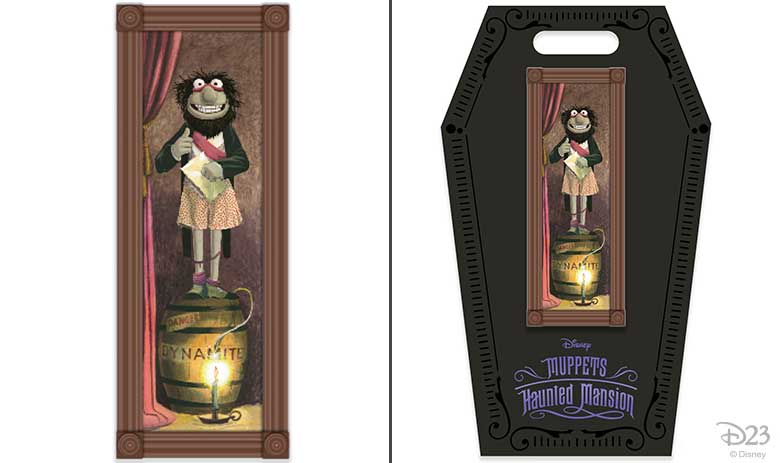 Harry Stretching Room Portrait Pin – SOLD OUT
Have a blast showing off your love for Crazy Harry in his cameo as the Man on the Dynamite Barrel with this collectible pin.
Remember: Our D23-Exclusive Muppets Haunted Mansion Collection by Mickey's of Glendale will be available for D23 Gold Members at shopDisney.com beginning October 4 and 11 at 7 a.m. PT! Don't miss out!
And don't forget to watch Muppets Haunted Mansion on Disney+ starting Friday, October 8.
To purchase, log in to shopDisney with the Disney account tied to your D23 Gold Membership. Not a D23 Gold Member? Click here to join.
* Muppets Haunted Mansion Collection available only to D23 Gold Members. Available for purchase starting October 4 and 11, 2021, while supplies last at shopDisney.com (online or via phone orders). Must be logged in to your Disney Account to purchase, using an account linked to your D23 Gold Membership. Maximum one of each item per D23 membership. Items not eligible for any additional promotional discounts or offers except available shipping offers. Offer subject to restrictions and to change without notice. Void where prohibited.