By D23 Team
Since 2007, the eight bright-yellow submarines have floated proudly in the shimmering, aqua-blue water of the fabled Tomorrowland lagoon in Disneyland. Guests giggle with glee when they hear the sound of Audio-Animatronics® seagulls shouting "Mine! Mine!" from a nearby buoy, before they step down beneath the waterline into one of the vessels, grab a flip-down seat, and do what everyone else on board does… put their nose to the porthole!
Finding Nemo Submarine Voyage has been wowing guests with advanced imaging, audio and power technologies, original animation from Pixar Animation Studios, and the eight original subs from the iconic "E ticket" thriller Submarine Voyage for 10 years. The original attraction, Submarine Voyage, opened at Disneyland in 1959 to take guests on an adventure through liquid space, and Finding Nemo Submarine Voyage continues that tradition with an exhilarating integration of animation and Imagineering. Here's how Walt Disney Imagineering and Disney•Pixar teamed up to create this sublime reimagining of one of Walt Disney's favorite attractions.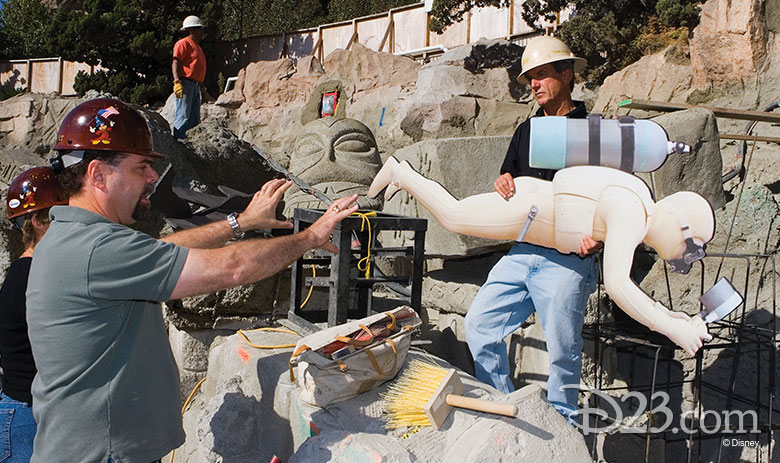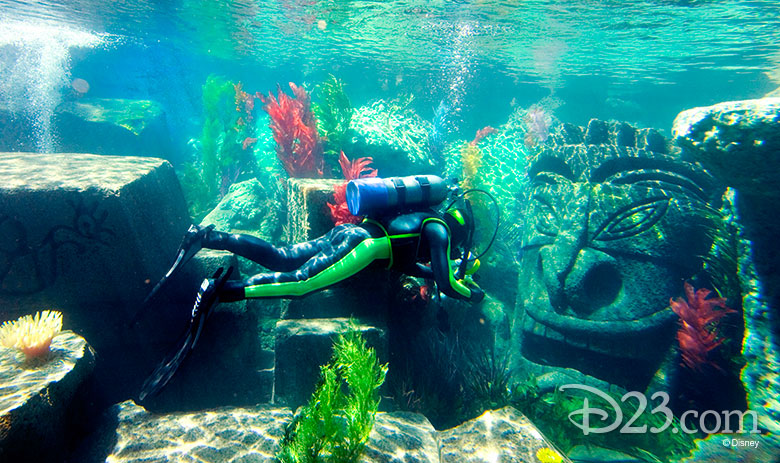 Telling a New Story
For a Finding Nemo-themed attraction, the story had to feature familiar characters but still be fresh and unique. Imagineering made it a priority to deliver the same quality of animation that Disney parks guests expect from Pixar movies. The projection technology in the ride allows guests an amazing opportunity to eavesdrop on their friends from Nemo, swimming in their natural environment. It's almost as if you're a character in the original movie!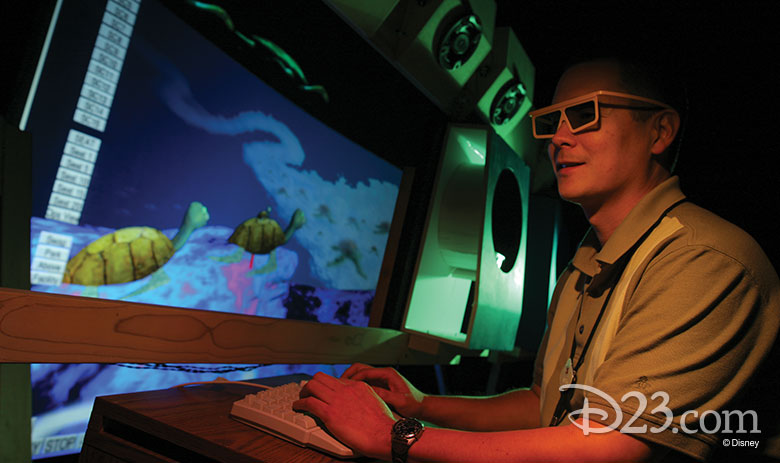 Bringing a 2-D World to a 4-D Lagoon
Imagineers, working closely with animators from Pixar, developed advanced technology for new Nemo animated sequences, most of them in the light-controlled space of the new rock grotto and the staging area underneath. Imagineer Kevin Rafferty, part of the concept development team for Finding Nemo Submarine Voyage, recalled at the attraction's opening, "It was fun watching Roger Gould and his Pixar team—who were used to working in a two-dimensional world—customize their craft to fit inside our dimensional environments. We began as separate entities but ended as one close-knit team."
There were other challenges. "Guests sitting in the front enter a scene up to 30 seconds before guests in the aft section," Kevin said. "Telling the same story to everyone in the sub at the same time seemed impossible until Imagineering dreamed up a way to simulate the entire attraction virtually. It allowed us to experience a realistic ride-through before the attraction was built—from any porthole at any time."
Learning to Listen to the Fishes
Imagineering's audio feats also made a difference, Kevin explained. "Our system moves sound through the sub as it travels through a scene, so you can actually hear the voices of the characters swimming toward you before they appear in your porthole. Plus, there's an audio 'sweet spot' for each guest that emphasizes what he or she is seeing, the moment they're seeing it. And did I mention our killer SUB-woofer?! When something scrapes the sub's hull, trust me you'll feel it!"
Bringing the Past into the Present
The subs, which were not seen at Disneyland from 1998 until their return in 2007, also received the Imagineering touch. To keep the vessels swimming smoothly, Imagineers replaced their original diesel-powered engines with an all-electric propulsion system. The technology had been used above ground at Disney's other parks, but this was the first time it was used underwater; so the subs aren't just yellow—they're "green," as well.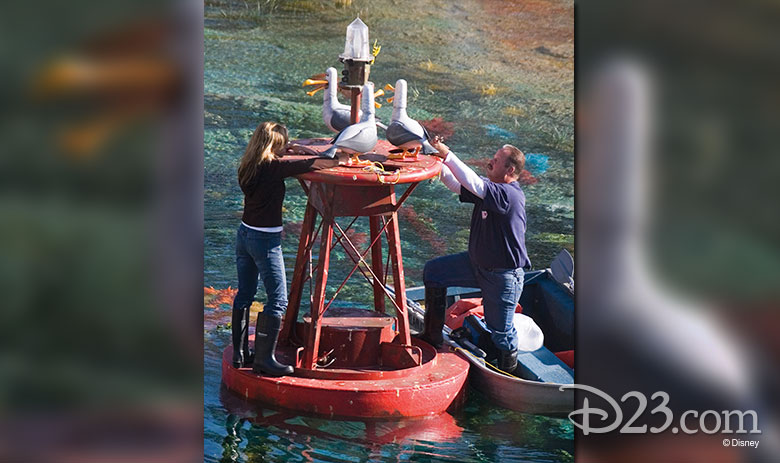 Finding Nemo Submarine Voyage by the Numbers
1,635 Track Length, in feet
12 Trip time, in minutes
6.3 Gallons of water in the lagoon, in millions
36 Number of static figures in lagoon
58 Number of animated figures in lagoon
7,000 Pieces of foliage in lagoon
20,000 Pieces of coral used to make coral formations