By Jim Frye
There's a whooooole lot of excitement being squeezed into 17 days as Mulan and Mushu welcome guests for the Lunar New Year Celebration at Disney California Adventure Park. Now through February 5, you can join in the fun as the brave princess and her trusty—yet mischievous—dragon dance on screens of mist at Paradise Bay, lead a procession of beautiful Chinese umbrella dancers and other performers, and spread out a scrumptious feast with foods inspired by the cultures of China, Korea, and Vietnam.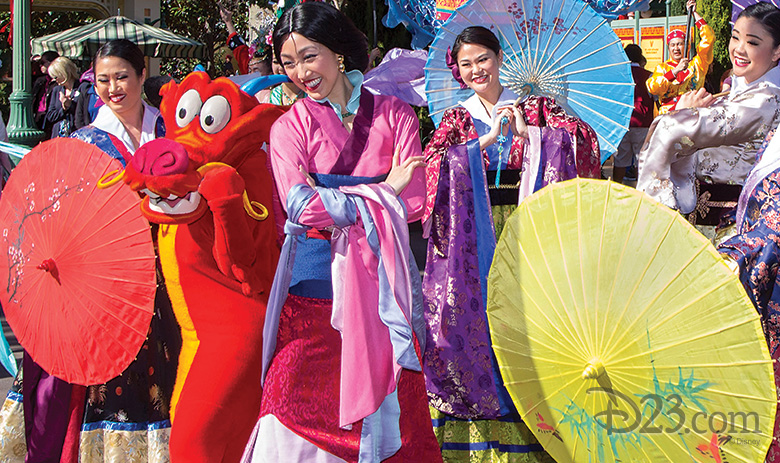 Lunar New Year, traditionally celebrated within Chinese, Korean, and Vietnamese cultures, commemorates the moment when both the sun and the moon begin their journey for another year. This year, Mickey Mouse and Minnie Mouse, together with Mulan, Mushu, Chip, and Dale, don their most festive Lunar New Year costumes for a joyous celebration that commemorates the Year of the Rooster. There's a lot to see, do, and taste throughout the event.
Each night prior to World of Color, a new feature called Hurry Home—Lunar New Year Celebration tells the heartwarming tale of a Lunar New Year homecoming. The six-minute feature is presented in sequences, utilizing projected animation along with the lighting, special effects, and powerful fountains of World of Color.
Hurry Home tells the story of a Little Lantern's journey as it returns home for the annual celebration of good luck and fortune. Little Lantern encounters three "dream sequences," featuring appearances by Mulan and the dragon Mushu. This pre-show employs two contrasting animation styles, with fully rendered CG animation and sequences inspired by traditional Chinese paper cut-out style animation. The story is scored with music created for the opening ceremony of Shanghai Disney Resort by Academy Award®-winning composer Tan Dun (Crouching Tiger, Hidden Dragon).
There are also a number of live performances and toe-tapping processions to get guests in the festive spirit, most of them centered around the Paradise Garden Grill and the Paradise Garden Bandstand area. The marquee event, of course, is Mulan and Mushu's magical march honoring Lunar New Year, family, and friendship. The parade features beautiful umbrella dancers, drummers, and a spectacular dragon, all choreographed to the score of Disney's Mulan.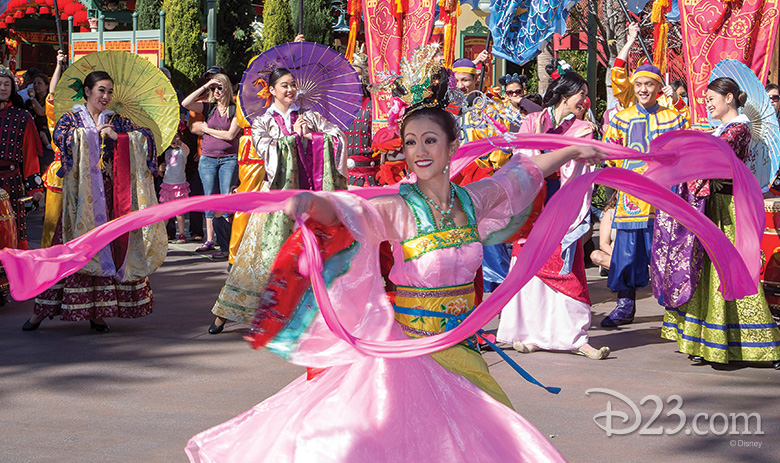 The Acrobats of China perform an exciting mix of traditional and classic Chinese dance with human performance art including riveting feats of strength, grace, and balance. This award-winning troupe showcases a cultural art form that has been thrilling audiences for more than 2,500 years. And while you eat, enjoy an array of performers, including Chinese concert musician Jie Ma performing on the traditional pipa string instrument, and Vietnamese concert guitarist, composer, and teacher Dat Nguyen.
And speaking of eating, the food offerings are enough to keep you coming back all 17 days! For a sampling of Chinese cuisine, try the pork soup dumplings or turnip cakes with spicy sausage. Korean delicacies include kimchi fried rice and steamed vegetable dumplings. And, for a bit of Vietnamese flavor, try the sticky rice cake with pork and sugarcane shrimp skewers. Also, at Paradise Garden Grill, guests can try the vegetable japchae, kalbi beef short ribs with steamed rice, whole crispy tilapia with citrus chili vinaigrette, beef pho noodle soup, mango pudding (don't miss it!) and cassava-coconut cake.
You can also make your own wish for a wonderful future at Lucky Wishing Wall, get your photo taken with your favorite characters (who will be in traditional Chinese garb), and pick up some cool commemorative merchandise, including a specially designed T-shirt, pin, decorative trinket box, and traditional red envelopes for gift-giving.
Come ring in The Year of the Rooster as Disney California Adventure celebrates Lunar New Year through February 5. You can check for daily entertainment schedules as they become available, at Disneyland.com/LunarNewYear.