By Courtney Potter
"Who's the leader of the club that's made for you and me? M-I-C-K-E-Y, M-O-U-S-E!" Mickey Mouse Club, Disney's legendary television series, has delighted children (and adults!) around the world since it first premiered on ABC in 1955—just a few months after Walt Disney's biggest project to date, Disneyland park, opened to the public. But what you might not realize is the TV version was the club's second iteration…
Back in 1929, the Fox Dome Theater in Ocean Park, California, started a Mickey Mouse Club—a real club that kids could join. Soon, hundreds of other Mickey Mouse Clubs (associated with various movie theaters) sprang up across America. Members attended Saturday meetings where Mickey Mouse cartoons were screened; Mickey-themed bands entertained; Mickey Mouse "credos" were recited; and even a Chief Mickey and Chief Minnie were elected. By 1932, these clubs boasted more than 1 million members! So it's no wonder Walt Disney would eventually continue that "club" tradition…
With Disney's all-new, always-on-digital Club Mickey Mouse now airing on Facebook and Instagram, we here at D23 thought it was the perfect time to take a look at the club's celebrated TV history. Come along and sing a song!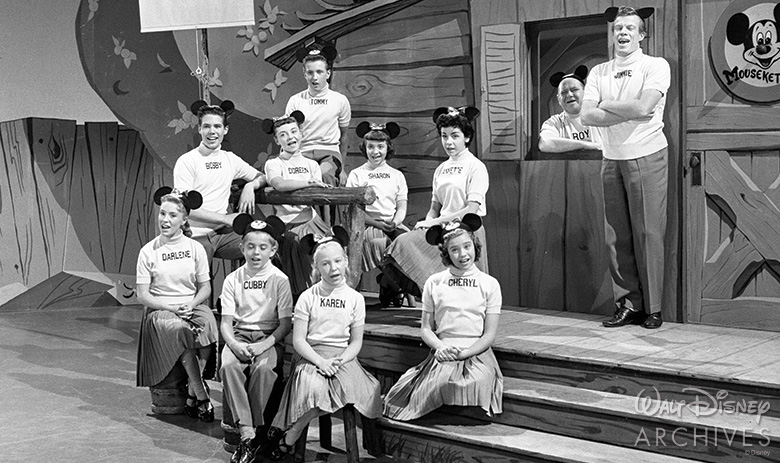 Mickey Mouse Club (ABC, 1955–59)
The original, and still beloved to this day! Mickey Mouse Club debuted on ABC on October 3, 1955, as an hour-long show—every weekday afternoon!—featuring a cast of kids (called Mouseketeers) presenting skits and musical numbers, as well as introducing special guest stars, serials, Disney Newsreel segments from around the world, and plenty of Disney cartoons. There were a grand total of 39 Mouseketeers throughout the show's four seasons; the original 24 included notable performers like Annette Funicello (pictured below right, later made a Disney Legend in 1992), Bobby Burgess, and Cubby O'Brien… along with songwriter Jimmie Dodd (pictured below left) as host/"Head Mouseketeer" (he wrote the show's eternally catchy theme song) and Disney staff artist/entertainer Roy Williams as the "Big Mouseketeer." (Both would also be named Disney Legends in 1992). Later Mouseketeers included Mickey Rooney's children Tim and Mickey, Jr.; The Donna Reed Show's Paul Petersen; and Don Grady of My Three Sons (later a composer for film and TV).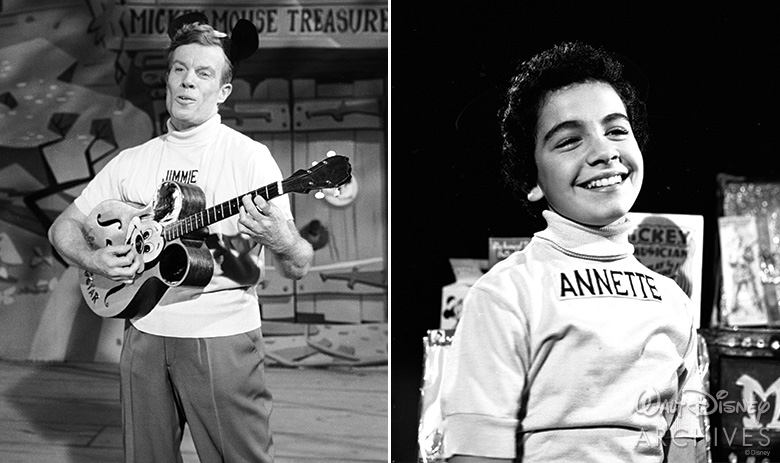 Each weekday of Mickey Mouse Club had a different theme—Monday was "Fun With Music Day"; Tuesday was "Guest Star Day"; Wednesday was "Anything Can Happen Day"; Thursday was "Circus Day"; and Friday was "Talent Roundup Day." The serials featured often took on a life of their own. Perhaps most popular was The Adventures of Spin and Marty (pictured below), starring David Stollery and Tim Considine as feuding teenagers at a boys' summer camp. Other serials included The Hardy Boys (another favorite), Clint and Mac, The Secret of Mystery Lake, Border Collie, Corky and White Shadow, and Annette.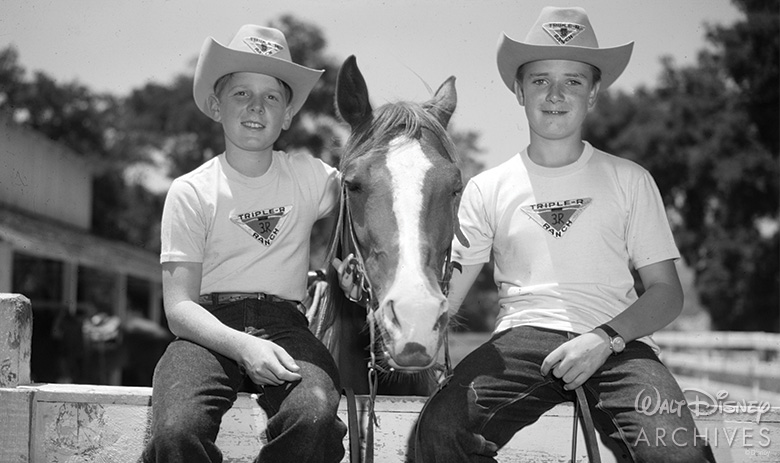 By the time the series ended—on September 25, 1959—an amazing 260 one-hour and 130 half-hour episodes were produced. And Disneyland fans, you truly have Mickey Mouse Club to thank; Walt Disney's contract with ABC provided him the money needed to finish building his first park!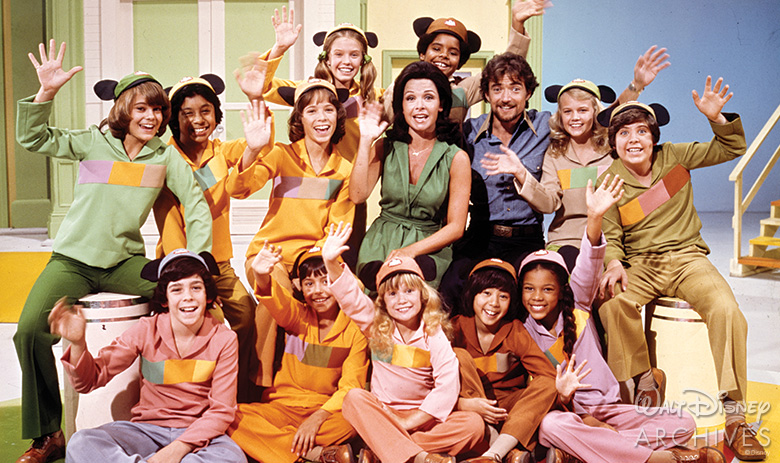 The New Mickey Mouse Club (syndication, 1977–78)
The original show was syndicated again in 1975—and proved so popular that Disney created The New Mickey Mouse Club. Running in syndication from January 17, 1977, to December 1, 1978, this contemporary version of the series featured 12 Mouseketeers, a lot of fun musical numbers, and a slightly different "theme day" structure… Monday was "Who, What, Why, Where, When and How Day"; Tuesday was "Let's Go" Day; Wednesday was "Surprise Day"; Thursday was "Discovery Day"; and Friday was "Showtime Day." There was only one original serial produced, The Mystery of Rustler's Cave, though several Disney films were shown in serialized form. Among the notable Mousketeers for this go 'round were Mindy Feldman (sister of The Goonies star Corey Feldman) and Lisa Whechel—who'd go on to star as Blair on The Facts of Life.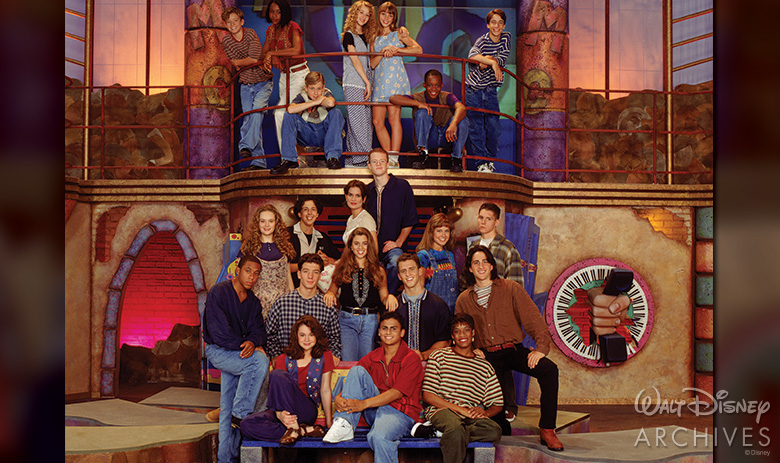 The All New Mickey Mouse Club / MMC (Disney Channel, 1989–94)
When The Disney Channel debuted in 1983, they'd air episodes of the original Mickey Mouse Club daily—which, once again, renewed interest in another updated version of the series. Debuting on April 24, 1989, The All New Mickey Mouse Club was aimed at a slightly older age group… and unlike the first two incarnations, the Mickey Mouse-ear hats were no longer in sight, with the Mousketeers instead donning cool Mouseketeer letterman's jackets. The show was hosted by actor/voiceover artist Fred Newman (Seasons 1 through 6), Mowava Pryor (Seasons 1 through 3), and Terri Misner (Seasons 4 through 6), and "theme days" included "Music Day," "Guest Day," "Anything Can Happen Day," "Party Day," and "Hall of Fame Day." Unlike their '70s counterpart, this series included several new serials—notably Emerald Cove and Teen Angel (starring Jason Priestley, later of Beverly Hills, 90210). Shot on location at Disney MGM Studios (now Disney's Hollywood Studios) at the Walt Disney World Resort, this was the first Mickey Mouse Club to feature a live studio audience.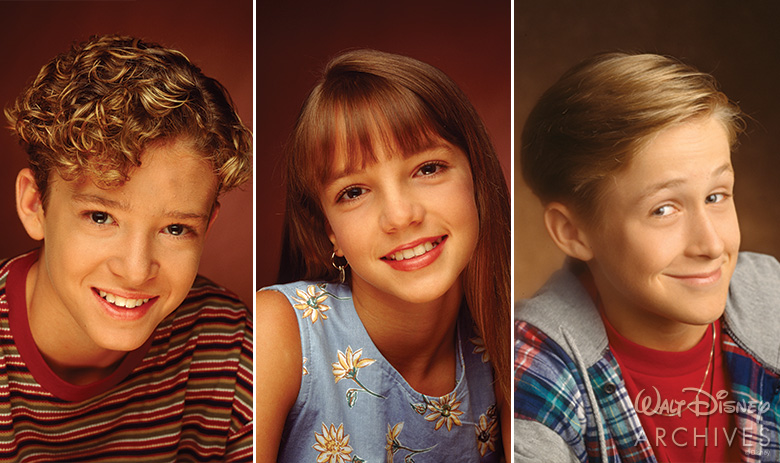 The All New Mickey Mouse Club (or MMC, as it was called later in its seven seasons) is especially known for launching the careers of a seriously huge number of big-name stars: actors Keri Russell and Ryan Gosling (pictured above right); pop stars Britney Spears (pictured above center), Christina Aguilera, Justin Timberlake (pictured above left), JC Chasez, and Tony Lucca; and The Party, a popular '90s pop group featuring DeeDee Magno, Damon Pampolina, Chase Hampton, Tiffini Hale, and Albert Fields.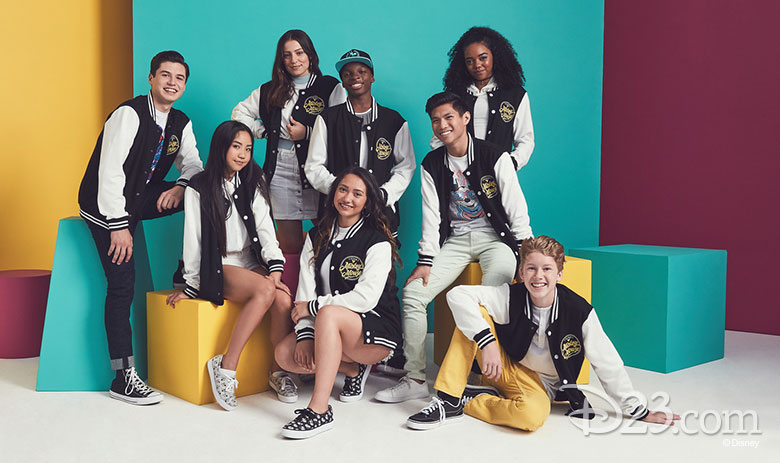 Club Mickey Mouse (Facebook and Instagram, 2017)
An all-new class of Mouseketeers made its debut on September 8, 2017. Club Mickey Mouse reimagines the beloved franchise for a new generation of fans, who are able to watch the new variety program on a whole new platform: social media. Created entirely for social feeds, Club Mickey Mouse lives on Facebook and Instagram and follows the eight new Mouseketeers as they create new music and choreography—and, of course, friendships—with one another. These amazingly talented teens will document their Club Mickey Mouse journey through Instagram stories, Boomerangs, and Facebook Live videos on the @ClubMickeyMouse accounts on Facebook and Instagram. The team behind Oh My Disney developed this new program that's literally always-on. Be sure to check it out today, and come back every day for new videos and content that's made for you and me!