By Jocelyn Buhlman
There's always something scrumptious to celebrate at Disney California Adventure, whether you're sipping and snacking at the Food & Wine Festival or making merry at the Disney Festival of the Holidays. No matter which festival you enjoy most, there's one chef who helps make all of them delicious: Chef Jimmy Weita, the Chef de Cuisine for Festivals and Resort Special Events. He helps cook up all the delectable dishes we've come to love from Disneyland Resort's special food events and celebrations—including the ever-popular Food & Wine Festival. We chatted with Chef Weita about creating culinary magic for California Adventure's food festivals and got the behind-the-scenes scoop on some of your favorite eats from the 2018 Food & Wine Festival.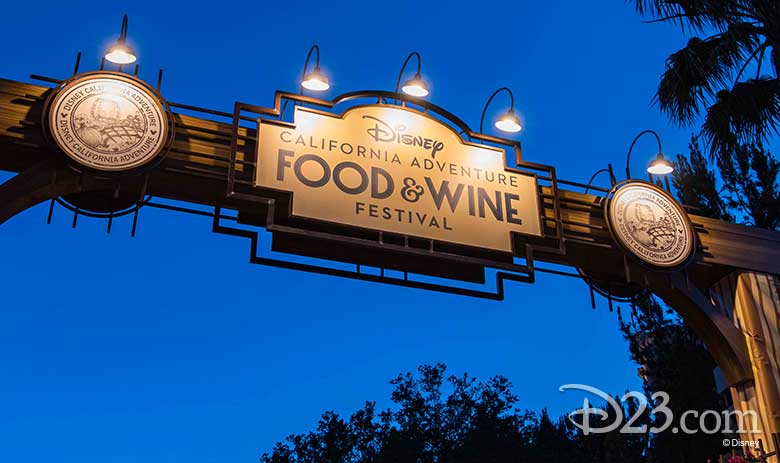 D23: Disney California Adventure is well-known for its themed food festivals. Why do you think events like the Food & Wine Festival or Disney Festival of the Holidays have become so popular?
Jimmy Weita (JW): We're offering something different that you can't get in any restaurant. One thing we strive to do is give guests a more unique food and beverage offering that you can't get anywhere else. And that's why all the food and beverage options are unique to that festival. We did the D23 Sip & Stroll event a week and a half ago. It was cool to hear D23 Members' feedback, and how much they enjoyed coming to the festival and seeing the new things!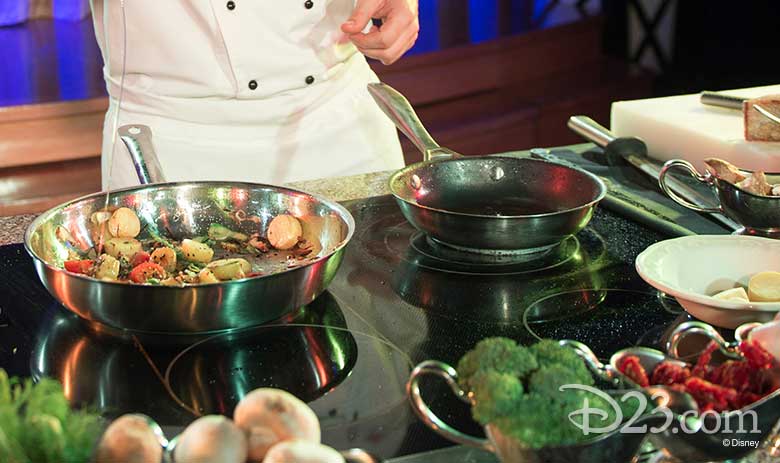 D23: You help run a "culinary boot camp" to prepare cast members for the festivals. Can you tell us more about what happens behind the scenes?
JW: We didn't realize we were doing it at first, but we were creating this "boot camp," or culinary school, within Special Events & Festivals with cooks from all of these different food locations at the park, who were learning all these food techniques they've never seen.
When we get to the point where we need to bring over more cast members for the festivals, everyone that signs up gets put into a two-day cross training in the Special Events kitchen. Once they go through those two days, we start training for the specific festival. We're talking 25–30 different menu items that come out of our kitchen. For Food & Wine, we have 13 Marketplace Kiosks—two of them are beverage only—so of the rest of those 11 Marketplace Kiosks, 100 percent of the food comes out of this one kitchen. We're not only cooking a couple things, we're cooking a lot of things. It's not a small scale. So, they really walk away with a sense of production and just a better understanding of cooking in general.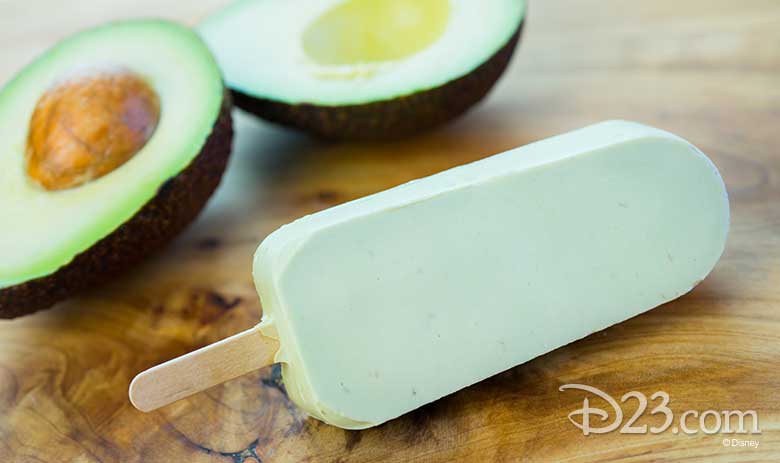 D23: How do you come up with new foods for each Festival?
JW: It starts with the theming—for example, Food & Wine is about the agricultural heroes of California. That gives us our starting point. We sit down and start throwing out ideas as a collective chef team. We actually involve our entire culinary team, and we kind of give them homework sometimes: "Hey, we need you to come up with a great chicken dish, so we need everyone to go home and come back with five items."
We've had many items in past festivals that have started that way, like the Nashville Fried Hot Turkey we did at the Festival of the Holidays. That was an item that one of our cooks had wanted to do for a couple festivals, and we just didn't have a place for it. But once we did, we let him drive the research and development on it.
A couple years ago, we got some feedback from a guest which was that, "When Disney says something is spicy, it's not really spicy. It's like 'Disney spicy.'" And we were like, "Oh, we take offense to that!" So, for Festival of the Holidays last year, we did a spicy-themed Marketplace Kiosk, and it was really well-received, so we made sure to do the same for Food & Wine. "Peppers Cali-Ente" is exactly that and features items that have a much higher spice content.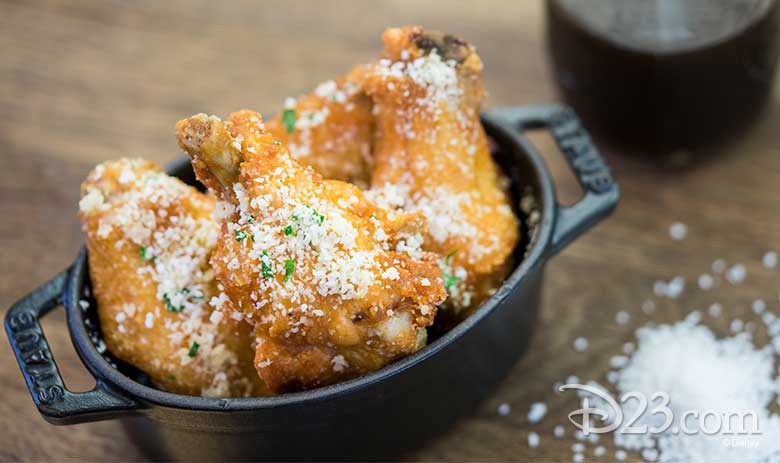 D23: Do you have a favorite Marketplace Kiosk from the 2018 Food & Wine Fest?
JW: "Cluck-a-Doodle-Moo" is my favorite from this year. I really like the fun, tongue-in-cheek names. We thought, this is gonna be popular, so let's put our No. 1 beef slider in there, and let's do chicken wings!
And so, we asked ourselves, "What can we do with chicken wings?" and we said, "Well, we love salt and vinegar chips, so we should do salt and vinegar chicken wings!" That's how that item started. One of the items we've been hanging on to for a couple of years is this vinegar that's derived from beer. And we said, "This would be the perfect way to partner these things together."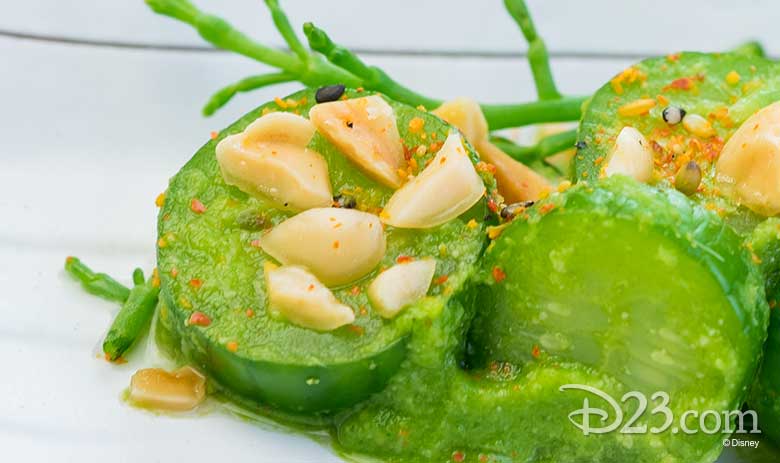 D23: Can you tell us your favorite food from this year's Food & Wine Festival?
JW: I love the… well, it's hard to choose—it's like choosing one kid over the other! I love the Salt & Beer Vinegar Parmesan Chicken Wings, because they're different. It's not a sauce, like you'd get with typical hot wings, it's really about the vinegar and Parmesan that's on them.
The Compressed Asian Cucumbers with Green-Green Sauce, Toasted Almonds, and Sea Beans is probably one of the most underrated items on the menu. It's an amazing salad. It's got the Green-Green sauce, and a little bit of heat from the peppers. It's one of my favorite things on the menu.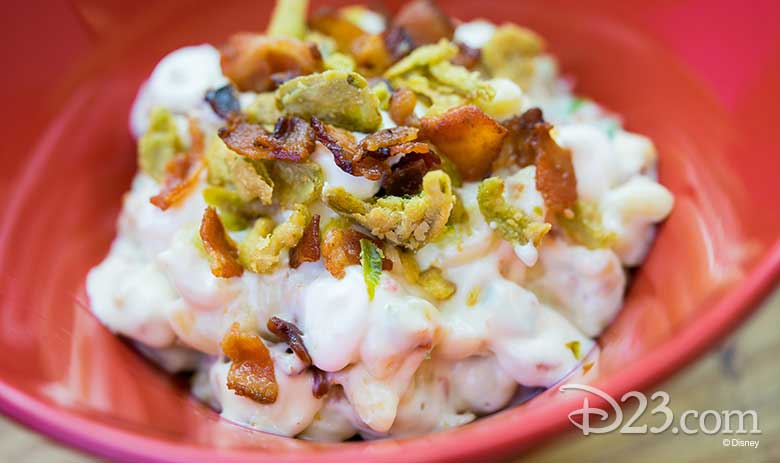 D23: How long does it take for you and your team to prepare for each new festival?
JW: On the average, about four to five months, depending on how much of the menu we change. If we're changing 80 percent of the menu, it takes a lot longer because we have the R&D phase where we're testing the recipes and tweaking them. It can take a good four months to get through all of that, and then to hold a tasting where everyone involved gets to taste the recipe, and then for our pricing team to come down so that they understand what it looks like and what it tastes like [to help them] put the correct price to it.
D23: What is your favorite Disney Parks food?
JW:  At Disneyland, I love the chicken at the Plaza Inn. If I'm hanging out in the park, it's my go-to meal: the fried chicken, the mashed potatoes, and the green beans. At Disney California Adventure, I love the hot dogs at Award Wieners, and I love the cones at the Cozy Cone Motel. I started my career in Florida, and I went to culinary school at Walt Disney World. I remember going to Magic Kingdom, and they used to have this cart that sold these pizza eggrolls. They were like giant eggrolls, but they had pepperoni and cheese and tomato sauce in them. They were so great, but they went away. So fast forward to years later, and we were developing the menu for the opening of the Grand Californian Hotel and we were looking for hors d'oeuvres. And I had this food in the back of my head, so I went to the team and we developed a miniature version of the pepperoni pizza eggrolls. We had it on the menu for years. All that stemmed from remembering from being 17–18 years old and working at Disney World!
Celebrate the Disney California Adventure Food & Wine Festival until April 12, and stay tuned right here on D23.com for future updates about all the food and fun coming to Disney California Adventure!