By Courtney Potter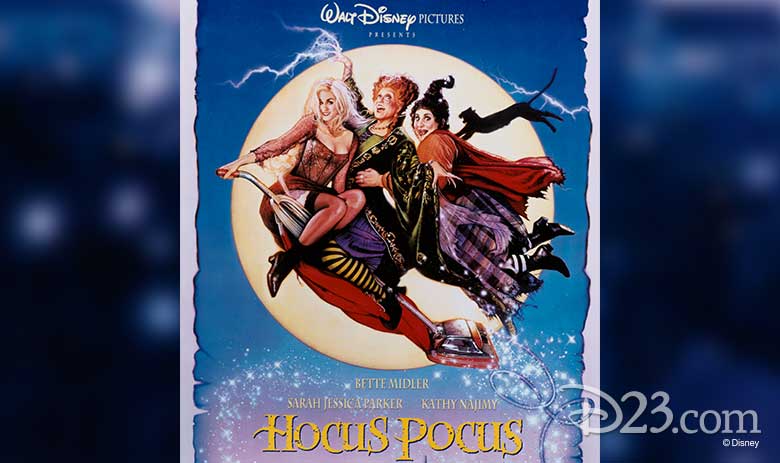 When a trio of hilariously spooky 300-year-old witches cackled back to life in Disney's 1993 comedy adventure Hocus Pocus, no one—from director Kenny Ortega to stars Bette Midler, Kathy Najimy, and Sarah Jessica Parker—could have imagined its truly lasting appeal. Young and old alike still delight in the story of Max Dennison (Omri Katz), the new kid in Salem, Massachusetts, who accidentally summons the legendary Sanderson Sisters (Midler as leader Winifred, Najimy as daffy Mary, and Parker as ditzy Sarah) on a moonlight All Hallow's Eve; naturally, it's up to Max—along with younger sister Dani (Thora Birch) and schoolmate/crush Allison (Vinessa Shaw)—to save the town and banish the wicked sisters once and for all.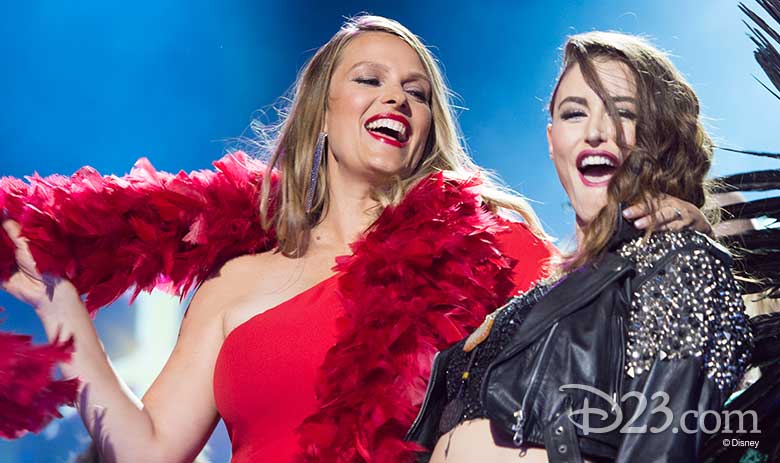 The fan-favorite film is currently celebrating its incredible 25th anniversary with multiple airings during Freeform's "31 Days of Halloween" programming event—plus the all-new special, Hocus Pocus 25th Anniversary Halloween Bash, featuring appearances by stars including Jordan Fisher and Dove Cameron; director Ortega; and many from the movie's cast. (And don't forget about D23's very own Spooktacular Fanniversary, chockablock with fun Hocus Pocus content!)
Recently, D23 was lucky enough to chat with Allison herself—actress Vinessa Shaw (Ray Donovan, The Hills Have Eyes)—to find out what made her experience on Hocus Pocus so memorably magical.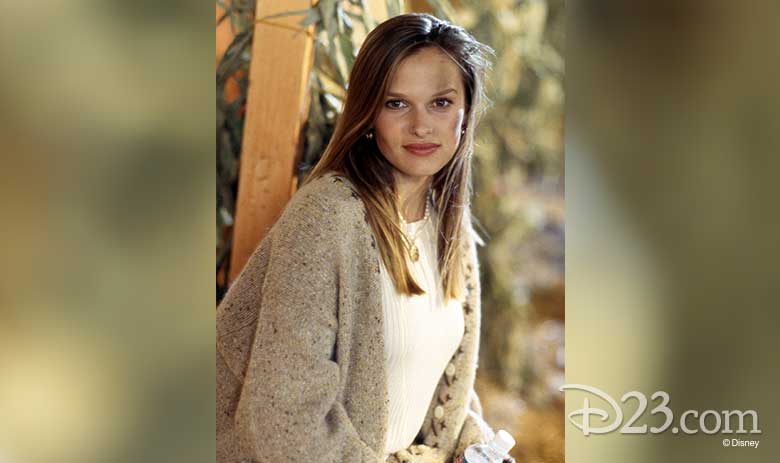 D23: Do you have any stand-out memories from the audition process? And what was your reaction when you heard you'd be cast?
Vinessa Shaw (VS): I grew up watching Disney movies, like Oliver & Company, Mary Poppins, That Darn Cat… I'd always dreamed [of being like] Hayley Mills from The Parent Trap—or really any kid in any Disney movie—and here was my opportunity! So when I got cast in the movie, it was literally a dream come true.
I remember for my audition, [director] Kenny Ortega was in the room. After I left, Kenny came running out into the parking lot and asked if I could do it again. I never found out why—but perhaps he was "on the fence" about me, and maybe coming back in one more time brought me to the next stage of auditioning, which was the screen test. I remember Leonardo DiCaprio was the other choice for Max—but the day of the screen test, he decided not to come in. So the [test] was only between me and Omri [Katz]; I believe there were no other choices for either of our characters. So I guess that day sealed the deal!
D23: What was it like working with the well-known actresses behind the kooky Sanderson Sisters—Midler, Najimy, and Parker?
VS: Our paths always crossed in the makeup trailer… Because we were minors, we would work the hours that the witches didn't. So when our day ended, the witches' days began. And because they had hours of makeup to do, we would sit next to them [in the trailer] and chat. Kathy was always very maternal, and I remember Sarah Jessica telling me about her experiences as a child actor. She asked me directly if I wanted to do this for the rest of my life, and I said yes! I was very curious about her career since she'd managed to continue long after her days as a child actor had ended.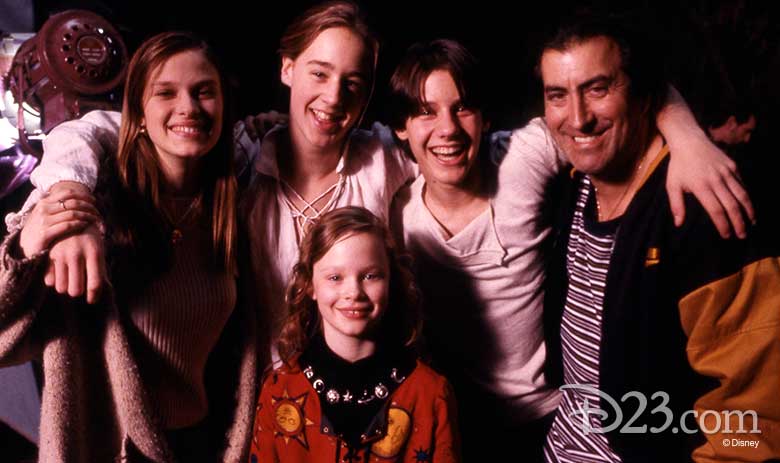 D23: What do you remember about shooting the film?
VS: I remember every day being so much fun! All of us kids in the cast running around the Disney Studios lot—we felt like it was our second home. I'd skip over to watch dailies In the animation building; I'd skip to go to lunch; I'd skip over to the trailer where my studio teacher was, for school. We would sing songs and goof around! Those were the days when you shot on film, so we had a lot of time in between shots to get to know one another and hang out.
Also, I remember there being a cat for every trick that we had in the movie. Apparently, you can only train a cat to do one [particular] trick—whereas a dog, they can learn a few… There was a cat for batting at your face, a cat to jump on you, a cat to sleep in your arms, a cat to follow you… I remember being amazed at the animal trainers on set.
D23: Do you have a favorite scene? What makes it so?
VS: When we bring the witches back to life! I was entranced with the special effects; the floorboards moved—they actually moved—and that creepy green light [seen] between the boards. I just thought that was the coolest thing ever. The best part was the "button" of the scene with Dani's [Thora Birch] sarcastic line ("A virgin lit the candle"), with her hat pulled down over her face. I remember being off-camera and finding it hard to contain my laughter. She was so funny.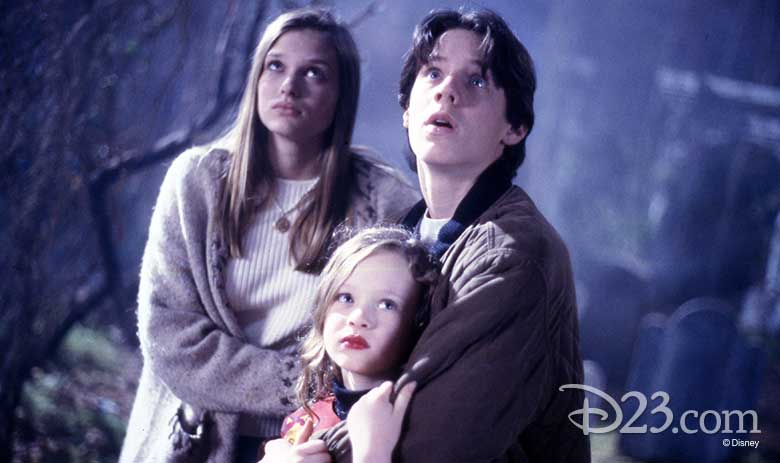 D23: What was it like seeing the full movie for the very first time?
VS: I remember being so excited when the music came up over the opening credits, with John Debney's beautiful score—and that shadow of the witch flying over the water. It made everything thrilling!
D23: When you look back at your career, what makes Hocus Pocus unique?
VS: It's the only project of mine that brings together my childhood and my childhood dreams. As a 16-year-old actress, my dream came true. That's not something many people can experience.
D23: What's it been like to watch as the film transformed into such an enduring fan favorite?
VS: I truly can't believe that it's become such a phenomenon. I think it's amazing that it's reached so many generations; parents are watching with their children, and it's become a family tradition. One woman I met was sending her daughter off to college and had me sign her DVD. She got choked up talking about how they would watch the movie all the time and enjoy it together—and now she was going to miss that bonding time because she was going off to school. I thought that was so sweet! There are not many movies that do that…
The film has it all: adventure, comedy, some musical elements, and a little spookiness. That's why, I think, it's had such lasting success. It literally has something for everyone. This is Kenny Ortega's genius—to appeal to all people. And I think it's one of the only Halloween movies that's not horror. It's about the magic of Halloween.
Run amuck with Vinessa and the rest of the Hocus Pocus cast, all month long on Freeform—or bring the film home with its new 25th Anniversary Blu-ray Combo Pack. (Don't forget D23 Members get a shopDisney discount!)