By D23 Team
Twenty-five years ago, a "diamond in the rough" stole a loaf of bread from a marketplace in Agrabah and, at the same time, stole our hearts. The animated classic Aladdin, a magical tale about wishes, dreams, and being true to yourself, has captivated us for years—not just on film, but on the small screen, the stage, and in Disney parks around the world. In honor of the film's anniversary, we've taken a look back—"wonder by wonder"—at Aladdin's journey.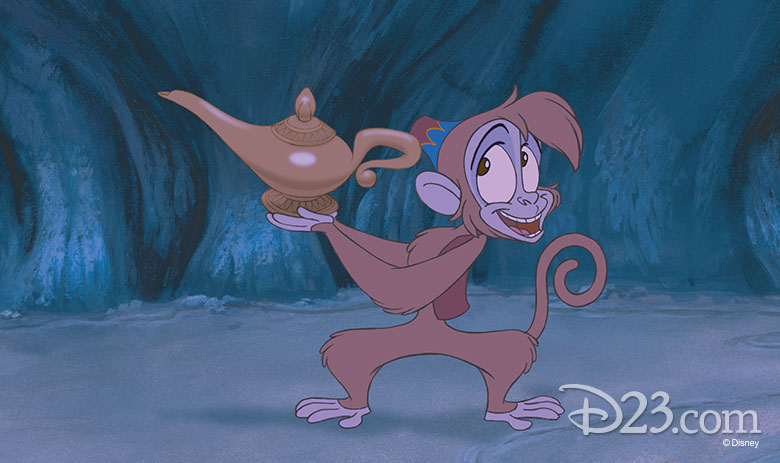 1. On film…
When Aladdin opened on November 25, 1992, the film made its mark on both audiences and critics alike, becoming the first animated movie to earn more than $200 million at the domestic box office and winning two Oscars® for Best Original Song ("A Whole New World") and Best Original Score.
2. In the Parks…
Following the success of the film, Disney parks made it possible for guests to relive the magic of Arabian Nights during their visits. One can ride The Magic Carpets of Aladdin at Walt Disney World, Les Tapis Volants—Flying Carpets Over Agrabah at Disneyland Paris, and Jasmine's Flying Carpets at Tokyo DisneySea to experience a taste of flying through the air without needing a Genie to snap his fingers. The music of Aladdin is part of experiences such as Mickey's PhilharMagic at Magic Kingdom Park, and you can meet and greet Princess Jasmine and her street rat-turned-prince, Aladdin, inside Disney parks, as well. And, when you're at Disneyland, don't miss the couple's spectacular appearance in the nighttime spectacular Fantasmic! Their dazzling new scene made its debut this summer.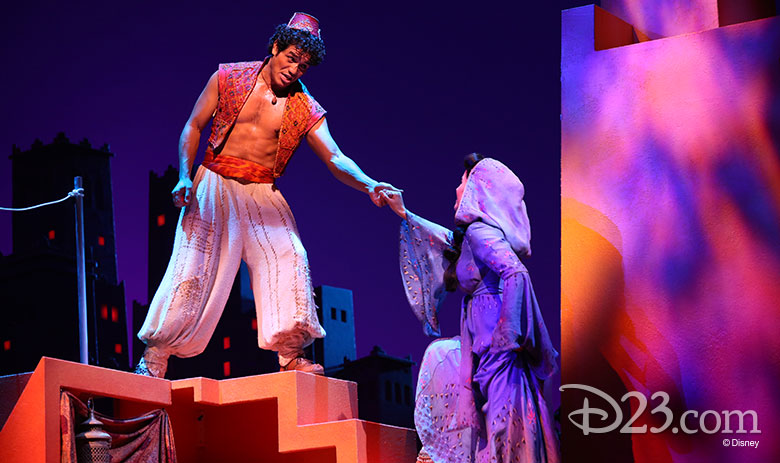 3. On Broadway…
Aladdin has continued the grand tradition of Disney tales making their way to the Great White Way. The show opened on Broadway at the New Amsterdam Theatre in March 2014, and continues there to this day, with productions currently on stage in London's West End, Australia, Germany, and Japan. With its first North American tour currently underway, Aladdin is also making its way across the country (and includes an engagement at Hollywood's Pantages Theatre, where D23 Members can enjoy a special evening on Friday, February 2!). The show received five Tony® Award nominations, and James Monroe Iglehart took home a statuette for "Best Performance by a Featured Actor in a Musical." The stage production of Aladdin features additional music written by Menken, with lyrics from Howard Ashman, Tim Rice, and Aladdin book writer Chad Beguelin—including the songs "Proud of Your Boy," "Babkak, Omar, Aladdin, Kassim," and "High Adventure." One of the Broadway production's talented cast members has been with Aladdin since the very beginning: actor Jonathan Freeman, who plays Jafar on stage, first lent his voice to role for the 1992 feature film.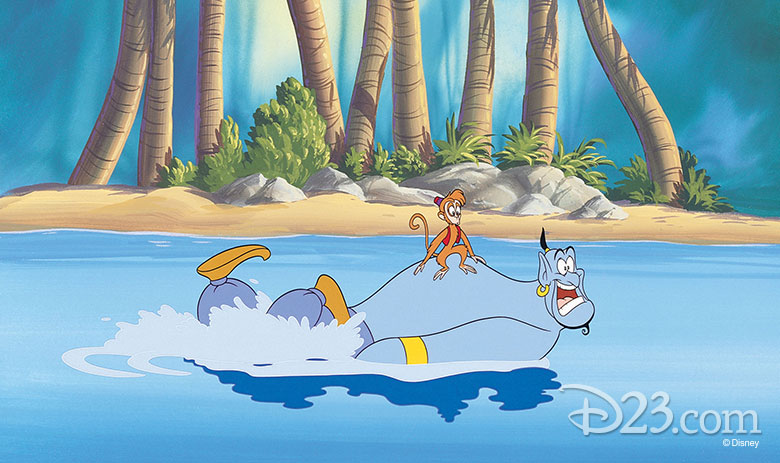 4. On Television…
After Aladdin banished Jafar to the lamp, we wondered what would happen next in the world of Agrabah. Thankfully we didn't have to wait long to find out—Disney Channel debuted the animated series Aladdin in 1994. In the series—in which Scott Weinger and Linda Larkin reprised the roles of Aladdin and Jasmine—Aladdin faced his new responsibilities as the future Sultan, while Jasmine had the chance to explore and prove herself to the world, and Genie (voiced by Dan Castellaneta of The Simpsons) learned how much his friends truly loved him. More recently, Aladdin and Jasmine traveled to the land of Storybrooke, making their mark on Once Upon a Time during the ABC series' sixth season. Aladdin (Deniz Akdeniz) appeared as one of the Saviors—a natural progression from "diamond in the rough"—though Jafar (Oded Fehr) did his best to make him doubt himself, until Jasmine (Karen David) helped Aladdin find his way home to Agrabah, where he belongs.
5. Back to the Big Screen…
Now, 25 years later, Aladdin is preparing to return to the big screen as a live-action adaptation of the animated classic. The film will be directed by Guy Ritchie, from a screenplay by John August (Dark Shadows, Big Fish) based on the 1992 animated film and stories from One Thousand and One Nights. Alan Menken is composing the score, which will include new recordings of the original songs by Menken and lyricists Ashman and Rice. Fans can also look forward to two new songs written by Menken and Oscar and Tony® Award-winning songwriters Benj Pasek and Justin Paul (La La Land, Dear Evan Hansen). Starring in the new film are Mena Massoud as Aladdin, Will Smith as Genie, and Naomi Scott as Princess Jasmine. Rounding out the cast are Navid Negahban (the Sultan), Marwan Kenzari (Jafar), and Nasim Pedrad and Billy Magnussen as two new characters: Princess Jasmine's handmaiden, Dalia, and Jasmine's would-be suitor, Prince Anders, respectively. This re-imagining of Aladdin is currently in production just outside of London, and D23 will keep you "one jump ahead" of all the news about the film as the release date nears.