By Steven Vagnini
What do you get when you combine the past, present, and future of a galaxy far, far away under one roof? Well, exactly what you might expect: the ultimate Star Wars fan experience! That's one way to describe Star Wars Celebration, the not-to-miss fan event that most recently took place April 13–16, 2017, in Orlando, Florida. From screenings and behind-the-scenes presentations to announcements, autograph sessions, and a vast, interactive show floor, fans from across the universe reveled in what's heralded as "Lucasfilm's love letter to fans." D23 joined the fun, and in our attempt to come up with just one favorite moment from the four-day extravaganza, we were only able to narrow it down to nine.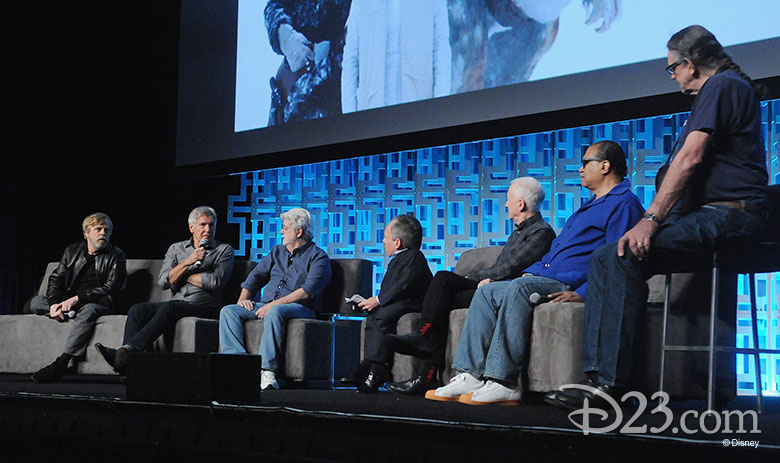 "40 Years of Star Wars" panel
Talk about a way to kick-start a celebration! In addition to hearing from the announced panelists—Lucasfilm President Kathleen Kennedy, Star Wars Rebels executive producer Dave Filoni, and actors Warwick Davis, Mark Hamill, Hayden Christensen, Ian McDiarmid, Anthony Daniels, Billy Dee Williams, and Peter Mayhew (phew!)—fans and droids alike nearly short-circuited when surprise guests George Lucas and Harrison Ford (making his first-ever appearance at Star Wars Celebration!) took the stage during this entertaining retrospective tribute on Thursday morning. And if that lineup wasn't enough, a video honoring the late Carrie Fisher in her seminal role as Princess Leia featured a touching montage of the actress reciting her famous "Help me, Obi-Wan Kenobi" speech throughout the years, including on the set of Star Wars: The Last Jedi.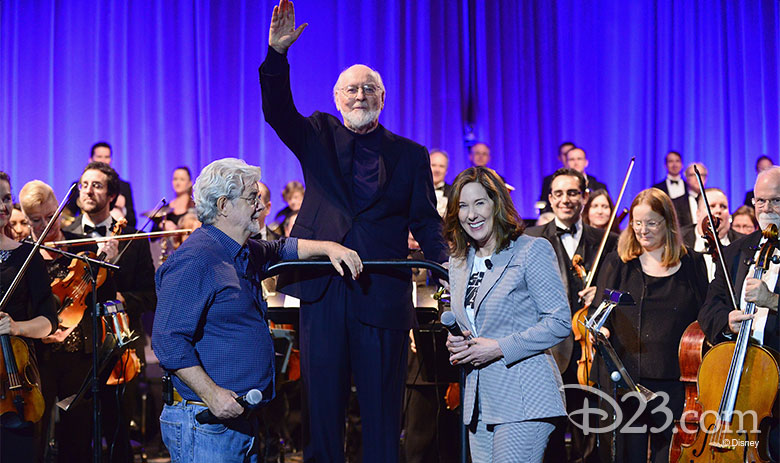 Such an emotional tribute could only be followed by the curtain rising on legendary composer John Williams and the Orlando Symphony Orchestra, as they performed the touching "Princess Leia Theme" and other arrangements from the Star Wars score. Throughout this unforgettable moment, it was hard to tell which was louder—the silence of tears or the roar of applause!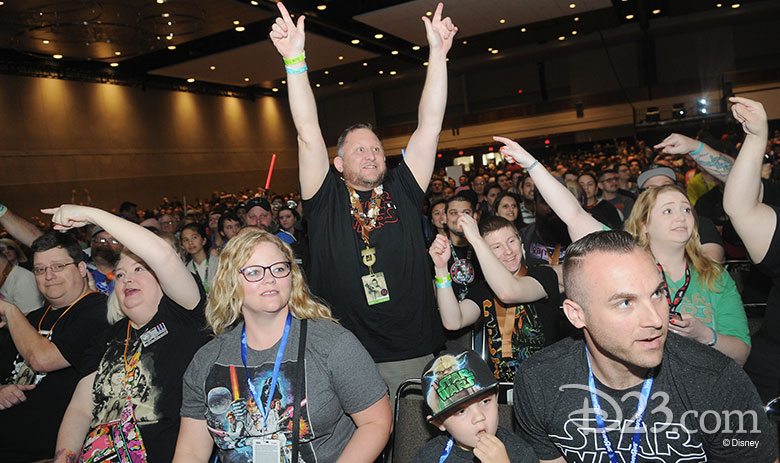 Fan-centric panels and entertainment
From intergalactic game shows to one-on-one sessions with the brightest Star Wars stars, dozens of panels, presentations, and shows quenched the fandom of attendees throughout the weekend. One of our favorites, "The Making of Rogue One: A Star Wars Story," offered a fascinating insider's look at how practical and special effects were achieved in the latest Star Wars feature with filmmakers Rayne Roberts, John Knoll, Doug Chiang, and Matthew Wood. (Did you know that, overall, approximately 30 percent of each scene was constructed in real life, making the effect more convincing when digital elements were added in?) We even saw some incredible footage of a massive LED screen that filmmakers set up to display computer-generated settings and backgrounds, which allowed them to incorporate explosions and lighting in real time during shooting.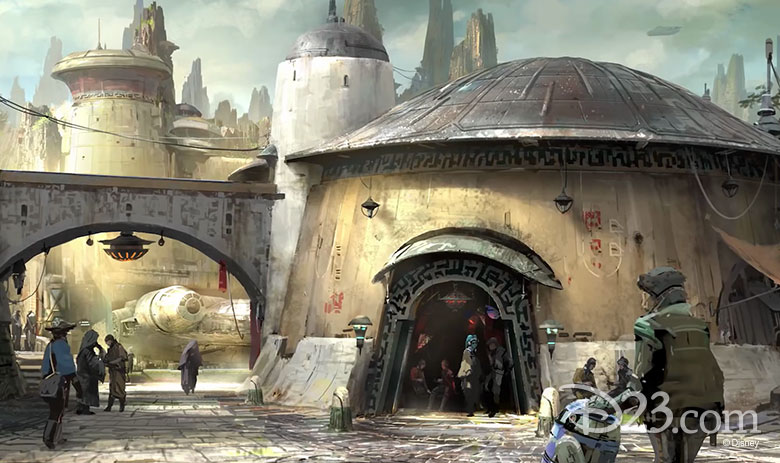 Updates on Star Wars-themed lands
These were the updates we were looking for! During the "Star Wars and Disney Parks: A Galaxy in the Making" session, not only did we get to hear from Walt Disney Imagineering creative executive Tom Fitzgerald and actor Anthony Daniels (C-3PO) on the making and evolution of Star Tours, but we also discovered more details on the new Star Wars-themed lands coming to Disneyland Park and Disney's Hollywood Studios in 2019! A panel of Imagineering and Lucasfilm leaders—including Pablo Hidalgo, Wendy Anderson, Scott Trowbridge, Doug Chiang, Asa Kalama, and Chris Beatty—shared some fascinating details on the lands, which will be set at a mysterious destination somewhere on the Outer Rim, lying on the edge of the Unknown Regions. (Click here to learn more.) To everyone's delight, new concept art and glimpses at some of the characters we'll find there were unveiled. Plus, we discovered that the mineral-based planet of Crait, which enticed fans in the Star Wars: The Last Jedi trailer (What was that mysterious red dust coming off of the mysterious ships?), will become part of Star Tours—The Adventures Continue later this year!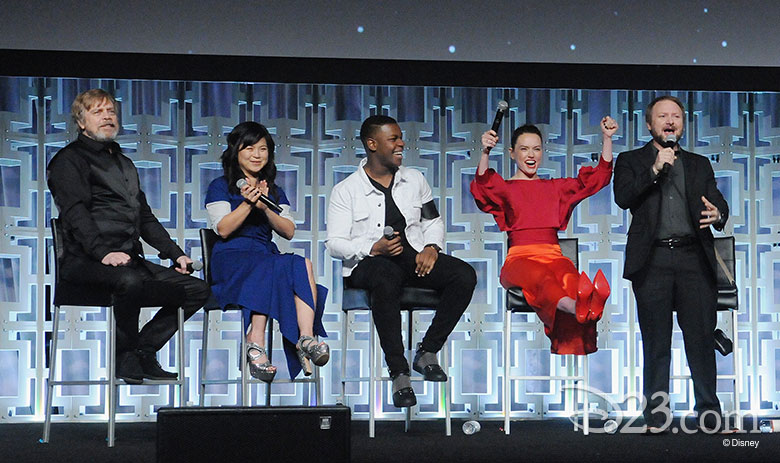 Star Wars: The Last Jedi presentation
One of the most anticipated sessions of Star Wars Celebration, the Star Wars: The Last Jedi panel did not disappoint! Following a series of viral videos in which he pesters Daisy Ridley (Rey) and other actors for details on the eighth episode in the Star Wars film saga, Josh Gad (naturally) moderated the panel, introducing Lucasfilm President Kathleen Kennedy and The Last Jedi director Rian Johnson—who had spent hours the previous evening greeting fans who were camping overnight at the Orange County Convention Center to make it into the session. After showcasing some fascinating photography of on-location shooting in Ireland, our hosts introduced a star-studded lineup of Ridley, Mark Hamill (Luke Skywalker), John Boyega (Finn), Kelly Marie Tran (who joins Star Wars: The Last Jedi as Rose, a maintenance worker with the Resistance), and even BB-8! While Gad wasn't successful in hearing all the details he wanted, Ridley shared, "We go deeper into Rey's story… [She] has a certain expectation as to what she might be getting from Luke and what that might entail. And as a lot of people know, it's difficult when you meet your heroes because it might not be what you expect." Itching to decipher more about the film's plot, the audience shared sounds of shock, surprise, and excitement as the new teaser poster was unveiled and the first trailer for The Last Jedi was screened. You can watch the trailer for yourself here.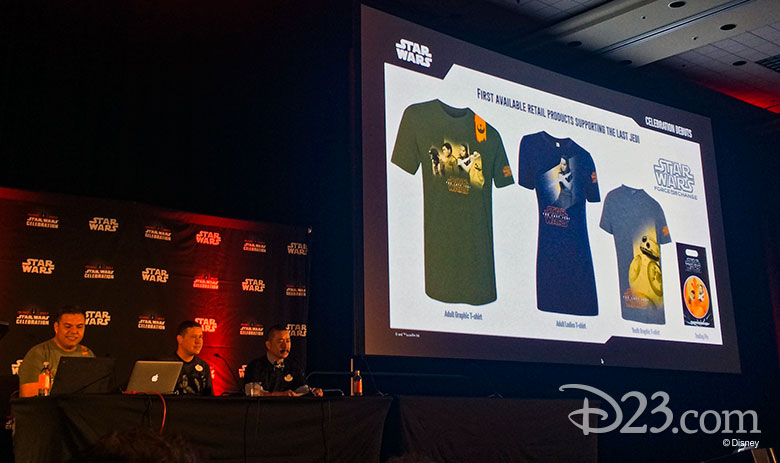 Merchandise mania
Of course, no Star Wars Celebration would be complete without an amazing lineup of new merchandise offerings, from rows of limited-edition items on the show floor to exciting product reveals from Disney Parks. During the "Disney Parks & Star Wars Merchandise" session, attendees oohed and ahhed over items ranging from brand-new Dooney & Bourke handbags (coming to the Star Wars Half Marathon this month) to the build-your-own Protocol Droid action figures (unveiled last Friday at Disney's Hollywood Studios). Fashion designer and Star Wars Rebels voice actress Ashley Eckstein even joined the session to unveil brand-new apparel from Her Universe coming to Disney Parks this fall. On the show floor, guests could purchase an array of popular new pieces, including personalized Star Wars name tags, a C1-10P "Chopper" action figure, a Paploo Ewok plush, and all-new pins. (Our favorite is a "sliding" pin in which guests can select who shot first: Han or Greedo.)
Upstairs, the Galaxy Stage erupted with excitement during "The Galaxywide Premiere of Star Wars Battlefront II," in which award-winning developers offered a first look at the highly-anticipated gaming experience. Taking place between Star Wars Episodes VI and VII, this story was created in partnership with the Lucasfilm Story Group and will feature characters from all eras of the Star Wars timeline. We'll be excited to see Battlefront II hit store shelves this November!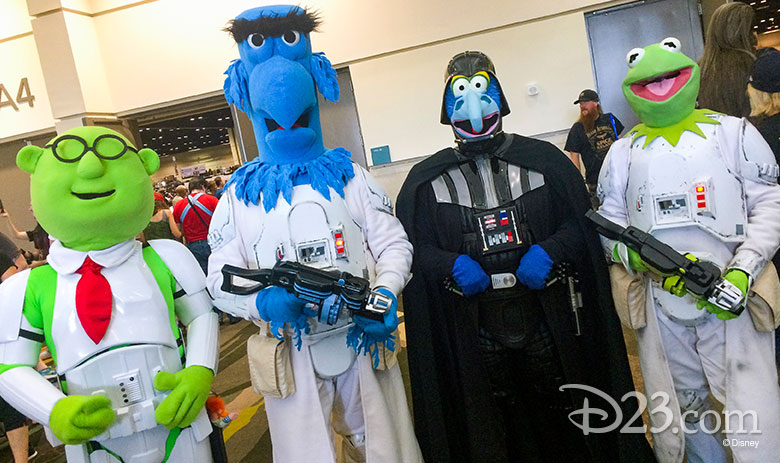 Creative cosplays
From traditional (Chewbacca, Princess Leia, Boba Fett) to mash-up (Muppets dressed as Stormtroopers? Jedi Belle and Merida?), the Force was strong with fans who cosplayed as their favorite Star Wars—and Star Wars-inspired—characters. A reason in and of itself to attend Star Wars Celebration, these impressive and highly detailed costumes turned heads and offered a natural way for diverse fans to connect with each other. Several costuming clubs were also well represented throughout the weekend, including the 501st Legion, Rebel Legion, Mandalorian Mercs, The Dark Empire, and the Saber Guild. (We also had to keep watchful eye for a variety of Astromechs and other homemade droids as they traversed the convention halls.) We shared some of our favorite cosplays on our Twitter and Instagram pages, so be sure to give a 'like' to your favorite ones!
Star Wars Rebels season four
A major highlight of the event weekend was the unveiling of the Star Wars Rebels season four trailer, introduced by series executive producer Dave Filoni and a surprise cast of voice actors (Freddie Prinze Jr., Tiya Sircar, Taylor Gray, Steve Blum, and Vanessa Marshall). Filoni announced that the fourth season—which premieres this fall on Disney XD—would be Star Wars Rebels' final season. He provided hints at what's in store for the series' final chapter, including an action-packed storyline following Sabine Wren, Ezra Bridger, and the entire Ghost crew. "We all felt that the time was right and that the characters were at a point where their story, and their destinies, should finally be revealed," Filoni shared of the reason for concluding the series after this season. "We deeply appreciate all our fans who have journeyed with the Ghost crew, and I promise season four will be like no other."
Forces of Destiny unveiled
During the "Heroines of Star Wars" panel, audiences celebrated the vital role of women in the Star Wars films, from Leia to Rey. Joining moderator Amy Ratcliffe were Filoni, Ashley Eckstein (Ahsoka Tano), and Tiya Sircar (Sabine Wren) of Star Wars Rebels—plus a surprise appearance by Daisy Ridley! As a highlight of this presentation, attendees discovered more about the recently announced Star Wars Forces of Destiny—a brand new initiative celebrating the inspiring stories and iconic heroes from across the Star Wars universe—including a preview of the upcoming animated short BB-8 Bandits.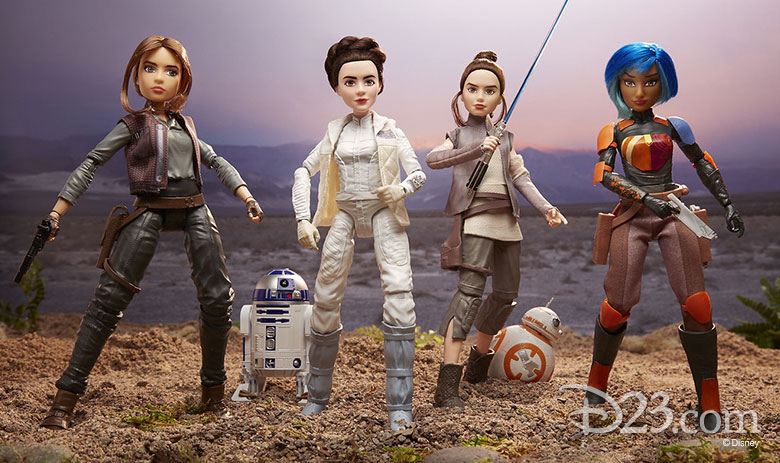 The Forces of Destiny animated series will be connected to new book releases as well as a line of 11-inch dynamic "Adventure Heroes," a unique combination of traditional dolls and action figures including Rey, Jyn Erso, and Princess Leia. A panel highlight was watching Ridley, Eckstein, and Sircar receive "Adventure Heroes" of the characters they voice.
Touching tributes
Throughout the weekend, tributes to both actors and fans honored the Star Wars legacy and those who have kept it close to their hearts. During perhaps the most touching panel, "Mark Hamill's Tribute to Carrie Fisher," the Star Wars actor shared treasured memories of the late actress, from both on set and their personal lives. "The thing she had about her that no one else could match was she made you feel—when you were in her presence—like you were her best friend," Hamill shared. "She was so laser-focused on you, so engaging, that it was exhilarating to be around her." As fans connected with panelists during these emotional moments, they, too, were recognized. In an earlier session Hamill explained, "If it weren't for you, I wouldn't be sitting here right now. You're there for us all the time… I thank you all so much when you think about how we've affected and inspired so many people."
If there's something a Star Wars fan should leave Celebration with, it's a sense of appreciation from filmmakers, actors, and fellow enthusiasts for the role they play in keeping the Star Wars universe alive and thriving. Kennedy perhaps summed it up best: "Your passion, your dedication, and your love of Star Wars—you have no idea how that inspires us every single day."