By Beth Deitchman
"Dead Men Tell No Tales…" The words are part of a sinister warning to all who come "seeking adventure and salty old pirates" on the iconic Pirates of the Caribbean attraction, but they've never been as thrilling as they are when spoken by Javier Bardem, as Captain Salazar in the latest installment of the iconic Pirates of the Caribbean film franchise. And lucky for us, actors and filmmakers love a good yarn, especially when they're the stars of a highly anticipated new movie.
We recently caught up with some of the talented people who are bringing Pirates of the Caribbean: Dead Men Tell No Tales to a screen near you this Friday, May 26. Keep a weather eye open for secrets and behind-the-scenes stories from the directing duo who are steering the cinematic ship this time around, familiar pirate mates, and a few of the new faces who are setting sail in the fifth Pirates film from Disney and Jerry Bruckheimer Films.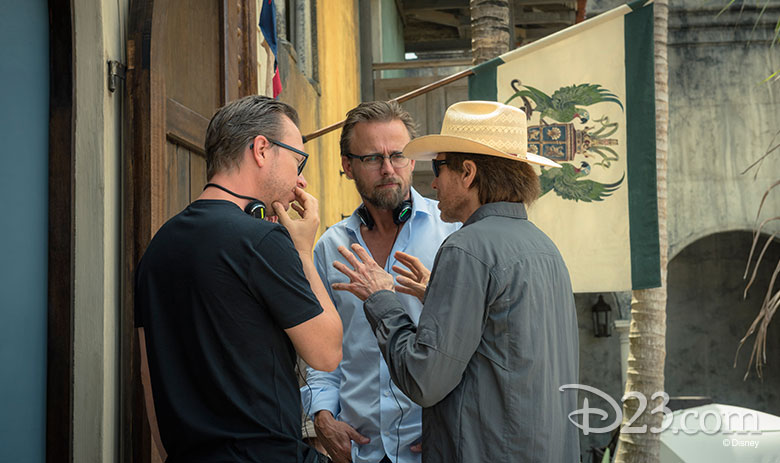 1. Rønning and Sandberg made sure that each character had a fully realized emotional journey over the course of the film—except for one.
"[Jack Sparrow] doesn't have an arc. He's sort of the spice of the story," Sandberg explains. Rønning concurs, joking, "He learns nothing." But the filmmakers wanted the audience to learn something about Jack—while still allowing the iconic pirate to remain blissfully un-self-aware. "We created this backstory about how Jack becomes Jack Sparrow, and we also tied Salazar into that, to make sure that we had the villain and a conflict that was personal," Sandberg says.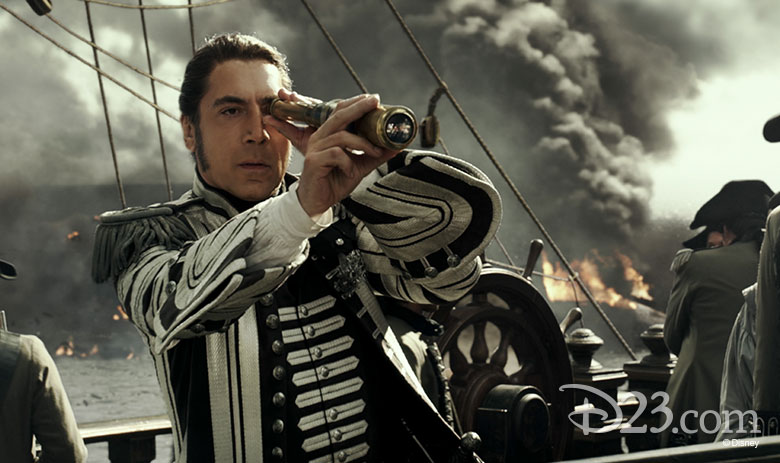 2. For Javier Bardem, joining the Pirates of the Caribbean franchise was a family affair.
According to producer Jerry Bruckheimer, Penelope Cruz played an instrumental role in her husband's decision to play Captain Salazar. Bruckheimer says that Cruz was the first person Bardem consulted after he was offered the role. "We're so fortunate that she liked her experience in making Pirates of the Caribbean: On Stranger Tides," Bruckheimer says. Bardem took note of the creative team's passion, work ethic, and attention to detail when he visited Cruz on the set of that film: "I saw the quality of the production, of the detail." Walking around the boat during his visit to the set, Bardem lifted a plate and noticed hand carvings on the wood beneath it. "The art department did that," he says. "Nobody will ever see it—but it was there. [As an actor] you have to respect that. You are the one who is going to bring that level of detail into the performance. I saw that then, and I knew that it was an important value in the production. It helped me to say yes."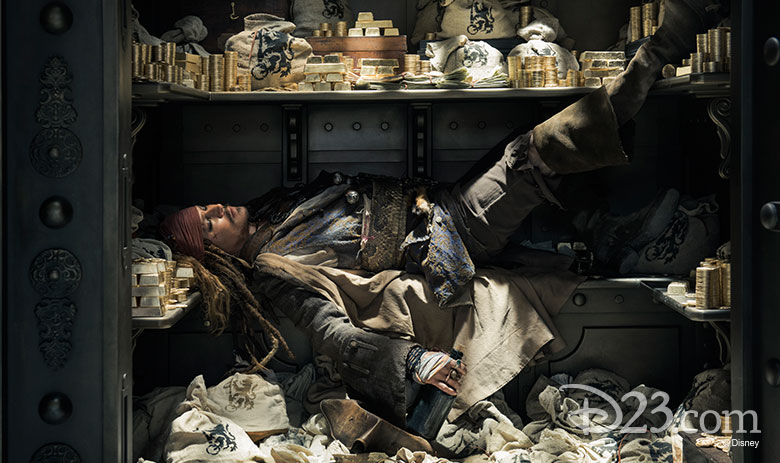 3. The Academy Award®-winning actor was a fan of the Pirates franchise, and especially Captain Jack Sparrow.
Bardem enjoyed the franchise as a moviegoer—and especially admired the "extraordinary" character Johnny Depp brought to life on the screen. "I wanted to play with that," he says, and he remains impressed by Depp's generosity as an actor. "When the scene comes, he knows that there's nothing better than sharing, and he makes you feel comfortable, relaxed, and taken care of."
4. Johnny Depp did double duty as casting director, bringing music icon Paul McCartney into the Pirates of the Caribbean franchise for a memorable cameo role.
"Keith Richards used to play Jack Sparrow's dad," Rønning points out, noting that the Rolling Stone was unavailable to return for Pirates of the Caribbean: Dead Men Tell No Tales. "We wanted a cameo," he continues. "We're fans of the franchise, and we want those little treats that we love about it, too. Sir Paul McCartney was at the very top of our list." There was some uncertainty over how the filmmakers might approach Sir Paul, Rønning recalls, until "Johnny realized that he had his number on his phone—so he texted him. [Paul] texted back, and over the next couple days, they went more and more into the pirate lingo, and we knew that we got him. It was fun to transform him into a pirate."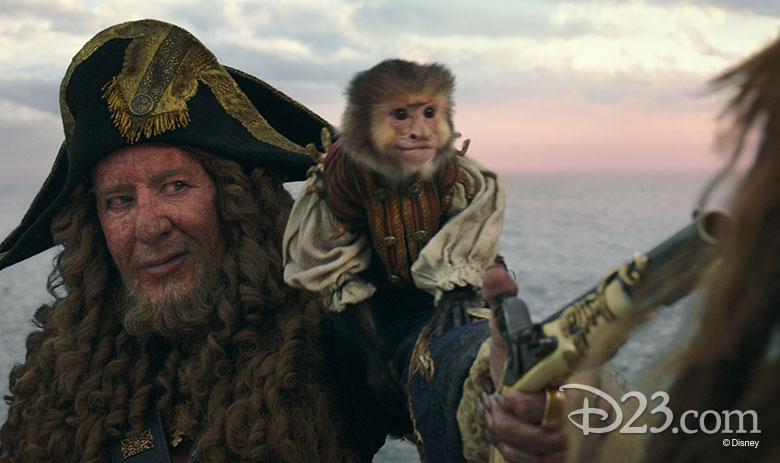 5. Pirate movies were all but forgotten in 2003, and Geoffrey Rush credits the film's untraditional characters for its unparalleled popularity.
"[Johnny] has a tangential, warped, kind of absurd creative mind," Rush says warmly, remembering how Depp determined the pirates drank rum because the water was "off," and how the actor also theorized the sun had taken its toll on them, as well. "And then he came up with this idea which I though was really, really clever," Rush recalls. "He said, 'In the script, sometimes I'm on boats, and sometimes I'm on land. I just want to play around with never getting my sea legs or my land legs. I thought that gave him so much scope." Rush also muses, "And I'd like to think [part of the film's appeal] was Barbossa not having a parrot, but having a monkey."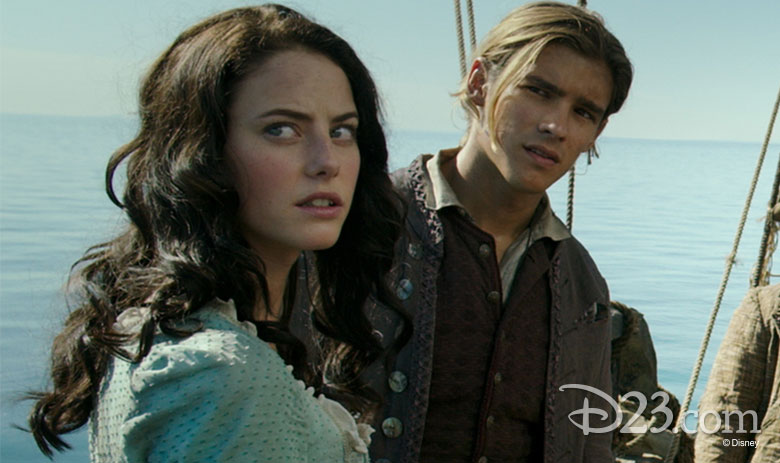 6. As newcomers to the franchise, Kaya Scodelario (Carina Smyth) and Brenton Thwaites (Henry Turner) relied on each other a great deal.
"I think it's great when you have an initial chemistry—you understand each other as a professional and how you work," Scodelario says. "With Brenton, I knew that if I was making a choice with the character, he could roll with it and he could understand the scene in the same way that I did. I felt like we could experiment with each other. There was no pressure. Knowing that we were both the newbies, and on the same level, we had that trust in each other. That, for me, was really cool—that we could just learn as we went along." The admiration is mutual. "What I loved about Kaya was she wasn't afraid to share ideas, and had the confidence to say something," Thwaites emphasizes. "The conviction and fearlessness save a lot of time, so we'd get to the meat of the scene and what was happening. It was nice to work like that."
7. Running around on a boat in high heels proved to be quite a challenge—but not for the actor you might suspect!
Kaya Scodelario's period costume involved a corset and 17 layers of fabric. "My first day on set I remember wondering, 'How am I going to do anything in this dress?' I'm very much a jeans-and-T-shirt gal, so I was quite nervous about all that," she says, admitting that she eventually adapted—and realized that she could ask her husband to loosen her corset at lunchtime, just enough to allow her to enjoy a hearty meal. Thwaites, however, grouses (good naturedly) about the heels he and the other pirates had to wear. Scodelario is quick to take umbrage. "There was a day when all of the men were complaining about the little heel that they had to wear on their boots. All of them! [I thought] 'Are you kidding me?!'" she laughs.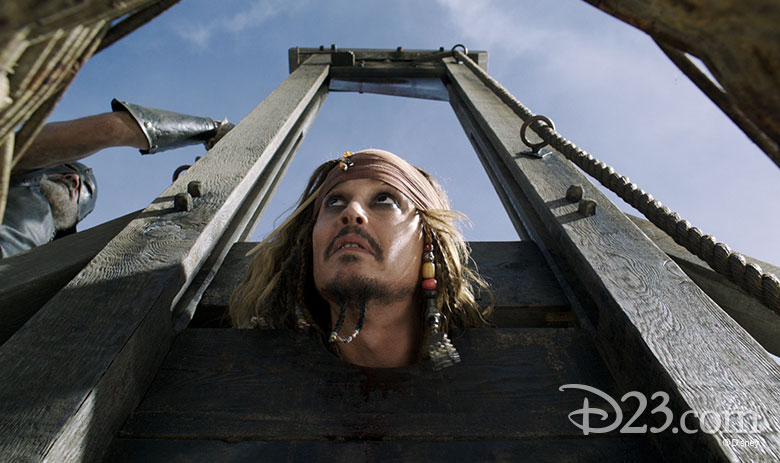 8. One of the set pieces Rønning and Sandberg are most proud of was never in the script.
In one comically suspenseful sequence that's sure to have viewers watching with their hands at the ready, to cover their eyes, Jack Sparrow faces certain death by guillotine. "There was an action sequence in Jeff Nathanson's brilliant script, but there were never the kind of gags like the kind that inspired Johnny Depp's character of Jack Sparrow—the old Buster Keaton movies and Charlie Chaplin and that kind of physical humor," Rønning explains. They wanted to find their way back to this classic slapstick comedy, and, Rønning laughs, "You dream up something, and then six months later they've built this thing! And then you get Johnny Depp and you strap him in there, and you get it—it's fun!"