By Jocelyn Buhlman
Andi Mack is Disney Channel's newest show, about the warm, relatable and funny coming-of-age stories of the titular star and her friends as they navigate middle school. While Andi (Peyton Elizabeth Lee) is on the verge of turning 13, also faces an unexpected surprise when her older sister, Bex (Lilan Bowden), moves back home—and brings big secrets with her. We chatted with the cast of Andi Mack to bring you seven facts you need to know about this endearing new show. Catch the premiere episode of Andi Mack on Disney Channel on April 7 at 8:30 p.m. ET/PT, or stream it right now on the Disney Channel App or YouTube.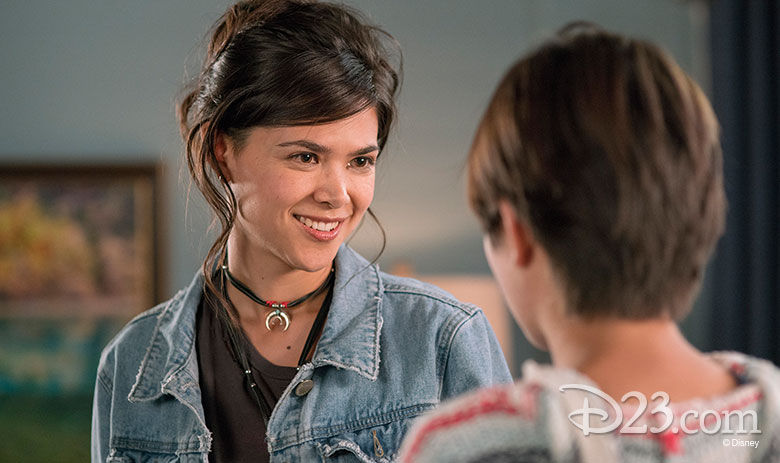 1. Second chances are important.
Lilan Bowden plays Andi's cool older sister, Bex, who has been traveling the world away from her family but now returns home so that she can be closer to her sister. Bex also has a big secret—one that will change Andi's life forever. Bowden explains of Bex's free spirit, "Bex is an example of how it's never too late to want to improve upon yourself, it's never too late to admit your mistakes, it's never too late to want to change or adjust who you are. Just because you've always been a certain way doesn't necessarily mean that you're stuck in this archetype now—you can be many things."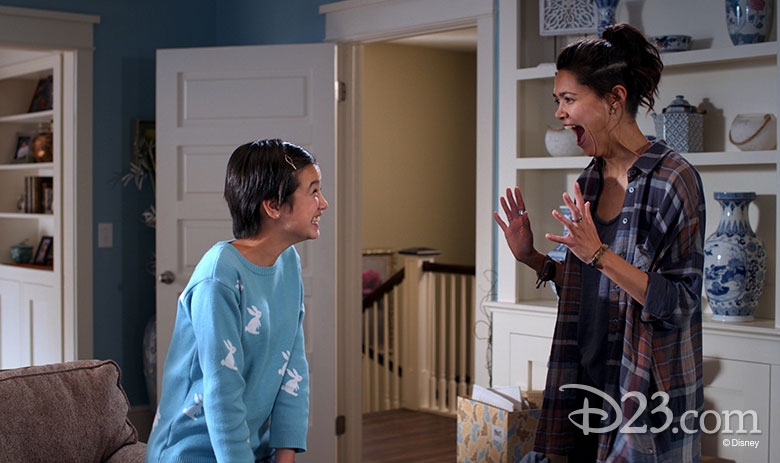 2. Bex and Andi were close on- and off-camera.
Bex and Andi are as close as two sisters can be before Bex's secret gets out, and that closeness often carried over behind the scenes. Bowden and Lee frequently hung out outside of filming, including taking a ballet class together!
Lee explains, "So, Sofia [Wylie, who plays Buffy] and I are both trained ballet dancers, and we were taking this adult, advanced ballet class. I wasn't really thinking oh, this won't be too hard for Lilan."
"She's an expert ballet dancer," Bowden says of Lee, "and I haven't taken a class in 20 years. It was humorous to say the least." The two actresses were able to teach each other, however, as Bowden recounts: "Peyton got to teach me ballet, so she was helping me correct my posture over the course of the season—because I kept up with it!— and Peyton is learning Mandarin Chinese right now, and I took a couple years in college. I was able to help her with her homework!"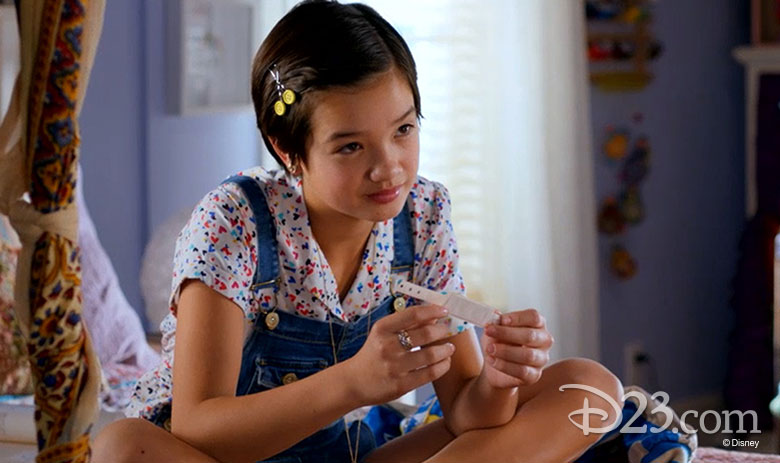 3. Growing up is one of life's best adventures!
Andi is still trying to figure out her role as she becomes older than a child but too young to be an adult. The bubbly Peyton Lee explains, "Growing up, you're trying to figure out the balance of doing new things and sticking with what you know. I think it's super important for kids to get out and do something that they've never done before and be adventurous."
Of course, this is a familiar experience for teenagers all over the world, and Lee hopes that Andi Mack will be a positive influence as they grow up. She knows how tough being a teen is, and she says, "A lot of shows kids watch make them think, 'Oh, if only one day I could be like that;' but I think this show is really great because it's not about people to look up to, but people who are your equals. It's great to be able to watch someone who is the same as you are."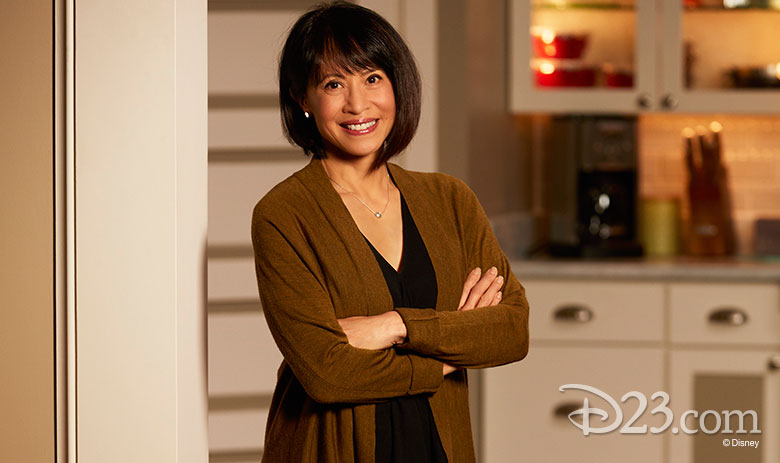 4. Changing relationships take time.
Andi and Bex's relationship isn't the only one that's changing! Their mother, Celia, has a very strained relationship with Bex, as she doesn't approve of her free-spirited wandering. Because of that, Celia and Bex often don't get along. The relationship, while often difficult, comes from a place of love. Actress Lauren Tom, who plays Celia, was able to relate the relationship to her own experiences, as she explains, "My mother was very tough and basically authoritarian, and I channeled her, because in real life I'm very soft. Now, I understand how deeply my mother loved and still loves me, and hopefully the character of Bex will understand,—sooner than I did—just how deep that love runs."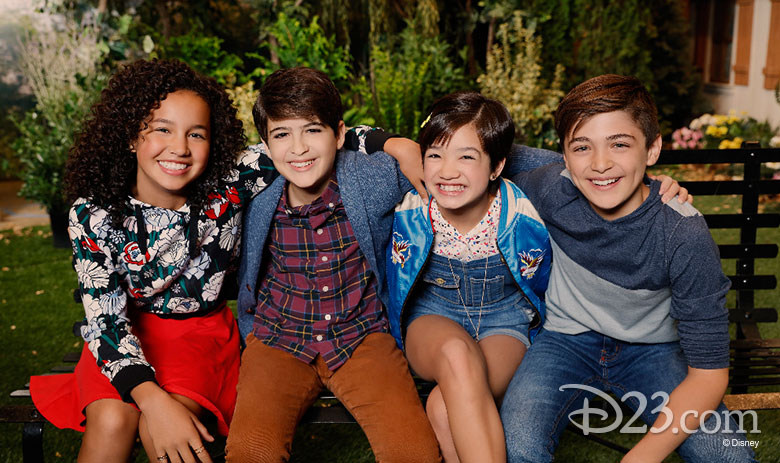 5. The cast grew up with Disney Channel.
Lee, along with her costars Sofia Wylie (Andi's best friend, Buffy), Joshua Rush (Andi's other best friend, Cyrus) and Asher Angel (Andi's crush, Jonah Beck), have all grown up with Disney Channel. The actors listed shows like Shake It Up!, Wizards of Waverly Place, Sunny with a Chance, A.N.T. Farm, and That's So Raven as some of their favorite shows growing up.
Now that they're on their own show on Disney Channel, there are Disney Channel stars they admire. Wylie cites Zendaya as a huge role model and explains, "She's so amazing! She's a fashion icon, and she's branched out into so many different things." Shake It Up! stars also influenced Rush, who says of actress Bella Thorne, "She's such a down-to-earth, really cool person."
As the lead of the show, Lee looks to other stars who began their careers on Disney Channel. She says, "One of my favorite Disney shows of all time is Wizards of Waverly Place, so Selena Gomez is a big inspiration for me. I look up to her because she started with Wizards of Waverly Place, and how she's grown so much is definitely something that I emulate."
6. You hear some familiar voices.
When it came time for Joshua Rush to list his favorite Disney Channel shows, he couldn't help but be a little biased. He's already done voice work for two of his favorites: The Lion Guard (as Bunga the Honey Badger) and Gravity Falls (as Soldier Kid). And he's not the only familiar voice!
Before Lauren Tom was playing Celia Mack, she lent her voice to a variety of Disney shows. You may recognize her as the voice of Jake's grandma on American Dragon Jake Long, as Barb on Fish Hooks, as Tasumi on The Replacements, and Yoshiko on Kim Possible. Her most famous role is a live-action one, as Lena St. Clair in The Joy Luck Club. Tom's extensive resume with Disney is something she is proud of, as she explains, "Disney shows are always so wonderful because I have kids of my own, and I know whatever Disney represents is going to dovetail with my values. It's always a joy to work for Disney."
7. Joining the Disney family makes for a magic moment.
Whether they've worked with Disney before, or it's their first time joining the family, everyone from the Andi Mack cast had a special moment when they realized they were part of the magic.
For Lee, it was a moment when dreams came true: "I feel like every day I'm checking something off my bucket list. I think one of the most exciting points was when I went to Radio Disney and we did our first on-air interview—and I did that with my friends on the show, and that was super exciting and fun."
Bowden couldn't help but remember the bigger picture of what she was joining: "We got to come into the office and watch a montage of all the years of Disney. I literally started crying."
Wylie and Rush were struck by their first 'star' moment. Rush shares, "A special Disney moment for me was definitely was going to the Beauty and the Beast premiere—it was off the charts!" Wylie agrees and confesses, "I was asking people to pinch me!"
For Angel, the magic comes from being part of a close cast. "I remember going to a Houston Rockets game with Joshua. We were watching my team lose, but just being there with one of my best friends made it great."
And the Disney veteran of the cast, Lauren Tom, values the impact Disney has on the world: "I am part of something that could end up changing a lot of the ways people feel, that someone understands them and that they are not so alone—and that's really special."