By Beth Deitchman
If you're a dog lover, you're going to love Disney Junior's new animated series Puppy Dog Pals. And if you don't consider yourself much of a pet person right now, that's sure to change when you meet the wide-eyed, fantastic, pug-tastic pair at the heart of this new show. Puppy Dog Pals chronicles the adventures of Bingo and Rolly, the spirited siblings who go on exciting adventures around their backyard and around the world while their owner, Bob, is at work. The series, which debuts today at 10:30 a.m. ET on Disney Channel, is created by comedian Harland Williams (The 7D, RocketMan, Meet the Robinsons). We recently spoke with Williams (pictured below right), who also serves as consulting producer and writer, as well as the voice of Bob; and executive producer Sean Coyle (pictured below left) (Mickey Mouse Clubhouse) about what you should know before you watch.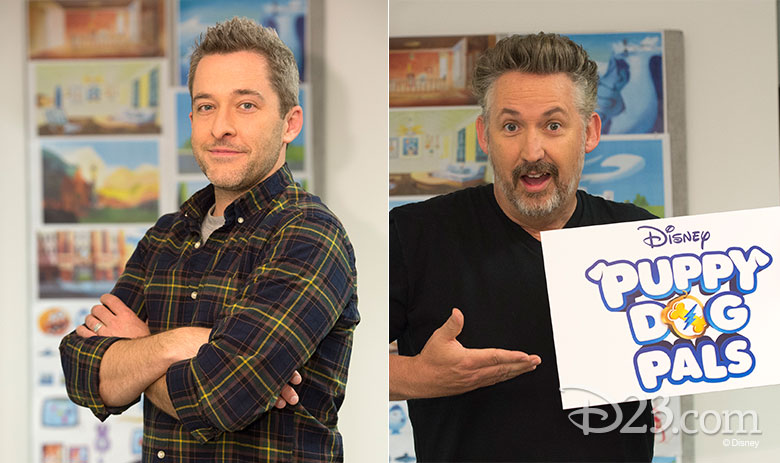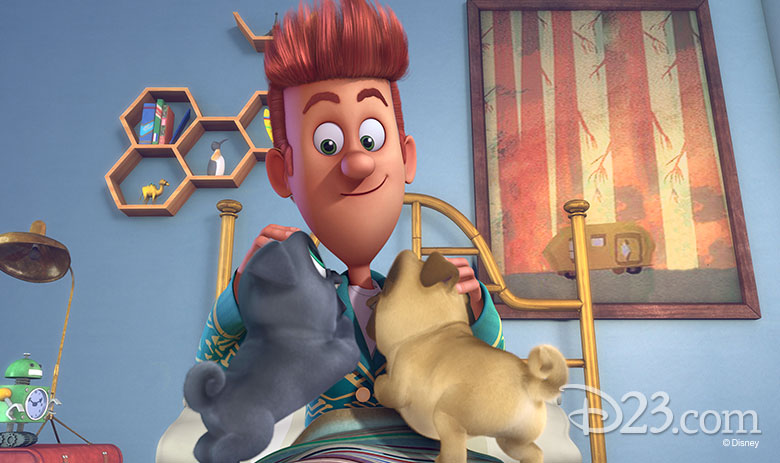 1. First and foremost, Puppy Dog Pals is about friendship and family.
The cuddly canines have a devoted owner in Bob, and Williams says that Bingo and Rolly "spice up his life." Williams chose the name Bob because he saw it as a simple, everyday name that went with the simple, everyday character. And Williams admits, "I love hearing the puppies say it. They think of him as 'the Bob.'" In addition to "the Bob," the puppies' family includes a cat named Hissy. Coyle notes, "Harland has a unique point of view on the world and on family, and I think we really captured the essence of his way of looking at the world. It's all about fun and silliness and heart and soul and family—all the things that matter."
2. Bingo and Rolly are actually based on human puppies…
Or, as they're more widely known, kids! Coyle explains, "When we started to define the characters of Bingo and Rolly, we wanted to treat them as if they were 4-year-old kids, and it was important that we presented their detective work through the eyes of a 3- or 4-year-old. For example, we have an episode coming up later in the season where the Mona Lisa goes missing, and Bingo and Rolly deduce that the greatest painting in the world must be hanging on the greatest wall in the world—so the puppies figure out that they need to go to the Great Wall of China to look for the Mona Lisa.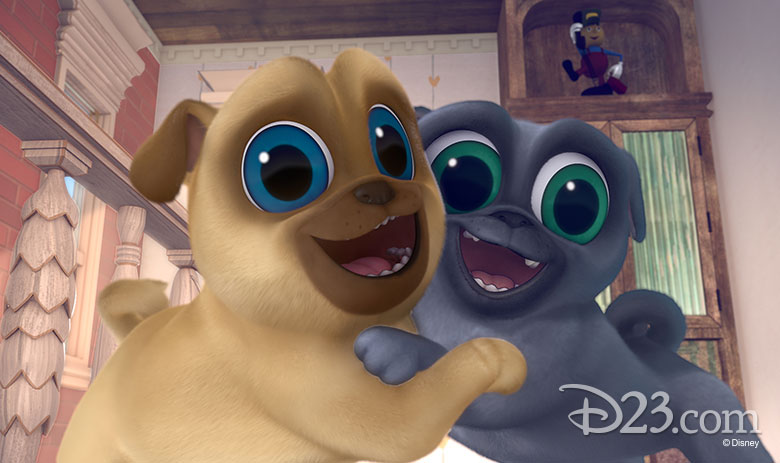 3. The puppies were always, always going to be pugs.
Creator Harland Williams was the devoted owner to his own puppy dog pals, Captain Chili Dog (a Chihuahua) and Fisherman Bob (a rare Korean Jindo), and Coyle has owned a number of rescue dogs, as well. According to Coyle, "It was Harland who decided the dogs needed to be pugs because they're so weird looking that they're cute. They're unconventionally adorable."
4. Kids will travel the world with the puppies.
Sometimes Bingo and Rolly's adventures take them around their neighborhood, but sometimes they travel across the globe. Episodes are set in Italy, England, Paris, and China, to name just a few of the locales the globetrotting dogs will visit.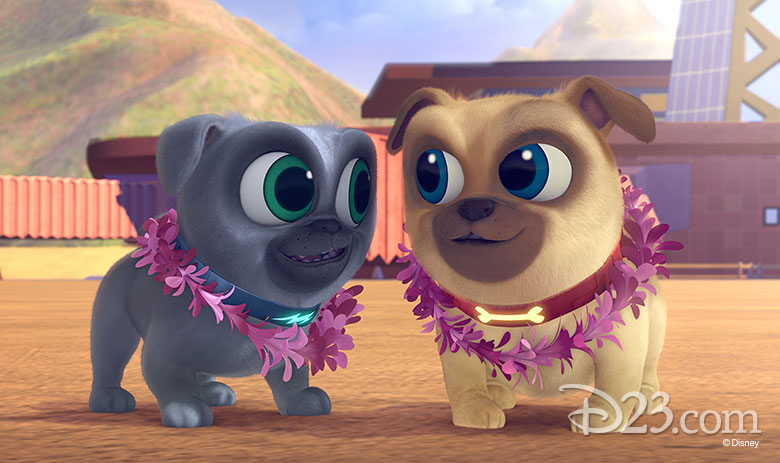 5. There's a lot of humor in Puppy Dog Pals.
The guest cast is packed with comedic and improvisational actors such as Patrick Warburton (Family Guy) as Captain Dog, star of the puppies' favorite TV show; Jack McBrayer (30 Rock) as Hedgie the Hedgehog; and Cheri Oteri (Saturday Night Live) as Esther Exposition, the dogs' neighbor. "Disney told me they really wanted to tap the comedy vibe of the show," Williams says, and he's brought some of the elements fans love hearing in his standup comedy to the new series. "One of the things that I always try to bring to the table is wordplay, or made-up words that people haven't heard before—or haven't heard in a certain order," he says. "I feel like goofy, silly words resonate with people and stick in their heads."
6. And there's almost as much humor in the Puppy Dog Pals recording booth.
Coyle reveals that one of his favorite parts of the recording process is watching actors portray animals. Sniffing, growling, licking, and slurping—in character, no less—is harder than it sounds. "We had an actress who had to play a pig—she actually had to play two different pigs in one episode," Coyle details, and he recalls her asking whether a snort should sound happy or sad. "Then five minutes go by and we're comparing different kinds of pig snorts that might work and we remind ourselves, 'Wow, this is our job,'" he laughs.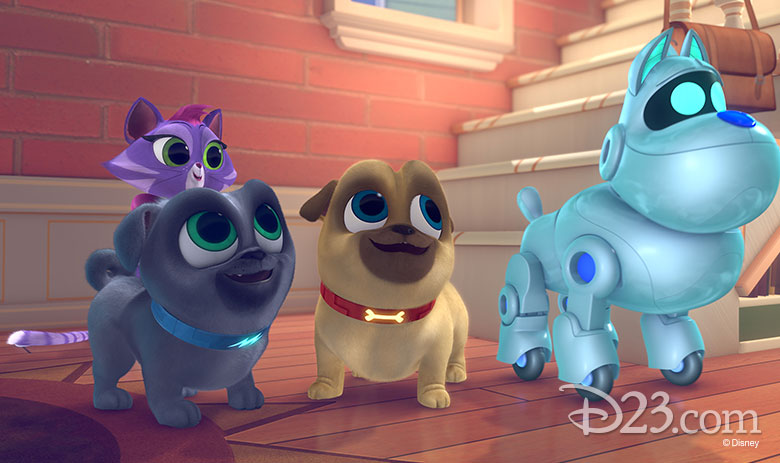 7. Families can enjoy Puppy Dog Pals together.
The stories contain messages about friendship, creativity, problem-solving, togetherness, and adventure, designed for younger kids, but Coyle—a father of two young children himself—thinks that the rest of the family will watch right alongside them. "We're hoping it appeals to viewers from age 2 to 85, and that older siblings, parents, and grandparents will have fun watching this as well. We're having a ton of fun making it."