By Beth Deitchman
On Friday, March 8, we go back to the 1990s to embark on new adventures with a powerful Super Hero unlike any we've ever seen before. Marvel Studios' Captain Marvel stars Brie Larson as the title character—aka Carol Danvers—a key member of the intergalactic elite Kree military team Starforce. But after Carol finds herself back on Earth, she teams up with S.H.I.E.L.D. agent Nick Fury (Samuel L. Jackson) to delve into questions about her past while working to head off an invasion of our planet by the notorious, shape-shifting Skrulls. We recently heard from the Captain Marvel stars and filmmakers, who revealed some surprising behind-the-scenes stories from the film.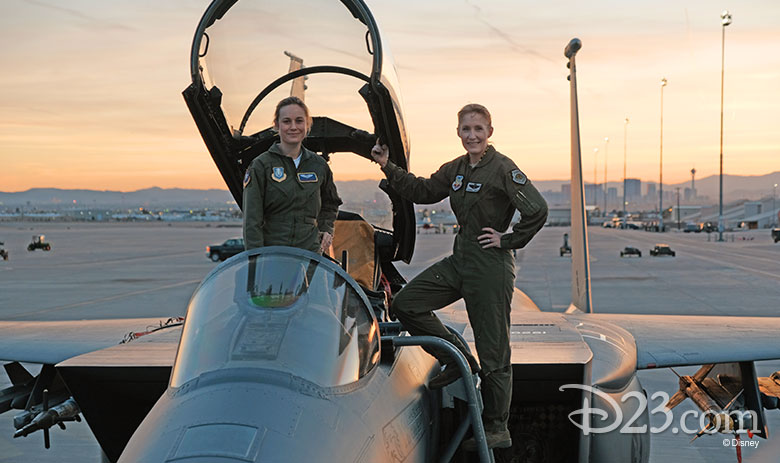 1. The women of Captain Marvel took their research higher, further, faster.
As part of their research for the film, Brie Larson and Lashana Lynch traveled to Nellis Air Force Base in Las Vegas and went airborne in F-16s, reaching 6.5 Gs, experiencing barrel rolls and engaging in a simulated dogfight. Lynch, who plays Carol Danvers' best friend and fellow pilot Maria Rambeau, laughed as she recalled, "Flying an F-16… is like your eyeballs coming out of the sockets and landing in your back pocket kind of thing." Executive producer Kevin Feige deemed it "super-impressive" that director Anna Boden joined the actresses in flight, and added good-naturedly, "I wouldn't do that for a million dollars!"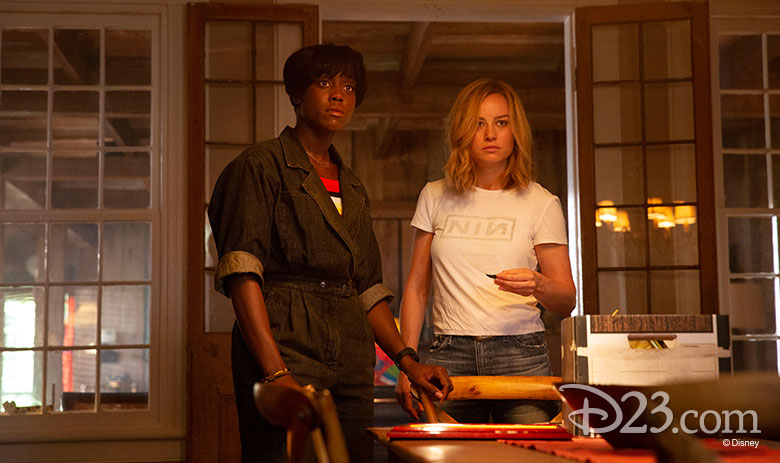 2. Brie Larson wanted to explore the not-so-super parts of Captain Marvel's character.
"I was a little worried about playing somebody, a Super Hero, that would be perfect because I don't think that's realistic or something aspirational at all," the Oscar®-winning actress shared. One of Larson's favorite aspects about Carol is that she's a confirmed risk taker… and sometimes things don't go the way she plans. "Those are the moments, the defining moments of her character, where she doesn't lay down—she gets back up. I mean, that's everything. That's for everybody. There isn't a person who can't relate to that," Larson said.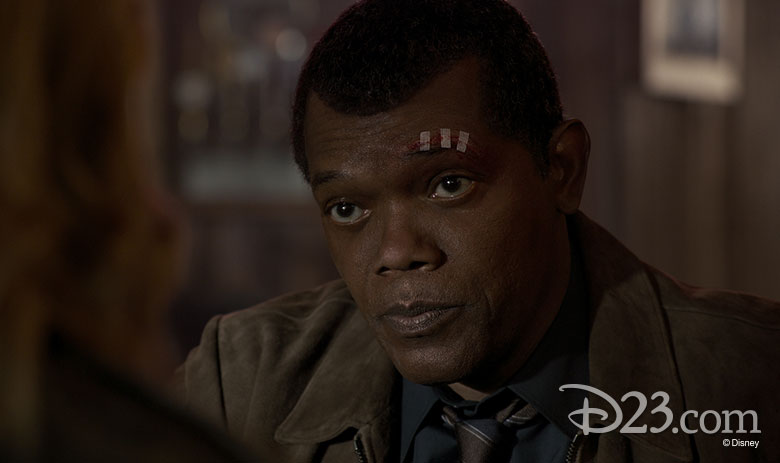 3. Samuel L. Jackson enjoyed seeing Nick Fury in a brand-new light.
Jackson, who has played Nick Fury many times before in the Avengers movies (and on Marvel's Agents of S.H.I.E.L.D.), describes 1990s-era Nick Fury as "sort of a kinder, gentler, not-so-cynical/world-weary/chip-on-the-shoulder Nick Fury—who hadn't met anyone from another universe just yet." Another fun aspect to going back in time for Jackson: He was able to play the character with two eyes and no patch.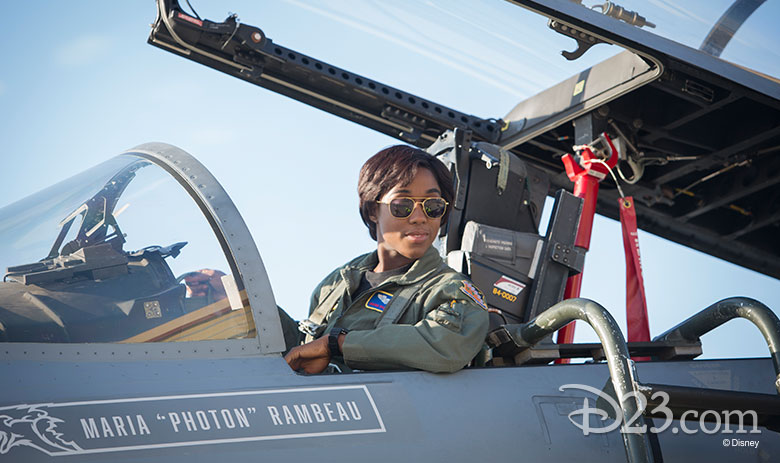 4. Before Lashana Lynch became a Marvel star, she was first a Marvel fan.
"I've grown up loving the characters, enjoying the trajectories, and… I just had a feeling that something would come up," said the British actress, who recalls watching Marvel Studios' previous releases with her friends while eagerly awaiting the opportunity to join the Marvel Cinematic Universe herself—and she couldn't have imagined a more perfect film for her Marvel Studios debut. "I felt like energetically I was drawing towards something that I care about: women. So yeah, I campaigned to be up here," she stated proudly.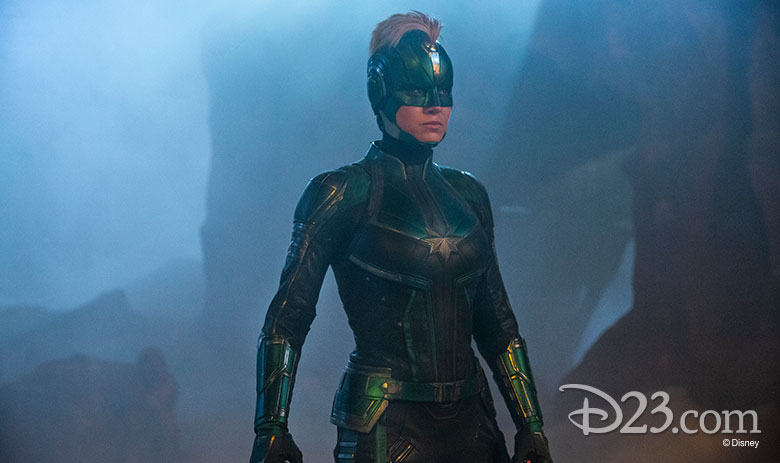 5. Playing Carol Danvers taught Larson something very important about herself.
During the nine months she spent transforming herself into one of the most powerful Super Heroes the Marvel Cinematic Universe has ever seen, Larson admits that the extensive training moved her to tears on more than one occasion. "My trainer would be like, 'Oh, she's crying again," Larson shared, explaining that it was very emotional for her to stir up "something very vulnerable and raw" inside. But, Larson realized, "I'm stronger than I realized." How strong? "I was able to dead-lift 225 pounds. I was able to hip-thrust 400 pounds. I was able to push my trainer's 5,000 pound Jeep up a hill for 60 seconds." And while these stats might impress fans, Larson emphasized that the only person she truly sought to impress was herself.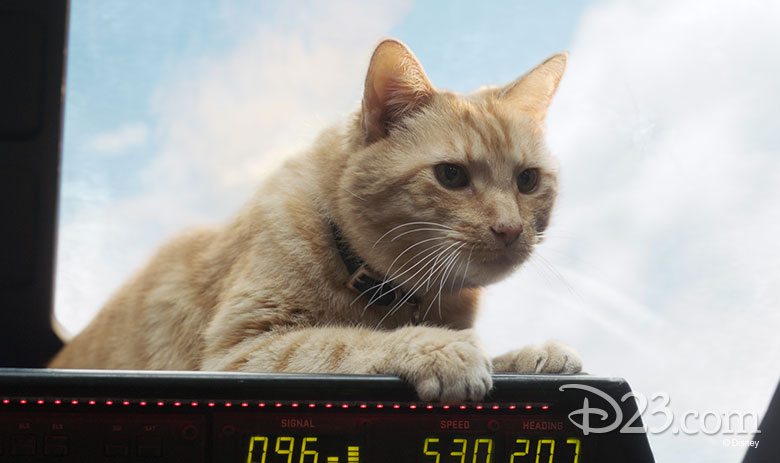 6. One Captain Marvel star relied upon his powers of purr-suasion to endear himself to his fellow cast members.
"I am not a cat person," declared Samuel L. Jackson. "But I'm also not a dog, bird, or a fish person, either. I don't engage pets." But the actor formed a collegial working relationship with Reggie, the feline actor who portrays Goose in the film. "He's very snack-oriented… You give him something to eat, you talk softly and nice to him, give him something to eat again, and they love you," he explained.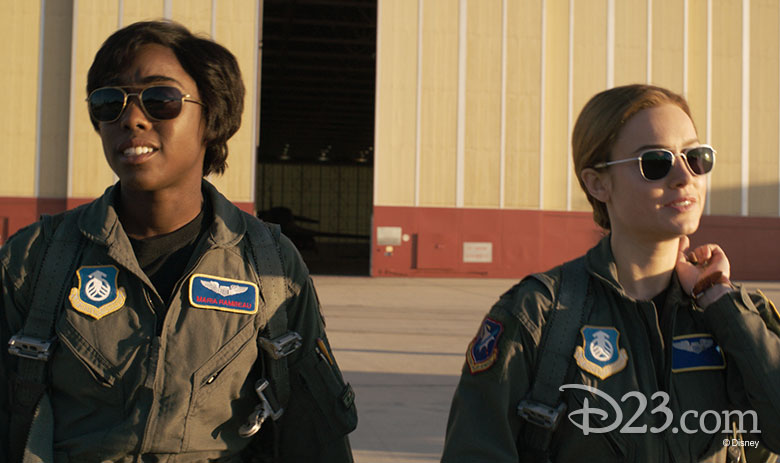 7. Captain Marvel features incredible action sequences, '90s nostalgia, and even shape-shifting aliens, but there's a beautiful friendship at the film's heart.
Brie Larson and Lashana Lynch were both moved by the special friendship between their characters, Carol Danvers and Maria Rambeau, a friendship that was forged by their shared experience as groundbreaking Air Force test pilots. "I think they would have been friends outside of that experience, but I think that's a really tight-knit bond that they have, and they're family… This is the love of the movie, this is the great love," shared Larson. "This is the love lost. This is the love found again. This is the reason to continue fighting and to go to the ends of the earth for the person, the thing that you love."