By Jim Frye
As movies go, Marvel Studios' Avengers: Infinity War is one of the biggest productions—in terms of scope and A-list actors—of all time. Directors Joe and Anthony Russo, together with producer and Marvel Studios President Kevin Feige, have pulled off something truly extraordinary—combining the storylines and character arcs of 18 different films over 10 years into "the cinematic event of a lifetime."
In anticipation of the April 27 opening, the film's stars and directors have traveled to fan events around the globe, including Singapore, Tokyo, London, Mexico City, Sao Paulo, Seoul, and Shanghai. It stands to reason, then, that the press conference to kick off the premiere week would be nothing short of spectacular—and it was.
Of course, because of the secrecy surrounding Infinity War (Sssh! No spoilers!), this large assembly of Marvel Cinematic Universe (MCU) actors yielded few spoilers. But that didn't matter, because half the fun was just seeing how each actor attempted to answer questions without giving away secrets. Did we learn much about the actual movie? Not really. But it was still one of the funniest, most enjoyable press conferences ever. Here are our seven favorite moments.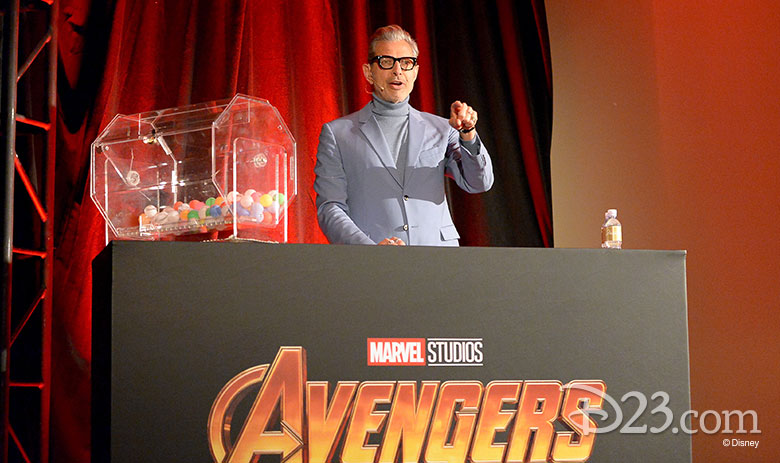 1. Jeff Goldblum as "Grand" Master of Ceremonies
Since Jeff Goldblum nearly stole the show in the recent Thor: Ragnorak as the Grandmaster, ruler of the planet Sakaar, it made sense Marvel would enlist his services at this week's press conference. Showing his skills as a Master of Ceremonies, Goldblum kept the proceedings moving right along, along the way receiving a huge compliment from Robert Downey Jr. (Iron Man), who called him a "national treasure."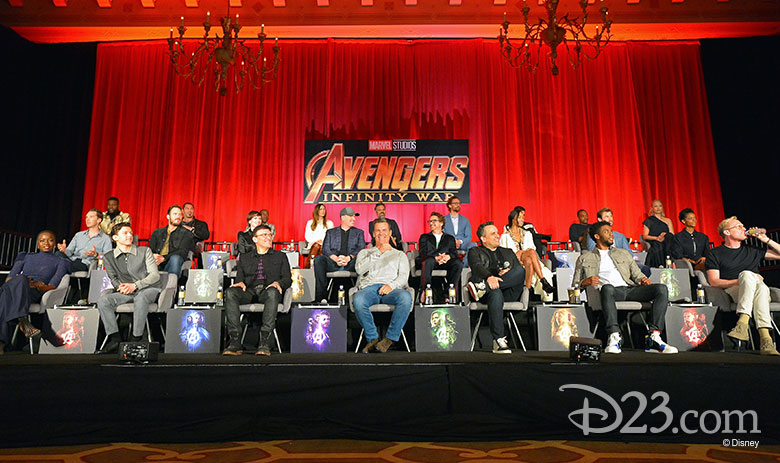 2. Dropping the Curtain—The Grand Reveal
After Goldblum took the podium, regaling the audience about the sheer size of the cast in Avengers: Infinity War, he presided over the dramatic "unveiling" of the cast. With a rush of music and applause, the giant black drape dropped, revealing 21 cast members, plus Co-Directors Joe and Anthony Russo and Marvel Studios President Kevin Feige.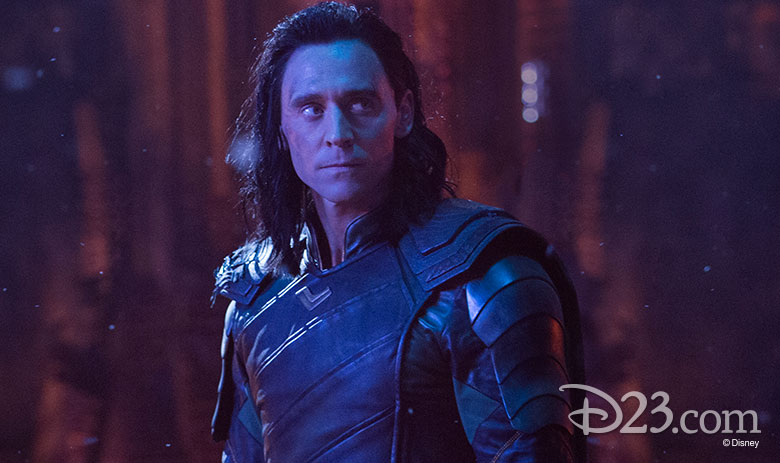 3. Tom Hiddleston Surprised That He's Still Around
"I'm astonished that I'm still here, as you may be," said Hiddleston in response to a question. "Loki has fallen through a wormhole, and faked his own death, and I never expected to be playing this part for so long. The great privilege that I've had is working with every single person on this stage—and even with the gentleman moderator (Goldblum). They're all great. Kevin Feige and the writers have created these characters with such precision, that what happens in the space between them is always unique."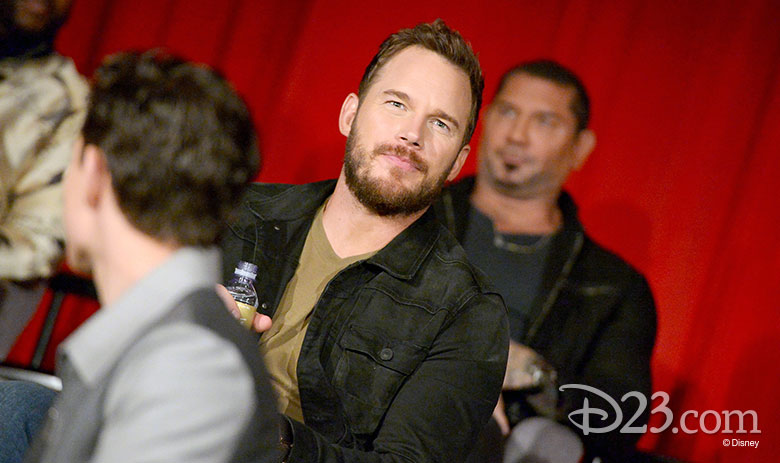 4. Chris Pratt Talks About Bass Fishing
When it came to avoiding spoilery questions, no one did it better than Chris Pratt. He was asked, "What's it like for Star-Lord, Peter Quill, to be seeing Earthlings for the first time in 30 years?" Pratt's answer: "That's a good question, but it might be best for you to wait and see it, so I'm gonna talk about bass fishing. Everyone knows that April's a big month for bass." He went on to give a lesson in the correct lure to use, finishing with, "Fish slow. You have to fish it slow. Thank you." And he was done.
5. Paul Bettany's Best Memories As Vision
When Bettany was asked for his best on-set memories, he emphasized the need for secrecy by saying, "Well, snitches end up in ditches." After the laughs died down, he continued, "And all the best memories are just unassailable. We've been making these movies for a really long time, and it's been a unique experience as actors to keep getting to work with the same people again and again and again. We've all gone through real-life stuff together. People have gotten married, had children… real-life stuff has happened. I've never been on a set where people choose not to go back to their trailers, but rather they hang out on set and make fun of each other. Thank you, guys!"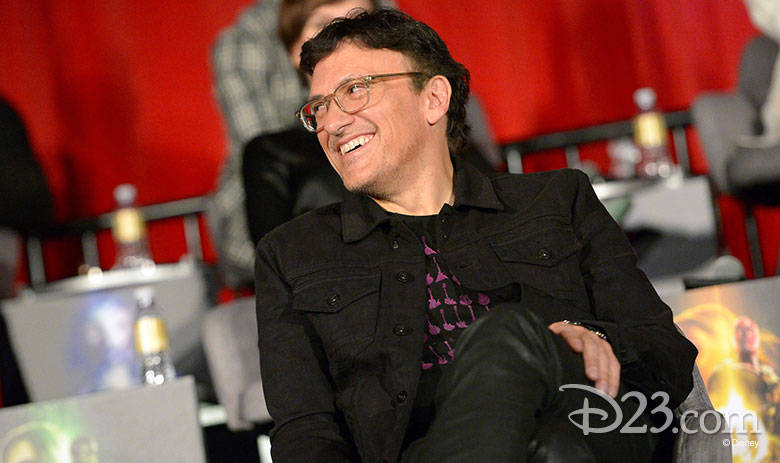 6. Anthony Russo Was Asked If Agent Coulson Comes Back In Infinity War
In another attempt to ferret out spoilery nuggets from the filmmakers, a reporter asked Co-Director Anthony Russo if Agent Coulson would return. Russo answered in true Pratt form: "What can I say…other than talk about bass fishing?" To which Paul Bettany interjected: "Snitches end up in ditches." But Russo was able to give some insight into which characters made sense to include in this film. "When we began developing this movie, we had a picture of every single character who's been in the MCU and we hung them on the wall. We spent months and months talking about where we could go with each character. Everyone on this stage has had a very specific journey in the MCU to arrive at in this moment. It was a very long, creative process. It was one of the most fun, creative exercises I think I've ever been through."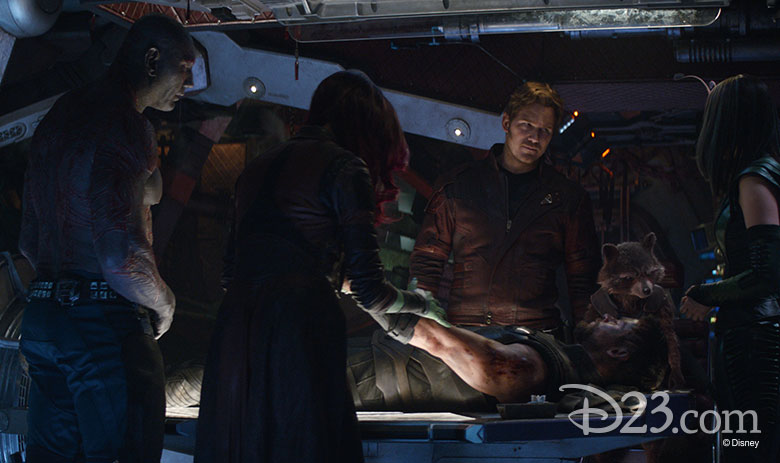 7. Chris Hemsworth's Most Challenging Scene To Film
Everyone discovered Chris Hemsworth's comedic chops in Thor: Ragnarok, and he kept up the comedy during this press event. When asked, "What was your most challenging scene to film?," he answered, "It was all very difficult because of the directors and the people I had to work with. It was an awful experience." But after the jokes, he said, "The first day was what you see in the trailers—Thor meeting the Guardians—and it felt kind of like my first day at school because they all knew each other, and I was the new kid. I had some weird butterflies floating around in my body, but they squeezed them out of me with a big group hug—and all the butterflies went floating out of my ears."
Get ready, Marvel Studios' Avengers: Infinity War opens this Friday—and we can finally see what all the secrecy is about!