By D23 Team
It's time for a super celebration! Today Marvel Studios is kicking off the yearlong Marvel Cinematic Universe 10-Year anniversary celebration with an iconic class photo featuring cast and filmmakers from over the last 10 years.
This super-secret mission happened on October 7, 2017, when a group of more than 80 actors and filmmakers all came together on the Atlanta, Georgia, set of Marvel Studios' Avengers: Infinity War.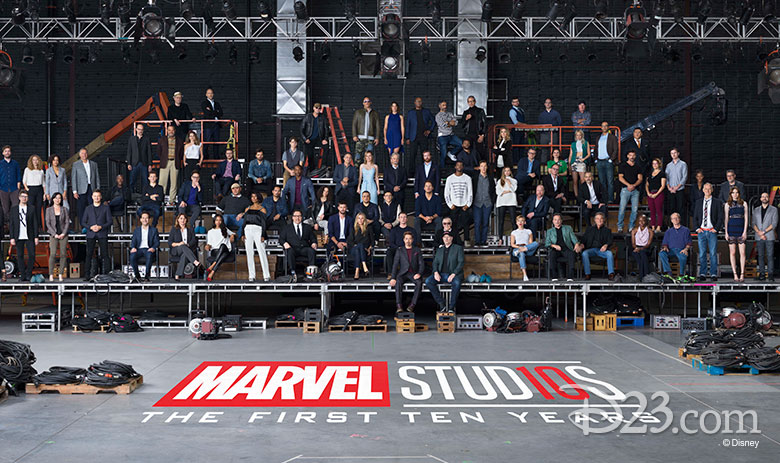 Click here to see the full picture.
A mission of that scale would require a lot of very special people, but luckily for Marvel, they have a whole team of Super Heroes with them. Those who assembled included Robert Downey Jr., Chris Evans, Chris Hemsworth, Mark Ruffalo, Scarlett Johansson, Paul Rudd, Benedict Cumberbatch, Chris Pratt, Chadwick Boseman, Brie Larson, Jeremy Renner, Tom Holland, Sean Gunn, Hannah John-Kamen, Zoe Saldana, Angela Bassett, Jon Favreau, Gwyneth Paltrow, Kurt Russell, Danai Gurira, William Hurt, Karen Gillan, Emily VanCamp, Tessa Thompson, Don Cheadle, Dave Bautista, Michael Peña, Anthony Mackie, Evangeline Lilly, Elizabeth Olsen, Paul Bettany, Frank Grillo, Letitia Wright, Laurence Fishburne, Linda Cardellini, Sebastian Stan, Ty Simpkins, Michael Douglas, Michelle Pfeiffer, Hayley Atwell, Pom Klementieff, Benedict Wong, Michael Rooker, Vin Diesel, Cobie Smulders, Samuel L. Jackson, and Jeff Goldblum. Whew! If any super villain had decided to cause trouble right then in Atlanta, they would have been in big trouble.
Joining the super team of Marvel actors were filmmakers from the past 10 years of the MCU, including Kevin Feige, Louis D'Esposito, Victoria Alonso, Stan Lee, Scott Derrickson, Trinh Tran, Alan Taylor, Brad Winderbaum, Louis Letterier, Jon Watts, Sarah Finn, James Gunn, Joe Russo, Anthony Russo, Joss Whedon, David Grant, Mitchell Bell, Anna Boden, Ryan Fleck, Jeffrey Ford, Peyton Reed, Jonathan Schwartz, Stephen Broussard, Ryan Coogler, Jeremy Latcham, Nate Moore, Christopher Markus, Stephen McFeely, Taika Waititi, Erik Carroll, Ryan Meinerding, and Craig Kyle.
As part of this celebration that is as almost as big as the group in the photo, the Marvel 10-Year Sweepstakes is a special event that will take place across social media and last for five weeks, from February 8 to March 15. Each week of the sweepstakes features a different Marvel Cinematic Universe film. Fans can post a photo of themselves on Twitter or Instagram and/or tweet their favorite personal memory from the film of the week using the film hashtag and #Marvel10YearSweepstakes to be entered for a chance to win.
Each week, a drawing will take place, and a winner will be selected. The weekly winner will receive the Ultimate Marvel Fan prize package, including Marvel Studios' Captain Marvel set visit; Marvel Studios visit and tour; tickets to Marvel Studios' Avengers: Infinity War premiere; all transportation and lodging; and more. Full prize details, information on how to enter, and official sweepstakes rules can be found at: www.marvel.com/10YearSweepstakes
Marvel Studios' 10th anniversary begins with a movie appropriate of the cosmic scale of the MCU— Avengers: Infinity War—and the celebration will continue to cover an impressive decade of Marvel Studios' blockbusters released from 2008 through the Avengers untitled film in 2019. It's a good time to be a Super Hero fan: In celebration of the anniversary, expect exclusive consumer products and collectibles, along with in-theater events and so much more in the coming months!
Marvel Studios' unprecedented success over the last 10 years is reflected in its cumulative box-office receipts of more than $13.5 billion worldwide. It's a super-big number for a super-big fan base. The story of the Super Hero is timeless, and across Marvel's impressive film history, we can all find a character who brings out the hero inside of each and every one of us.