By Courtney Potter
We all have our favorite attractions and locations inside a Disney Park… whether it's the grandeur of Sleeping Beauty Castle or the majesty (and excitement) of Expedition Everest, they often hold memories we return to again and again. And many of them are inspired by real-life locations around the globe!
Come with us on a (virtual) tour to some of the farthest-flung spots on planet Earth, and see how some of your Disney Parks faves were informed by real—and really amazing—locales. They're our very own "seven wonders of the world"… the kind of places we'd put on our ultimate vacation bucket list.
Have you ever been to a real-life location that inspired a Disney Park fave? Let us know over at Facebook and Twitter!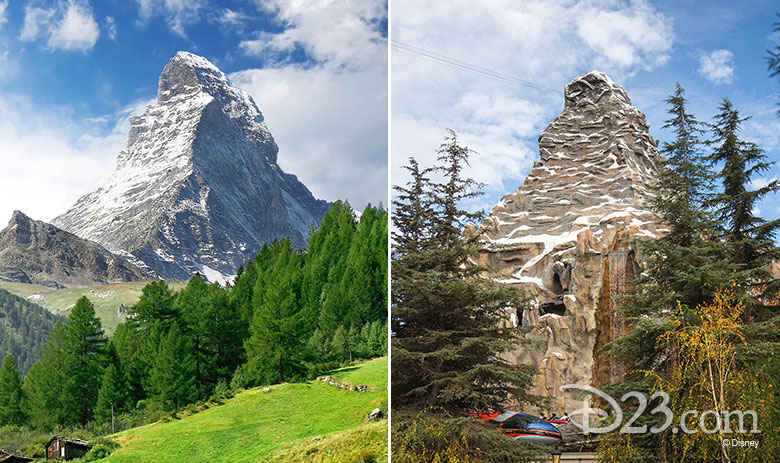 The Matterhorn / Matterhorn Bobsleds (Disneyland Park)
The Matterhorn Bobsleds opened at Disneyland on June 14, 1959—and you might be surprised it's not just based on the breathtaking mountain that sits on the border between Switzerland and Italy in the Swiss Alps. (It's also inspired by a Disney film called Third Man on the Mountain, released in 1959.) While the real-life Matterhorn towers over all that surrounds it at 14,692 feet, the Disneyland version comes in at 147 feet—about 1/100th the size of its counterpart!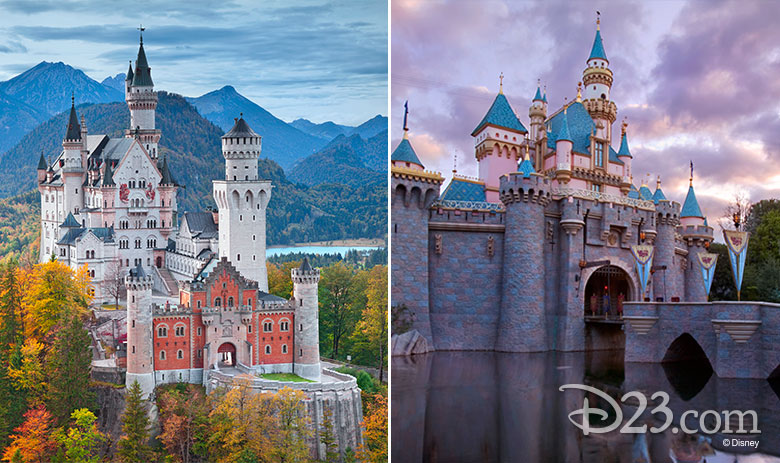 Neuschwanstein Castle / Sleeping Beauty Castle (Disneyland Park)
It's been said that the palace served as Walt Disney's inspiration for Disneyland's Sleeping Beauty Castle—a park landmark since it opened in 1955—and there are many similarities between the candy-colored castle and Neuschwanstein Castle in Bavaria, Germany. Commissioned by Ludwig II of Bavaria in 1869, as both a haven and an homage to composer Richard Wagner, Neuschwanstein Castle is built in the Romanesque Revival style.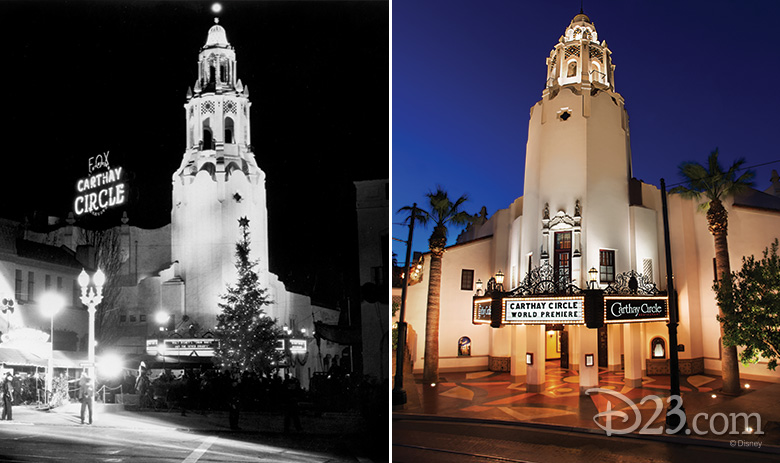 Carthay Circle Theatre / Carthay Circle Restaurant and Buena Vista Street (Disney California Adventure)
Walt Disney's first full-length animated film, Snow White and the Seven Dwarfs, premiered at Hollywood's famed Carthay Circle Theatre on December 21, 1937. The theater, with its Spanish Colonial Revival architecture, was demolished in 1969… but we're lucky that a recreation of the theater's edifice now stands sentry at the end of Buena Vista Street at Disney California Adventure. Inside is the Carthay Circle Restaurant and Carthay Circle Lounge, featuring some of the best dining the Disneyland Resort has to offer.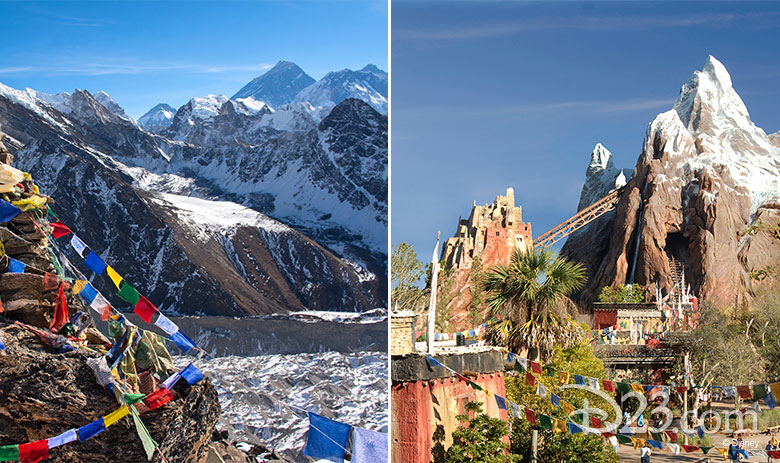 Himalayas / Expedition Everest (Disney's Animal Kingdom)
Most of us won't get to visit the Himalayan range or attempt a journey to Mount Everest in our lifetimes, but the opportunity to visit the Forbidden Mountain at Disney's Animal Kingdom is much more achievable. At just under 200 feet tall, the attraction is actually the tallest mountain in Florida! By contrast, Mount Everest in Nepal is Earth's highest peak—towering at an unbelievable 29,029 feet above sea level. Around 640 people summited Everest in 2016… Ever wanted to be one of them?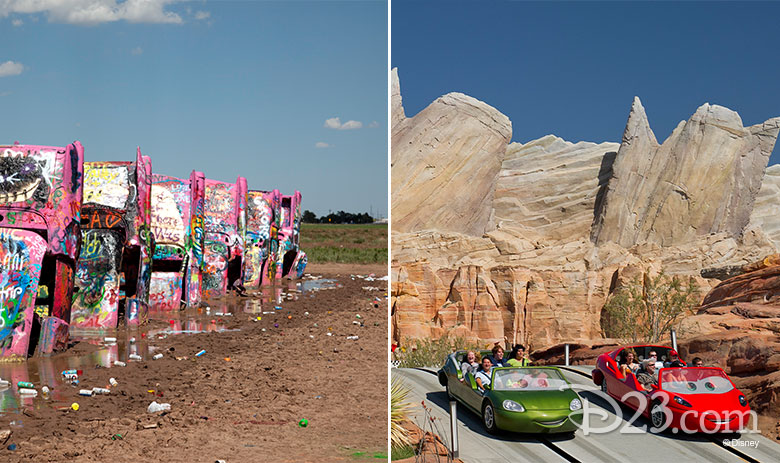 Cadillac Ranch / Cars Land and Radiator Springs Racers (Disney California Adventure)
If you've been to Cars Land at Disney California Adventure, you'll recognize the distinctive "car-shaped" range of hills just behind the fabulous Radiator Springs Racers. But did you know they're based on a real-life public art installation in Amarillo, Texas? Created in 1974 by artists Chip Lord, Hudson Marquez, and Doug Michels (part of Bay Area-based group known as Ant Farm), Cadillac Ranch is a line of Cadillac cars half-buried nose-first in the ground. Take a trip down Amarillo's Interstate 40 and you can see it for yourself!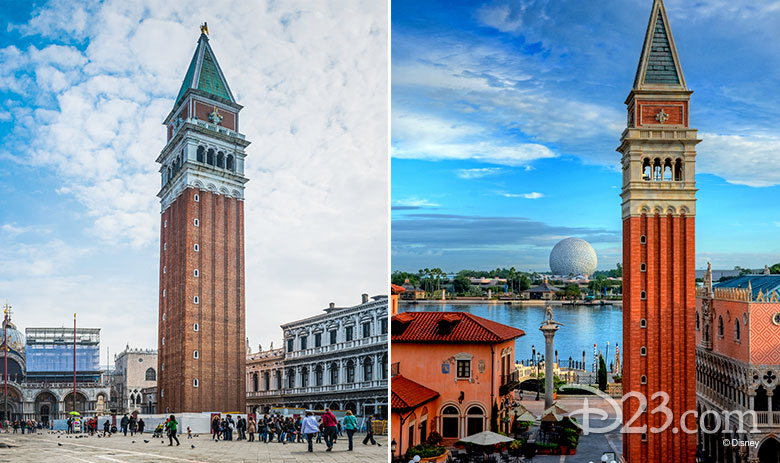 St. Mark's Campanile / Italy Pavilion (Epcot)
The Campanile di San Marco is the bell tower at St. Mark's Basilica in Venice, Italy. Standing at 323 feet tall, with a belfry housing five bells and a golden weathervane in the shape of archangel Gabriel, the tower has (in its current form) stood watch in St. Mark's Square since 1912… but the original tower was built back in 1512. No doubt it's seen its fair share of history! Epcot's Italy pavilion houses its very own St. Mark's Campanile re-creation, just outside its replica of the Doge's Palace.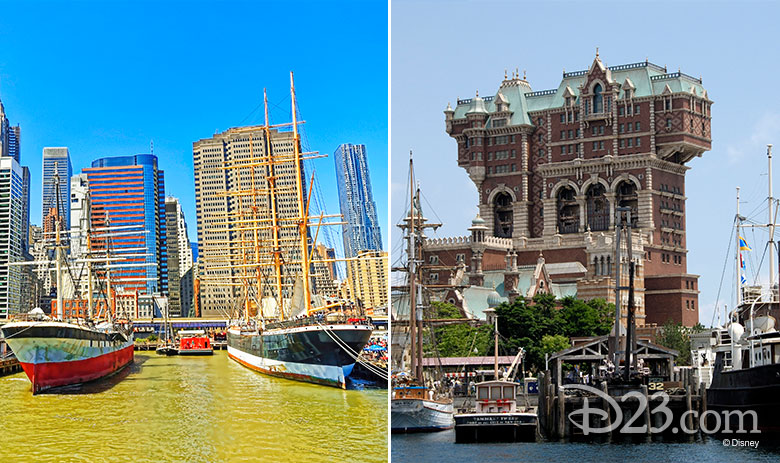 New York City Harbor / American Waterfront (Tokyo DisneySea)
Taking a trip to Japan but itching to see a harbor that resembles an Industrial Age-era Northeastern seaboard of our own United States? On first blush, it's a rather interesting request, but it can be fulfilled—by visiting the quaint and cool American Waterfront inside Tokyo DisneySea! With an elevated railway, a theater, and a harbor containing all manner of ships (including the S.S. Columbia), the American Waterfront is home to several beloved Disney Park attractions—including Tower of Terror and Toy Story Mania!