By Nicole Nalty
Walt Disney Imagineering celebrates its 65th anniversary this year, and with it, 65 years of unbelievable experiences, unparalleled storytelling, and unforgettable memories for Disney fans across the globe. To celebrate the occasion, we asked a few of the men and women behind the magic to share which Disney experiences inspired them to pursue a career with Walt Disney Imagineering… It should come as no surprise these magic makers are Disney fans, just like you!
See what they had to say below––some of their favorites might just be yours, too!
Joe Rohde—Portfolio Creative Executive
"I grew up in Hawaii, so I had only the faintest idea what Disneyland even was, and never really got to experience it until I was 11. But Pirates of the Caribbean was always my gold-standard attraction, from the first time I ever rode it. The quality of the illusions; the integration of music, sets, and action; the sense that the environment goes on and on—all of these were profoundly affective upon me when I was young, and all of them have remained design issues that I strive to express."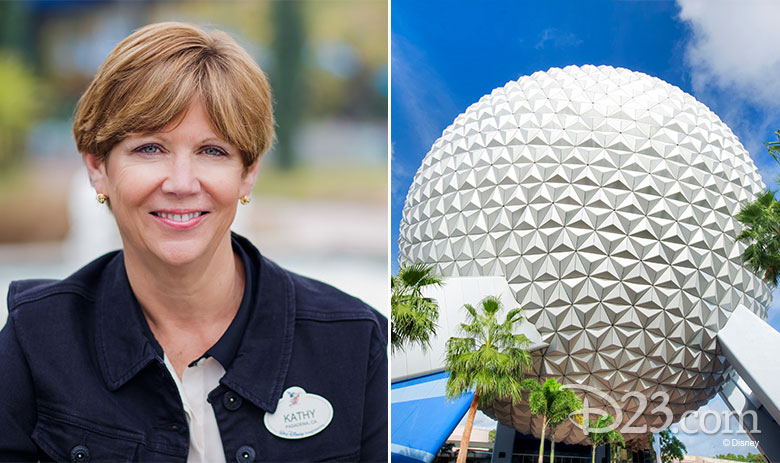 Kathy Mangum—Regional Executive, WDI Atlantic
"I grew up in Orange, California, just about 5 or 6 miles from Disneyland. When we were little kids, we'd get up on our roof and watch the fireworks every night during the summer. Living so close to Disneyland was a point of pride for us and it's where I knew I wanted to work as the perfect part-time job when I was in school. I didn't know what an Imagineer was back then, but I had the opportunity to do some work at WED (now called Imagineering) when Epcot was being built, and I was introduced to the smartest, most creative group of people I'd ever met. That's when I decided I wanted to be part of the Imagineering team, and I've never looked back!"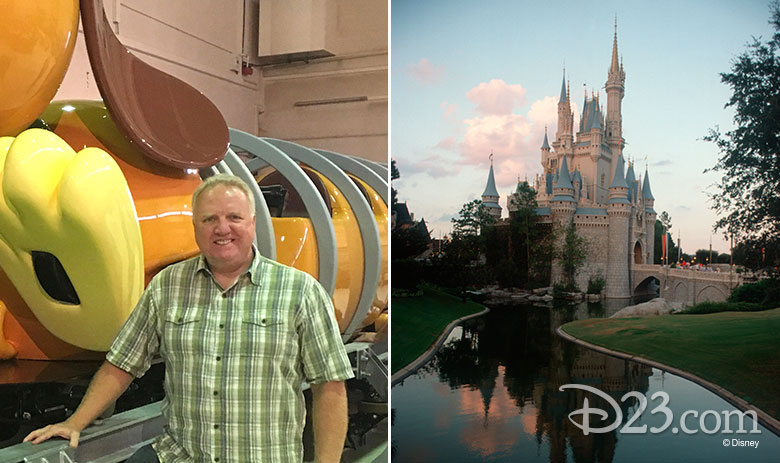 Dave Minichiello—Executive Creative Director, Toy Story Land at Disney's Hollywood Studios
"My first experience of a Disney theme park was going to Walt Disney World in 1971 while I was growing up in Daytona Beach, Florida. Visiting the Magic Kingdom for the first time, I remember being incredibly inspired and amazed by the scale and level of storytelling that I was experiencing. I had never seen anything like it before! I was immediately captivated by the amazing lands, attractions, and environments that the Disney Imagineers had created. For me, it was at that moment at 12 years old I began to explore everything I could to understand how Walt and the Imagineers created these incredible environments that my family and I were experiencing. So many of the classic attractions such as 20,000 Leagues Under the Sea, Space Mountain, Haunted Mansion, it's a small world, Jungle Cruise and Pirates of the Caribbean influenced me to want to become an Imagineer. I could not wait to return to the Magic Kingdom as often as possible to ride all of the attractions again and again and to enjoy and study them. Each attraction told a story in a different way, and I have been challenged and intrigued by how to do this ever since. Now, having had the great honor to be an Imagineer for over 38 years and having contributed to attractions all over the world, I still enjoy this challenge of telling our stories in new ways to excite and inspire our guests when they visit our parks and resorts."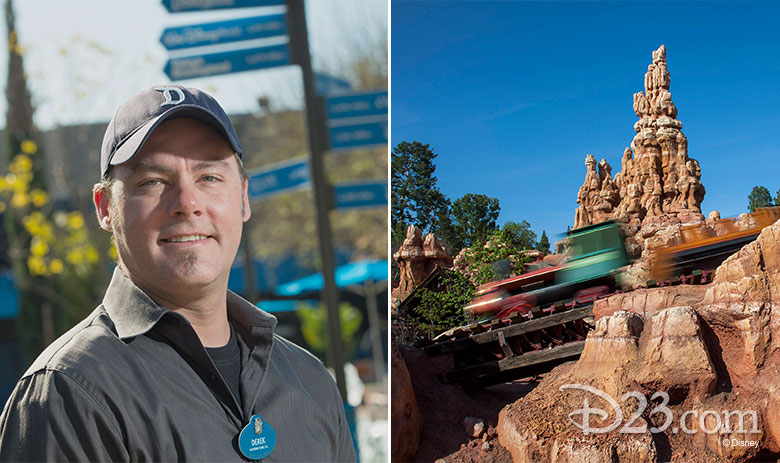 Derek Howard—Lead Creative Ride Designer
"Having grown up in Southern California, Disneyland was definitely my park and one of the most memorable places we visited during my childhood. The one attraction that had the largest impact was Big Thunder Mountain Railroad. I had an enormous interest in trains from early on and was (and still am) a bit of a thrill-seeker, and here was this amazingly themed ride that offered both! This was undoubtedly the catalyst for things to come and the immediate realization that THIS is what I wanted to design when I grow up, though not knowing at the time that there was an actual place that designed and built these things. This is why, out of all the amazing attractions I have a hand in designing, roller coasters are still my favorite to work on."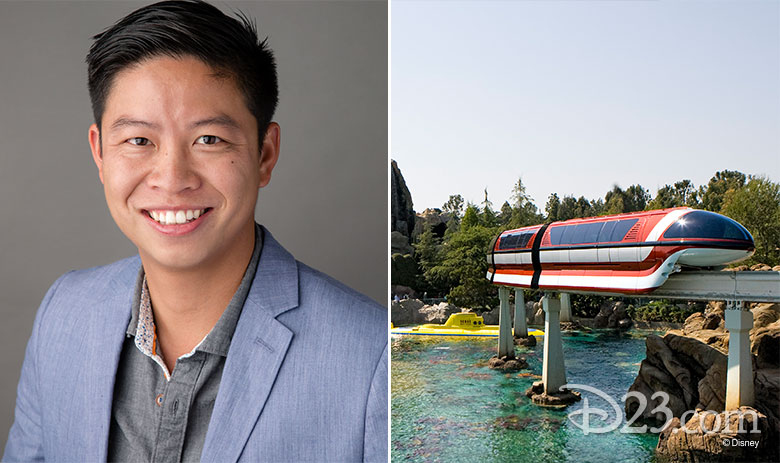 Brian Loo—Assistant Producer, Star Wars: Galaxy's Edge
"Ever since I was small I had a love for trains and transportation and it was the Disneyland Monorail that inspired me to dream big on becoming an Imagineer. At a young age, I looked at the Monorail truly as the future of transportation from its sleek design to the joy of 'flying' in the sky above the roadways.
"As I grew up, it continued to be my inspiration on how to combine technology with innovation and storytelling to create something awe-inspiring. My curiosity led me to learn about Walt Disney Imagineering, which opened doors for me to develop creative story-driven experiences that could be inspiring, fun, and, most importantly, put smiles on people's faces—while at the same time hiding all the technology to not take away from the story. Even after seven years with Walt Disney Imagineering, I can't believe my childhood dream became a reality."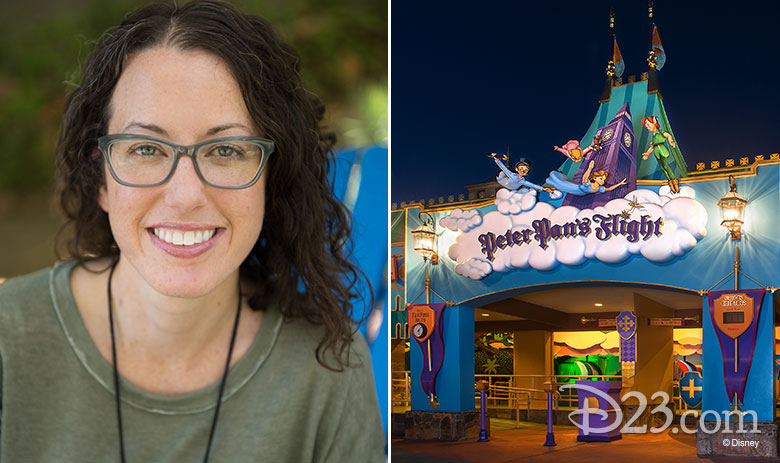 Estefania Harbuck—Producer, Marvel Portfolio
"As a child growing up in Georgia, I visited Walt Disney World twice and was always charmed by the beauty, quaintness, and magic that was Fantasyland. Moving through spaces that felt like they only existed within imagination was like walking through a dream. I could've wandered those spaces and flown with Peter Pan endlessly. Back home, as the daughter of a travel agent, I would take my mother's Walt Disney World park and resort catalogue and spend time flipping through glossy photographs of real, fantastical, varied places I'd never been to but could imagine visiting in my mind.
"Returning to Walt Disney World as a junior in high school for a cross country competition, I experienced the parks as an almost-adult and was amazed by how much I fell in love with Epcot—this park I hadn't thought of much as a kid, but was now enamored with as a teenager. Again, the beauty, the harmony of space and architecture, the sprinkling of story and history and technological amazement, and the tranquility of moving through magical faraway places that I was hungry to visit helped me to fall in love with that place and remember it fondly into adulthood.
"While the singular attractions at the park were definitely climactic moments that cinched the day, it was the whole of what these lands could become when so carefully, deftly executed into real environments that I could enter and engage with and be surprised by and move through was what truly inspired me to become an Imagineer."