By Karina Schink and Beth Deitchman
Have you ever wanted to mix sardines, vanilla ice cream, and a host of ingredients that simply aren't meant to co-exist in a single dish? The cast of Disney Channel's new series hasn't either… but they'll "just roll with it"—if that's what the audience decrees. On Friday, June 14, Disney Channel welcomes a whole new kind of comedy with Just Roll With It, premiering at 9:45 p.m. ET/PT. Created and executive produced by Adam Small and Trevor Moore, this unique show blends improvisational comedy with a scripted family sitcom for unbridled, unpredictable fun.
Sound familiar? Probably not. And, that's just what the creators and stars want! Just Roll With It is a brand-new kind of show that'll bring a barrel of laughs with it as you watch—and play—along. The sitcom is scripted, but the show goes off-book with an improvisational side that gets an assist from a live studio audience.
The creators/executive producers—who previously combined scripted comedy with hidden-camera hijinks in Disney Channel's Walk the Prank—knew they wanted to capture the spontaneity often found in sketch comedy shows like Saturday Night Live. Small and Moore especially loved the energy that comes through when actors break from character and find themselves laughing in the middle of a scene, and they set out to bring that same excitement and unpredictability to Just Roll With It.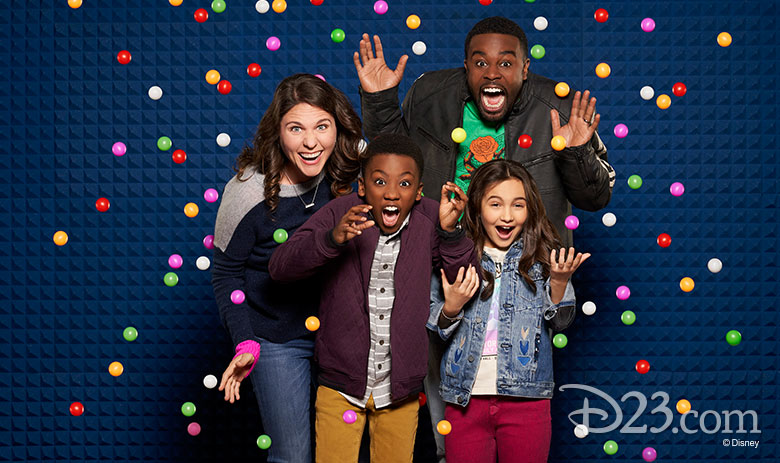 In this unique take on a family sitcom, several times throughout an episode, a horn will sound at certain pivotal moments—moments that are unknown to the actors and audience alike. At that point, the audience is presented with a chance to choose one of three options as to what will happen next. And no, the actors don't know what that will be until it's already happening.
Small and Moore wanted a show that revolved around "happy accidents" where something unexpected happens and the actors have to well, just roll with it. Small explains, "We came up with this idea where the cast spends all week memorizing and performing a script, and then on production night, parts of the script get thrown out and the actors are completely rudderless. They basically just have to roll with the punches."
The improvised scenarios differ from episode to episode, and the audience has had the opportunity to compel cast members to devour a "Breakfast Barf Bonanza" (highlighted by the aforementioned sardines and vanilla ice cream) and they've determined whether a pig or a snake would make a special appearance in a scene (the pig won). The Just Roll With It production staff has to prepare for every possible outcome—meaning multiple costumes, multiple props and infinite secrets kept from the cast. The actors' families are in on the fun, too, and, in fact, a recent scenario found a Just Roll With It star coming face-to-face, on-camera, with someone very important in his or her life (who secretly flew across the country to be part of the surprise).
Suzi Barrett, who plays Rachel—loving mom and producer of the morning talk show hosted by her husband, Byron—has an extensive background in improv, with a resume that includes Chicago's Second City and L.A.'s Upright Citizens Brigade. She considers each episode of Just Roll With It to be a workout for both sides of her brain. As she and the cast prepare for Friday night tapings, she says, "My left brain is focused on going over my lines and remembering every bit of movement that was changed. My right brain is like an 8-year-old kid on Christmas morning, excited to open the presents and play with them."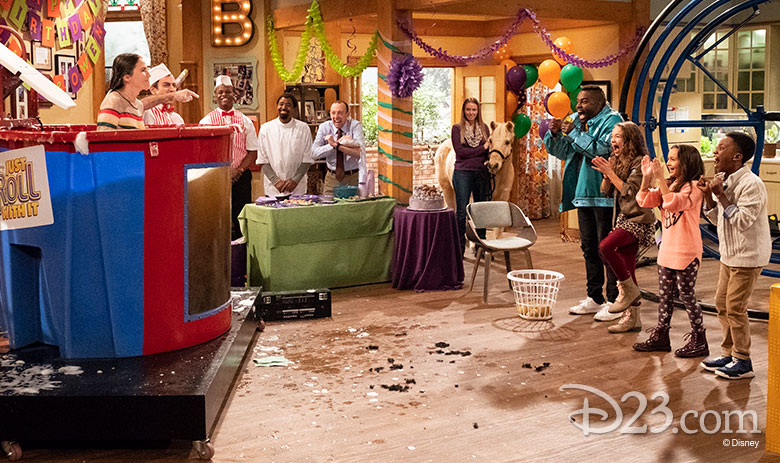 The actors try to predict when the horn will sound and bring an unpredictable pause to their meticulously rehearsed performance, but Tobie Windham (Byron) credits the producers for their skill at misdirection. "We are dope actors and we're also smart actors," he says with a laugh. "We're looking at this thing and we're like, where is the hidden gem? They work so hard to keep that hidden from us so that our reactions are as organic as fans will see when this starts airing."
Rounding out the Just Roll With It cast are Kaylin Hayman and Ramon Reed, who play Blair and Owen, respectively—the younger generation of the blended Bennett-Blatt clan. The four have become as tight-knit off screen as they are in the series—no surprise, given that they alone are in the dark about what may transpire in any given episode. When the horn sounds, Reed says, "My first thought is, whatever's happening, I am ready for it. And also, I know my cast mates have my back." Of course, the butterflies still kick in for Reed, who says of Moore and Small, "They go to the extreme!"
Hayman, who also enthusiastically tackles any scenarios the producers put her in, compares the unconventional process to building a wall, sharing, "If you drop your brick, you always know that the person you're building the wall with will have an extra block to put on where you were supposed to."
Though the rug is constantly being pulled out from under them, the cast faces everything the audience and producers choose for them, together, and Moore thinks this is something everyone can take to heart—even if they unlikely to be confronted with a "Breakfast Barf Bonanza" or a root beer float dunk tank. "Whatever life throws at you, just have to get back up and keep going," he says. You've just got to roll with it.
Tune in for a sneak peek of Just Roll With It on Friday, June 14 (9:45–10:15 p.m. EDT/PDT), ahead of its official premiere Wednesday, June 19 (8–8:30 p.m. EDT/PDT) on Disney Channel and DisneyNOW.