By Karina Schink
The first leg of the World Cup is over! Hopefully your team made it through, but regardless of the outcome, there's always a Disney team to root for! Here are some of our top Disney soccer highlights.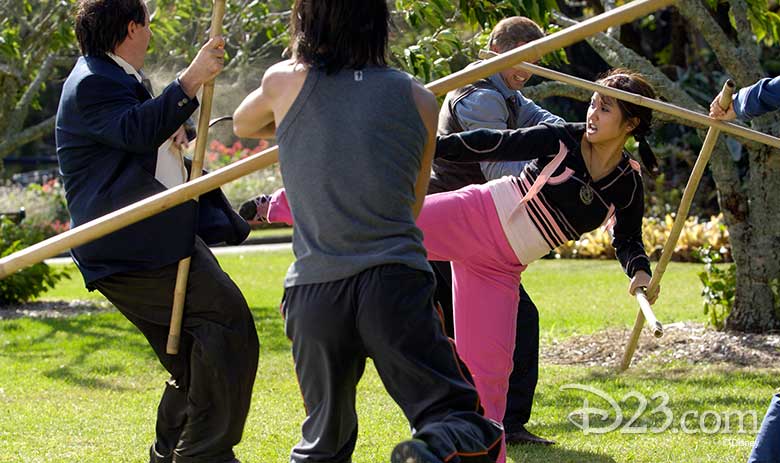 1. Wendy Wu: Homecoming Warrior
This Disney Channel Original Movie premiered in 2006 and introduced us to Wendy Wu (played by Brenda Song), a tenacious young woman who must train to become a warrior, at the risk of losing her homecoming crown. In one of the DCOM's most memorable scenes, Wendy faces off against her rival Jessica during a soccer game and loses the ball when she tries to defeat Jessica in a verbal confrontation. But Wendy's warrior skills kick in, and in what we can only describe as a sideways bicycle kick (with much more than a 360-degree rotation), she launches the ball into the goal. We're still crossing our fingers that we'll see some of those ancient, thousand-year-old warrior skills in this year's World Cup.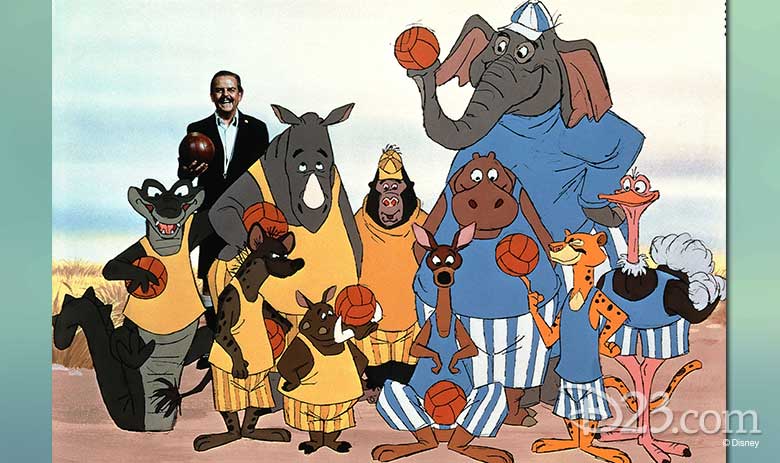 2. Bedknobs and Broomsticks
In this unforgettable Disney classic, Emelius Browne acts as a volunteer referee to two very "wild" teams. As predator (including the lion king of Naboombu) goes against prey, Mr. Browne finds himself in the middle of the animal antics, suffering burned feet and nearly getting trampled (multiple times) over the course of the match. This game was unlike anything we've seen these past few weeks—and, we're pretty sure they broke a couple, if not all, of FIFA's rules—but might mark the first instance we aren't rooting for one team, but the referee!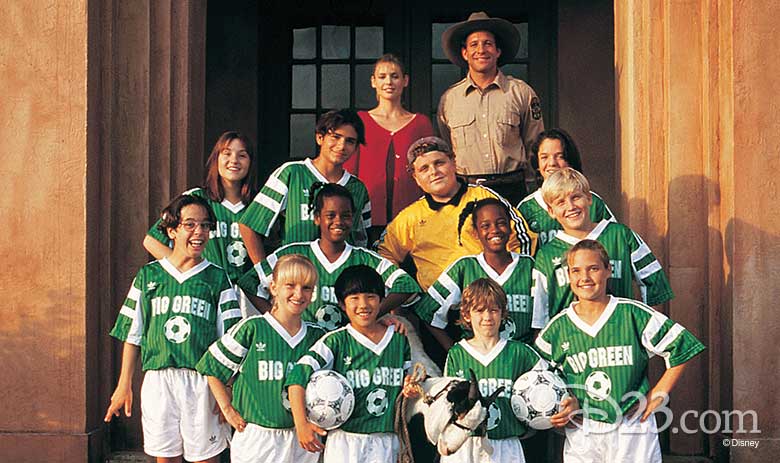 3. The Big Green
This live-action gem didn't just include one soccer game; the sport is at the very heart of this 1995 film. When teacher Miss Montgomery was with a, let's say, less than enthusiastic class, she decided to approach her lessons a bit differently: by instructing her students in the ways of soccer. The kids didn't start out as the best team, but through blood, sweat, and tears (and some pretty fantastical imaginations), they came through in the end and pulled together to prove that "they're not the nothings from nowhere."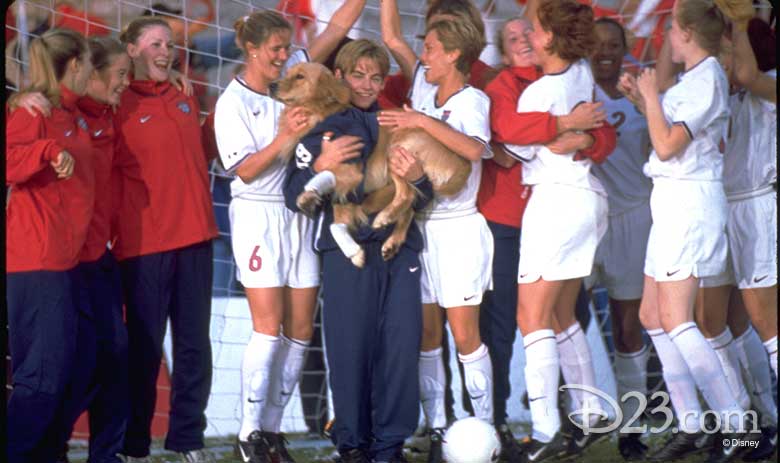 4. Air Bud: World Pup
Is there a better way to celebrate the World Cup than with our favorite Golden Retriever and his own "World Pup"? Featuring soccer legends Briana Scurry, Brandi Chastain, and Tisha Venturini, this film follows Buddy's owner, Josh, as the two join a soccer team and compete to win the championship. While these two navigate crushes, puppies, and the famous game itself, not everything goes as smoothly as possible. It wouldn't be an Air Bud classic without some furry foils on their way to victory, right?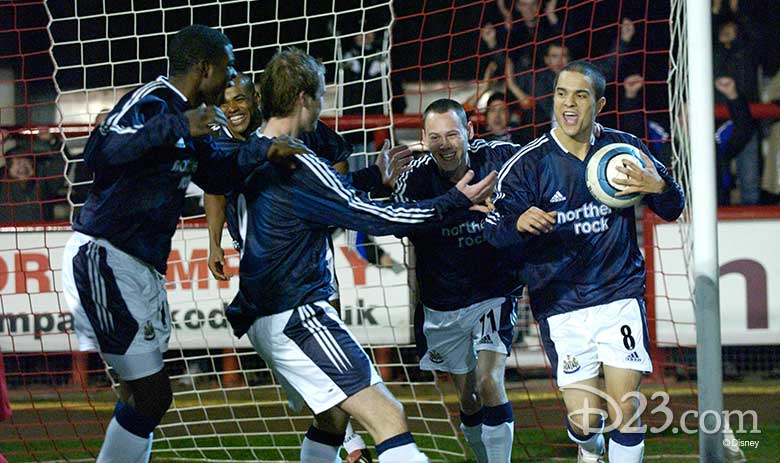 5. Goal! The Dream Begins
Another soccer-star-studded film, Goal! The Dream Begins tells the very humble rags-to-riches story of Santiago Muñez, who works two jobs to tirelessly support his family but still finds time to chase his passion: soccer. Santiago's life turns upside down when he is discovered by a former professional soccer player and flies to England to try out for Newcastle United. As he faces adversity from other players on the field, Santiago must learn how to overcome not only their doubts but his own, as well. This film pulls on your heart strings, keeps you cheering, and, of course, reignites your love for the game.
6. Switching Goals
This two-hour television movie premiered in 2002 on The Wonderful World of Disney and introduced everyone to Sam and Emma, played by twins and Disney favorites Mary-Kate and Ashley Olsen, two soccer-loving sisters with a few tricks up their sleeves. When neither sister is named to the team they want, they pull off a time-honored twin tradition and trade places on their respective teams. This movie is driven by themes of teamwork and persistence, but at the heart of it all is family.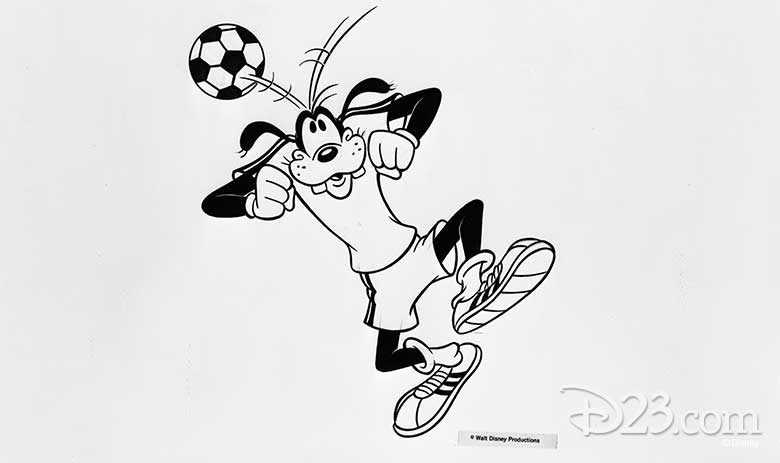 7. Sport Goofy in Soccermania
Much like the FIFA World Cup, in this cartoon—which debuted in the television special An All New Adventure of Disney's Sport Goofy—it's all about that trophy. Three of our favorite ducks, Huey, Dewey, and Louie, become teammates under Sport Goofy's coaching to try and win back the valuable trophy (worth over a million dollars!) their Uncle Scrooge McDuck accidentally gave away. Even though the McDuck Greenbacks may not be the most soccer-savvy, you can't say that they don't give the sport their all in this 20-minute cartoon that perfectly combines humor, sportsmanship, and of course, the bond between an uncle and his nephews.
As the 16 teams moving forward keep pushing for that World Championship title, we can't help but think that Sport Goofy said it best, "May the best team win!"